Hope for UK's bumblebees as lost species given second chance
efa2e96f-7860-4fd8-89fe-eb31cf1a36ce
An extinct British bumblebee species will get a boost today [Monday 3rd June] as a new generation of queens are released on the edge of Kent. Experts have spent two weeks collecting Short-haired Bumblebees from farmland in southern Sweden and today they will be reintroduced to the RSPB's reserve at Dungeness in Kent. The project, backed by Natural England, RSPB, Bumblebee Conservation Trust and Hymettus, began last year with an initial pilot reintroduction, which followed four years of work with local farmers to create the ideal wildflower habitat for bumblebees across Romney Marsh and Dungeness.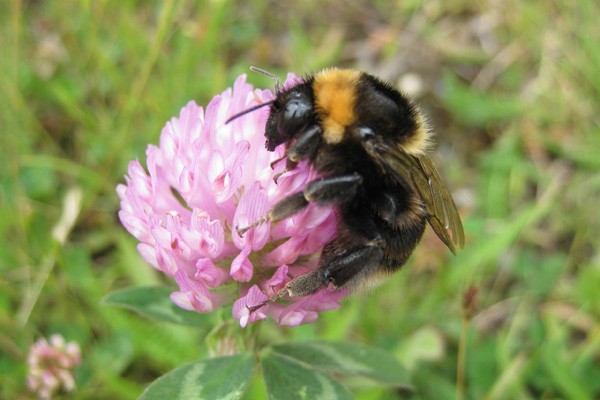 Short-haired Bumblebee (Nikki Gammans/RSPB images).
Conservationists have hailed the story as a sign of hope for all the UK's bumblebees. Of the 25 native species in the UK seven are declining and two are extinct — one of which is the Short-haired Bumblebee. Before the reintroduction project, the last confirmed sighting was recorded in the UK in Kent in 1988. Another extinct species, Cullem's Bumblebee, vanished from our shores more than 70 years ago. The recent State of Nature report, published by 25 leading conservation groups, also highlighted the Short-haired Bumblebee project as a beacon of hope for bumblebees in the UK. The report found that insects as a whole are one of the hardest-hit species groups. A larger proportion of insects are declining compared with other species groups.
Content continues after advertisements
Dr Nikki Gammans, project manager, said: "Bumblebees are an intrinsic part of the British countryside, but some species are disappearing before our eyes. That's why the project to bring back the Short-haired Bumblebee is so important. Bringing this extinct species back to the UK shows what can be done for wildlife by working together. The queens we released last year have had a very tough time with the weather last summer, so it was vital that we return to Sweden and bring back more queens to bolster the colony at Dungeness. There's a lot more work to be done but thanks to the local farmers in this area of Kent and East Sussex, our friends in Sweden, a crack team of volunteers and the wildlife experts involved in the project, there is hope for all our threatened bumblebees."
Gavin Measures, Natural England's lead adviser for biodiversity, said: "It's still early days for the Short-haired Bumblebee. Reintroductions take time and it may be another year before we see signs of successful breeding. This year's release will bolster the population and gene pool; combined with all the hard work from local farmers across Romney Marsh the species is getting the best start we can give it."
Gill Perkins, Bumblebee Conservation Trust Conservation Manager, said: "Our support for this innovative project demonstrates that we are committed to ensuring we do what we can to protect and enhance bumblebees and the environment. We would encourage farmers, landowners and communities to get involved and help to protect these economically important charismatic creatures and in particular the Short-haired Bumblebee."