Hen Harrier numbers down over whole UK and Isle of Man
b4f83105-37bd-4b2d-bd90-b79a35bd6b67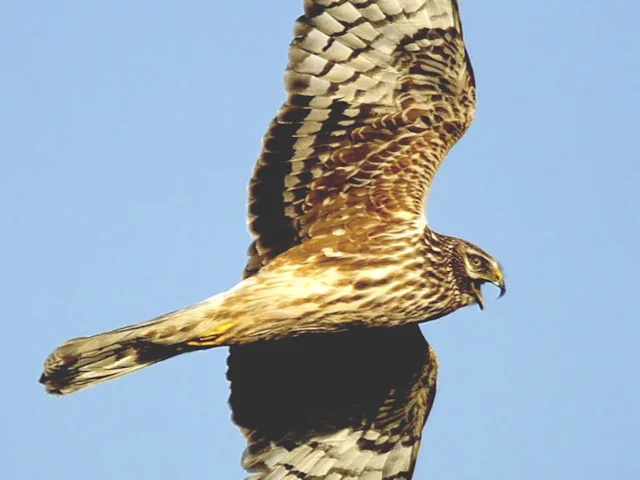 After Hen Harrier
became effectively extinct in England
as a breeding species this year
, a nationwide study has shown that its population has dropped by 18 per cent over the whole country.
A paper published in the journal
Bird Study
examines the methodology and outcomes of the 2010 national survey of
Hen Harrier
populations in the UK and Isle of Man. The Hen Harrier is a Red-Listed Bird of Conservation Concern in the country and consequently its population is closely observed and has been subject to frequent national surveys.
Previous surveys showed increasing numbers of Hen Harrier pairs up until 2004, with a 41 per cent increase since 1988 giving a total of 806 pairs; the 2010 survey showed a decline of 18 per cent to 662 pairs.
The survey was conducted in five British regions: Scotland, England, Isle of Man, Wales and Northern Ireland between April and July. The results showed varying increases and decreases from previous surveys. The Isle of Man had 29 pairs, a 49 per cent drop since 2004. There were no obvious reasons for this as persecution is at a very low level on the island and its climate and environment remained unchanged. In the UK there were 633 pairs (down from 749 in 2004). Of these, Scotland held 76 per cent of the total UK and Isle of Man at 505 pairs, a 10 per cent drop on 2004.
In England (prior to its current absence) there were 12 pairs, a drop from 19 in 1988; Northern Ireland had 59 pairs, with little change since 2004. Welsh populations had increased by 33 per cent, possibly due to milder temperatures, increased breeding productivity and less human interference.
Historical research has shown that illegal persecution has been the main cause of declining numbers,
especially where moorland is managed for Red Grouse shooting
. Change in habitat and climate, and prey abundance also contribute to decreases in the species' population. The study certainly seems to confirm that intensely managed grouse moorland results in fewer breeding pairs.
Read the full article online
.
Content continues after advertisements