Help save Puffins with your photos
765a0f23-c69f-41ec-aadc-83214287e601
This summer, the RSPB has asked members of the public to help save British Puffins by taking photos so that scientists can find out more about what they feed their chicks.
By photographing Puffins carrying fish in their bills for their chicks, visitors to colonies across the country throughout June and July will be able to play an important role in helping to stop the decline of this much-loved seabird.
Once uploaded to the Project Puffin webpage, RSPB scientists will analyse the photos to identify the fish and build up a better picture of what Puffins in Britain and Ireland are feeding their chicks, and perhaps why some colonies are thriving while others continue to struggle.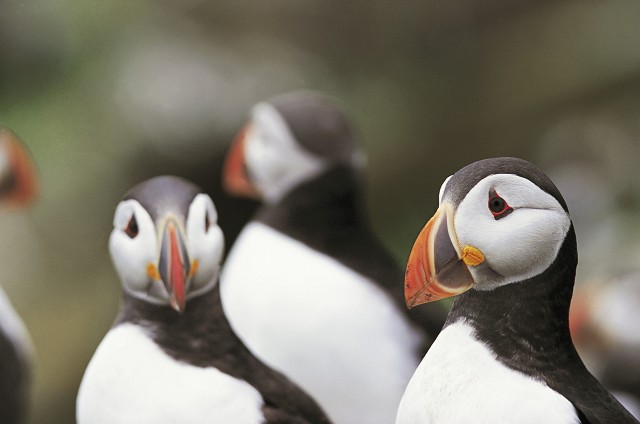 The distinctive, perhaps comical, look of Puffins make them a popular attraction at their colonies around Britain (www.rspb-images.com).
For years British coastlines have come alive with the sight, sounds and smell of thousands of Puffins raising their chicks, known as 'pufflings'. People from all over the the world visit sites such as Bempton Cliffs RSPB, East Yorks, Rathlin Island RSPB, Co Antrim, and Lunga, Argyll, to witness the bustling colonies.
However, in recent years Puffin numbers have plummeted across the country and in Europe, with warming seas and shifting ocean currents, having a negative effect on fish supplies, thought to be one of the main threats to their survival. Biologists estimate that their populations could decline by more than half over the next 40 years and have recently been classed Puffin as vulnerable to global extinction.
Dr Ellie Owen, the RSPB Conservation Scientist leading on Project Puffin, said: "Everyone can identify a Puffin, with their colourful bills and unique eye markings. Their distinctive features make them more familiar than even some garden birds, but sadly our Puffin population is in trouble. Their numbers have dropped dramatically across key parts of their range in recent years and are in desperate need of our help.
"We are working hard to reverse these declines and now everyone can play a pivotal role in helping to save UK Puffins. The 'Puffarazzi' will help us find out more about what Puffins feed their chicks, allowing us to understand better why some colonies are thriving while others continue to struggle. We know that people love Puffins and this project gives everybody the opportunity to be part of the work to help save them."

Submit your photos of this charismatic seabird and help science at the same time (www.rspb-images.com).
Project Puffin launched earlier this year with support from Heritage Lottery Fund Scotland. The project aims to find out more about what Puffins feed their chicks, where they go to find food and how their numbers are changing by combining the latest technology with citizen science. Throughout the summer, RSPB scientists will be GPS-tracking Puffins at two sites in Scotland (The Shiants and Shetland) to find out where the seabirds go to feed, and will carry out a Puffin census at the key colonies, some of which have not been counted in more than a decade.
For more information about Project Puffin, where you can find Puffins around British and Irish coastlines and how you can become a member of the 'Puffarazzi', visit www.rspb.org.uk/projectpuffin.