Guard set up to protect breeding Little Bitterns in Somerset
6ddae70b-8cc9-49c9-a063-55dfcc9c4816
Yesterday [6th June 2013], the RSPB set up a guard on the nest of a pair of Little Bitterns at the wildlife charity's Ham Wall nature reserve in Somerset. This is the bird's only known breeding location in the UK. The species first nested in Yorkshire in 1984, but it wasn't until 2010 that they bred again in the extensive reedbeds at Ham Wall. Since then breeding has been suspected, but this year birds are known to be nesting.
Steve Hughes is the site manager for the Ham Wall reserve. He said, "The male has a very distinctive 'barking' call and appears to be holding territory, and we've had glimpses of a female. Everything is in place to make sure these rare and very special birds are fully protected — we don't want to take any chances."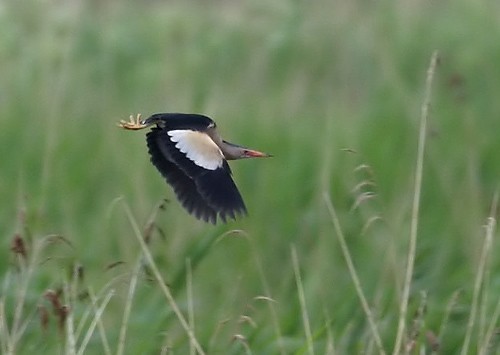 Male Little Bittern photographed at Ham Wall in 2009 (Photo: James Packer)
Content continues after advertisements
To protect the birds from disturbance and the unwanted attention of obsessive egg collectors, RSPB staff and volunteers will be watching the site, and access to some parts of the reserve has been restricted. The European population of Little Bittern has declined considerably over the past 40 years. Although the reasons are not entirely clear it is thought that this is linked to loss of habitat, both in the areas they nest and in Africa where they spend their winter.
Ham Wall RSPB is part of a ambitious plan to recreate a vast area of wetlands in the Brue Valley. Known as the Avalon Marshes, the project is being delivered by a coalition of wildlife organisations including RSPB, Natural England, Somerset Wildlife Trust and the Hawk and Owl trust. Tony Whitehead, speaking for the RSPB, said: "Having Little Bittern breed at Ham Wall demonstrates the power of landscape-scale nature conservation. If you get the conditions right, the birds will turn up. Wetlands are under pressure the world over, not least from climate change. To be able to recreate this landscape in Somerset is of huge significance. We know that large, well-managed wetlands can act as beacons for colonising species, such as Little Bittern. They are crucial in helping these species adapt to our changing climate, as is being demonstrated in the Avalon Marshes."
People are welcome to visit the reserve to see the birds, though the RSPB warns that, due to their secretive nature, they are very hard to see. The wildlife charity is also asking visitors to keep to the paths and abide by the warning signs, so as not to disturb the birds.
The birds have not yet been seen or heard this morning [7th June]. Keep up to date with the latest sightings on Bird News Extra.