Flow Country under threat again
a8a12da6-50e7-4bc5-923c-4d27c679378a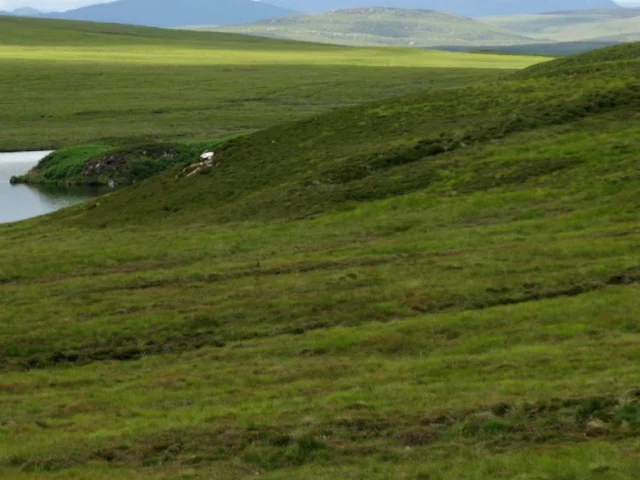 An open letter has been sent to Scottish Energy Minister Fergus Ewing calling for a 39-turbine wind farm proposal in Caithness and Sutherland's Flow Country to be refused.
The letter, signed by the Secretary-General of the International Mire Conservation Group (IMCG), Professor Dr Hans Joosten, highlights the global importance of the peatlands of the Flow Country for biodiversity, carbon storage and their unique landscape value. The area is so important for Scotland's natural heritage that it is being considered as a potential UNESCO World Heritage Site.
The letter states that the group learnt with "dismay" about proposals for
Strathy South wind farm
, as it "risks repeating many of the acknowledged mistakes made during the era of forestry expansion into the Flow Country", and raised concerns that the development could have a "significantly negative impact" on any consideration of World Heritage Status for the Flows.
RSPB Scotland, which supports carefully sited wind farms, has also fiercely opposed the proposal because of its impact on the important peatland habitat, and because it would put sensitive species such as Hen Harrier, Red-throated Diver, Greenshank and Wood Sandpiper at risk.
Aedán Smith, Head of Planning at RSPB Scotland, said: "Continued growth of renewable energy in Scotland is crucial in order to protect people and nature from climate change. A poll last week showed 70 per cent of people in Scotland want to see more energy from renewables [such as] wind energy, and RSPB Scotland is in complete agreement. But if we want to retain this public support we need to make sure we don't sacrifice our protected species and habitats by consenting to poorly-planned proposals.
"We have a responsibility to protect our most important places for nature and we are confident that onshore wind can continue to grow in Scotland without compromising this aim. This open letter from the IMCG shows that the reputation of the wind industry in Scotland is at risk at a global level if Scottish Ministers allow Strathy South to go ahead."
A public inquiry into planning proposals for Strathy South wind farm concluded in June 2015 and is awaiting a decision by Scottish Ministers. Hundreds of concerned individuals from across Scotland and beyond have objected to the plans, as well as The Highland Council, Scottish Natural Heritage, The Scottish Wildlife Trust, Buglife, Plantlife Scotland, and the John Muir Trust