Fat lot of good
bbb9b118-096a-4b8a-8120-aeda8eb89ee5
The RSPB is warning that cooked turkey fat is extremely dangerous to birds. Many people put the leftover contents of Christmas dinner roasting tins outside, wrongly believing that it is as beneficial to birds as other fats like lard and suet. They pour the fat onto bird tables or mix it with seed thinking it will give birds energy and nutrients. But the wildlife charity is warning that it could actually kill them.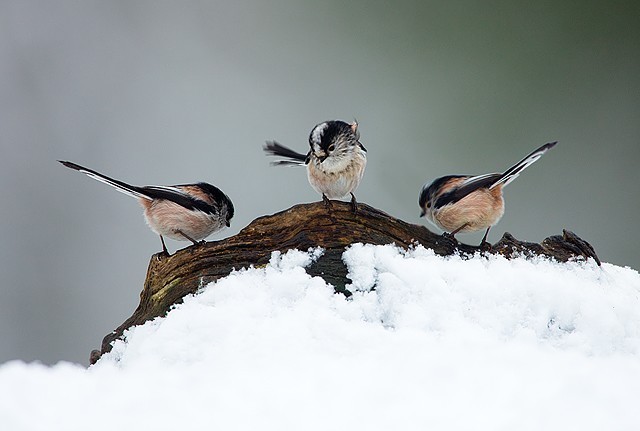 Long-tailed Tit, Forest of Dean, Gloucestershire (Photo: David J Slater)
Cooked turkey fat is completely unsuitable for birds for several reasons:
It remains soft even when cooled, meaning it could smear onto birds' feathers and ruin their water-proofing and insulating qualities. Birds need clean, dry feathers to survive the cold and a layer of grease would make this virtually impossible.
The softness of turkey fat once cooked also means it is impractical to make popular 'bird cake' where you mix fat with bird seeds, as it will not harden enough to hold its shape.
The fat in roasting tins cannot be separated from other leftover elements such as meat juices. This concoction can go rancid very quickly, especially if left in a warm kitchen for a while before being put outside, and form an ideal breeding ground for salmonella and other food poisoning bacteria. Birds are prone to bacterial infections at this time of year as their defences are low and their energy levels depleted with the cold.
Also, many people add other ingredients to a joint of meat before roasting including rubbing it liberally with salt in order to crisp the skin. High levels of salt are toxic to garden birds.

Blue Tit, Youghal, Cork (Photo: Tom Kennedy)
Kirsi Peck, RSPB Wildlife Adviser, says: "Using fat from roasting tins to feed to garden birds is one big no-no. Roasting tin fat will likely be mixed with lots of other juices which will go off very quickly and cause disease on bird tables. It could also damage birds' feathers which are so important for keeping them healthy and warm. And any salt added to meat can have a devastating effect of its own. Christmas time always brings out the suggestion that it's a good idea and people want to do all they can to help wildlife, but in reality, they could be killing them with kindness."
Content continues after advertisements

Long-tailed Tit, Old Moor RSPB (Dearne Valley), South Yorkshire (Photo: Mr. M.Rafter)
But the RSPB suggests many other leftover Christmas scraps which would be beneficial to garden birds including Christmas cake crumbs, mince pie pastry crumbs and biscuit crumbs. Other suitable leftovers include mild grated cheese, cooked or uncooked rice, breakfast cereals, cooked potatoes and fruit. The charity says that additional feeding at this time of year can be the difference between life and death, particularly for some of the smaller garden birds.
Kirsi Peck says: "Although cooked turkey fat must be avoided, there are lots of other leftovers in our homes that will give birds energy and nutrients to help them through the winter. Natural food will be in short supply as trees and bushes are covered in snow and frost and the ground is hard. We always have so much food at this time of year and people love to put their leftovers to good use. As long as we know which foods are suitable we could really help our birds fight the cold. They will repay you by brightening up gardens long into winter and coming back year after year."

Blue Tit, Morfa Nefyn, Gwynedd (Photo: Shirley Roulston)
The cooking juices from all other meats as well as turkey are equally as unsuitable for feeding to garden birds. The RSPB recommends that the best way to dispose of meat fat is to leave it to cool down and put it in the bin, not pour it down the sink.