Farming funds could transform Corn Bunting fortunes
e1a58471-976d-4c98-885e-9f25935eab54
New research has revealed that agricultural grant schemes, when targeted effectively, have the potential to transform the fortunes of one of Scotland's fastest-declining birds. The study, published today [9th February 2011] in the Journal of Applied Ecology, examines the value of agri-environment schemes in relation to conservation of the Corn Bunting.

Corn Bunting, Balranald RSPB, N. Uist, Outer Hebrides (photo: Peter Walkden)
Once found in almost every part of the UK, the Corn Bunting has plummeted in number in recent years. Gradual changes in farming have reduced the availability of the safe nesting sites and food sources these birds depend on. The Corn Bunting, sometimes known as the 'fat bird of the barley', prefers to nest in growing crops, making it vulnerable to harvesting operations. Its diet consists of large insects in summer, and grain and weed seeds in winter. The Scottish population is now restricted to eastern Scotland and the Western Isles, with perhaps only 850 breeding pairs remaining.
To help address these dwindling numbers, farmers have been able to access agri-environment grants offering them financial incentives to adopt practices that are sympathetic to wildlife and can be managed as part of some conventional farm systems. These include a national scheme to benefit wildlife in general, including farmland birds, and a bespoke targeted management scheme specifically for Corn Buntings, backed by face-to-face advisory support and led by RSPB Scotland with support from SNH.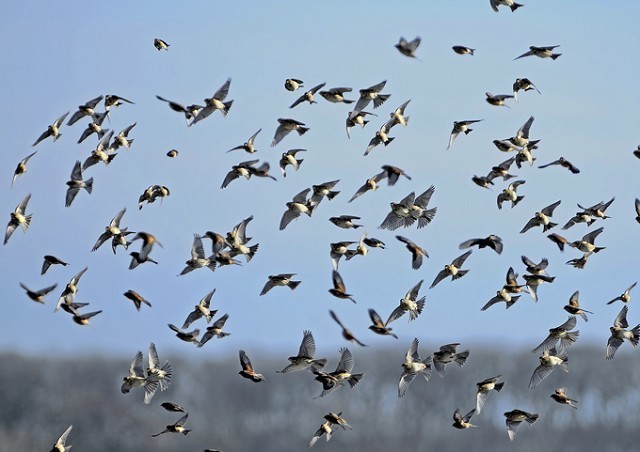 Corn Bunting, Loch of Strathbeg RSPB, Aberdeenshire (Photo: Alan Sinclair)
Content continues after advertisements
The study by RSPB Scotland, which looked at more than 70 farms in eastern Scotland over seven years, found that Corn Bunting populations continued to decline rapidly on farms outside agri-environment schemes, remained roughly stable on farms in the main national agri-environment scheme, and increased markedly on those which provided targeted Corn Bunting management with advisory support. But only a quarter of the Corn Bunting population currently benefits from this targeted management. Halting the decline would need this approach to be extended to almost three quarters of the population. Overall, the cost would be £120,000 or just 0.02% of the total subsidy for farming in Scotland.
This study highlights the vital importance of tailored schemes in halting farmland bird declines and the need to deliver management to a sufficient proportion of the population. Ensuring sufficient funds are devoted to targeted agri-environment schemes is critical. The study also highlights the importance of monitoring the effects of agri-environment spending, to assess its effectiveness, to allow adaptive improvement of schemes, and to inform future spending decisions.

Corn Bunting, Loch of Strathbeg RSPB, Aberdeenshire (Photo: Alan Sinclair)
Vicki Swales, RSPB Scotland's Head of Land Use Policy, said: "In this time of financial constraints, it is more important than ever that public funds are used wisely. Agri-environment funds help farmers to maintain their livelihoods and to farm with wildlife in mind. As highlighted by this study, targeted schemes really deliver results and offer excellent value for money. It is disappointing, therefore, that in the recent budget proposals, the Scottish Government decided to cut agri-environment expenditure by £10 million whilst protecting other, less environmentally focused, payments. Agri-environment schemes already receive a small proportion — just 7% — of the over £600 million spent on farm support each year. Cutting the funding for targeted schemes now, when we really need them to expand, will leave the fate of birds such as the Corn Bunting hanging in the balance."
Through the Common Agricultural Policy, almost £700 million is granted to farmers and crofters in Scotland each year. The majority of support is granted as Single Farm Payments — £433.8 million in 2010–11. Much of the remaining support is granted through various schemes under the Scottish Rural Development Programme, including agri-environment measures. These measures will receive £58.3 million (or 7% of total CAP support) in 2010–11. The Scottish Government draft budget for 2011–12 proposes a cut of almost £10 million in the budget for agri-environment measures to £48.9 million. This will have serious implications for the amount of targeted management that can be achieved.
Adaptive management and targeting of agri-environment schemes does benefit biodiversity: a case study of the Corn Bunting Emberiza calandra (Allan J. Perkins, Hywel E Maggs, Adam Watson & Jeremy D Wilson) was published in the Journal of Applied Ecology on 9th February 2011.