Caledonian pine forests to expand
1eef4743-794e-4077-b40f-9362dd14fc81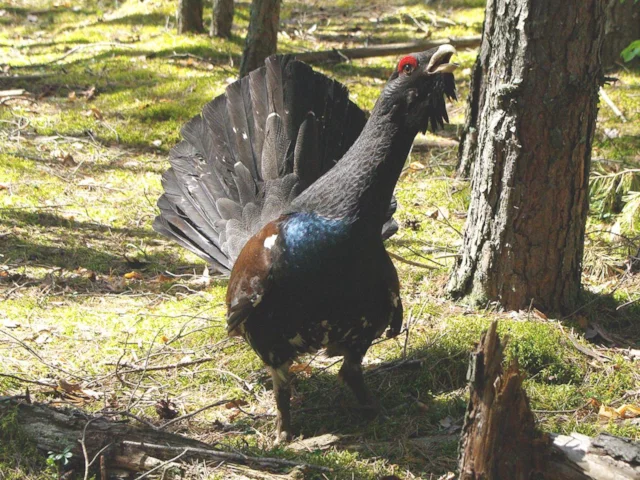 A visionary project to expand and restore Scotland's native Caledonian pine forests will see thousands of trees planted on a nature reserve in Speyside.
The ambitious conservation scheme aims to expand the largest single remnant of ancient Caledonian pine forest to fill its ecological limit within 200 years. It will almost double the total size of the woodland at Abernethy Forest RSPB, joining it up with the fragmented surrounding remnants and pushing it to its altitudinal limit.
Abernethy hosts some of the rarest and most iconic species in Britain, holding around 12 per cent of the
Capercaillie
population, as well as
Scottish Crossbill
,
Crested Tit
, Scottish Wild Cat, Pine Marten,
Black Grouse
,
Golden Eagle
and many rare mosses, fungi and plants, including Twinflower.
Over the past quarter century, managing and reducing grazing pressure from deer on the reserve has already enabled Abernethy's Scots Pine trees to expand by self-seeding, with more than 800 ha of new saplings now established. However, although the main component of
Caledonian pine forest
is the native Scots Pine, a critical element of ancient pine forests is the broader range of native shrub and broadleaved tree species such as juniper, birch, rowan, alder and willows. While recovery of the pines at Abernethy has been successful, some of these other species remain extremely scarce or localised.
With the help of schoolchildren in Strathspey, volunteers from across Scotland and local contractors, the RSPB will be planting close to 100,000 new trees at the reserve, including birch, aspen and two species of willow and alders. It is hoped that at least 40,000 of the planted saplings will survive grazing pressure from Brown Hares and other herbivores. When they reach maturity, they will produce the full range of natural species and ensuring the forest's continuity.
Jeremy Roberts, Senior Site Manager at Abernethy, said: "We have conducted some of the most comprehensive surveys of regeneration in Britain, and this has shown that the recovery of broadleaves has been extremely slow and localised compared to the pines at Abernethy. Few broadleaved trees remain to provide the vital seed source.
"We are restoring these species, with the welcome help of local schools and volunteers who are assisting with the planting of the under-represented broadleaved trees. As these small groups of trees mature they will themselves provide the seed source, restoring the forest to its diverse and species-rich former glory. It may well be that the descendents of the school children who have been assisting with the planting will be the ones who see the difference rather than us. However, it is enormously satisfying to know that this generation is creating this legacy."
Environment and Climate Change Minister Paul Wheelhouse said: "RSPB should be congratulated for taking this pioneering project forward. It fits very well with the Scottish government's vision for woodland expansion and community engagement. It is also great news that Scotland's national tree, Scots Pine, is doing so well in Abernethy Forest. The move to plant more tree species in the forest is a positive one which will add great value to the environmental quality and biodiversity of the Cairngorms."
Content continues after advertisements