Britain's raptor-killing crisis
c249be70-3992-4ecc-8cb4-f674adf45693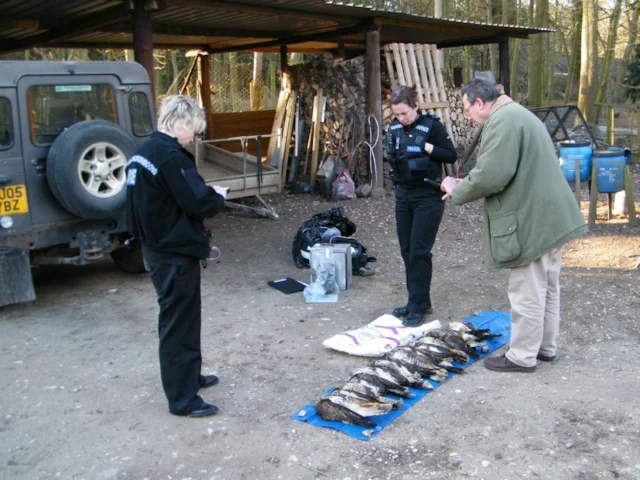 Stronger action is needed to protect native birds of prey, says the RSPB, as their new bird crime report reveals that illegal killing continues unabated.
The RSPB is calling for better application of the laws that protect British raptors, as the
Birdcrime 2014
report which has just been published highlights that illegal persecution continues to prevent some of our native birds of prey from recovering to their natural levels.
In 2014, the RSPB received 179 reports of shooting and destruction of birds of prey, including the confirmed shooting of 34 Common Buzzards, nine Peregrine Falcons, three Red Kites and a Hen Harrier. The report also documents 72 reported incidents of wildlife poisoning and pesticide-related offences, with confirmed victims including 23 Red Kites, nine Common Buzzards and four Peregrine Falcons. These figures are believed to represent only a fraction of the illegal persecution in Britain, with many incidents thought to be going undetected and unreported.
Birds of prey continue to suffer unacceptable levels of illegal persecution which disrupt efforts to restore natural populations throughout the country. Notable incidents in 2014 included the discovery of 16 Red Kites and six Common Buzzards found dead near Inverness, of which 12 kites and four buzzards were proved to have been poisoned.
Furthermore England's worst ever raptor poisoning case concluded in 2014, when Norfolk gamekeeper Allan Lambert received a suspended prison sentence for a range of offences including the poisoning of 10 buzzards and a Sparrowhawk. Last week the Stody Estate, where Lambert had worked, was docked €260,000 in farm subsidy payments by the Rural Payments Agency as a result of the poisoning incident, after claiming that they knew nothing of the gamekeeper's illegal actions.
Martin Harper, RSPB Conservation Director, said: "The problem of illegal persecution has tarnished the UK for decades and continues to do so. Strong action is needed now to deliver the effective protection that our birds of prey so urgently need."
Encouragingly, progress is being made in Scotland. For the first time a person was handed a prison sentence for raptor persecution when Aberdeenshire gamekeeper George Mutch was jailed for four months after trapping Goshawks and a Common Buzzard. Also in Scotland, 2014 saw the
first-ever 'vicarious liability' wildlife case
when Galloway landowner Ninian Johnson Stewart was found to be responsible for actions committed by his gamekeeper including the poisoning of a buzzard. As a result the landowner lost nearly £66,000 of farm subsidy payments.
The RSPB's annual
Birdcrime
report is the only centralised source of incident data for wild bird crime in Britain. It illustrates the nature of the raptor persecution problem identified by a number of scientific studies, government reports and police intelligence. For example, a 2008 study on Hen Harriers by Natural England concluded that: "the critically low breeding numbers and patchy distribution of the Hen Harrier in England is a result of persecution ... especially on areas managed for Red Grouse or with game-rearing interests". The police National Wildlife Crime Unit's 2013 Strategic Assessment states that: "intelligence continues to indicate a strong association between raptor persecution and grouse moor management".
The RSPB supports the licensing of driven grouse moors and the introduction of vicarious liability as these measures could improve enforcement through providing more effective deterrents, which would ensure that no one can profit from wildlife crime.
Martin Harper added: "To protect our magnificent birds of prey we must defend the laws that protect them, in particular the EU Nature Directives. When applied properly, these laws can help protect our most valuable wildlife and sites. All evidence points to the need for a consistent approach and effort across all four UK countries in protecting our most threatened birds of prey, such as Hen Harrier and Golden Eagle, from illegal persecution. In this context, there is a strong case for fully implementing the EU Nature Directives consistently across the UK to protect wildlife from illegal killing."
The Nature Directives have driven the recovery of many species, such as White-tailed Eagle and Red Kite. This year, White-tailed Eagles reached the important milestone of 100 breeding pairs, 40 years after they were reintroduced to Scotland. Populations of Red Kites, once restricted to a small area of Wales after illegal persecution eradicated them from England and Scotland, continue to go from strength to strength in many parts of the UK after a number of successful reintroduction projects.
Content continues after advertisements