Britain's most imprisoned egg collector gets bird, again!
f27d7be9-99b9-4de9-9bfa-345c968bfdd1
Today [Tuesday 13th December 2011], Matthew Gonshaw (49) of Cherrywood Close, Bow in East London has extended his infamy as Britain's most imprisoned egg collector. He has been sentenced to yet another jail term, for six months, following conviction for stealing and possessing wild birds' eggs, including those of some of the rarest and most threatened birds in the UK.
Gonshaw, who has already been jailed on three previous occasions for similar offences, pleaded guilty at Thames Magistrates Court earlier today to 10 charges. Gonshaw's home in East London was raided by officers from the Metropolitan Police and RSPB Investigations unit on 2nd June this year. Nearly 700 eggs were found at the premises.
Gonshaw faced 10 charges, including taking five Golden Eagle eggs and 12 Avocet eggs from the wild, and possessing eggs from specially protected species, including seven Golden Eagle eggs, eight Osprey eggs, 12 Avocet eggs, three Peregrine eggs, three Red Kite eggs, and 12 eggs of other specially protected species. The remaining wild birds' eggs were all illegally held but were from species not covered by Schedule 1 of the Wildlife and Countryside Act 1981.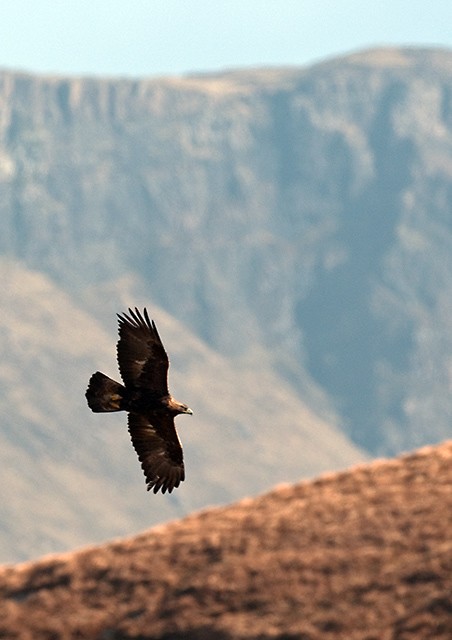 Golden Eagle, undisclosed site, Argyll (Photo: Steve Hiscock)
Mark Thomas is an investigations officer with the RSPB who has been working on this case. Speaking from Thames Magistrates Court, he said: "We believe the introduction of custodial sentences in 2001 for the most serious wildlife crime cases has forced most of Britain's egg collectors to throw in the towel. But it is clear that Gonshaw's obsession drives him to target the rarest birds in Britain, where the prospects of jail or depriving the country of threatened species are simply dismissed."
Content continues after advertisements
PC Stephen Rodgers of the Metropolitan Police has been involved with the case. He said: "We hope that this result here at court sends a clear message that — together with our partners from the RSPB — we will work to protect Britain's birds for future generations. Gonshaw's actions directly jeopardise Britain's wildlife and his obsession with collecting eggs threatens some of Britain's rarest and most precious species."
The RSPB's Brian Etheridge has been monitoring Scotland's birds of prey for the Society for 20 years. Commenting on the sentence, he said: "Birds like Ospreys have travelled thousands of miles from Africa to lay their single clutch of eggs. But egg collectors like Gonshaw can bring all that year's effort to an end in a single act of selfish obsession."
Becky Owen, reviewing lawyer for the Crown Prosecution Service in London, said: "We have worked closely with the RSPB and the Met Police Wildlife Crime Unit to secure this conviction and our hope is it sends out a strong message about the seriousness of these crimes. Matthew Gonshaw's criminal actions caused untold damage to wildlife in the UK. He has plundered nearly 700 eggs, including some from endangered species such as Golden Eagles and Ospreys."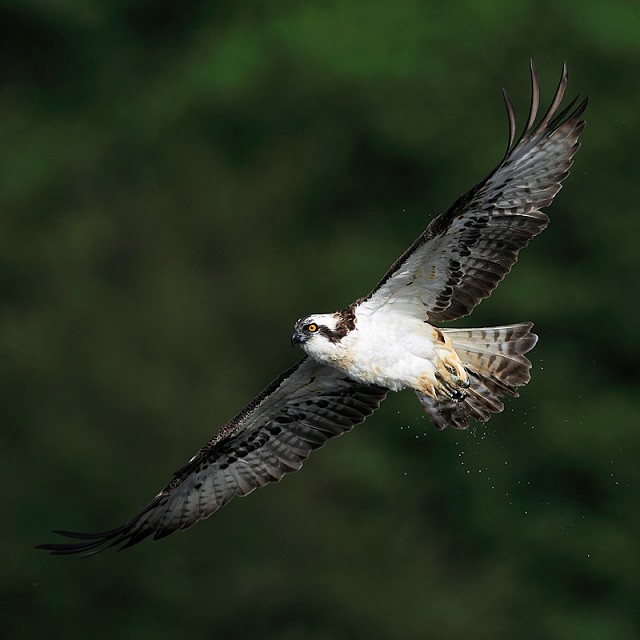 Osprey, Rothiemurchus, Highland (Photo: Nigel Forrow)
Gonshaw's conviction has solved a few mysteries, as Brian Etheridge explains: "I have been monitoring several of the nests that Gonshaw has raided. We can't watch the nests all the time, so we weren't sure, until now, why these birds had failed."
Egg collectors make small holes in the eggs to blow out the contents to leave just the calcium shell. Mark Thomas added: "Egg collectors like to keep the eggs as intact as possible, so they will sometimes inject chemicals into the egg to dissolve the chick or they will make a small incision to cut up the chick so they can be removed piece by piece. It is clear from Gonshaw's collection that some of the eggs contained developing chicks, possibly close to hatching."