Black Grouse thriving in Scottish highlands
371dc14f-36b9-4384-aee7-1e875a868969
Black Grouse has continued to increase in number in the Scottish highlands, says the RSPB, which is arranging special guided trips to see them in Perthshire this spring.
The Perthshire Black Grouse Study Group has been monitoring the species' population in highland parts of the county since 1990. All suitable habitat is checked by 30 volunteers and count numbers of Black Grouse within seven 10-km squares. That's an area of 70,000 hectares, roughly spanning across from Kinloch Rannoch to Kirkmichael and from Aberfeldy up to Blair Atholl. Between mid-March and mid-May, volunteers make at least two visits at dawn to count lekking males, providing crucial information about how well the birds are doing.
This spring, RSPB Scotland, the John Muir Trust and Dun Coillich Project will be running lek viewing events near Schiehallion, Perthshire to offer people the chance to see these magnificent birds.
Lauren Shannon, RSPB Scotland Community Engagement Officer, said: "Watching a Black Grouse lek is a must-see wildlife experience, with extravagant displays and competitive sparring amid bubbling calls that carry across the hill. These partnership events are a great chance to see this impressive display and learn more about it."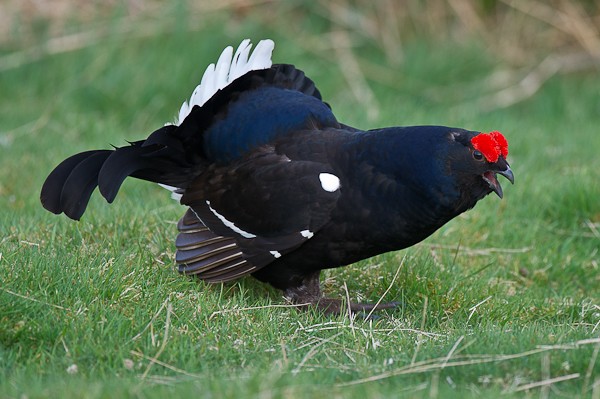 A male Black Grouse lekking in the Scottish highlands (Photo: Artur Stankiewicz)
Content continues after advertisements
Despite national declines in numbers of Black Grouse, in highland Perthshire they have bounced back and numbers have been increasing since 2002. The area is now a stronghold for this species due to its mosaic of habitats, with recent studies showing that they are responding well to native tree planting in the region.
In 2016, 545 males were recorded at 77 leks, compared to the 676 males in 2015 which was the second highest count since 1993. A slight fall in numbers is not unusual and is often due to wet weather in previous years that reduces how many chicks survive to become adults. The largest lek recorded within the study area in 2016 was at Dun Coillich and held 42 males.
Claire Smith, RSPB Scotland Senior Conservation Officer and a member of the Study Group, said: "It's great that estates and land managers have put a range of measures in place to benefit Black Grouse which are doing so well. We are very fortunate to have such amazing long-term information thanks to the hard work by volunteers within the study group, five of which have been involved since it started in 1990."
A third and final Black Grouse event near Schiehallion will take place on Sunday 23 April from 5.30–7 am. It will involve a short walk to the viewing area and cost £4 per adult (children go free), with a hot drink provided at the end. Places are limited and booking is essential. To book or for more information, please phone 01738 630783 or email perth.admin@rspb.org.uk.