Black Grouse numbers on the rise in Scotland
2c181573-ef38-4cc9-93f5-3c1d3528ffe9
Surveys of traditional 'lek' sites across Black Grouse strongholds of Dumfries and Galloway, Deeside and Speyside revealed a rise in numbers on the previous year — an encouraging sign for this scarce bird, which is red listed as a species of high conservation concern. The results could imply that a combination of factors including major woodland initiatives and conservation efforts, boosted by a good breeding season in 2010, may be beginning to pay off. The results have been compiled by RSPB Scotland, the Game & Wildlife Conservation Trust, Scottish Natural Heritage, Forestry Commission Scotland and a number of dedicated localised study groups in Perthshire, Central Scotland, Deeside and Speyside.
Black Grouse were once widespread across the UK but have suffered steady declines and range contractions over the past 40 years, with populations falling from an estimated 25,000 displaying males in 1970 to just over 5,000 in 2005 (when a national survey was last conducted). Good weather in 2010 resulted in a very productive breeding season for Black Grouse across Scotland, and even the severely threatened populations in the south bred well. In Dumfries and Galloway surveyors counted 194 lekking males at over 71 lek sites in 2011, a 31% increase on 2010. Monitoring coordinated by the Southern Uplands Partnership in the Scottish Borders revealed 390 lekking males. In areas north of the central belt, conservationists credit a boost in numbers counted in 2011 to a combination of the good weather and conservation organisations working with land managers on how to benefit Black Grouse. These measures aim to improve survival and breeding rates, through positive habitat management such as woodland regeneration and moorland management, alongside legal predator control supported by private investment and targeted Scottish agri-environment support. Figures collated by the Speyside Black Grouse Study Group, including 19 private sporting estates and the Abernethy and Creag Meagaidh nature reserves, revealed the highest annual total of displaying Black Grouse since surveying began in 2001.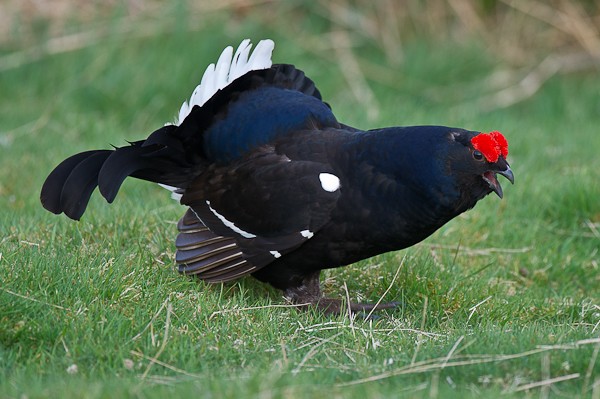 Black Grouse, undisclosed site, Highland (Photo: Artur Stankiewicz)
Duncan Orr-Ewing, Head of Species and Land Management with RSPB Scotland, said: "The Black Grouse is one of Scotland's most iconic species. Anyone who has witnessed their impressive courtship display will bear testament to a great wildlife experience. It is fantastic to see a rise in the number of lekking males but more work must be done to create increasing populations across all suitable areas of Scotland. Figures from Argyll have shown a relatively stable population over the past three years, demonstrating that rises are not uniform across their entire Scottish range. Black Grouse continue to face tough challenges with the loss of heather moorland in some places as well as the loss of ground vegetation within maturing conifer forests."
Adam Smith, Director Scotland for Game & Wildlife Conservation Trust, noted the key role of land managers, saying "This remarkable species needs a diverse array of habitat and low levels of predation and disturbance to thrive. Well-focussed advice and the support of farmers, gamekeepers and foresters has surely helped the Black Grouse exploit a couple of years of good weather to the full in some of the more northern parts of Scotland, with many parts of the Cairngorms showing strong populations. Making sure the publicly funded advice and support land managers receive for critically threatened Black Grouse populations from our organisations is appropriate to the very different conditions in southern Scotland is a key challenge."
Both RSPB and GWCT highlight that government support continues to be a vital means of encouraging positive Black Grouse management. Any cuts to the overall spend on such conservation by Scottish Government are worrying when there is still such a clear need and demand for this kind of support. An innovative and successful partnership with The Famous Grouse, via sponsorship from their Black Grouse Whisky, has raised new funding from the private sector; but this, though a key primer for positive work at important sites, cannot begin to match Government support.