Bird Race Challenge 2017
c2a08de0-34e3-428c-ad2f-182196982680
"Did you see it?"
I did. A ghost of a bird — too pale for a Marsh Harrier, clearly the wrong shape for a gull … Could it have been the mythical 'Skydancer'? No, no, I was assured. A pale Marsh Harrier maybe, but not the bird I've only ever seen stamped on profile pictures across Twitter — a male Hen Harrier.
We couldn't stay any longer to check anyway, as we were on a time-constrained mission. Maybe we'd speak to the landowner, nature writer Simon Barnes, on Monday and see if he'd had any sightings there recently, but for now it was time to get back in the car and head for our next destination, for we were taking part in the Bird Race Challenge — and were 'only' on 87 species.
The Bird Race Challenge gives you and your team 24 hours to try to see as many species as possible. It is ultimately a test of how well you know your 'patch' and an intense exam of bird identification — both sight and sound ID counts, but everyone in your team has to see (or hear) it … and agree.
Should be easy, right? Our team contained two talented birders who had a wealth of information about where to find elusive East Anglian species such as Willow Tit, European Turtle Dove and Firecrest. They'd spent years treating the region as one big patch — they knew all the interesting lanes where you might find Yellowhammer or Corn Bunting, the fields to watch out for Common Crane and the best heath to hear the metallic churr of a European Nightjar.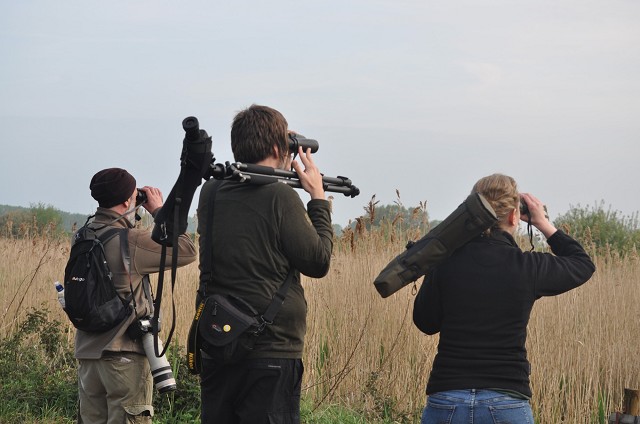 The World Land Trust team in action (Nina Seale/WLT)
But you can't be everywhere at once during the period of peak activity: dawn. So where do we start while it's still dark, in order to hear owls, and where it is close enough to where we need to be for daybreak? Should we position ourselves in a reserve such as Lakenheath Fen RSPB, Suffolk, for the dawn chorus or is it worth trying a spot where we might hear a Stone Curlew wail? We found ourselves just outside Weeting Heath NWT, Norfolk, straining to hear what was described to me as a 'creaky alarm' … nothing. As the sky began to fill with light, we had to abandon it and head out to the guaranteed species at Lakenheath Fen.
Although it was punishing to wake up so early on a Saturday, being outside to hear the first sounds breaking the dawn is remarkably rewarding. Anyone who says Britain is lacking in wildlife should try heading out to a bird reserve first thing in the morning; we had 65 species by 7 am.
However, we should not become complacent about our bird diversity — if there was one thing I learned from skating around various country lanes in the middle of nowhere, it's that every piece of remaining habitat counts. The importance of hedgerows, those seemingly unassuming strips of bush, cannot be over-exaggerated. Listening to hedgerows in Methwold Hythe, Norfolk, we landed several songbirds, including a Nightingale. We also visited a stretch of land in Santon Warren, Norfolk, which, to the untrained eye, may have looked like a wasted piece of scrub — but it added Grey Wagtail, Willow Tit and Treecreeper to our day list. As we left, it occurred to me how little economic value local decision-makers might place on it, compared to a housing estate, if they did not understand its importance for wildlife.
Content continues after advertisements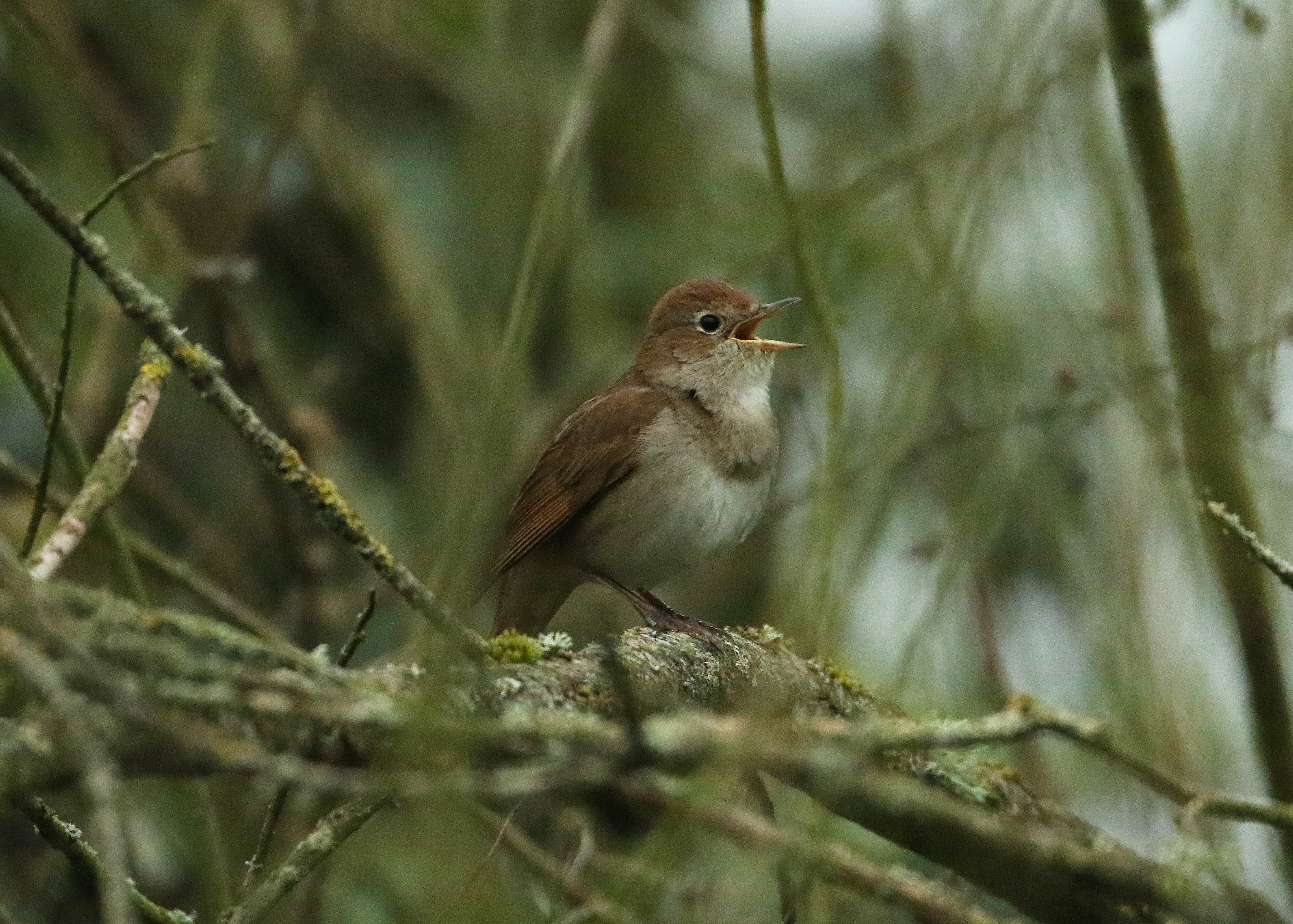 A singing Nightingale is a useful addition to any 'big day' list (Photo: Jon Mercer)
The importance of habitats is at the heart of the organisation I work for: World Land Trust (WLT). The organisation works on the principle that a species can survive in the wild so long as it has enough habitat, so donations are used to secure appropriate sites around the world with long-term protection through local partner NGOs.
This year the Bird Race Challenge reached out in birding solidarity with the Beni Savanna habitat in Bolivia, home to a rich bird diversity including the Critically Endangered Blue-throated Macaw. This eye-catching species has been persecuted by the pet trade and has lost swathes of habitat to cattle ranching, and it is now thought that fewer than 250 individuals remain in the wild. WLT's Action Fund and donations to sponsor the Bird Race Challenge are funding the restoration of important foraging habitat by protecting existing habitat and planting Motacu Palm species that provide food (specifically palm nuts) for the macaws.
Strangely, there is more to the relationship between the Bird Race Challenge and WLT than the sponsorship this year. The first charity bird races occurred in the 1980s after WLT Founder John Burton, then Executive Secretary of Fauna and Flora International, challenged David Tomlinson from Country Life magazine to a one-day test of birding skill and endurance. Things took off when John enlisted the help of his friend and celebrity birder Bill Oddie, and the 'big bird races' began.

Birdwatch contributor Bill Oddie was involved in promoting this year's Bird Race Challenge (Sarah Lucy Brown/EADT)
Looking into the original races by reading The Big Bird Race book and speaking to those involved, there is much to learn about the recent history of East Anglia's birds and how much has changed. Back in the day, finding a Hawfinch or Lesser Spotted Woodpecker (neither of which made our list) was relatively easy, but seeing a Common Buzzard? Near impossible.
Some species have held onto their mystery, though. There are only a couple of records of Hen Harriers in the original bird races, and even though I've lived here for a year and regularly visit my local reserves, I had never seen one before. But we got a call on Monday morning from Simon Barnes, and to my delight it sounds like our grey harrier was almost definitely a Skydancer.
Making it count
As much fun as the team of World Land Trust staff had doing the Bird Race Challenge, they were doing it to fundraise and raise awareness of an important cause: the plight of Blue-throated Macaw.
Even doing something as rewarding as birdwatching can be a test of endurance when conducted non-stop for 24 hours. The WLT team's total was 113 species. Please consider sponsoring the teams' efforts and support the conservation of this Critically Endangered bird in Bolivia by donating below.