Attenborough helps celebrate 25 years of unique habitat conservation
8d2c31f3-3f2a-4de0-9e6f-7a8904ed114e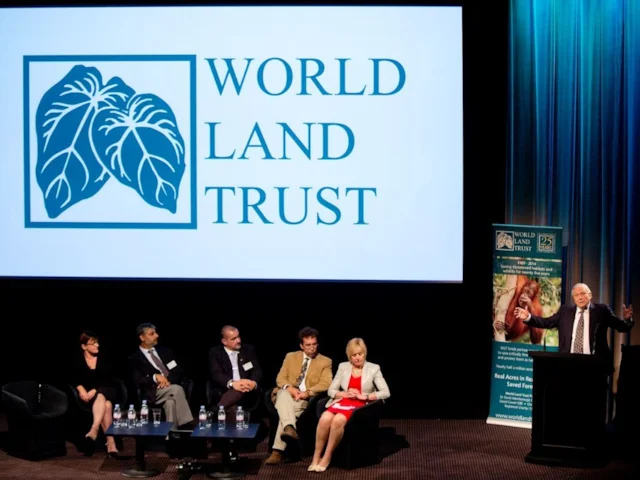 The
World Land Trust
(WLT) has celebrated a quarter century of protecting the world's most biologically important and threatened habitats by land purchases.
The WLT uses voluntary donations to fund land purchases of vulnerable habitats, to create nature reserves and protected areas which are then given to official local conservation groups to manage. Assisting with technical expertise in situ, the WLT encourages small-scale sustainable development to enable financial independence, and to help local people and organisations appreciate their wildlife in partnership with the Trust.
The WLT held the recent well-attended VIP event – entitled 'Saving Paradise: An Acre-by-Acre Journey'– at the Princess Anne Theatre in London's swish Piccadilly, and guests were treated to an introduction by Sir David Attenborough.
Sir David has been involved with the WLT since its inception in 1989, as well as becoming a patron in 2003. He was joined by a number of the Trust's overseas conservation partners, who also gave short presentations about the diverse conservation challenges and solutions in their countries. Orchid expert, Lou Jost, also highlighted projects in Ecuador where several new species of orchids have been discovered, thanks to the protection of land in the area.
Another recent project has helped save
Palkachupa Cotinga
, endemic to the Andean Cerrado woodland in north western Bolivia where its population is estimated at just 600 individuals, adnis under threat from deforestation.
John Burton, CEO of World Land Trust, commented: "We are extremely proud to celebrate 25 years of saving some of the world's most important natural ecosystems, and are delighted to celebrate this milestone with our supporters and patrons. There is still a lot more to be done, of course, and we look forward to continuing to protect many more threatened acres in the years to come."
Sir David previously commented: "I realised that John was someone who got things done. When he established World Land Trust in 1989, I believed that John would get funds to where they were most needed – to the people in the countries who were losing their tropical forests to the bulldozer.
"The support that is given to World Land Trust is support that goes directly to the places where it is needed. The money that is given to the Trust, in my estimation, has more effect on the wild world than almost anything I can think of."
Content continues after advertisements