Like clouds of smoke, large flocks of Starlings roll and churn through the evening sky, creating ever-changing shapes as they gather before diving into their chosen roost sites. A well-known garden bird, Starlings take on a whole different persona in the winter months, when their roosting behaviour becomes one of Britain's greatest wildlife spectacles. Many thousands of birds come together in large gatherings to reduce the risk of attack from avian predators before dropping in to roost.

Starling murmuration over Blackpool beach, Lancashire (Jackie Moreton)
Starlings leave their roosts during the day and go off to feed, some up to 20 miles away. They return in the afternoon and the murmurations usually start an hour or so before sunset. Murmurations can be seen in small numbers at many places across the country, but are at their most dazzling at a few select sites where numbers can reach hundreds of thousands of birds. Below is a selection of 10 of the best sites at which to experience this spectacle.
Minsmere RSPB
Ensconced on the coast of Suffolk, Minsmere is one of Britain's most well-known RSPB reserves. In the past, Starling flocks along the Suffolk coast were mobile over a number of sites, but the reedbeds off Minsmere's North Wall have become a regular haunt in the last couple of years, with gatherings of up to 30,000 seen already this December. A short walk from the visitor centre car park, an evening stint here can also be productive for other star winter species, with wildfowl, gulls and waders, including regular roosting Bewick's Swans and Caspian Gulls.
Minsmere RSPB, Sheepwash Lane, Saxmundham IP17 3BY

Starlings gather over Minsmere RSPB, with Sizewell B power station on the horizon (Jon Evans)
Saltholme RSPB
Containing around 20,000 individuals, the Starlings at Saltholme gather against a stark backdrop of heavy industry. As they arrive, the birds crowd on pylons which overlook the wet reedbed at Haverton, a safe roost site because mammalian predators cannot get to them without swimming. The murmurations are best experienced from the Haverton Viewpoint, but be sure to leave yourself enough time to return to the visitor centre as the whole site is closed to the public at 4 pm in winter. The RSPB hold a number of 'Soup and Starling' events throughout the winter which allow for a more immersive experience — and soup — past the reserve's closing times. Additional attractions are provided by the large winter wildfowl flocks and birds of prey, which include Short-eared Owls, Peregrine Falcons and Merlins; the last two species are often seen harassing the Starlings making for some breathtaking, fast-changing patterns and shapes.
Saltholme RSPB, Seaton Carew Road, Stockton-on-Tees, TS2 1TU
Leighton Moss RSPB
Numbering up to 120,000 in some years, the Starlings spend the night in Leighton Moss's extensive reedbeds, in the company of resident Bitterns and Bearded Tits. The shapes of their sky dancing are perhaps best observed from Lilian's Hide near to the visitor centre, which is one of the larger sheltered viewing points on the reserve and is wheelchair accessible.
Leighton Moss RSPB, Storrs Lane, Silverdale, LA5 0SW

Starlings at Leighton Moss RSPB in November 2008 – spot the marauding Sparrowhawk! (Pauline Greenhalgh)
Newport Wetlands RSPB
Often gathering on the power lines by the reedbeds before dropping into them to roost, this site often attracts the attentions of the local pylon-nesting Peregrine Falcons. As the sun sets, they lift off the cables and flock over the largest reedbed in Wales. Accounting in area for 10 per cent of all the reedbeds in the principality, the roost in late November contains around 100,000 birds at its peak. Unsurprisingly, other reedbed species can also be seen here, including Bearded Tits and regular wintering Bitterns. The murmurations can be seen from most vantage points on the reserve.
Newport Wetlands RSPB, West Nash Road, NP18 2YH

Starlings impress onlookers at Newport Wetlands (Margaux Doey)
Belfast
Rome's urban starlings are now a regular TV feature, most notably including the BBC's recent Planet Earth II. Large city centre roosts such as this are sadly a very uncommon sight nowadays, but at least one remains: the gathering in the centre of Belfast. The largest of its kind in Northern Ireland, it plays host to around 30,000 birds. Gathering from all parts of the city and its environs, they coalesce into a single massive flock wheeling in unison as they prepare for nightfall, before flying under the Albert and Queen's Bridges where they roost for the night.
Albert Bridge, Belfast, BT7 2DS
Malltraeth Marsh RSPB
Malltraeth, on the coast road towards Rhosneigr, is a relatively unknown RSPB reserve, but encompasses 273 hectares of reedbeds, marshes and wet grassland. Containing up to 350,000 birds some years, this roost is surprisingly unfamiliar to many, but its large number of birds make it one well worth exploring. The marsh is a vital feeding area for migrating and wintering waders and wildfowl, including the area's important Northern Pintail population, and also plays host to wintering Bitterns. The roost is perhaps best viewed from by the reserve's Tai'r Gors car park.
Tai'r Gors, Malltraeth Marsh, Pentre Berw, LL60 6LB
Gretna
Far more famous for eloping lovers than avian delights, Gretna Green also plays host to one of the country's larger murmurations, often holding more than a million birds. It is in fact so imposing that that sky often turns black due to sheer numbers, their wingbeats providing a flying orchestra. This mobile roost was in previous years located just to the south of the motorway services but is now usually found just to the west of the hamlet of Rigg, to the west of Gretna, and is best viewed from various points along the B721 — watch out for them perched in trees or on pylons before going to roost.
Rigg, DG16 5JF

Starling murmurations at Gretna Green (wildaboutimages)
Aberyswyth Pier
This small Welsh seaside town is a popular one with tourists in the summer months, but in recent years its famous starling roost has led to sizeable crowds of residents, students and tourists gathered along the seafront in the depths of winter. Constructed using a maze of iron latticing, Aberystwyth's Royal Pier opened in 1865, and the aforementioned columns provide a labyrinth of roost spots. Wheeling over the town's waterfront, the birds can number over 50,000 strong. Best viewed from anywhere along the promenade, or the pier itself, this particular spot has the added advantage of a number of first-rate fish and chip shops, a welcome delight after an afternoon's starling counting.
Marine Terrace, Aberystwyth SY23 2AZ

Starlings flocking over Aberystwyth pier (Kev Joynes)
Brighton
Probably the most well-known of all 10 sites, Brighton's birds congregate on the derelict West Pier, by the town's new sky tower. But the views from this observation tower are no match for those found when the starlings are in town. One of the more picturesque roosting sites, the charred corpse of the fire-scarred pier has provided an iconic backdrop to countless numbers of award-winning photographs. Sometimes numbering into the hundreds of thousands, the flocks can be seen from anywhere along the town's seafront before dropping onto West Pier, as well as neighbouring Palace Pier and under the Marina Wetherspoons.
Kings Road, Brighton, BN1 2FA
Shapwick Heath NNR & Ham Wall RSPB
By some distance the largest roost in the UK, usually encompassing in excess of a million individuals — and in the winter of 1999 reaching an estimated size of 6 million! They are so numerous that the water below their chosen roost soon becomes polluted, and they use a slightly different location most days. Such a large gathering brings with it a whole host of avian predators. Both Tawny and Barn Owls are known predators, and Marsh Harriers, Sparrowhawks, Merlins and Peregrines are regular visitors. The Starlings can be just as spectacular when they leave their roost in the morning as tens of thousands of birds erupt out of the reeds all at once, which usually happens about half an hour before sunrise.
Understandably, this roost can attract large crowds. So popular is the roost on the Somerset Levels that the RSPB have set up a Starling Hotline outlining their last known locations, which can be reached on 07866 554142. Arriving early to beat the hordes provides ample time to explore the rest of this large chain of reserves. Other special wildlife in the Avalon Marshes area includes Great White Egrets, Bitterns, Otters, reintroduced Common Cranes, along with large numbers of wildfowl and waders, and often a good chance of something rarer.
Access is best achieved using the main car park at Ham Wall, from where both here and Shapwick are easily reached. There is a small visitor centre here, with the car park closing at 18:30 during the winter months. There is also parking on the Shapwick side at Avalon Marshes Centre, with toilets and a café.
Ham Wall RSPB, Ashcott Road, Meare, BA6 9SX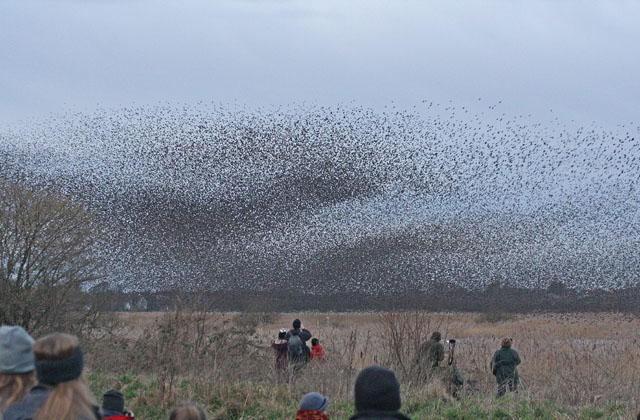 The impressive show at Ham Wall RSPB draws large numbers of admirers (R Luckwill)