In 2001, my son Jeremy called me with the news that he had bought an old vineyard in the south of France. Once I had removed the vision from my mind of the family producing its own wine, I realized he had purchased three acres of land on which he intended to build a house. The next bit of the conversation led to the news that there was an additional field of an acre available and I should consider buying that too.
From then on things moved fast. We made the journey out, and having looked at the land decided we would buy it. The purchase was helped by finding a pair of Rollers nesting by the roadside just downhill from the site and Red-rumped Swallows collecting mud in nearby puddles. I returned home wondering what I had done. I was not particularly fond of the French and I had concentrated my European birding in wilder Spain. Well, it took a further four years to get a house built on the land and I do not regret the decision one bit. The wildlife of the area is stunning and keeps me happy for hours on end, and I would like to share some of the highlights with you.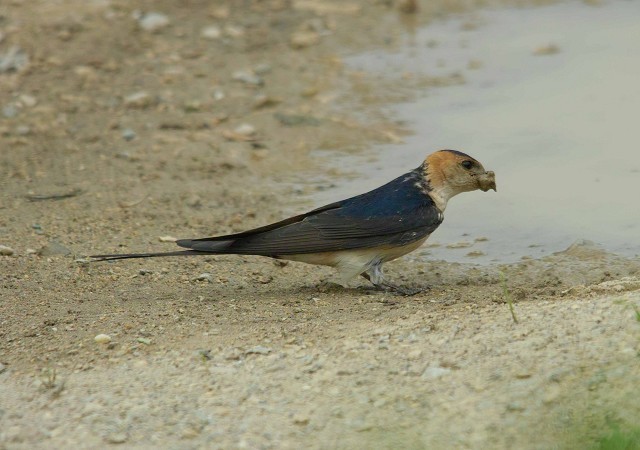 Red-rumped Swallow, France (Photo: Derek Moore)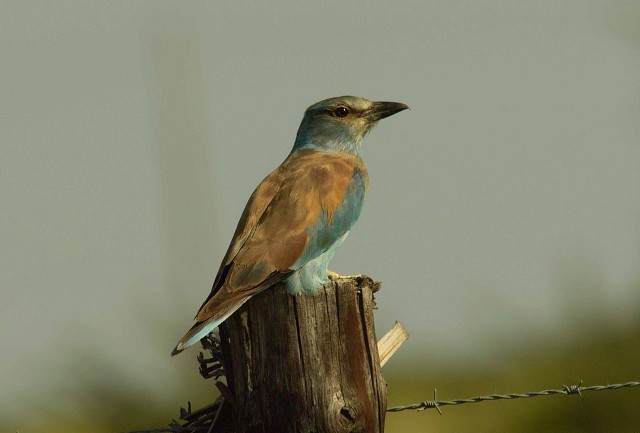 European Roller, France (Photo: Derek Moore)
First of all the house is built on a south-facing hillside in the last remnants of the Cevennes looking across the Aude valley to the Corbières and thereafter the Pyrénées. The hill has the rather grand name of Montcelebre and lies close to the ancient Cathar village of Minerve. Montcelebre is just south of the Haute Languedoc National Park, of which the southern border is roughly the Cesse Gorge, about 10 minutes' walk from our house.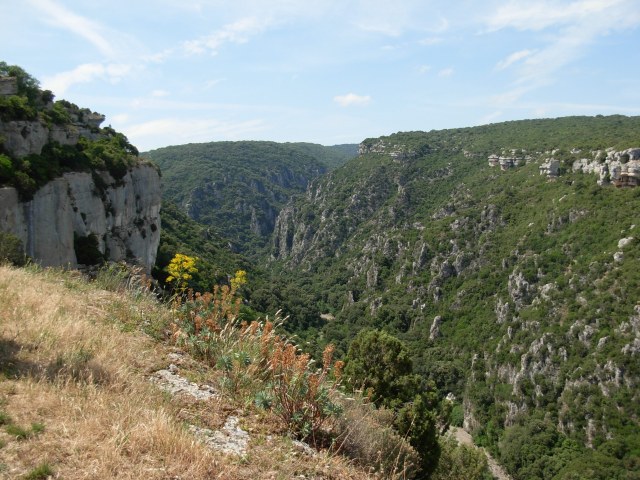 Cesse Gorge (photo: Derek Moore).
The habitat surrounding us is mainly a mixture of garrigue (a heathland habitat of tall shrubs, including rosemary and thyme), coniferous forest and small-scale vineyards. The soil is chalky boulder clay, which produces an outstanding flora with many species of orchids. Lady, Pyramidal, Early Spider and Yellow Bee Orchid all grow within the boundary of our garden and Wild Tulips, Gladioli and species of Cistus all thrive around us. We have constructed a form of garden that integrates with the natural surroundings and is planted only with what can be sustained without additional water. Although it can be cold and wet in winter and spring, the summers are long, hot and devoid of rainfall for many months.
Obviously I am keen to attract as many birds to the garden as possible, and so far 116 species have been seen from the garden, including some spectacular birds. Our site is obviously in the path of migrants both in spring and autumn. Raptors fly overhead on a regular basis. On migration Black Kites are the earliest to appear, in March, together with Short-toed Eagles which stay to breed, feeding on the numerous snakes and lizards to be found in the area. April sees the arrival of Montagu's Harriers and these gorgeous birds breed within sight of the house. May can bring impressive numbers of Honey Buzzards often soaring over for most of a day, and scarcer raptors include Booted Eagles and Goshawks. We also see Griffon Vultures quite regularly as they commute from populations in the Pyrénées and the Massif Central. In addition it is not unusual to see the occasional migrating Black Stork.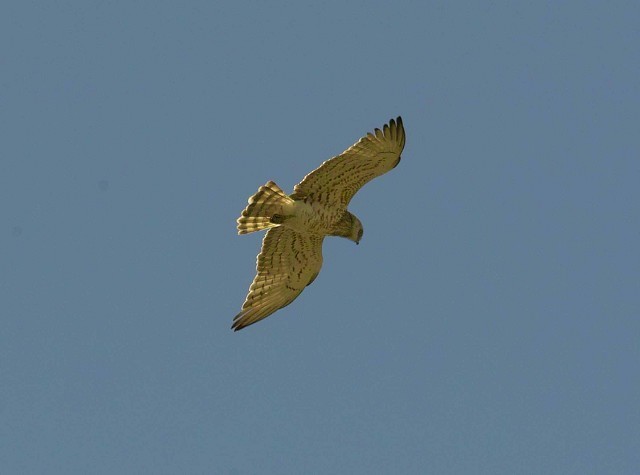 Short-toed Eagle, France (Photo: Derek Moore)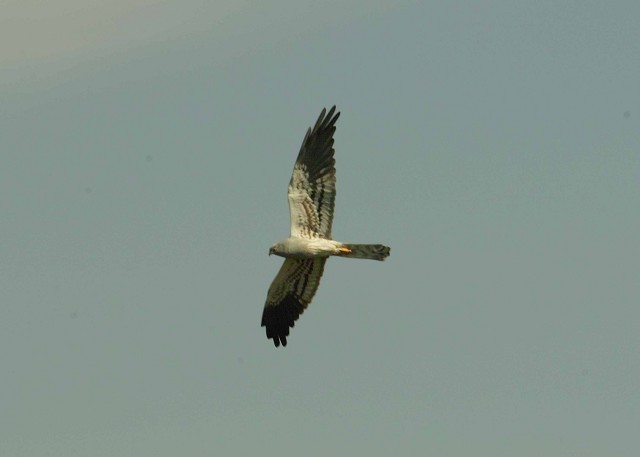 Montagu's Harrier, France (Photo: Derek Moore)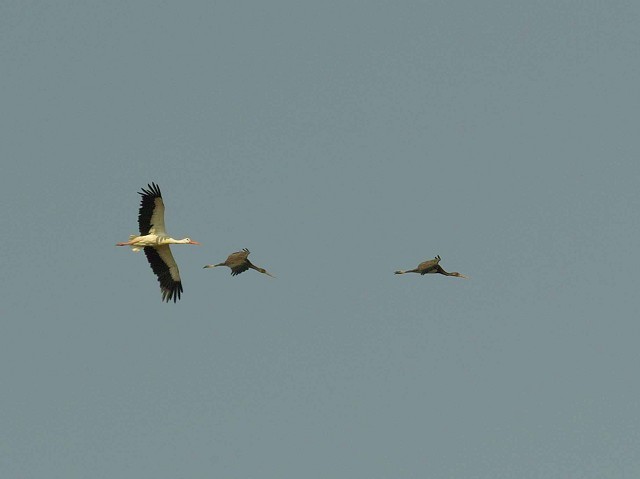 White Stork, France (Photo: Derek Moore)
Bee-eaters are a thrill at any time and during migration thousands will pass over, but seeing them can sometimes be a problem. Waking up and scanning the garden first thing can often be rewarding. Where we have planted trees with accompanying stakes you often find Pied Flycatchers, Redstarts, Whinchats and shrikes. The latter will mostly be Woodchats, but Red-backed Shrikes also put in a regular appearance. Tawny Pipits occur on the sandier parts of the garrigue. As in any site good for migration, there can be surprises, such as a Savi's Warbler singing one morning in an olive tree, a Wryneck waking me with its strident song one May morning and a very quick visit by a splendid Rock Thrush on a day when hundreds of Black Kites were moving south in August.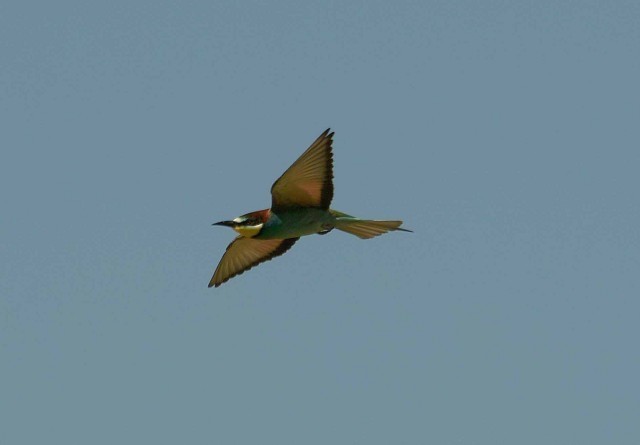 European Bee-eater, France (Photo: Derek Moore)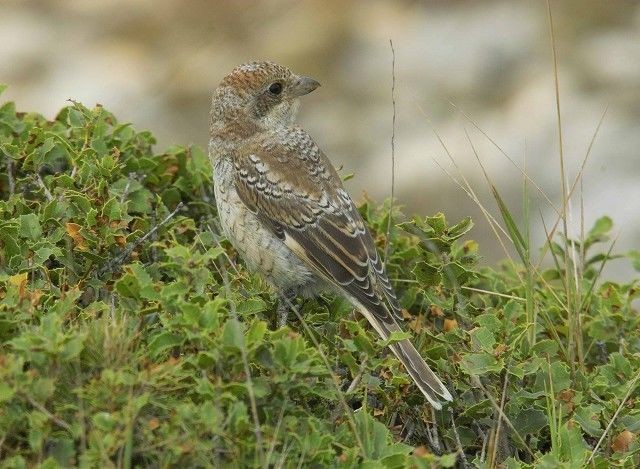 Woodchat Shrike, France (Photo: Derek Moore)
Many migrants will stay to nest in the land surrounding our house including Orphean, Subalpine and Melodious Warblers. Nightingales are amazingly common and their beautiful songs go on long into the night, one male singing by our terrace door. Hoopoes return in March to nest in the old farm buildings and Scops Owls keep us amused in the evenings with their "sonar" calls. In midsummer Golden Orioles sing from local woods and they move into gardens to feed on cherries. Another common sound fast disappearing in the UK is the constant summer purring of Turtle Doves. Finally, Cuckoos still come in good numbers, their distinctive song a big sign of spring.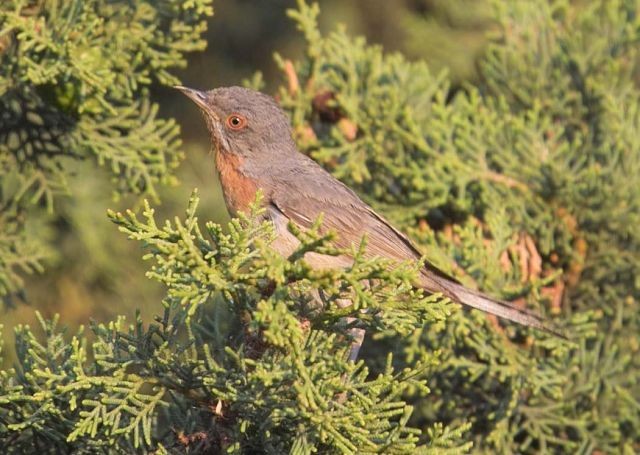 Subalpine Warbler, France (Photo: Derek Moore)
The resident birds are also interesting. Black Redstarts are common and nest on most available buildings as well as rocky terrain. Sardinian and Dartford Warblers brighten up many a winter day and Cirl Buntings and Serins are daily birds. Woodlarks and Corn Buntings are very common and their songs remind me of my native Suffolk when I was a boy. We have also got used to the wheezing Rock Sparrows that breed in local villages and gather in their hundreds in winter to roost in the Gorge.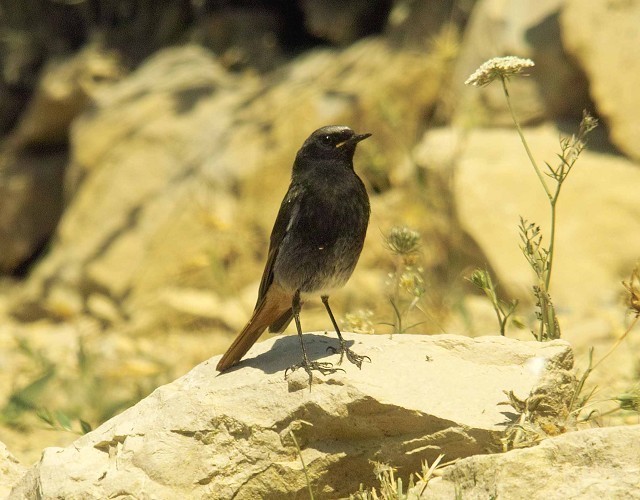 Black Redstart, France (Photo: Derek Moore)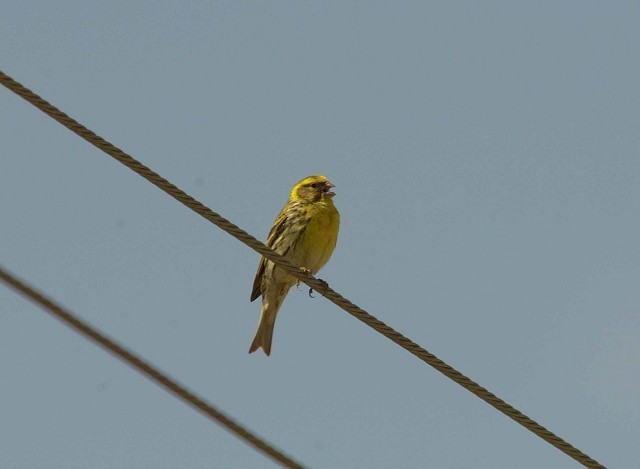 Serin, France (Photo: Derek Moore)

Sardinian Warbler, France (Photo: Derek Moore)
In winter large numbers of Starlings, Fieldfares and Redwings arrive and are in turn hunted by Sparrowhawks, Buzzards and Hen Harriers.
The Cesse and Brian Gorges nearby and the village of Minerve are also excellent birding spots. Golden Eagles breed each year and often fly over our garden, and 20 minutes or so to the east a pair of the scarce Bonelli's Eagles cling on. Eagle Owls nest in the Gorge and sometimes we are thrilled to hear these huge birds calling close to our house after dark. The area also has nesting Red-rumped Swallows, Crag Martins, Alpine Swifts and Blue Rock Thrushes. In winter flocks of Alpine Accentors arrive and now and then a Wallcreeper can be found on the walls of the Gorge.
It is not just birds that cause interest in the area. Southern Wall, Green and the large Ocellated Lizards are frequently found, Snakes occur but are hard to see, with the exception of the large Montpelier Snakes that often hurtle across the roads on warm days. Checking under rocks can reveal Natterjack Toads, of which there are many in our garden, and damp patches hold small numbers of the tiny Stripeless Tree Frog. Insects are very obvious, with Praying Mantis a regular sight around the property. Numerous crickets and grasshoppers together with cicadas keep their chorus going for hours on end and Hummingbird Hawk Moths frequent the many buddleia and lavender plants we have introduced to the garden. Once a Giant Peacock Moth was discovered but as always sadly died.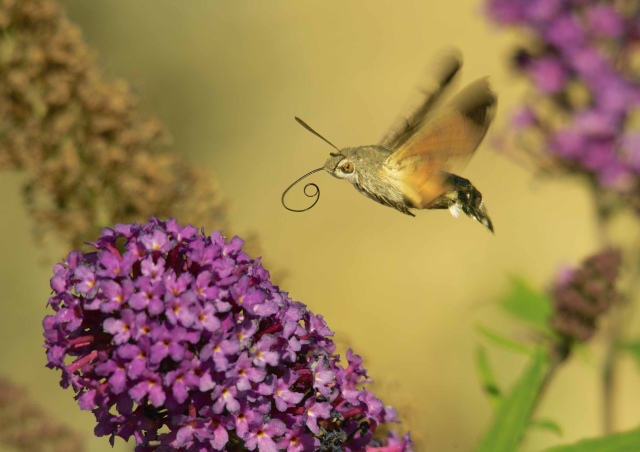 Hummingbird Hawk Moth (photo: Derek Moore).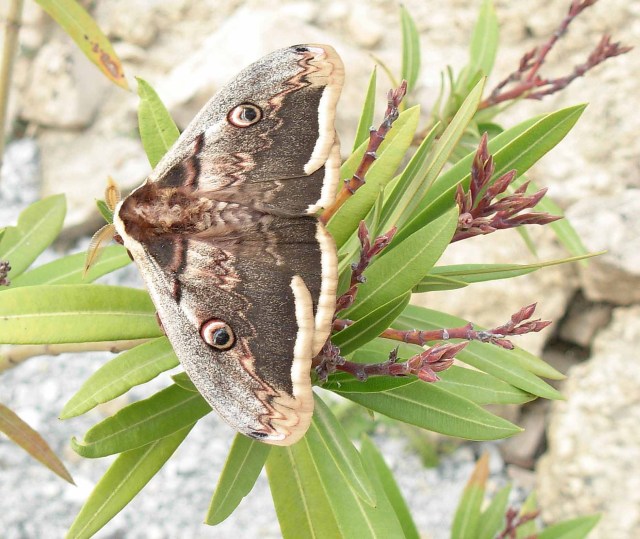 Giant Peacock Moth (photo: Derek Moore).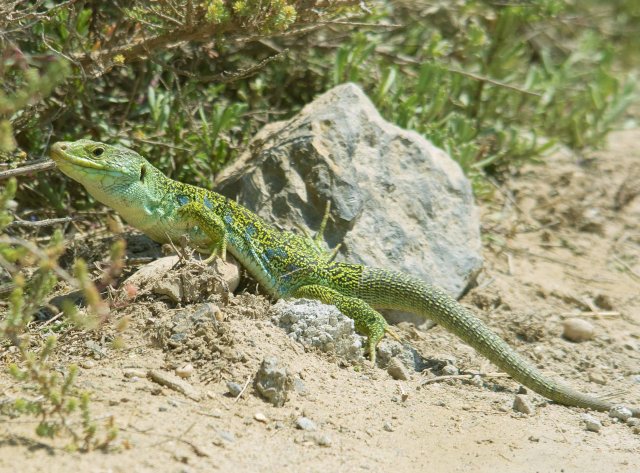 Ocellated Lizard (photo: Derek Moore).
Butterflies are truly spectacular and so far we have amassed a total of over 40 species in the garden and we have not really tried with the numerous browns. The obvious Swallowtails and wrongly named Scarce Swallowtails are everywhere, and stunning Cleopatras and Southern White Admirals are regular too. Clouded and Berger's Clouded Yellows abound and Great Banded Graylings are really common in late summer. My favourite, though, is the Two-tailed Pasha, which arrives to feed on rotten figs in autumn.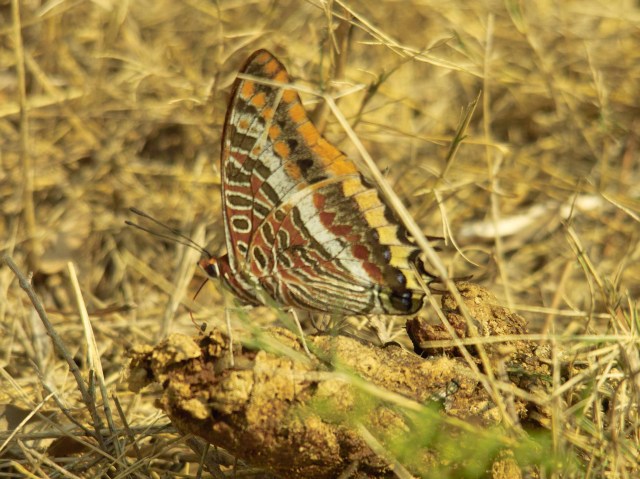 Two-tailed Pasha (photo: Derek Moore).
Mammals are more difficult to see, but Red Squirrels are so good to see after their demise in the UK. Occasional glimpses of Beech Marten and Genet are possible; Wild Boar are equally secretive but very numerous and get hunted each winter. Red Foxes and Badgers have also been noted together with Brown Hares and Roe Deer.
We can get immense kicks from the wildlife around our house but there is much to be seen within short journeys by car. To the north the Jonte and Tarn Gorges have amazing views as well as Black and Griffon Vultures; we can head south to the Pyrénées for great flora and Lammergeiers and Citril Finches, while Northern Spain is only an hour and a half away.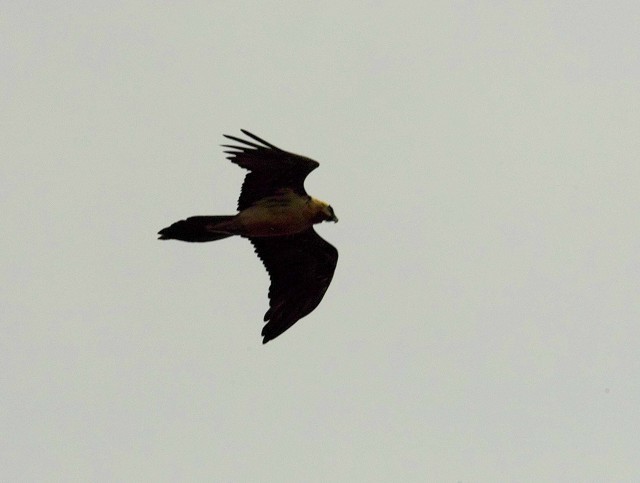 Lammergeier, France (Photo: Derek Moore)
We are just 40 minutes from the Mediterranean coast where there are many freshwater and saline habitats. In winter, thousands of Greater Flamingos assemble here on old saltpans and Slender-billed and occasional Audouin's Gulls are found. In vast reedbeds, Purple Swamphens have moved up from Spain and most heron species can be found. Moustached Warblers are present in small numbers and Penduline Tits and Bluethroats winter here in good numbers. In one small area a few Lesser Grey Shrikes come each year to nest with good numbers of Ortolan Buntings nearby. Beware of Pink-backed Pelicans which have established after escaping from a local Wildlife Park: they are often recorded as juvenile White Pelicans by visitors. A few pairs of White Storks have begun nesting in the area and these are augmented by often large migrating flocks.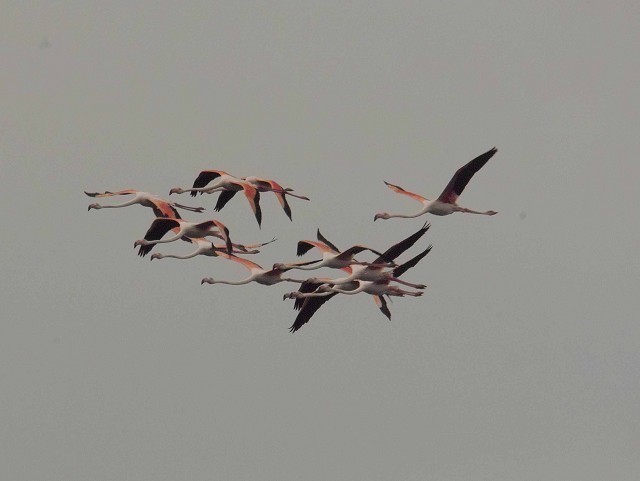 Greater Flamingo, France (Photo: Derek Moore)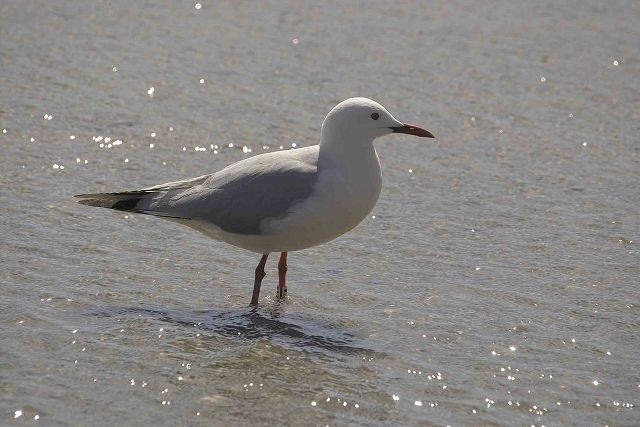 Slender-billed Gull, France (Photo: Derek Moore)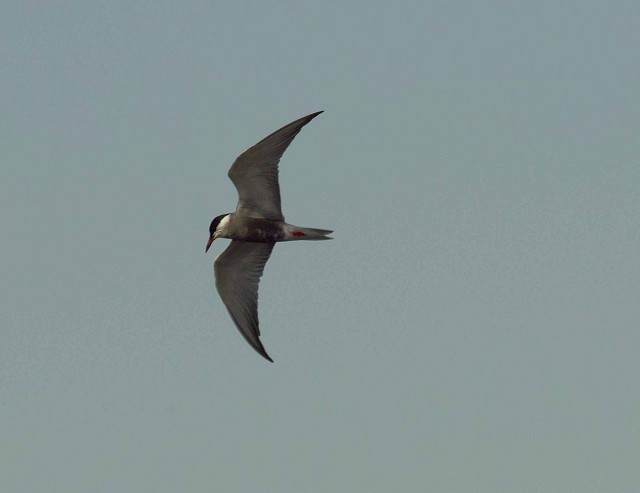 Whiskered Tern, France (Photo: Derek Moore)
Only an hour from home a remote hilltop village has a flourishing colony of Lesser Kestrels and the area around Beziers Airport holds a good numbers of Little Bustards. This area is also excellent for Great Spotted Cuckoos. Further south the granite headland of Leucate is a great migration watchpoint, complete with obligatory lighthouse. Check the land to the west to find Black-eared Wheatear, Spectacled Warbler and maybe Thekla Lark.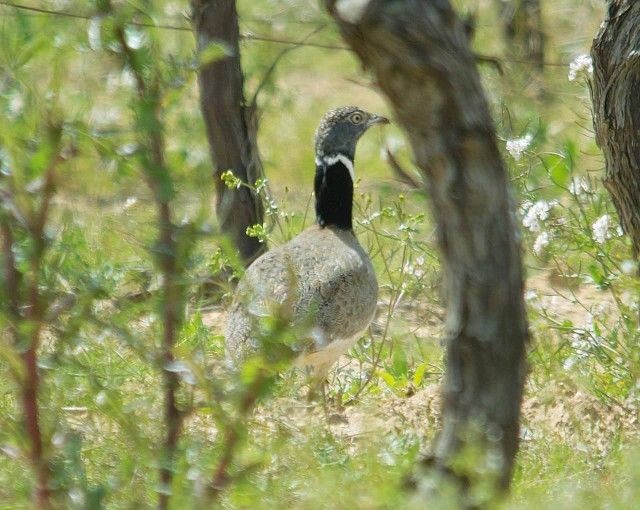 Little Bustard, France (Photo: Derek Moore)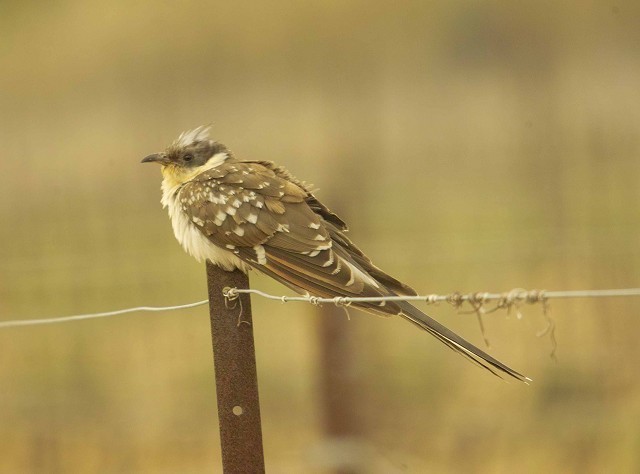 Great Spotted Cuckoo, France (Photo: Derek Moore)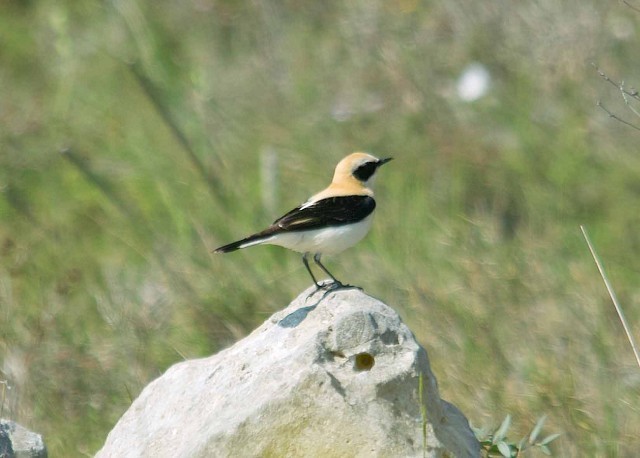 Black-eared Wheatear, France (Photo: Derek Moore)
There is no limit to exploring this part of France, rich in wildlife and local history. The French are curious about my wildlife activities but I have found some birding pals, French, English and Canadian, living close to me. I have joined LPO and attended some local walks and this has also helped me to find new sites. I know I am very fortunate to spend at least four months a year in what my pal Ron Bennett calls 'Paradise'.
Languedoc is not a favoured area by British birders, most preferring the Carmargue, but I can strongly recommend trying the region. Most of the exciting birds of France are found in the area and there is more to be done. Only recently a small population of Tengmalm's Owls has been discovered, Spotless Starlings have crept over the border from Spain and a few Calandra Larks still exist. Add to that great food, wine and weather and you have everything.
What else can be found? Why not give it a try?