It's widely assumed that if you want to see Egyptian Nightjar in Morocco, you need to travel to the east of country. The area in which they are most regularly seen is around Erfoud/Rissani as described in an earlier article by Dave Gosney.
However, in Dave's book, Finding Birds in Southern Morocco, there's mention of a report he received from a couple who said they'd heard Egyptian Nightjar in the Sous Valley not far from Taroudannt. Dave asked whether anyone else could substantiate such a report but has had no further feedback, until now.
In March 2005, the area was visited by three birdwatchers, Bram Koese, Bram Kuijper, and Jord Prangsma. Jord describes the events as follows:
Content continues after advertisements
'The 16th of March this year we slept in the Sous wadi, probably somewhere in the vicinity of the place you described. As we just finished cooking dinner, we heard this weird sound, which we soon found out to be an Egyptian Nightjar! We have seen and heard at least two but there are probably more. We entered the spot from the sad village Igoudar (the 'famous' Dark Chanting Goshawk area), but the easiest way to reach the place is by following the P1706 road south of the Sous and enter the wadi at the Ouarzazate 223 sign. We saw the birds in flight in quite good light conditions on the 16th, heard them very well (and had an MP3 as a direct reference). On the morning of the 17th we saw 2 of them sitting at 3-4 metres distance. So the certainty is 100%. The wadi is very wide here and we just crossed it at one point. If this is the type of habitat the bird likes, it is very likely that there are many more to be found up- and downstream from the point we visited. It is however not a very accessible area (at least not by normal car) so I think it can have easily been missed by many birders."
So, it looks like Egyptian Nightjar CAN be found within a day's drive of the coastal resort of Agadir. It's interesting that, according to the recent book The Birds of Morocco, these reports are not unprecedented: Egyptian Nightjars were reported from 'Oued Sous, near Taroudannt' in July 1966 and '67 and in April 1979. Have they been overlooked since then? Or do they only occur in that area in certain years?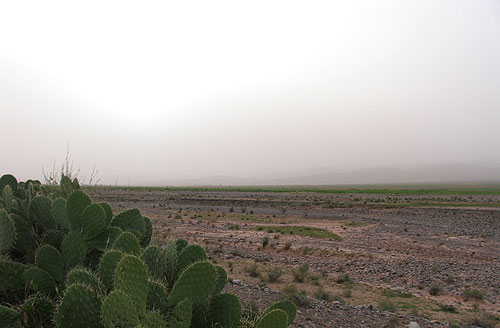 Egyptian Nightjar habitat near Taroudannt, Morocco (photo: Bram Koese, March 2005)