Every winter hundreds of thousands of thrushes leave continental Europe to spend the winter months on this side of the North Sea. Once here they can seemingly disappear into the countryside, and the British Trust for Ornithology (BTO) would like to know where they go, what resources they need to survive to next spring and what habitats they are to be found using while they are here. The last estimates of the winter population were over 30 years ago and they would like to update these too.
For the second winter running the BTO are asking people to take part in the Winter Thrushes Survey to help find the answers to these questions. Last winter's provisional results showed that Blackbirds, Song Thrushes, Mistle Thrushes, Redwings and Fieldfares spent the early part of the winter feeding on berries in trees and hedgerows, moving to ground feeding for the latter part of the winter as these supplies ran low. With the bumper crop of berries and the mild conditions, will the same be true this winter?

Fieldfare, undisclosed site, Warwickshire (Photo: Kath Everitt)
Content continues after advertisements
John Marchant, BTO Winter Thrushes Survey Organiser, commented: "The information provided by members of the public is revealing some amazing patterns of use of the countryside by these fascinating birds — what they are feeding on and how they move around the country, but we need a second winter's worth of information to build on the first."
He added: "Getting out into the countryside in search of thrushes can also turn up a few surprises. One Winter Thrushes surveyor found an American Robin on his local patch on South Uist, Outer Hebrides. Not only might we learn about birds such as this but the more people that take part the more gaps we can fill in our understanding of our winter thrushes in general."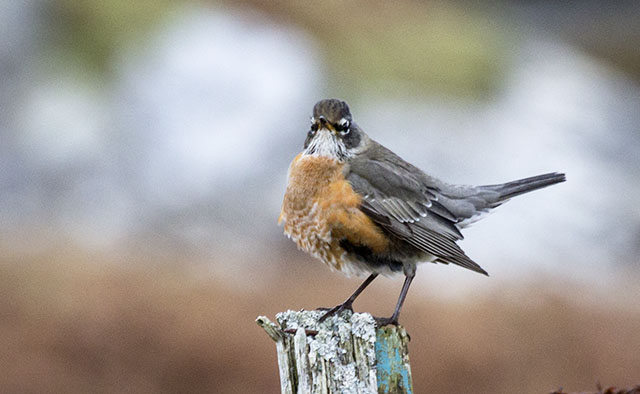 American Robin, Loch Eynort, S.Uist, Outer Hebrides (Photo: Ian Thompson)
Every new volunteer can add valuable data to this survey, especially for the core counts between 27th December and 10th January — though the main survey runs until mid-April. For more information on how to take part, please visit www.bto.org/volunteer-surveys/winter-thrushes or telephone 01842 750050.