Some consider seawatching an acquired taste: the typical short-lived and distant views of passing seabirds are not to every birder's liking. However, many get a kick from this branch of birding from its potential to reward with the unexpected or fantastical at any second, particularly if the conditions are favourable. Each year anticipation brews as strong winds are forecast to travel across the Atlantic and scores of birders head to the outer reaches of Cornwall ready to lap up the scarce seabirds pushed towards the coastline at headlands such as those at Porthgwarra and Pendeen. Stiff competition comes from Ireland, the home of a number of prolific sites such as Galley and Kilcummin Heads, Brandon Point and the hallowed Bridges of Ross.
While seawatching results are often vaguely forecastable with a keen eye on weather conditions and time of year, the birds do not always play by the rules: totals can be disappointing or, when it all falls into place, utterly mind-blowing. It is no secret that, from July and throughout the autumn, fresh onshore winds increase the potential for quantity, variety and rarity of seabirds. However, when truly big days hit, a seawatch can become a spectacle beyond measure and provide an adrenaline-triggering story to be told for years to come. The thrill of seabirds is surely their reputation as roaming masters of the waves, seemingly untouchable and designed for a lifestyle far apart from ours, and red-letter days for these oceanic nomads prompt a similar buzz to the magic of major passerine falls.
St Ives, Cornwall, on 3 September 1983 was the scene of one of the earlier legendary seawatches. Promising conditions with winds as strong as force 8 blowing from the northwest provided an ideal cocktail for a respectable haul. All daylight hours were covered and the number of birds left observers with barely a moment to look away from their eyepieces. The theme of the day was Sabine's Gull: 100 were logged, alongside 52 Great Shearwaters, six Grey Phalaropes, three Long-tailed Skuas and 250 Sooty Shearwaters. The thousands of European Storm-petrels were an event in themselves and many ended up wrecked in the streets of St Ives or prey to some of the 450 Great Skuas counted. Leach's Storm-petrels and Pomarine Skuas trickled through, further padding notebooks, along with single Roseate Terns and Cory's Shearwaters. It was topped off by the appearance of a Wilson's Storm-petrel, which loitered for hours as it fed close enough to the bay's outfall to be comfortably viewed with binoculars.

Sabine's Gull (Photo: Nick Davies)
The excellent season of 2011 produced a series of historically significant movements of large shearwaters, with some huge numbers notched up in Cornwall and Ireland. It started in earnest on 6 July with a mass movement of Cory's Shearwaters including 800 past Gwennap Head, Porthgwarra. Colin Barton, a veteran seawatcher at Galley Head (Co Cork), also experienced the Cory's glut of 6 July: "It was pretty special — out beyond the stream of Manx Shearwaters was a stream of Cory's! Drifting past in twos and threes at times, with a load further out. Some of the nearer birds showed really well. In the end, we reckoned there had been a minimum of 1,200 past, and they were still going by when I left, although the rate had dropped off." On 21 August Colin witnessed another big day for large shearwaters, with 1,107 Cory's and 290 Greats in just four hours. This was followed by an incredible westward push of Great Shearwaters in Cornwall on 3 September, totalling some 2,003 individuals past Gwennap Head in a 10-hour count.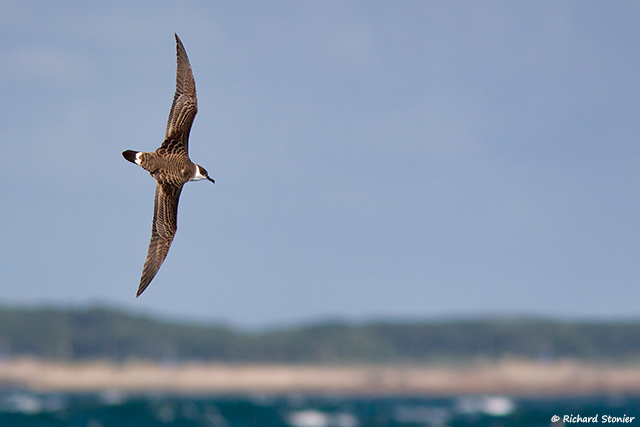 Great Shearwater (Photo: Richard Stonier)
Back over in Cork, the record books hold some astronomical counts of large shearwaters off Cape Clear Island. For instance, Great Shearwaters passing on 15 September 1965 numbered 5,118, and 4,487 were recorded on 3 September 1973. More recently, 5,388 flew past on 11 September 2000. The sight of 10,900 Cory's Shearwaters there on 16 August 1980 is difficult to comprehend and Cape Clear has enjoyed several four-figure Cory's days. The most recent mass movement of Cory's there was back in 2000, with 16 August again being the date that brought the goods.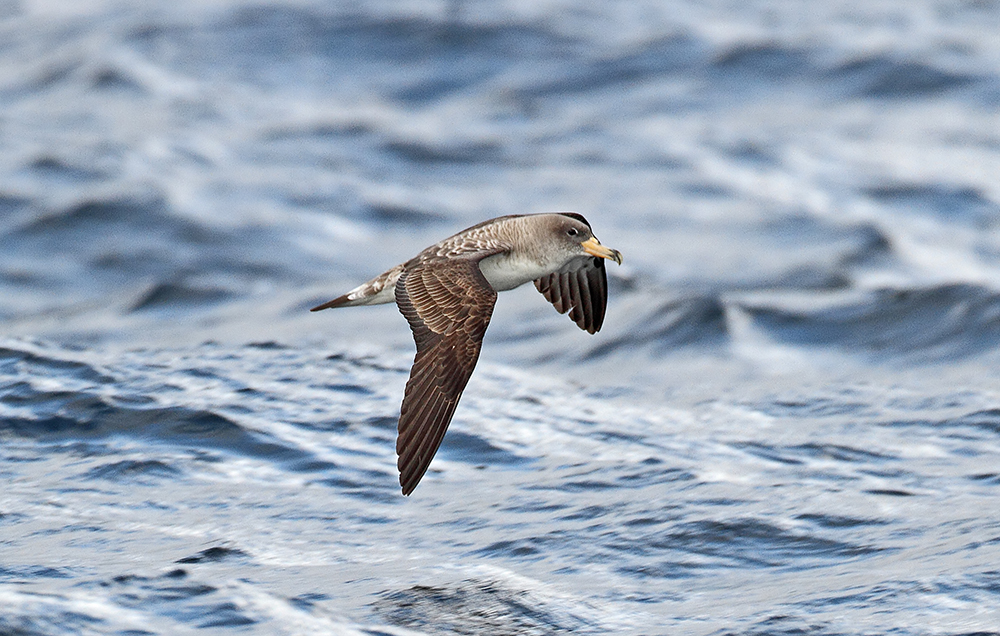 Cory's Shearwater (Photo: Gary Thoburn)
It wasn't just the large shearwaters that made 2011 a landmark year for seabirds; September again delivered in Cornwall on the weekend of 17th and 18th. Long periods of westerlies led up to a brisk northwest wind and a substantial flow of passing seabirds over the two days. The Saturday hinted at good things, with small numbers of Sabine's Gulls, Leach's Storm-petrels, Long-tailed and Pomarine Skuas at Pendeen, along with singles of Great Shearwater, Cory's Shearwater and, best of all, Wilson's Storm-petrel.
Content continues after advertisements
Expectation was high and indeed met on the second day. Pendeen boasted another Wilson's Storm-petrel as well as 21 Grey Phalaropes, seven Leach's Storm-petrels, nine Long-tailed Skuas and 39 Sabine's Gulls. St Ives managed to better these figures with 36 Grey Phalaropes, 43 Sabine's Gulls, 14 Leach's Storm-petrels, 11 Long-tailed Skuas and a Red-necked Phalarope. It also produced the best of the weekend's strong counts of Great Skua and Arctic Skua, with 168 and 121 birds respectively.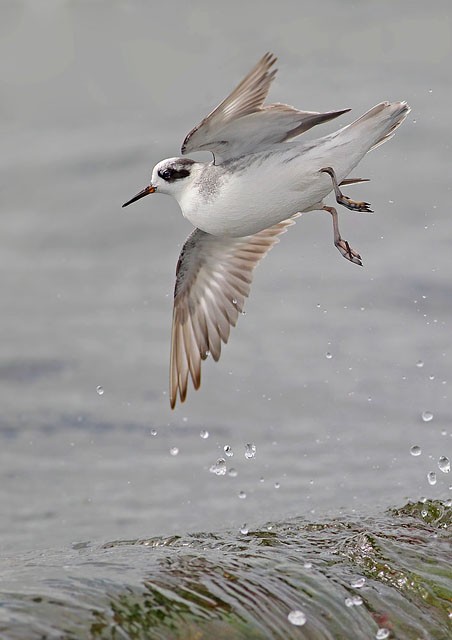 Grey Phalarope (Photo: Kit Day)
These may be impressive totals, but it is Irish seawatches that can truly amaze, and 26 August 1995 holds fond memories for County Kerry stalwart Ed Carty:
"Due to work I was unable to go to Brandon Point where good numbers of both Sooty and Cory's Shearwaters moved through the previous day, along with three species of skua and a few Sabine's Gulls. I instead visited Kerry Head early morning, a relatively under-watched headland just north of Ballyheigue. The conditions were similar to the previous day's, with occasional squally showers and force 2–3 west/north-westerlies. Within a few minutes of the seawatch starting I could already see a steady passage of Sooties; skuas were also evident with their almost continuous harassment of Kittiwakes.
At 08:14 I noticed something very different in the Manx Shearwater stream; though similar in size to a Manx this bird was moving in a totally different manner, much faster with high arcs and the plumage features were unlike anything I had ever seen but I knew immediately what it was... a Fea's Petrel! The bird had me enthralled for an eternity (45 seconds) and when I finally lost it to view I was ecstatic and assumed I would never see the species again. This represented the first county record.
With the weather conditions similar that evening I revisited Brandon Point (I've always held the opinion that Brandon is better in the evening). Having earlier alerted others about my efforts on Kerry Head I was now joined by two birders including Mike O'Keeffe but before we had time to set up we could see that large numbers of Cory's Shearwater were moving.
We were organised by 16:50 and began counting the birds immediately. Although Cory's were undoubtedly eye-catching and numerous, several other species were also on the move. Sooty Shearwaters careered along in typical manner showing their unmistakable silvery underwing and passing skuas included the occasional Pomarine. At 17:35 the shout "what's that!?" went out; despite being given good directions I seemed to take me an eternity to connect with it, already identified as a Fea's Petrel by the other observers. I finally managed to see it: high arcing fast flight, blackish underwings and grey upperparts. Was this the same bird I had seen from Kerry Head? I couldn't believe it! The Cory's continued to stream past, numbering 819 by the end of the three-hour session, and among them were three immature Long-tailed Skuas (the 9th county record). All good days must come to an end and at 19:50 it was time to leave; I was happy to be part of a great day and delighted to have been able to share the experience with others."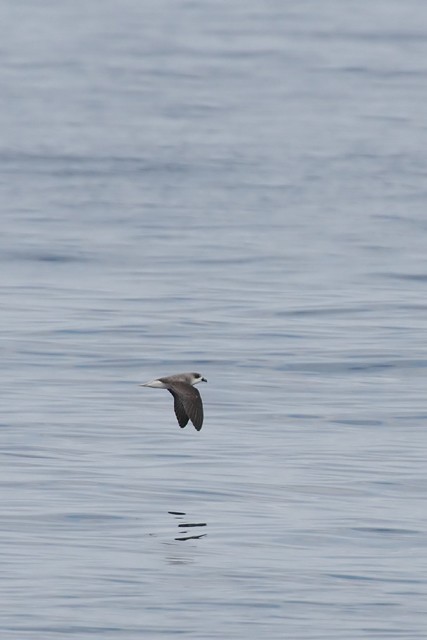 Fea's Petrel (Photo: Peter Stronach)
But, for many, the Bridges of Ross in County Clare represents the ultimate in seawatching locations. Its reputation has been forged by many legendary seawatches over the years, and it has the knack of producing the biggest birds even in suboptimal conditions — take for example the recent Swinhoe's Storm-petrel, which passed in a light south-easterly in late August. One of the Bridges' finest days came the day before Ed Carty's brilliant session in County Kerry on 25 August 1995, producing a memorable hat-trick of Barolo Shearwater, Fea's-type Petrel and Wilson's Storm-petrel among a wide selection of the more expected species. Similarly, the excellent weather conditions of September 2011 produced at least two weeks of brilliant seawatching, with multiple Fea's-type Petrel sightings, record-breaking numbers of Sabine's Gulls including 865 on 16 September, twitchable Wilson's Storm-petrels throughout the day on 14th and positively massive numbers of many of the commoner species — a full account of this exceptional period by Niall Keogh will appear on the BirdGuides webzine in the next fortnight.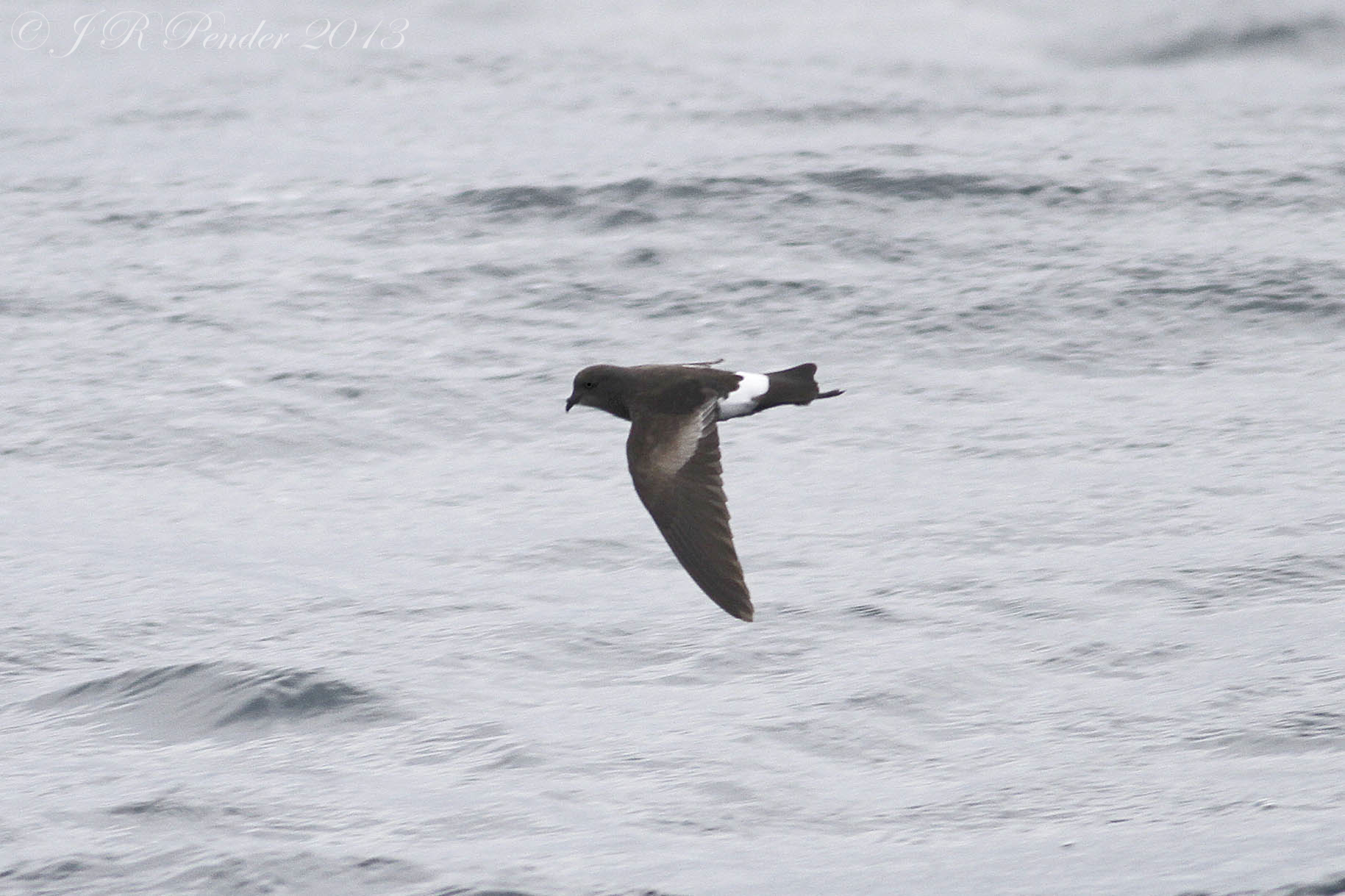 Wilson's Storm-petrel (Photo: Joe Pender)
Cheshire is not usually associated with red-letter seawatching days, but westerly gales in September routinely spark a Leach's Storm-petrel extravaganza. As Steve Williams of Hilbre Bird Observatory explains, "The first sighting of the year of a Leach's Storm-petrel flitting over the now massive waves is an incredibly heart-stopping moment, no matter how often you see it, and that feeling returns each year. Counts of over 100 passing the north end of the island in a day, some right over the slipway below the seawatching hide, are not exceptional. However, occasionally remarkable passages occur such as the 959 that occurred on 27 September 1978. On those special days you seawatch until the dark strains your eyes as you try to count the very last one you can see." More recently, 335 Leach's Storm-petrels struggled into a headwind on 15 September 2010.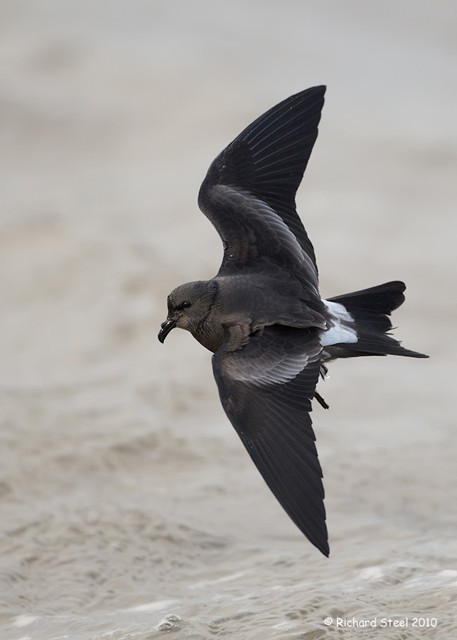 Leach's Storm-petrel (Photo: Richard Steel)
Seawatching events where the numbers of good seabirds just keep climbing are rare, and often a matter of ideal conditions meeting good luck. They are what keen seawatchers live for and make for lasting memories. Such days do come around on a regular basis; it's just a matter of making sure you are there when it happens.
Acknowledgements
With thanks to Colin Barton, Ed Carty, Paul Freestone, Niall Keogh and Steve Williams.