"Rock Thrush!" both I and the driver shout simultaneously as we swerve down a rough mountain track. This iconic Mediterranean upland species may not seem to deserve quite such elation, but when it's the one bird you were hoping to find but had managed to miss so far on an exploration of the mountains of Castillo del Poyo, the excitement generated by its appearance was palpable.

I was in the Spanish province of Valencia in midsummer, hoping to get a feel for the avian delights of an area of the country normally thought of in mainstream tourism terms. As a habitual visitor to the more well-known birding destination of Andalucía, I wasn't expecting too much but was enjoyably surprised by the numbers and variety of Valencia's avian inhabitants, almost from the moment I stepped off the plane.

The autonomous region of Valencia has a surprisingly rich diversity of habitats, encompassing coast, expansive wetlands, marshes, salt pans, forest, farmland, steppe and mountains. It also possesses 22 officially designated national parks in which around 400 species have been recorded. Its geographical position means that it is on a major international migration flyway, while its popularity as a tourist destination within the EU means it has a very well-developed infrastructure – you'll want for little while you're there.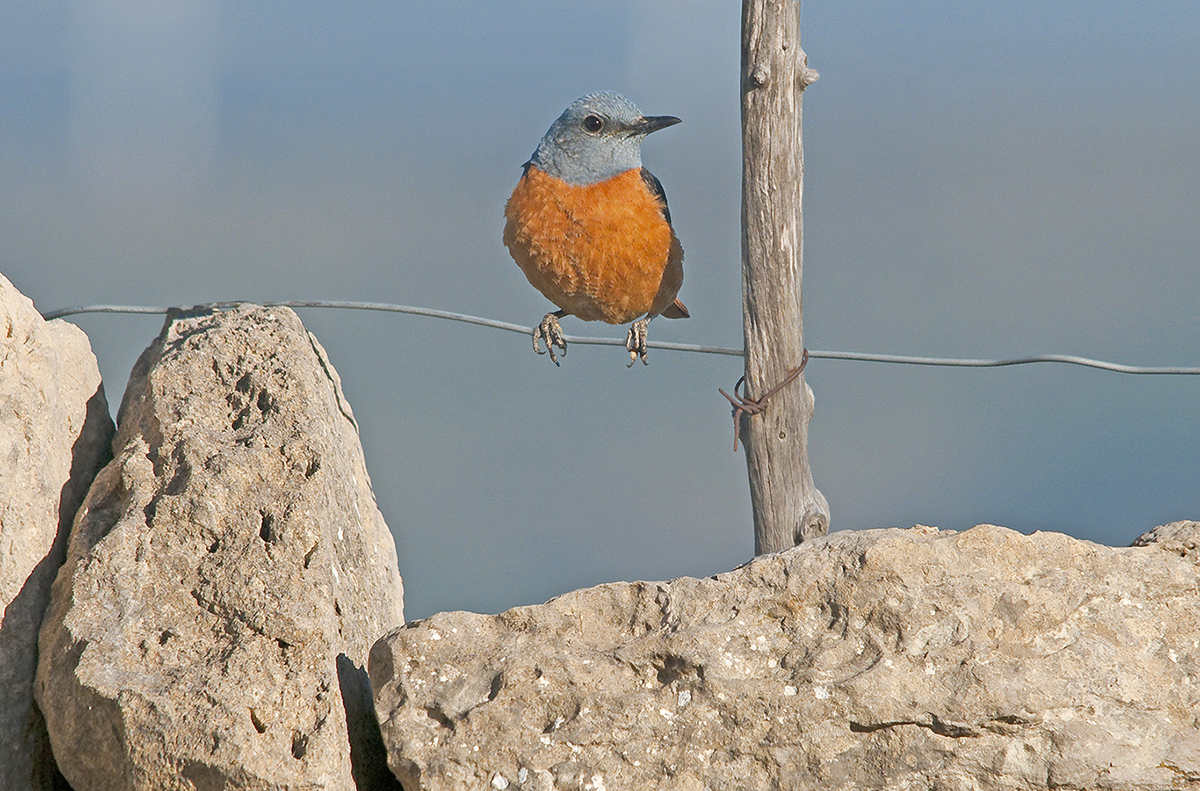 Common Rock Thrush frequents Castillo del Poyo and other uplands in the region, and can show well (photo: Valencia Birding).
The well-known and popular cities of Alicante and Valencia make ideal bases from which to explore the province, which is what I did on a visit during a heatwave in July. All the flagship Iberian specialities are present at this time of year, though some are not as easy to see as in spring. Both cities have easy access to most of the key birding sites, sometimes within minutes.

On arrival in Alicante, a short drive of about seven miles will see you at the entrance to the salt pans and dune systems of Santa Pola, where you will invariably see a sizeable mixed colony of Common, Little and Sandwich Terns and rose-tinged Slender-billed Gulls, along with a few Whiskered Terns, and ever-present Avocets, Black-winged Stilts and Kentish Plovers. There is a notable presence of non-breeding Greater Flamingos bunched across the extensive flat white pools, which also pull in more unusual species during migration. Telegraph wires across the site gave us our first European Turtle Doves and Southern Grey Shrikes of the trip, and the scrub also held copious Sardinian Warblers, as expected all over the northern Mediterranean region.

An even shorter drive after lunch took us deep into the massive area of ex-agricultural reservoirs known as El Hondo (El Fondo in the local dialect), with towering reeds reaching more than 6 m and a number of elevated hides from which to observe the location. By the time you reach the first hide, you will have seen numerous Purple, Squacco and Black-crowned Night Herons, Little Bitterns and Great Egrets, as well as been deafened by the guttural croaks of Great Reed Warblers. Moustached Warbler and Eurasian Penduline Tit are also present, but the headline acts at this open arena are Marbled and White-headed Ducks and Red-knobbed Coots, all of which are present in some numbers and easy to see in the form of both reintroduced and wild individuals. At least 40 White-headed Ducks were on the water during my visit, with several each of the other two species.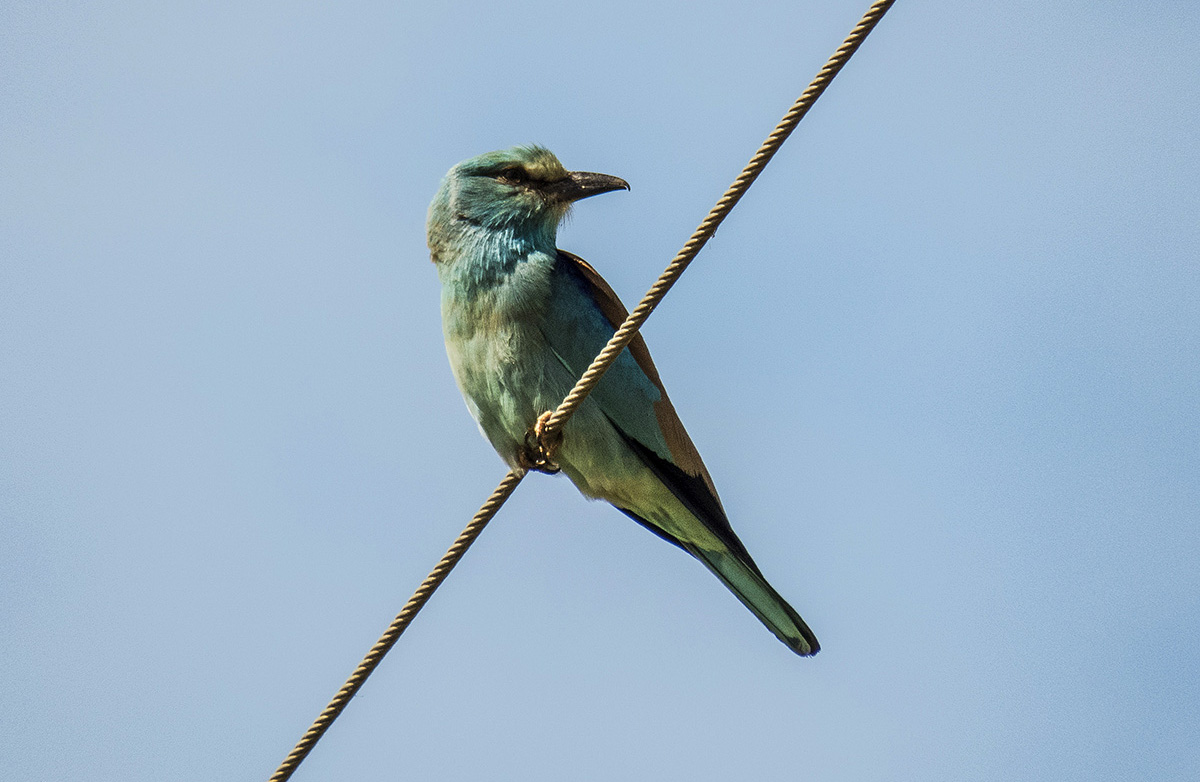 European Roller can be found in numbers in the date palm groves of Elche (photo: Valencia Birding).
Vagrants at home
Whizzing over the Black-necked Grebe-rich pools were many hirundines including Red-rumped Swallow, while the mud and Great Cane is stalked by Glossy Ibises, Eurasian Spoonbills and Western Swamphens. Iberia is a veritable box of delights from which many of our southern scarcities and vagrants arise.

But the region isn't just about the marshes. Forming the apex of a triangle with the two wetlands sites are the date palm groves on the outskirts of Elche – superficially an unpromising monoculture of trees and ploughed mud, but the reliable home of a local speciality: European Roller. A few minutes cruising the tarmacked farm roads, and we saw our quarry. Turning off onto a rutted muddy farm track brought us close enough for photos of a stunning orange-and-blue adult on overhead wires, while two more birds were seen shortly afterwards. The surrounding area added several Hoopoes, Spanish Wagtails (the Iberian form of Yellow Wagtail) and many of the ubiquitous Spotless Starlings to our tally.

The following day we explored the steppe habitat just outside Castilla de la Mancha at our leisure. A stop at the tiny Bonete Municipal Cemetery en route meant we could search a small lake and a few trees, giving us great intimate views of European Bee-eaters (common in these lowland areas), Red-crested Pochard and – best of all – a retina-burning yellow-and-black male Golden Oriole.

Farms along the tracks near Corral Rubio yielded abundant buzzing and rattling Corn Buntings, along with Rock Sparrows nesting in outbuildings alongside their more familiar namesakes. Onto the plains themselves and we were soon watching Eurasian Stone-curlew and Calandra Lark on the dusty tracks in front of the vehicle, while Common Quail wetted-their-lips from their dry grass hiding places. Invertebrates in even the small damp areas are under threat from strafing Gull-billed Terns and the occasional Green Sandpiper, while larger fare has Western Marsh Harrier and Booted Eagle to worry about.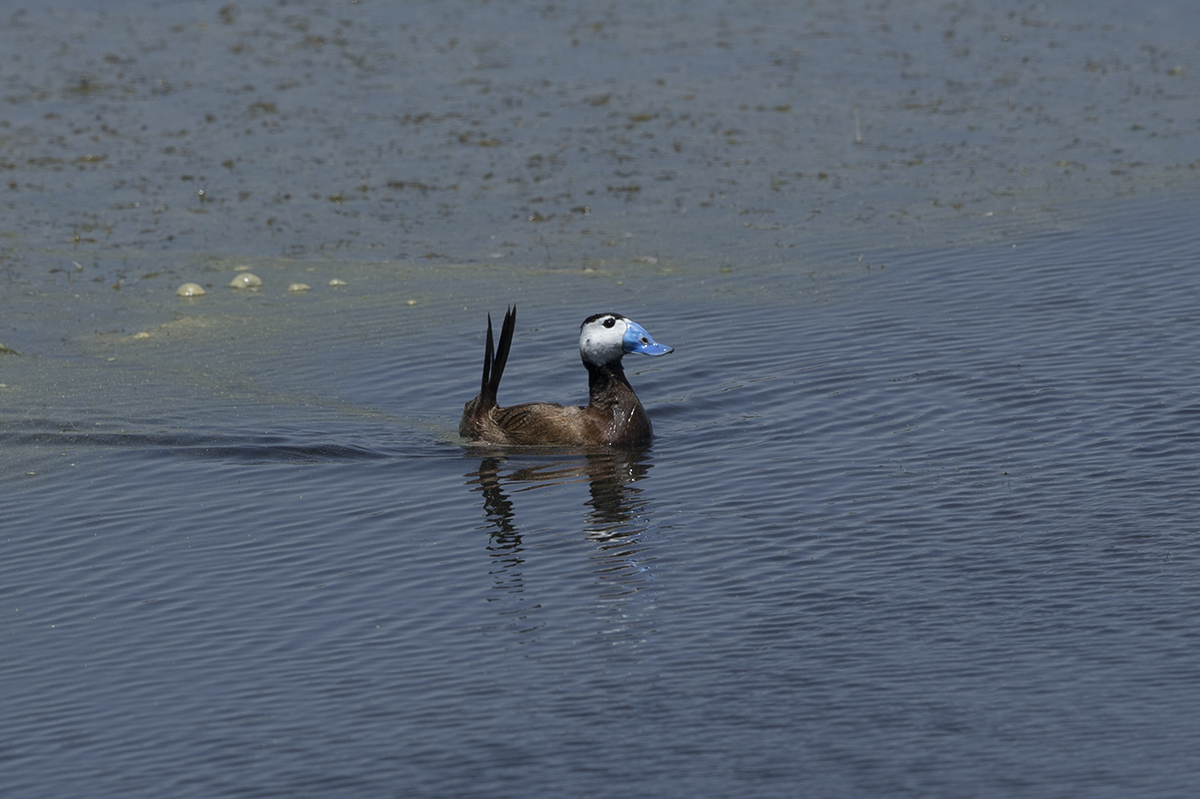 White-headed Duck is one of three species of waterfowl that are most wanted by birders visiting from Britain. The other two are Marbled Duck and Red-knobbed Coot.
A stony fallow field soon produced the first of two targets for this trip, which can be a lot harder to see in some more well-known Spanish hot-spots these days: Little Bustard. Soon after, a huge form flapped surprisingly gracefully across the road with big white wing stripes: a Great Bustard, apparently heading towards a new nest this late in the season. During the heat of the middle of the day, Great Bustards are usually concealed in the shadows of trees so we were lucky indeed to see this dainty dirigible sail in front of us.

In the late afternoon, taking in a stop to watch a thermalling third-calendar-year Golden Eagle, we headed north towards the Parc Natural de la Serra de Mariola, in particular a gorge above the road where more Golden Orioles were seen, along with Common Nightingale and European Serin. The gorge itself gave up a freshly taxonomically split Iberian Green Woodpecker, Blue Rock Thrush, Chough and singing Rock Bunting. We stayed overnight in an old but comfortable hotel at Banyeres de Mariola, where Pallid and Common Swifts and Red-rumped Swallows hawked well into the dusk.

The next morning we visited the Parc Natural de l'Albufera de València. These former rice paddies hold extraordinary numbers of the Mediterranean's large wading birds, as well as providing close-up views of Gull-billed Terns and, more notably, Audouin's Gulls drawn in by the abundance of red crabs which haunt the waterlogged plots.
Content continues after advertisements
Upland specialities
Tuéjar is a mountainous area which attracts plenty of locals but also holds quantities of special birds. We quickly connected with the commoner species of the greener areas of Iberia such as Woodchat Shrike, Melodious Warbler, Alpine Swift, Eurasian Crag Martin, Firecrest, Cirl Bunting and Raven, while Griffon Vultures and Booted Eagles circled over the high ridges. Los Serranos Tuéjar also holds breeding Short-toed Snake Eagles and Egyptian Vultures, and we were able to have prolonged looks at a nesting pair of the latter and their brood. Searching the trees alongside a mountain brook eventually gave us Short-toed Treecreeper and singing Western Bonelli's Warbler.

After that far from rocky start, in the afternoon we drove to the true Spanish uplands of Al Puente and Castillo del Poyo, where the rock and scrub produced some truly memorable encounters, including the Common Rock Thrush mentioned earlier, which gave detailed views perched on the garden fence of some lucky local.

Add to this showy Black and Black-eared Wheatears, Tawny Pipit, singing Spectacled Warblers, Black Redstart and fly-over Crossbills, and you begin to get a feel for this arid but intensely avian highland zone, productive even at the end of the breeding season in the glaring Spanish sun.

As we arrived at our final hotel in Valencia, the setting of the sun did not quell the birding. A late-night drive produced numerous Little Owls and singing Red-necked Nightjars in fields on the outskirts of the city, some lit up in our headlights – all adding to the feeling that there was still so much left to explore and see in this astonishingly bird-rich region.
Acknowledgements
Special thanks to Yanina Maggiotto and David Warrington of Valencia Birding.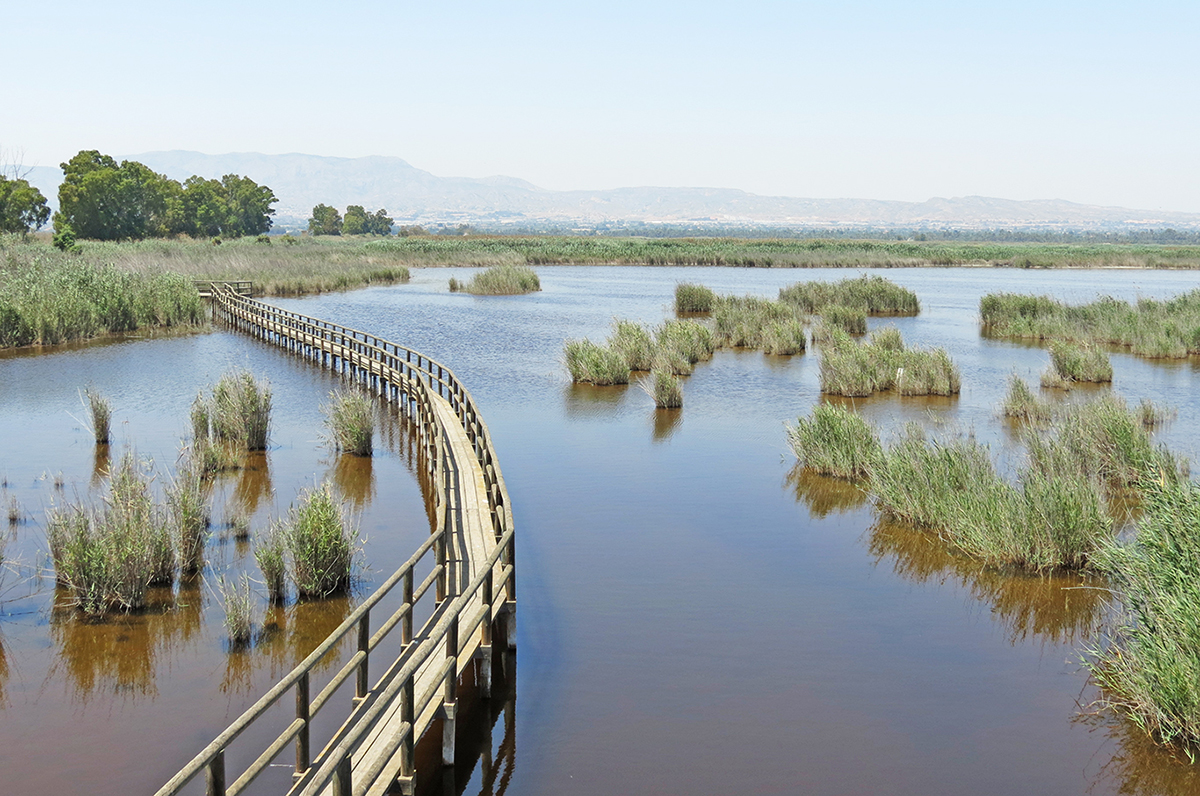 The huge wetland reserve of El Hondo, near Valencia, is composed of reclaimed reservoirs (photo: David Callahan).