The autumn vis-mig season for passerines is really starting to kick off here on the East Yorkshire coast at Spurn now. South-west winds and light cloud are what really get them moving here, but smaller numbers will move in other wind directions, though ideally still somewhere between south and west. Birds are most predictable on these winds, but really they can move in just about any.
Peak vis-mig time at Spurn is between March and May in spring and between August and November in autumn, though of course the famous Common Swift passage occurs in June and July. Winter can produce some amazing passage too, such as cold weather movements of species such as Eurasian Skylark.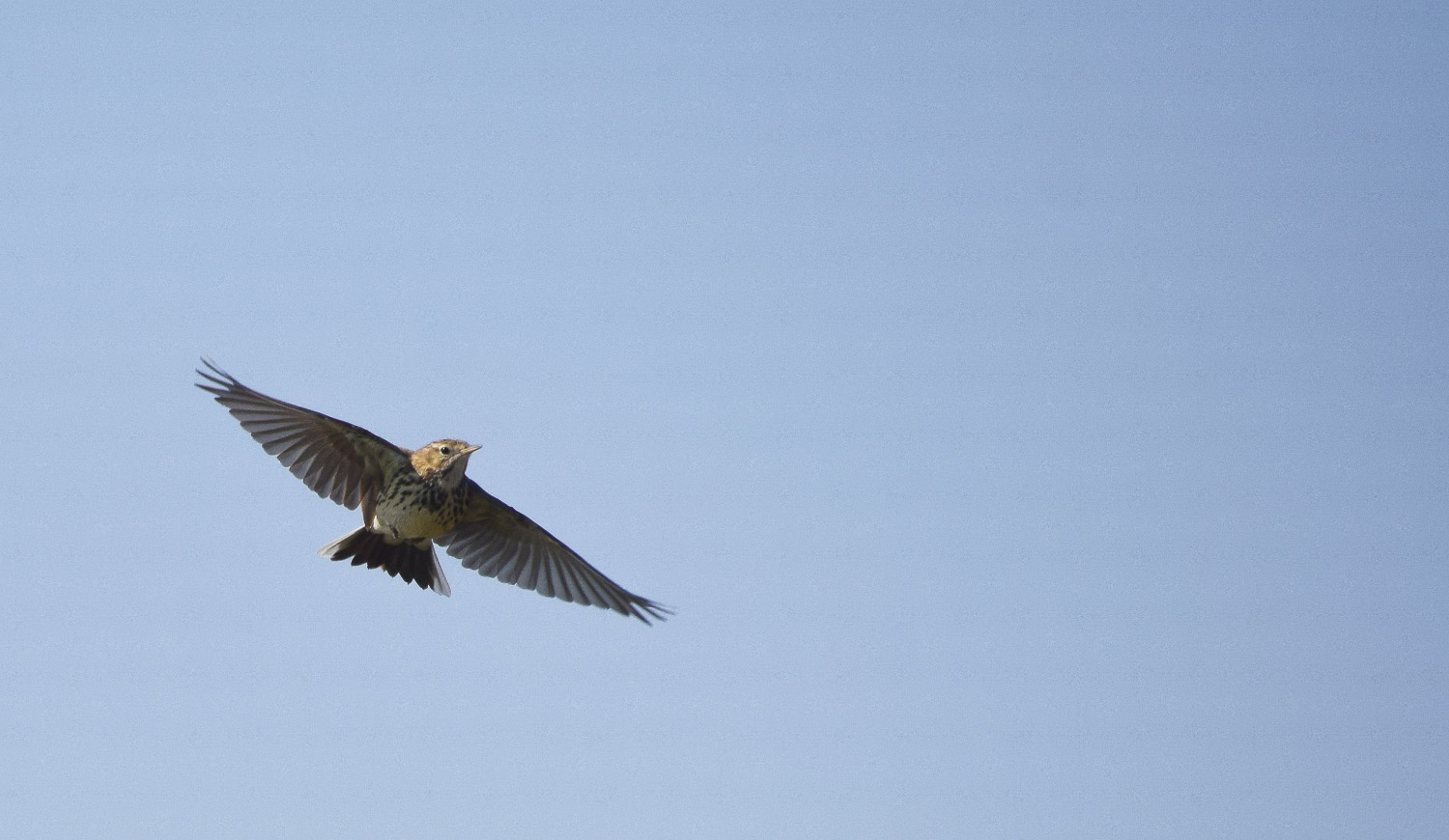 Meadow Pipit is a favourite among 'vis-miggers'. Spurn boasts a formidable history of high counts of this species, including the highest vis-mig count in the UK: 20,200 on 13 September 2011 (Bethan Clyne).
The first recorded vis-mig at Spurn took place on 10 September 1954, some 65 years ago. It was undertaken by John Cuddworth at the Narrows, and he noted Grey Wagtails, Tree Pipits and Western Yellow Wagtails, as well as Swallows and Meadow Pipits.
Since then, observations of visible migration at Spurn have been almost daily. However, instead of standing at the Narrows – the thinnest part of land on the peninsula, some 0.8 km south of the Warren – most vis-mig now takes place at Numpties Viewpoint, which is located above the Warren.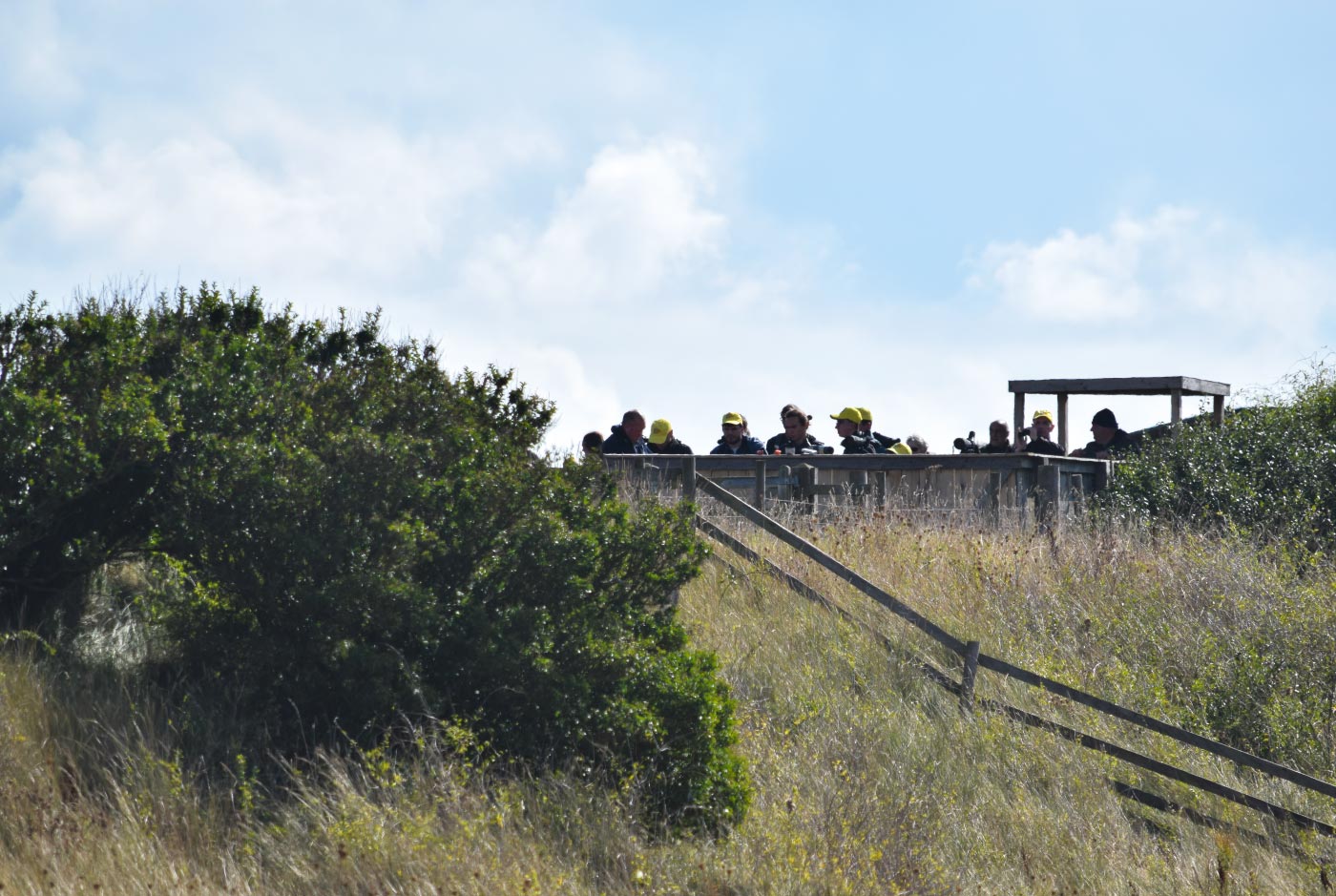 Birders at Numpties Viewpoint – Spurn's vis-migging focalpoint (Bethan Clyne).
With a south-west wind in the forecast for 12 September 2019, I had high hopes for a big count of Meadow Pipits as they peak around 10 September – I wasn't disappointed. As the sun rose over the North Sea, flocks of between 40 and 60 were streaming over Numpties, calling as they went.
Meadow Pipits weren't the only species moving in good numbers: Tree Sparrow flocks were gaining height, swirling over my head and heading off south down the peninsula, while Swallows were zipping low down the cliff, with good numbers of House Martins mixed in. However, by 9.30 am, most, if not all, vis-mig had ceased, with just a small trickle of Meadow Pipits still going.
However, by then I had already reached a pleasing count of 5,432 Meadow Pipits, 324 Tree Sparrows, 1,314 Swallows and 701 House Martins. There was also a good supporting cast of wagtails, finches and buntings, including 109 Common Linnets and 24 Reed Buntings heading south.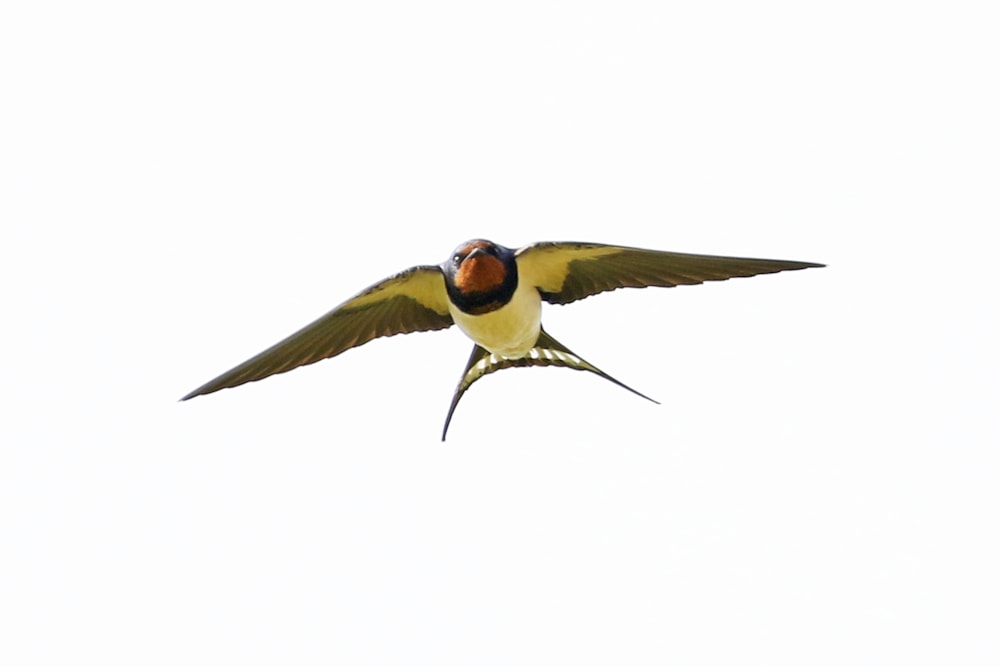 Spurn enjoyed its highest count of Swallows on 3 September 2003, when 45,000 flew south (Chris Rose).
Later in the month, with a south-west wind again in the forecast for the morning of 27 September, I set off down to Numpties on my bike. As I passed the Bluebell Cafe, I soon realised Meadow Pipits and Linnets were going over in large numbers, so in an attempt to make sure none went uncounted, I crashed my bike into the ditch while counting them.
Thankfully still in one piece, I finally arrived at Numpties at 7 am with a few hundred Meadow Pipits already on the clicker. I soon noticed it was another morning of pipits taking a broad front southwards, with some streaming right over my head and others over the Humber, meaning that the day's count was more than likely going have to been an underestimation.
However, by 7.30 am, 1,150 Meadow Pipits and 733 Linnets had gone south. They kept on coming, sometimes in flocks of 150+ birds, and by 8 am Adam Hutt had joined me at Numpties to assist with counting the pipits further out over the Humber. Other birds had started to become apparent by then too; a few wagtails, mainly alba, were mixed in with the Meadow Pipits and other finches began to appear in small numbers.
Content continues after advertisements
Next to become a feature of the morning were hirundines and, at 8.22 am, a shout came on the radio from Ian Smith that a Red-rumped Swallow had just gone south from his house in Kilnsea. It finally flew past Numpties 15 minutes later, trailing behind a flock of 20 House Martins. There were lots of happy faces as everyone had come piling out of the seawatching hide to see it. The vis-mig carried on properly until around 10.30 am but slowed down quickly after that, with just a few flocks of Meadow Pipits and a single Snow Bunting at 11.30 am, which flew south after briefly dropping in on the beach.
Some fantastic totals had been registed by the end of my watch at midday, the highlights being 8,113 Meadow Pipits, three Rock Pipits, two flava wagtails, 18 alba wagtails, six Grey Wagtails, 62 Swallows, 145 House Martins, a Red-rumped Swallow, 164 Tree Sparrows, 35 House Sparrows, two Great Spotted Woodpeckers, 39 Chaffinches, a single Brambling, 2,433 Linnets (the highest count at Spurn since 1998 at least), the Snow Bunting and 21 Reed Buntings. The morning's vis-migging session had been one of my best ever in terms of the sheer number of birds.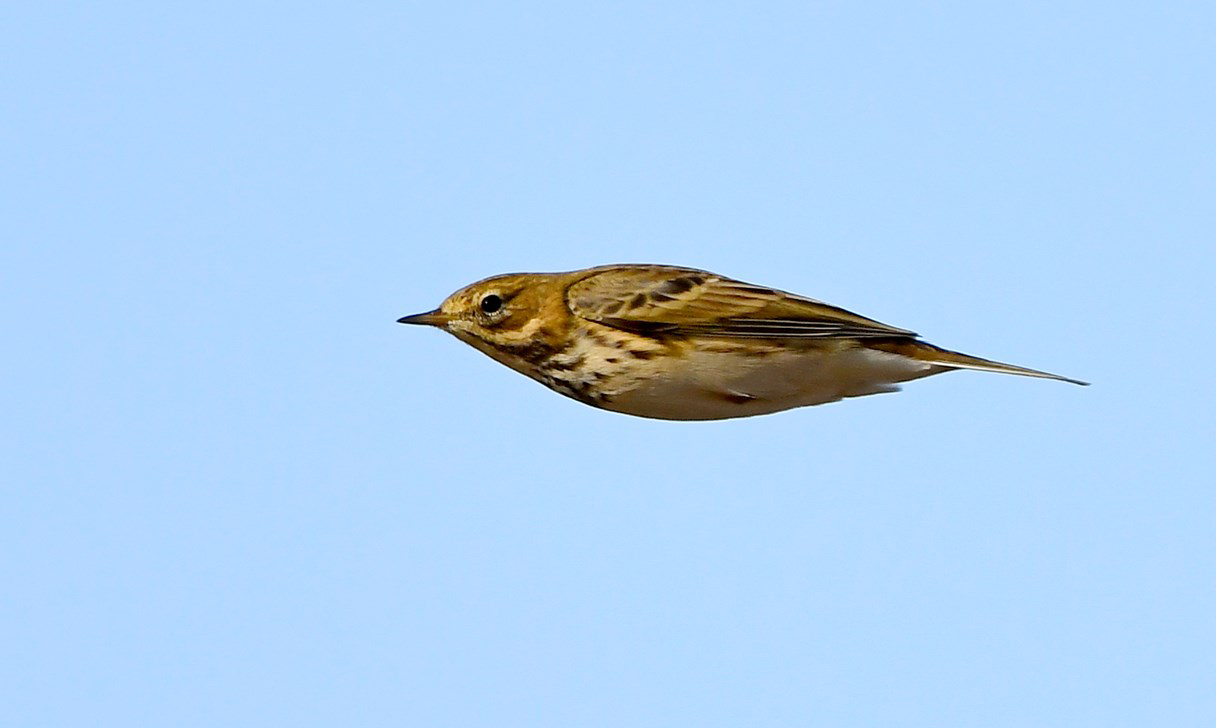 The morning of 27 September 2019 proved another superb day for passing Meadow Pipits, with 8,113 logged by midday (Carl Bovis).
As good as either of these days were, neither is up there in terms of record Meadow Pipit day-counts at Spurn, with this species a renowned passage bird here. In one day, on 13 September 2011, no fewer than 20,200 flew south down the peninsula, the highest vis-mig count ever recorded in the UK. Other big counts include 16,750 over on 13 September 2008 and 15,750 logged on 14 September 2011.
Spurn also holds the highest vis-mig counts in the UK for Tree Sparrow and Common Swift. Watching the latter species pass south is an awesome experience, as they move over Numpties at ground level in their thousands. Spurn's best count is some 21,000, on 4 July 2010. I have personally had some awesome Common Swift days this year, with 5,100 logged on 20 June, which included the added bonus of finding a Pallid Swift among them. Another highlight was watching 7,115 move south on 30 June, with five Eurasian Hobby hot-tailing behind them.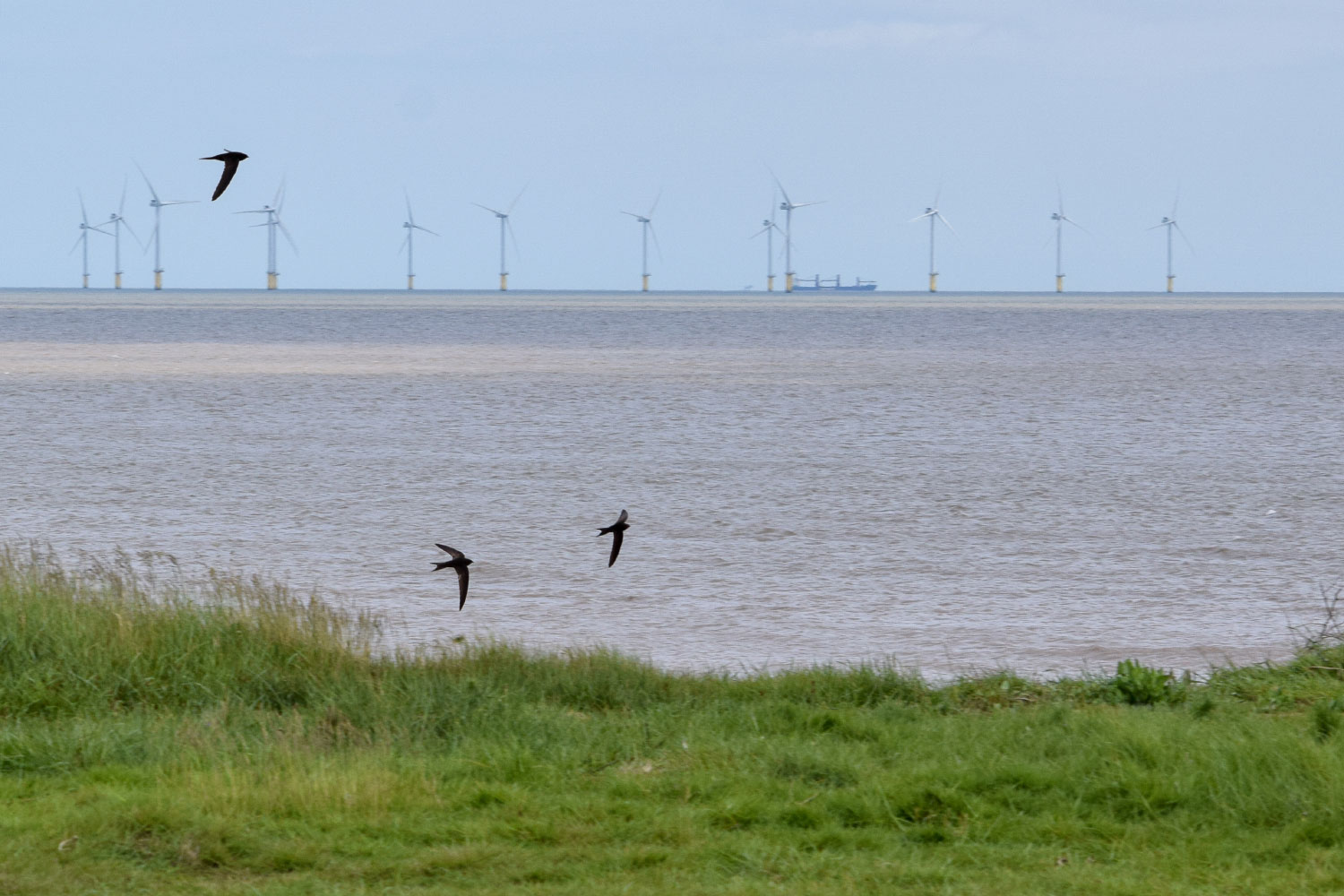 In the right conditions in June and July, Common Swifts may move through Spurn in their thousands (Bethan Clyne).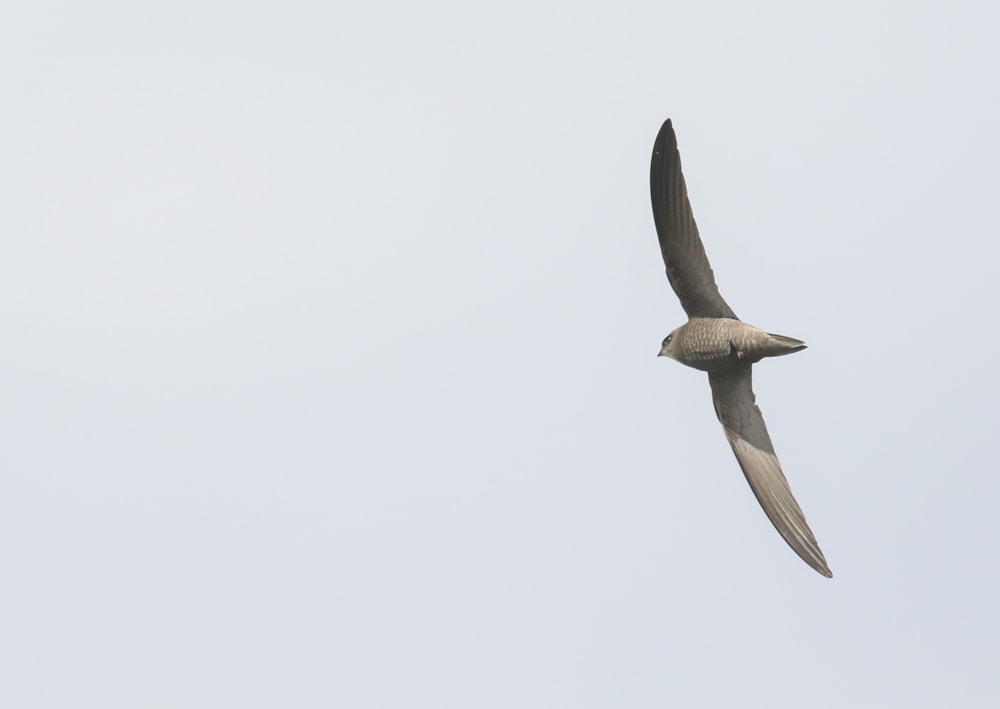 Jacob picked out this Pallid Swift among a large passage of Common Swifts on 20 June this year (Jacob Spinks).
There are many other species that Spurn is famous for holding big movements of. One is Swallow – one particularly massive day of passage came on 3 September 2003, when 45,000 flew south. An extract from Andy Roadhouse's The Birds of Spurn stated: "A good passage was completely unexpected since the winds were not perfect – a still start, with a light south-easterly which developed slowly. The total entered in the log was 45,000, but this was probably an underestimate since there were few birders counting and the birds were passing on a broad front; passing groups sometimes peaked at approximately 200 a minute."
Hopefully October and November this year will deliver some similarly exciting days of vis-mig at Spurn.

Click counters and a notebook – staple equipment for the vis-mig watcher! (Bethan Clyne).