Two previously undescribed bird species have been discovered in Indonesia's South Kalimantan province, on the island of Borneo.
The exciting findings, reported in the December 2016 issue of the Oriental Bird Club's bulletin BirdingASIA, were made in the province's Meratus Mountains, an area that has barely been explored by ornithologists in the past.
The two apparently undescribed species, documented in survey work conducted in the central part of the Meratus range from 7–10 July 2016, consist of a white-eye (Zosterops sp.), dubbed 'Meratus White-eye', and a Cyornis flycatcher, 'Meratus Jungle Flycatcher'.
The only previous documented ornithological survey was conducted in the region during poor weather in October 1996, and was focused mainly below 900 m. The 2016 expedition found that forest below this altitude was significantly degraded or had been removed entirely for cinnamon or rubber plantations, with primary forest occurring above 900 m.
Both taxa were encountered on the first day of trip. The white-eye proved to be common above 1,300 m, and was found in single-species flocks numbering up to 40. Its appearance differed quite considerably to Everett's White-eye (Z auriventer), a species frequently encountered at lower altitude in this region, and was also phenotypically distinct from Black-capped White-eye (Z atricapilla), the white-eye species typically found in montane forest elsewhere in Borneo.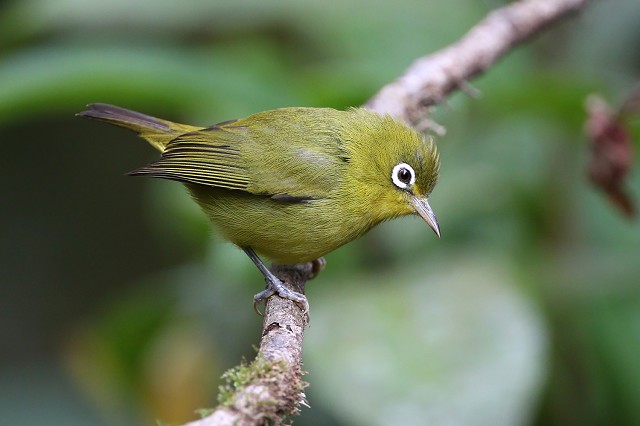 'Meratus White-eye' (Photo: James Eaton)
The first sighting of the flycatcher involved a female in a mixed feeding flock that could not be assigned to species. The following day, a male uttering a typical but unfamiliar Cyornis song was heard, and playback confirmed it as different. A handful of further sightings were made from 900–1,300 m, with photographs taken, confirming that it is easily separable from each of Borneo's four other known endemic Cyornis species.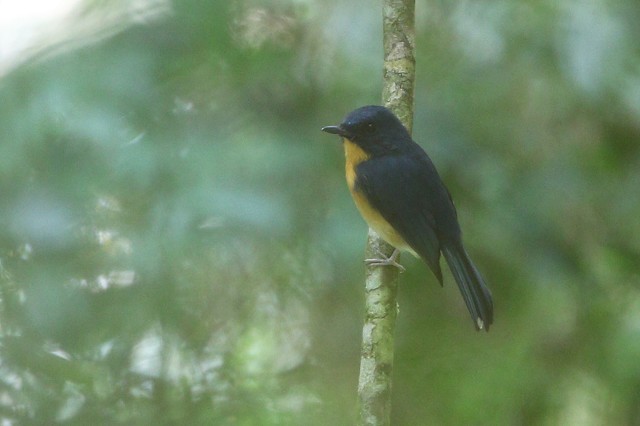 Male 'Meratus Jungle Flycatcher' (Photo: James Eaton)
Simon Mitchell, part of the team involved in the exciting double discovery, commented: "We headed to the area specifically because we knew it was so understudied there was the chance of some really exciting discoveries. But when the first mixed feeding flock started moving through the canopy around us and we realized it held two completely unknown, undocumented species, we still had to pinch ourselves!"
"It seems likely there are still a handful of bird species waiting to be found across Borneo and Indonesia, which makes the idea of birding the most remote parts of the region very exciting."

Forest from Gunung Besar peak, Meratus Mountains (Photo: Carlos Bocos)
Oriental Bird Club membership is £15 per year and includes two issues of BirdingASIA (where this full paper is featured), as well as one issue of the peer-review journal Forktail. This paper can also be read online here.