Wednesday 23 September 2020 will be long heralded in Norwegian birding folklore, for it produced the country's first national occurrences of both Cape May and Black-and-white Warblers in an unprecedented Nearctic double header.
The previous weekend had seen a fast-moving low-pressure system rapidly traverse the Atlantic after leaving Newfoundland. Iceland took the brunt of its power, but associated warm fronts (coupled with strong westerlies) also moved eastwards at a lower latitude, these passing over western Norway on 21st. This system produced an impressive list of Nearctic passerines in Iceland, with Tennessee Warbler, Alder Flycatcher and Swainson's Thrush all seen there.
However, it was Norway that subsequently stole the show with its brace of warblers. Bjørn Mo of Utsira Birdstation takes up the story:
I had been on the island for a week, and I was out ringing every morning from around 06:00 until midday. Two Little Buntings and a Common Rosefinch were a surprise on the second day but, other than those, there were few surprises. Around 10 Yellow-browed Warblers or so were nice, but expected. Each day saw between 15 and 20 birds ringed on average, and Wednesday 23rd was one of those days. Strong wind from the south and heavy rain between 06:00 and 09:00 saw me checking the mistnets every 10 minutes, in the hope of something interesting. The amount of birds did not improve when the rain ended. However, I had heard several Eurasian Siskins flying over and started to play that species through the speakers by the net ride, in the hope of catching a bird or two.

When I checked the mistnet the next round, a siskin-like bird had found itself trapped, and I was expecting it to be one of the Eurasian Siskins I'd hoped to attract. But when I got closer, my heart stopped and my arms and legs started shaking. I saw that the bird was a New World warbler, and it was definitely not one of the more commonly occurring species. I took the bird out of the mistnet and immediately took some pictures and posted them on the local rare bird group with the text: "I have no idea what this is. But my pulse is very high and I am shaking."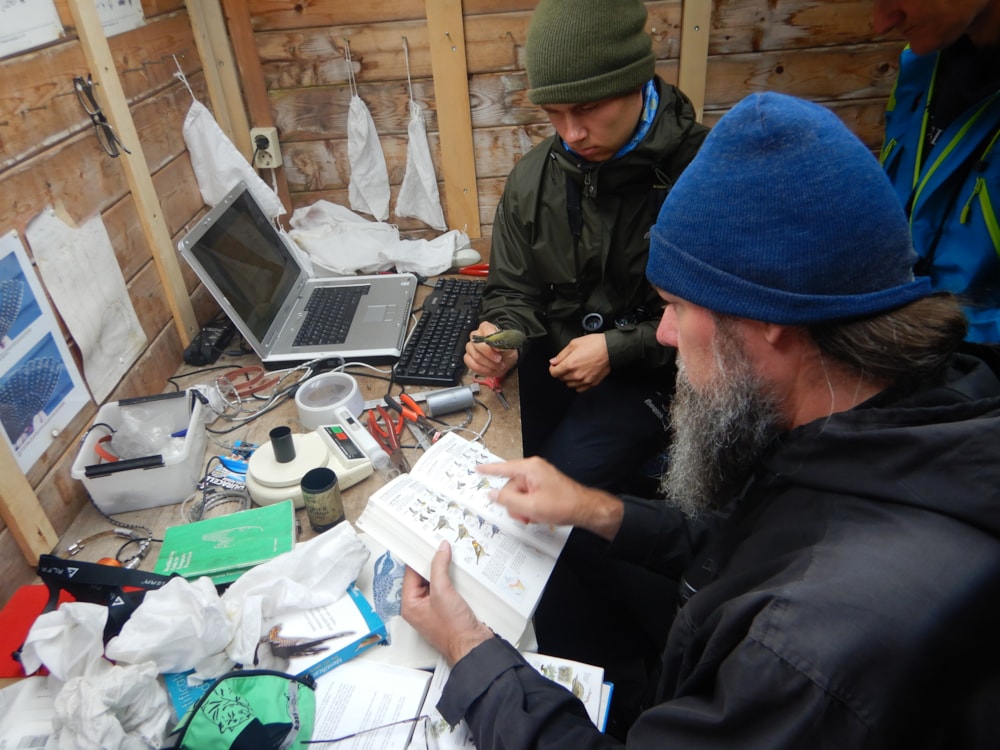 A quick check of the books allowed any possible confusion species to be ruled out (Utsira Birdstation).
Others quickly responded that it was a Cape May Warbler! Twitchers were soon on their way. Most who made it across came from near Jæren, around three hours away from the island. When waiting for the ferry – which takes one hour to Utsira – a Black-and-white Warbler, also a Norwegian first, was found back at Jæren! Many of those waiting to cross to Utsira ended up driving over two hours back home in hope of twitching it. And they did! Thurday morning, they took the first ferry to Utsira and also managed to twitch the Cape May Warbler, which was still present.

Wednesday morning's ringing session went as follows:

1 Cape May Warbler
7 Eurasian Wrens
8 Blackcaps
1 Yellow-browed Warbler
2 Goldcrests
1 Willow Warbler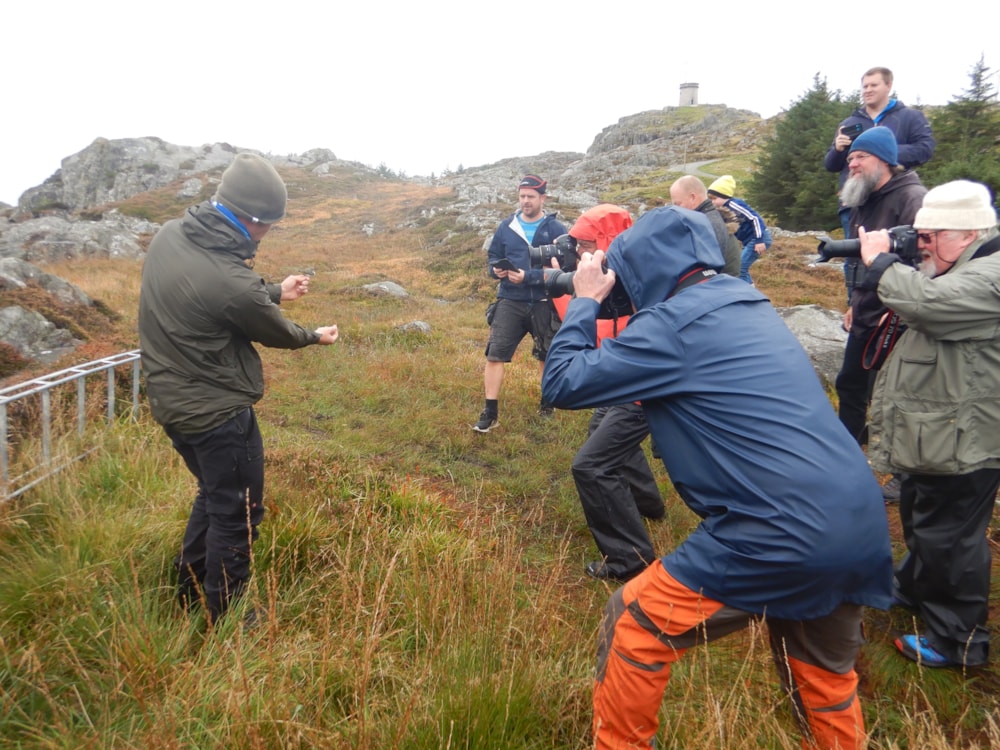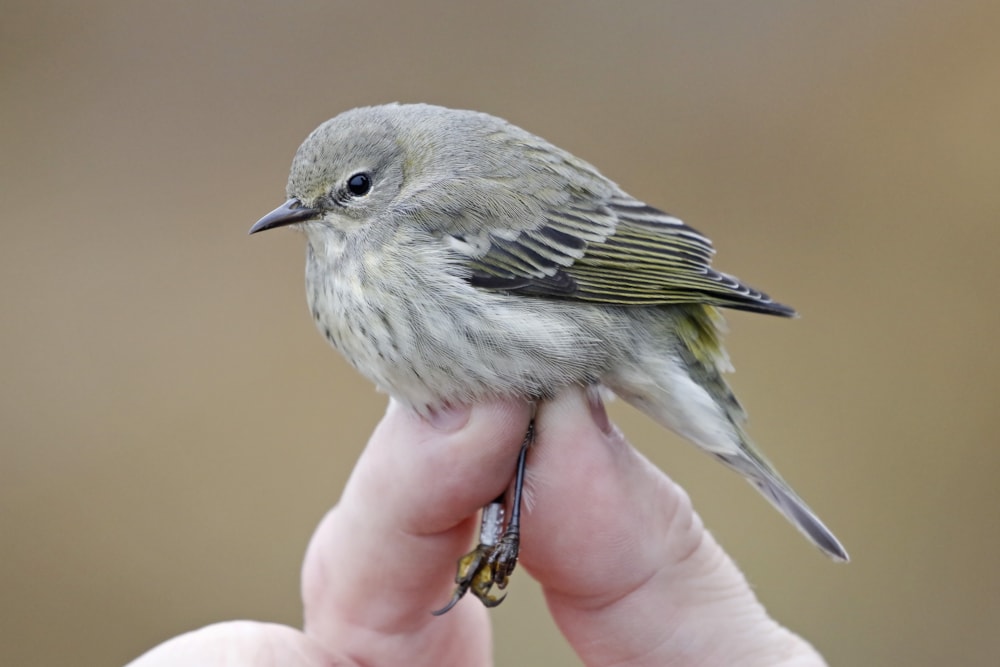 Cape May Warbler, Utsira, Rogaland (Bjørn Mo and Utsira Birdstation).
The rarer of the two species in the Western Palearctic, this is the fourth record of Cape May Warbler for the region, having previously been recorded twice in Britain (at Paisley Glen, Clyde, on 17 June 1977 and in Shetland at Baltasound, Unst, from 23 October to 2 November 2017) and on Corvo, Azores, on 27 September 2019. It is, incidentally, the seventh species of Nearctic landbird to be seen on Utsira – an impressive feat for a Norwegian locality. The island has hosted no fewer than five Swainson's Thrushes, as well as a single Grey-cheeked Thrush in 1973. Two different Rose-breasted Grosbeaks were seen in 1977 – one in the spring and another in the autumn. Singles of Myrtle Warbler and Baltimore Oriole have also been seen, while the island recorded its first Red-eyed Vireo in October 2019.
Just hours after the discovery of the Cape May, Sigmar Lode caused a frantic dash to the mainland site of Grødalandskogen, on the outskirts of Nærbø, when he came across a first-winter male Black-and-white Warbler. It was among the first three birds Sigmar saw that day, appearing right over his head with a couple of Goldcrests. Although somewhat more regular that Cape May, Black-and-white Warbler is nevertheless still a rare bird in the Western Palearctic, with just 18 previous British and Irish individuals. It is one of the more commonly seen Nearctic wood warblers in the Azores, while there are also occurrences from Iceland, the Faroe Islands, France and the Canary Islands.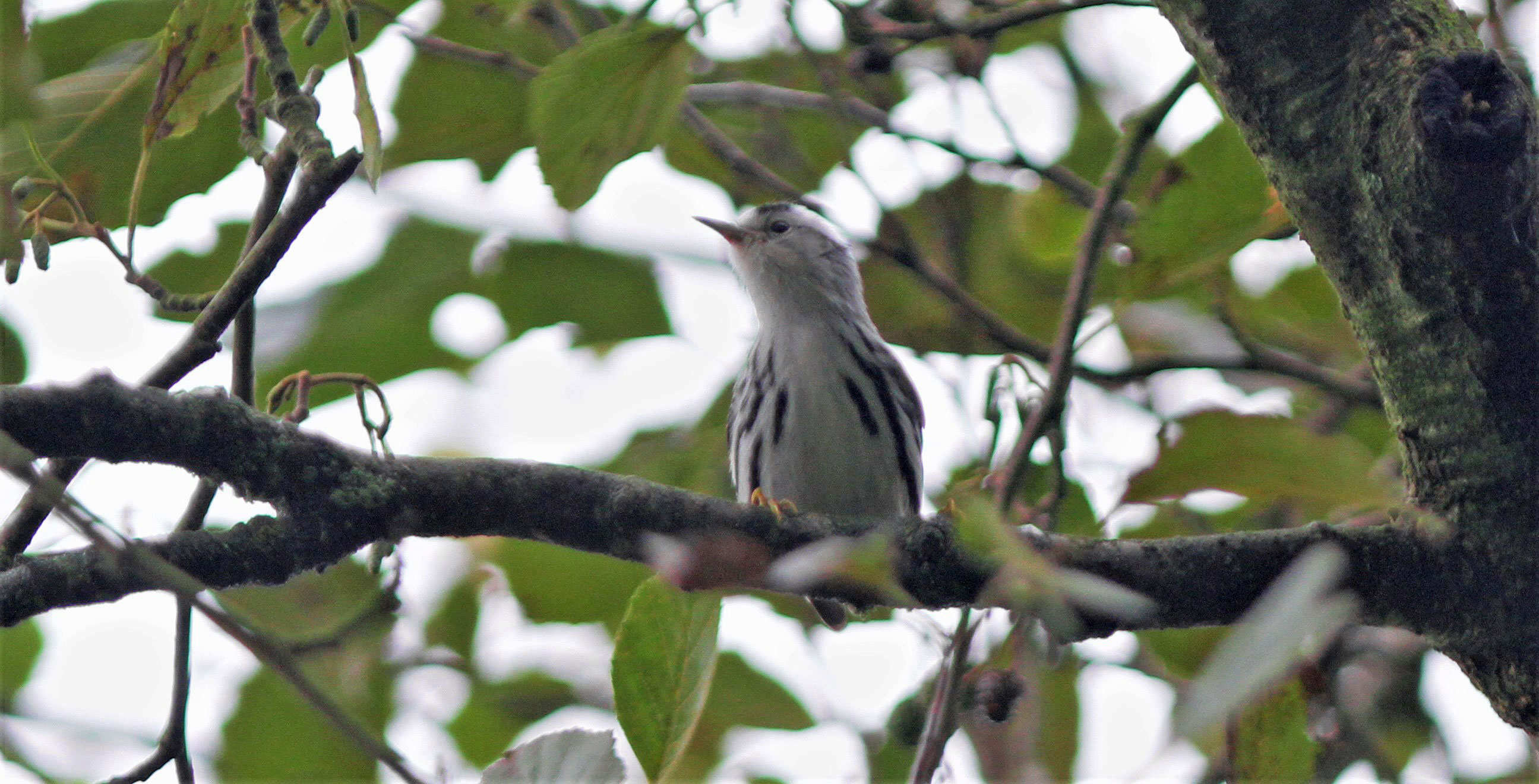 Black-and-white Warbler, Nærbø, Rogaland (Sigmar Lode).
As it turned out, the Black-and-white wasn't seen again after 23rd, although the Cape May Warbler is still present on Utsira at the time of writing [26 September].
This is, quite unsurprisingly, the first time that two American warblers have been found on the same date in Norway, but that phenomenon has occurred in Britain and Ireland as a collective on seven previous occasions. Three Blackpoll Warblers and a Myrtle Warbler were found on 7 October 1976 – an impressive four-warbler day. Most recently, two American Yellow Warblers were found on the same date in 2017, when England's first ever at Portland, Dorset, was found hours after another at Mizen Head, Co Cork, on 21 August. The last year to record multiple species, 1987, saw a Myrtle Warbler at Cape Clear, Co Cork, found within hours of a Black-and-white Warbler at Prawle Point, Devon, on 8 October.