Present: C Butler/A Coleman/R Holland/D Richardson
Monday 17th May 2004-Sunday 23rd May 2004
After a seemingly endless wait the time had arrived. My first birding trip abroad! I'd paid my dues to the local Millett's store and stocked up on a new flask, hat, holdall (quite literally a holdall) and other paraphernalia. A Sunday hangover had been negotiated and after a brief driving licence debacle we checked in at Manchester Airport, destination Antalya.
Day One
Before long we'd arrived, but not before a four-hour flight and a two-hour time difference had effectively scuppered our night's sleep. An unwelcome hour's search for the local Europcar centre meant that it was well past dawn as we swept out of the airport car park on our journey east. As we checked our maps and itinerary to see what the best course of action was I took first stint at driving. The road was a dual carriageway and all seemed rosy as we shot past numerous villages and untold petrol stations.
Our first choice was where to bird first. As we'd had little sleep we decided that the relatively short drive to Akseki would suit us. Then we could check in to a hotel and take things easy. Secretly, Akseki appealed to me, as the site held a lot of species on my trip target list...Grey-headed Woodpecker, White-backed Woodpecker, Krüper's Nuthatch and Rüppell's Warbler. The turning to Akseki appeared to be a mile or two east of the first major town, Manavgat. Our navigational skills were slightly off-beam however and, somehow, the turning was missed. Following a few minutes deliberation the brave decision was made to continue to Silifke and the Goksu Delta.
After the luxuries of the dual carriageway until well past Alanya/Gazipasa, Bob took over the driving and the road then began to climb significantly, twisting this way and that, with a shimmering Mediterranean rarely far from our right-hand view. It suddenly became apparent that driving on Turkish roads wouldn't be the walk in the park we'd anticipated. Petrol tankers and fruit lorries laboured up the steep inclines, shedding countless tomatoes, oranges and other, more obscure delights. Overtaking became mandatory or our itinerary would be severely affected, and so followed three hours of blind corner accelerating, steep drops, Turkish rally drivers and the like. For the passengers, catching up on sleep was a panic-inducing affair (try going on a rollercoaster with your eyes closed). It must be said that the views were worth every nauseous feeling. Stunning!
Once we had dropped back to sea level we came across an area that seemed rich in vegetation, Alpine Swifts hawked crazily above our car and birdlife seemed abundant. Colin noticed a small passerine on the side of the road so we stopped for a welcome break. The next hour was, bearing in mind it was my first foreign birding trip, astonishing. We had happened upon a real goldmine and there were birds everywhere. Long-legged Buzzards circled overhead, whilst in the trees and bushes next to the roadside we counted: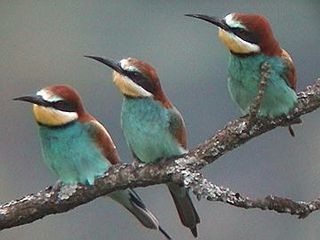 Bee-eater: (Photo: Bill Aspin)
amongst other, more familiar species. What a start!
After more driving we finally reached Silifke. We had Gosney maps to assist us round the local landscapes but the Mediterranean coast of Turkey is undergoing much change currently and it was easy to lose track of where we were supposed to be. Eventually though, we reached what looked like an extensive dune area with what looked like a lookout tower. We parked our car and scrambled over. A falcon shot by close in, but we failed to identify it. Whatever it was we didn't see another of the same species on the rest of the holiday :o(
As we climbed the watchtower, a Rufous Bush Robin lurked in the undergrowth, providing me with my first proper find of the trip. Our first thoughts upon setting our scopes up were:
It's very windy, and I mean windy.
Where are all the birds?
We had, perhaps naïvely, expected the lake to be heaving with local specialties, but it was a real challenge to pick out anything. After we had our eye in things became a touch easier. Night Herons were roosting on a small island, Purple Herons were drifting to and fro across the lake and dotted around were some terrific Purple Swamphens, using their astonishing feet to negotiate through the mud. Marsh Harriers quartered the lake lazily and Red-crested Pochard were scopable further out.
Red-crested Pochard: (Photo: Tom Tams)
As there was a number of sites we continued east along the beach and worked our way around the lake on its Eastern side. As we did so we flushed a group of Spur-winged Plovers (a bird I'd not paid much attention to in the book, but which was far better in the flesh). Kentish Plover swiftly followed, along with a surprise Stone Curlew that ambled across the dirt track right in front of us. By now we had approached a couple of large lakes that harboured Greater Flamingo and Slender-billed Gull. Ruddy Shelduck drifted past nearby. My tick list was building rapidly!
As we left the lake network behind a Graceful Warbler appeared close by, along with a couple of Spanish Sparrows (surprisingly the only ones we saw all holiday).
The first night was spent in Tasuçu, an appealing holiday resort about five miles west of Silifke. A hungry bunch put away a three course traditional Turkish meal with a few of the local Efes Pilsners out of courtesy!!!
Content continues after advertisements
Day Two
Our itinerary was fairly flexible apart from two nights. Tuesday and Wednesday nights were booked for the Oz Safak Pansion in Camardi (site for Caspian Snowcock), and a fairly relaxed three-hour journey took us north towards Mersin and Pozanti. This time we found our turn off for Camardi (after the previous day's Akseki problems) and climbed up the plateau. It's worth pointing out here that Turkish motorways are bizarre. For miles you will find no traffic, despite very reasonable toll rates. Then as soon as the motorway climbs or drops altitude there becomes a veritable destruction derby of juggernauts and other HGVs. Some of the accidents really make you wince, and ALWAYS look like they've freshly occurred. On the motorway, just before Pozanti, we saw Egyptian Vulture overhead (and on the return journey too!) Pallid Swifts were angling above the tollbooth at Pozanti also.
As the road climbs towards the highest point of the Taurus mountains (Demirkazik - 3756 metres - 12520 feet) the views are breathtaking. Even in late May there was a healthy amount of snow on the higher peaks. A quick stop alongside an orchard revealed Short-toed Lark and Subalpine Warbler. With very little fuss we found the Oz Safak Pansion (although the scale on his hotel leaflet was just a tad out) and checked in. The accommodation certainly looked impressive and we unpacked the car and headed off to the Ski Centre in Demirkazik village. Once there we commenced the trek up the right hand side of the centre, climbing steadily. Snowfinch were scattered liberally around the boulder strewn fields, along with Isabelline Wheatear and a pair of Ortolan Bunting. All this whilst Crag Martins were flitting dangerously close to our ears and Sousliks (like a squirrel/stoat cross) scurried away as we came into view.
After a bizarre comic interlude with Ali (our 60-odd year old guide) and another local chap called Sobek (Ali actually dragged Sobek down a large slope into a huge boulder before much finger-wagging and Turkish obscenities - Sobek was trying to con us out of money which we had paid through our fees already), we moved higher up and encountered Black-headed Bunting and could see a majestic Golden Eagle soaring overhead. Suddenly an unfamiliar twittering calling sound came closer. We trained our binoculars on the approaching birds...a superb flock of Red-fronted Serins, one of the main target birds and a real speciality. With beautiful markings the drawing in my field guide could do them little justice. Lesser Whitethroats were abundant. Rain slowly started to fall and we swiftly moved back down to the car and waited for a while until it relented.
Further north from the Ski Centre was a gorge, which, in the Gosney book, was THE place for Wallcreeper. The gorge was a very short drive away and we pulled over, to be joined by a coach full of Dutch birders who had come for the very same reason. Following a brief search the cry went up..."Wallcreeper" and so ensued a frantic bout of "where?" and "how high in relation to xxxxx?" Fortunately we picked up on the bird within time and it subsequently dropped right down to the base of the cliffs close by. This really was one of the top three birds of the trip for me and to see such great views was genuinely awesome. It's constant flitting and wing-spreading allowing easy pick-up on the grey-brown rock-face. A Rock Sparrow appeared on the opposite rock-face a few moments later, almost apologetic for being an anticlimax (at least in appearance anyway). Now the rain set in heavily and we ventured back to the accommodation to dry out! An early night was required for our early morning adventure on the mountainside so after a delicious couscous and trout we wearily trudged to our rooms.
Day Three
The big day had arrived. Throughout the build-up before the holiday the thought of the tractor had invoked much excitement and anticipation. After putting on our many layers of clothes (we were expecting snow and temperatures of -4) we ventured out, expecting a comfortable trailer to sit in. To our horror we discovered we would be sat on a glorified wooden tray on the back of a ramshackle tractor. Twenty minutes had passed before we managed to get ourselves positioned on the "tray", with our scopes and rucksacks secure. Then, in the gloom of pre-dawn we set off along the minor road back to Demirkazik. If we thought this was bumpy then the off-road section post-ski-centre was what can only be described as an endurance test. As we climbed steadily there were ruts, potholes and sharp turns which all tested your strength and ability to cling on to the tractor. Improvisation was required. I managed to locate a rusty hole in the wheel-arch and prised my fingers inside to allow myself to stay on. Colin, Dave and Bob all did their own jobs to stay on. The Health and Safety Executive would have a field day with this one. Eventually, after about 75 minutes we reached the high point of the track. The Dutch birders from the previous day were already there (in a VERY comfortable looking trailer too! Hmph). We had reached an altitude of 2400 metres (8000 feet)!
Barely minutes had passed before the birds were heard calling, then Colin picked one up on the rock face. We trained our scopes on the bird and had decent views for a number of minutes before it moved on. There was almost reverential silence as the group surveyed the main features and watched it call (the sound reaching us a couple of seconds later). Then the group split up and attempted to find the other mountain specialties. Hassan (Ali's brother) knew the whereabouts of a Radde's Accentor nest and we slowly edged close to the area. Almost immediately a bird shot out of the heather and down onto the ground, another target bird ticked off. Alpine Chough was located close by, followed by Alpine Accentor. Things were really hotting up now...then Crimson-winged Finch made an appearance, albeit fleetingly. Summer plumaged Shore Larks were feeding on the ground.
All the dashing around, coupled with the altitude, had a major impression on everybody's breathing ability and we found ourselves distinctly short of breath. The views from around the mountainside were truly unforgettable and were well worth the stresses of the journey up. Photographs can only do a view a certain amount of justice.
After this we headed back down the mountainside (some of the Dutch had decided to walk rather than endure the bone-shaking journey down) but the journey back was via a different route however and was far quicker and less traumatic. We had a superb bonus of Cretzschmar's Bunting and Rock Bunting en route too! Disappointingly though, we had dipped on Finsch's Wheatear, which would come back to haunt us.
After breakfast we had a short walk around the accommodation and picked up Lesser Grey Shrike and Lesser Kestrel (both from the hotel balcony!). Cetti's Warblers were numerous on the nearby riverbank, and a Nightingale remained frustratingly elusive near the apartment. Later still we ventured back up the mountainside near the ski-slope and caught up with Rock Thrush (and another Wallcreeper in the gorge). On the south side of the main peak was another gorge, which held a real nomad camp. This was an amazing sight, watching a small community living under a rocky overhang with sheep and goats. In this gorge we discovered a Western Rock Nuthatch and its nest. Then the usual afternoon cloud produced a humdinger of a storm, which stopped us from birding any further. Late in the evening it abated and we caught up with the elusive Nightingale, which was showing right out in the open (my first ever sighting, having sat and heard numerous in the UK). As the night drew closer I sat on the apartment balcony and listened, transfixed, as the mullah made his nightly announcement from the local minaret, across the mountainside. WHAT A DAY TO REMEMBER.
Day Four
An early start and our goodbyes to Ali (after a spell of haggling over the fee, which was pre-arranged as well!!!). We took the road back down to Pozanti, my eyes gazing skywards for Lammergeier (my bird of the trip), which, disappointingly, never came. Then south towards Tarsus and eastwards, past Adana and on further, destination Gaziantep. Off the motorway we saw a couple of White Storks, followed by a cracking Black Stork, purposefully heading over the motorway. By early afternoon we stopped at a site called Durnalik, about fifteen miles west of Gaziantep.
We parked up on a hillside near a very rundown village and walked down a long path. Almost immediately we located Cinereous Bunting, a delightful bird that was fairly common in the area (although we never saw one anywhere else!) Soon after we reached a path off to the right, stretching on up a very arid looking wadi. In an orchard to our left a bird flitted. I focussed my binoculars and was thrilled to find White-throated Robin in my view. Calling the others over we had really good close-up views. Later we found they were numerous in the area and even found a nest. Walking up the wadi we soon happened across a pair of large warblers. After a few minutes confirming the ID (thank you Collins Guide) we had reached the conclusion that the very active pair were indeed Upcher's Warblers, further confirmed by the appearance of an Olivaceous Warbler for direct comparison. Two great lifers for me in the space of seconds.
The wadi proved even more bountiful, a Black-eared Wheatear sprang into view, along with a small family of Sombre Tits, whilst overhead, a Steppe Buzzard soared lazily throughout the afternoon. Rufous Bush Robins were plentiful too, as were the ever-present Lesser Whitethroats and Red-backed Shrikes (both birds are present in HUGE numbers across southern Turkey). Target bird was now Red-tailed (Persian) Wheatear, but no amount of anguished searching could produce the bird so we reluctantly headed back down the wadi to the tree lined rock path we had initially walked down. Almost immediately an Eastern Rock Nuthatch appeared on the mountainside, showing well. As a real local target, we were very pleased to pick up a tick.
Walking further up the hill we discovered a Syrian Woodpecker and its nest, whilst European Bee-Eaters soared overhead, calling loudly. Hoopoe were seen fleetingly between the rocky outcrops. Both species of Rock Thrush also put in a cameo appearance for us too! Dave picked up on a Golden Oriole but unfortunately I missed it and it remains unticked (Lakenheath next year I think). After another amusing interlude with the locals (Colin posing with a shepherd's plough etc.) we headed off to Isikli in an attempt to tick off Red-tailed Wheatear.
Before the trip we were all too aware of the potential dangers of Western Europeans in an Islamic country and were slightly wary and on our guard as a result. Thus far, however, we had encountered nothing but genuine warmth, great food and drink, courteousness and happy memories. As we drove into Isikli (a very small village) there were literally hundreds of folk out on the streets. Coaches were parked and numerous cars blocked the road. There appeared to be a gathering of some local villages and towns happening here today. The presence of four blokes in khaki shorts with telescopes, in a Renault Megane, then, would not have been what most were expecting and we felt genuine unease as people, rather than waving and smiling, were glaring in through the car window and talking animatedly. A sharp exit was required and we called it a day on our wheatear hunt.
The drive through Gaziantep at rush hour was enlightening (certainly for Bob the driver anyway) and it was here that we made the best discovery of the week...Biskrem cookies (with chocolate hazelnut filling to boot). These were possibly the greatest biscuits you can imagine. If you do go to Turkey look out for them!
Our furthest point on the trip was Birecik. A place for many specialties it heralded the turning point of our journey eastwards and we rolled into town just after nightfall, to encounter some rather seedy areas. We headed back over the Euphrates (stunning at night) into the motel on the western side of the bridge. Good food and beer ensued and we headed off to bed bang on schedule to pick up Birecik's local delicacies...
Day Five
For the first morning we woke up knowing we'd be birding within twenty minutes. No scary mountain passes, surreal tractor rides or dodging kamikaze tortoises. After a brief shower and shave we headed down to the Ibis complex. On the short journey we picked up a couple of unexpected surprises too. A large colony of Little Swift were nesting on the cliffs just south of the Ibis complex and numerous Pygmy Cormorant were alternating their dives for food on the lazy looking Euphrates. Slightly north of the town and virtually on the Eastern bank of the river the Ibis complex was a very simple place to find, and the Ibis were so numerable we couldn't possibly dip. Occasionally there would be a brief sojourn for the birds over the river and back again but the majority of time they would sit roosting on the crags of the cliffs. What WAS a bonus was a good number of Dead Sea Sparrows at the same site, which we didn't really expect. This was one of our other targets so we'd got a little ahead of ourselves.
Next on the itinerary was the nearby wadi, which circled round behind the Ibis complex. Ibis were branching out and nesting here too. We had company too, a small stray dog had decided to follow us in search of food and water. Little did it know we had forgotten to bring any water ourselves (which would later bring us back down the wadi early). The trip report we had suggested that Ménétries's Warbler was to be found in the first section of the path, and this proved correct as a small passerine flitted about in the undergrowth, showing telltale signs of wagging tail. It came in very close, allowing all the key ID features to be confirmed. Great start!
Further round the corner we came across numerous Rock Sparrows in the faces of the surrounding cliffs. Frogs called out at an alarming rate of decibels all around us, even the stray dog seemed mildly perturbed. Dave even came across the trip's first snake, although we couldn't relocate it, to my mild disappointment. As the wadi twisted once more we caught a pair of Rollers, a bird I had been desperate to catch up with, and a real eye-catcher. It appeared to be nesting in a hole halfway up the cliff-face and made a real noise if anybody approached. Bee-eaters called distantly and slowly floated over our heads. Eventually the path rose upwards and onto the cliff tops surrounding us. This was supposed to be a good place for See-See Partridge, and so it proved as two birds shot out of the scrubby undergrowth and across to the opposite side of the wadi below, allowing only Colin and I half decent views. Annoyed that we had flushed the birds before waiting for everybody to arrive we continued around the cliffs, seeking out the elusive Eagle Owls, which are meant to roost here by day. Unfortunately we were out of luck this day and, with a beating sun and no water, had to beat a hasty retreat back to the car. Colin had the bonus of a Bimaculated Lark on the way (my third dip :o().
After a much needed drink we decided to hunt for the Pale Scops Owls in the café grounds in Birecik town itself. The first thing we noticed was that a large number of ice-creams were on display and we proceeded to tuck-in to pistachio and caramel ice-creams (Dave had at least three!) It was at this point that we realised that the search for the owls was not going to be easy. An initial burst of simply looking up tree trunks brought little luck, and a different approach was needed. A guide! Unfortunately nobody really seemed to know what we were looking for and those that purported to usually led us a merry dance. We were getting quite desperate when a lad claimed to know where they were and led us over the road to a dusty area with trees on (the trees were being whitewashed by a strange-looking man?!) I was very sceptical about the guy's knowledge initially and thought he was wasting our time, so began to look around. I heard a Starling scolding something loudly and it caught my attention. Quickly reaching for my bins I focussed in on the Starling and lo and behold, there was the owl, patiently sat there in glorious ignorance of both the Starling and us admiring birders. As it was roosting we had a free reign with the scopes to get good views too, and some of the locals had a good look too (although our cash offer to our "guide" was emphatically rejected). We were now local celebrities and had a veritable entourage for the next twenty minutes as we made our way back to the car, via the bank?!
An aborted journey to find Cream-coloured Courser was next (the road was inaccessible) but we did locate Yellow-throated Sparrow/Chestnut-shouldered Petronia on the road up to the site, which left us with the gravel pits before it was dusk time. The gravel pits were only a short drive from our hotel so we quickly dropped down there and picked up numerous Great Reed Warblers and Caspian Reed Warblers. Little Egrets and Purple Herons were occasionally seen too and a magnificent Little Bittern stalked after frogs on a small spit in the distance, its stealth and patience being fascinating viewing.
In the same area what looked like an all-black-and-white Hoopoe fluttered out from behind some vegetation. It rose and then dropped over the other side of the pits towards the River. In the very brief time that this had happened nobody else had caught the bird I was looking at but I was convinced that it was a Pied Kingfisher; just wish it had turned up again for absolute confirmation.
Walking farther round we ended up on a path that we thought would take us down to the riverbank but which was actually the entrance to a rather ramshackle farm. We managed to catch up with Hill Sparrow (Pale Rock Sparrow), which proved to be our last Birecik tick! What followed next was typical of the week that we had experienced. A few of the farm workers had been intrigued by our scopes and tripods and came over to learn more. They were delighted with this new technology and invited us over into their farm. Once there we realised that there was at least four generations of the family present. They offered us tea and a seat (can you imagine that in this country?! These people genuinely had nothing but were STILL willing to share it with complete strangers). After a drink and a round of photographs we moved on (the grandmother was visibly stunned at Colin's digital camera shot of her and the whole family, and could barely look at the photo before reeling away - astonishing!)
After another tasty kebab (and much waiter-related japes of moving the beer away as you were trying to drink) we retired, happy with the knowledge we had pretty much cleaned up with the major specialties!
Day Six
This was, in some respects, the real big day. It had taken us five days to get this far, and now we had two to get back (and hopefully do Akseki justice on the Sunday too!) I took first stint at about eight o'clock and took the D400 westwards, initially towards Gaziantep. Traffic was slow and there were large numbers of tankers on the road. Bearing in mind that we had to make good time and the motorway was a good forty miles away I chanced my arm. Then, to my horror, halfway past a convoy of tankers, a large van appeared from nowhere. I had nowhere to go. Trying to think on my feet I noticed that the hard shoulder was free on the OTHER side of the road, so I indicated and overtook the tankers on the wrong side of the road on the hard shoulder...as only a true Turk driver could!!! The rest of the journey as far as Adana was fairly uneventful. The motorway was as clear as ever and we made good time.
Adana is Turkey's fourth city (after Istanbul, Ankara and Izmir) and is a very large place indeed. We had planned to skirt the city and head down towards the Ceyhan estuary and bird there for a few hours in the afternoon, in order to break up the journey. However, we ended up on the wrong side of the river and drove down fruit-tree-lined roads on the western bank for thirty minutes or more. After a while we turned and headed towards where we thought a bridge might be. Suddenly a bright flash appeared out of the roadside ditch. White-breasted Kingfisher! This time everybody had good views as it perched right out in the open on top of a large bush. What a great bonus and a bird I had given up on after our first day dip at Goksu. After receiving some surprisingly good directions we headed back north into Adana, collecting another tick for me in Cattle Egret in a roadside field (along with White Stork). As we drove back to Adana along a different road we came across dozens of Great Reed Warblers and a good few singing Graceful Prinias too!
This time Adana was great fun to drive through and a real survival of the fittest. The large mosque in the city centre is truly magnificent and we stopped and admired for as long as the busy traffic would allow us. There was one glorious moment, which just about summed up Turkish life, at a major junction. To the right of our Renault Megane was a Mercedes SLK Coupe, to our immediate left a tractor, and left again a horse and cart!!! Wonderful!
In the back of my mind I had planned to drive as far as Silifke and stay where we had stayed on our first night but when we arrived it was mid to late afternoon and we had managed to tune into the BBC World Service for the FA Cup Final. Suddenly driving didn't seem so bad. After an annoying speeding ticket (I swear I didn't go any faster than the guy in front who escaped without punishment) I began the climb away from Silifke and towards Antalya. After a brief stop for some gulls near Bozyazi we made good time and the cup final passed quickly. In the back of my mind I privately hoped to make Akseki that night, but I knew it was dependent on traffic really. After another bizarre near miss where a suicidal estate car nearly saw us off on the mountain pass we eventually dropped down into Gazipasa and Alanya (which was really busy and vibrant as the sun slipped below the sea-line).
This time we found the road to Akseki easily and took on the 60km in complete darkness. Fortunately the road quality was good and we arrived shortly after ten o'clock. Exhausted but satisfied I crashed into the bed at the Star Hotel. We had been driving for 14 hours non-stop and had covered 556 miles on twisting, winding, nightmare roads. I felt a genuine sense of achievement!
Day Seven
After a great sleep I awoke with a sense of excitement and regret. Excitement at the thought of seeing some great birds and regret at the thought of this being our last day. After a quick breakfast we headed off down the hill to the graveyard. After an initial flurry of activity (including another Syrian Woodpecker) we concluded that it would be very difficult to find anything in the thick foliage surrounding us and that we would need to split up. This would have inevitable consequences that we would not all see the same birds. Fortunately I found a superb Rüppell's Warbler (that the others caught up with too!) but Colin found an Olive-tree Warbler that I missed out on and a Sardinian Warbler. A Common Redstart was a nice find (samamisicus race) as well.
Next was the White-backed woodpecker and Grey-headed Woodpecker site on the old Konya road. After a little over zealousness on the large layby we found our spot and headed off (picking up a long-overdue Serin on the way!) down the path. Out of the corner of my eye I noticed a movement...could this be a woodpecker in the undergrowth? No, perhaps even better! It was a Pine Marten (something I'd long wished to see) and there was a whole family of them too, scampering around in broad daylight, quite openly. What a great find.
As we approached the woodpecker site we clearly heard the White-backed calling and waited in eager anticipation. Unfortunately it never came and we moved further round the path where we picked up on Krüper's Nuthatch (another real target bird for me). Colin found a Short-toed Treecreeper, which I annoyingly missed out on again!
Another try at the woodpecker site proved fruitless so we thought we'd check out the walled wood on the way out of Akseki...
The main thing that grabbed my attention about this site was that who on earth would plant a large number of deciduous trees in the middle of a desert landscape and wall it off? Most odd. But Colin had other things on his mind. He had left his bag outside a hotel in town (which contained his passport, money and our flight tickets amongst other things!) Colin and Bob shot back to where we had last stopped in an effort to try and find the bag, whilst Dave and I skirted the outside of the walled area. The trail (more like a motorway) of ants, going both ways around the wall was a source of great amusement for me.
Amazingly, Colin's bag had been handed in by an honest local at the hotel and it was completely untouched (again, what would happen in this country?)
Apart from a single Cuckoo and a Lesser Spotted Woodpecker the wood was depressingly quiet. None of the key woodpeckers had revealed themselves and we were looking at our first real failure of the holiday. We had one last site left and it was an apt ending. On the new road there was a type of alpine forest that was a real treat to walk around and we picked up a cracking Orphean Warbler. Several Masked Shrike, Serin, Hoopoe and other delights later and we had to head off to catch the plane.
After a not brief enough trip to the commercial resort of Side near Manavgat (which nearly made us late thanks to Colin's directional aberration) to kill time, we headed back to the airport and took the flight back to the UK. A good sleep later and the trip was just a memory. But what a great one!