Nature and Biodiversity Conservation Union (NABU) — Germany's BirdLife partner — have attached GPS transmitters to twelve Lesser Spotted Eagles in order to track their southbound migration to wintering grounds in Africa, and have set up a webpage so that anyone interested is able to monitor their progress online.
Only around 100 pairs of Lesser Spotted Eagle now breed in Germany, and this number is declining year on year. NABU has been fighting to save the last remaining areas of suitable habitat the species frequents by purchasing areas of land where they are known to breed, and also protecting feeding areas. Nevertheless, problems still occur along the species' migration flyway — be it illegal hunting, poisoning, loss of food or simply young birds becoming lost and perishing.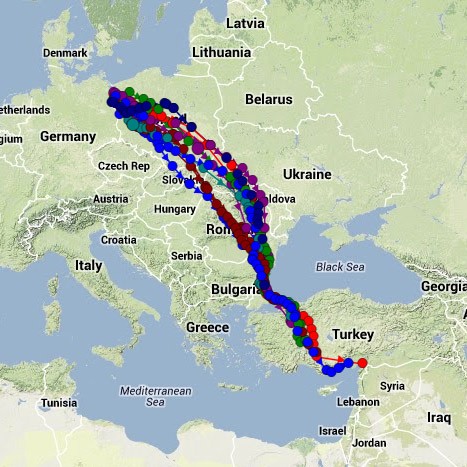 Lesser Spotted Eagle migration routes as of 27th September 2013 (Photo: NABU).
Content continues after advertisements
To investigate the behaviour along and trajectory of the species' migration routes, NABU attached the 30-gram lightweight backpack transmitters to the eagles. These regularly report GPS positions, as well as the altitude and speed at which the bird is travelling.
You can follow the eagles' progress on the Lesser Spotted Eagle page on the NABU website, where you can click on each eagle individually as well as looking at the overall picture. A number of the birds have already crossed the Bosporus and are heading south into the interior of Turkey, though some are lingering in the north of the country. Note that, in order to keep the exact breeding localities of the birds secret, the birds' routes are only shown after they cross the Polish border. To visit the page, click here.