Try to imagine a fairytale land, where rare birds occur with great regularity, numbers of birders are low (giving you the chance to find things for yourself), and pleasant little cafés and bars are always just around the corner. A land where the twitch for a Grey-cheeked Thrush might attract 20 people, and a land where Yellow-browed Warblers are noted with interest but not twitched to distraction.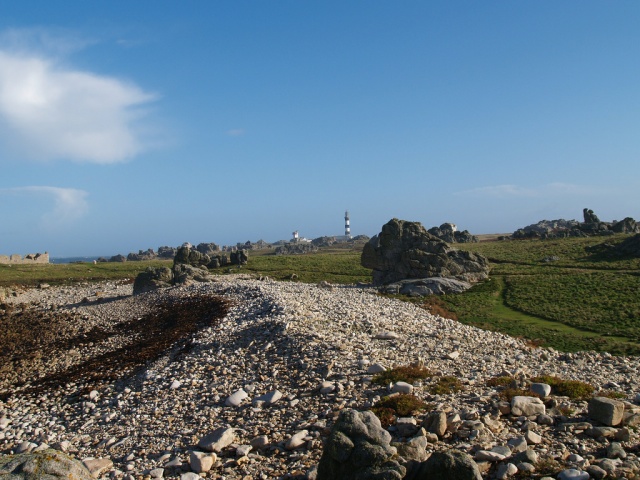 Paradise? (Photo: Claire Bearn)
Well, you don't have to imagine...such a place exists, and it's called Ile d'Ouessant. Ouessant has long been known to our birding brothers on the other side of the channel as an excellent site to observe migration and see rarities. It has an enviable list of megas from all points of the compass (I could whet your appetite by perhaps mentioning Blue-cheeked Bee-eater, Gray's Grasshopper Warbler and Scarlet Tanager, but there are many, many more) and has excellent visible migration for those who like to do a bit of vismigging. I've had the pleasure of visiting this jewel off the Brittany coast for the last three autumns, and have experienced the whole range of bird-related attractions it has to offer, as well as an awful lot of that delicious Breton cider!
Ouessant is a small island of about 15 square kilometres, and its position off the Breton coast makes it the most northwesterly point in France. Being just 120 miles over the channel from Scilly, it's no surprise that the island's birdlife is similar to that of the southwest of England. Choughs and Dartford Warblers are among the resident birds and, of the 'scarce' migrants, species such as Firecrest and Black Redstart are pretty numerous. The habitats on offer to the tired migrant vary between reed beds, boggy, wooded areas called 'stangs', rocky coastlines and open heath. There are even two reservoirs: a deep one surrounded by reeds and a shallow one with muddy fringes.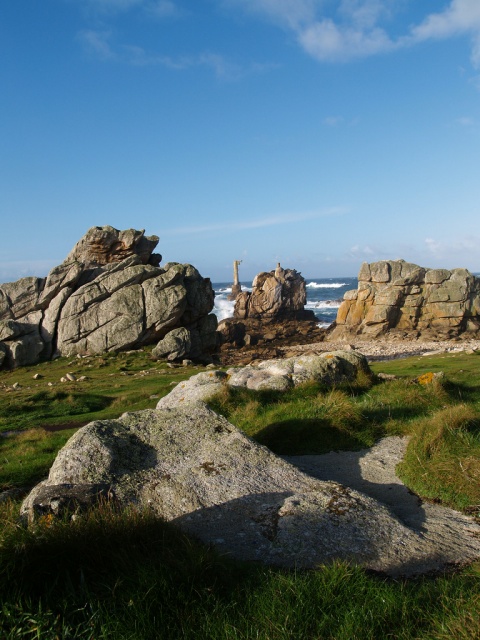 Typical coastal scenery in the west of the island, reminiscent of parts of the Cornish coast (Photo: Claire Bearn)
Birding on the island is done by bike. Island residents are allowed cars, but for those visiting there is no way of taking the car, and no chance of hiring one on your arrival. As a result, the roads are good, quiet, and a joy to cycle along as the weather, even into late October, is often very pleasant. Cycling around also gives the advantage of being out in the open, and ready to bird at all times. If it wasn't for the cycling, I'd have missed the juvenile Night Heron last year (an island rarity) and no doubt many interesting flyovers like Ring Ouzel, Snow Bunting and Serin.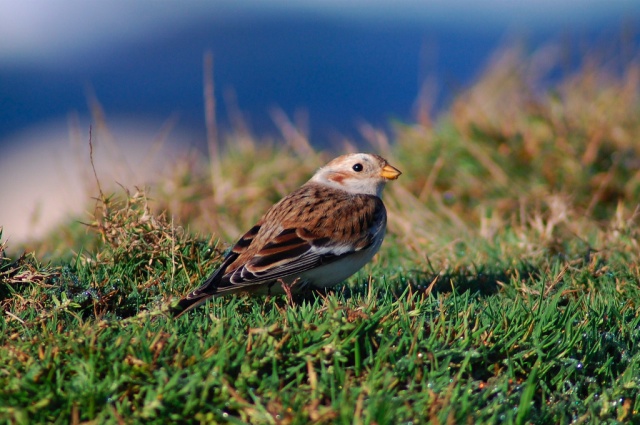 Snow Bunting is a regular but scarce autumn migrant on the island (Photo: Claire Bearn)
One of my favourite aspects about birding the island is that I get very little rare bird information while I am there. This means that the majority of things that I see will be my own birds. Of course, somebody may well have seen them before I do, but more often than not the first I know about them is when I raise my bins or hear a call. Having said that, the local birders are always very generous with their info, and also tolerant of my less-than-perfect French. It is useful to have at least some French out there though, as I don't think they see too many British tourists!
All of my trips have been birding holidays that have been somewhat compromised by the presence of the in-laws, so I've never had the pleasure of dawn-till-dusking the island with a good crew. Not that this detracts from my enjoyment of the place, of course! But then I'd have to say that, wouldn't I...?
Of all three trips, the first, in October 2007, was the least productive. A Red-breasted Flycatcher was the best bird, although there were good numbers of migrants such as Spotted and Pied Flycatchers, Redstarts and the commoner warblers. In October 2008 I hit the jackpot by arriving at one of the stangs just at the point that a mega was being discovered! As I worked the cover from one end, a couple of teenage birders came dashing out of the other end and started rapidly spitting out French far too rapidly for me to understand. There was one other birder present, who very calmly, considering the circumstances, turned to me and said: "They think they have just found a Grey-cheeked Thrush!". One short check of the back of their DSLRs confirmed this and, soon after, I was enjoying thrilling but all-too-brief views of this American visitor. That trip I also 'discovered' my own Rose-coloured Starling (although it seems everyone else knew about it), the aforementioned juvenile Night Heron, and a Yellow-browed Warbler.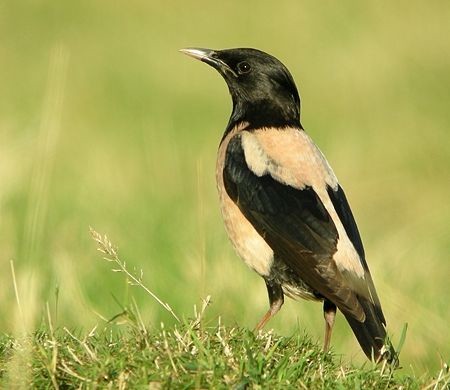 Rose-coloured Starling, Ile d'Ouessant, France (Photo: Aurélian Audevard)
The most recent trip, in late October 2009, was the most successful. It started with terrific views of Balearic Shearwaters on the crossing from Brest, and the first day ended on a high with a pale, plump passerine quietly going about its business in the garden of our rented house. Soon it was perched out in the open, and I was looking at a cracking female-type Red-breasted Flycatcher! The rest of the week was to continue in similar fashion, with interesting birds appearing in front of me on a daily basis — a refreshing change from two weeks previously, which had seen four of us birding hard from dawn to dusk on the the Uists, for very little reward. During the rest of the week I bumped into another Rose-coloured Starling, three Yellow-browed Warblers, a 'proper' Siberian Chiffchaff, Lapland Bunting and Water Pipit, as well as more Firecrests and Black Redstarts than you could shake a stick at. I also twitched a pair of Penduline Tits that took up temporary residence in a tiny Phragmites bed, and an unavoidable Rose-coloured Starling that was roosting on the church in Lampaul, the island's main town. All this was capped off by yet more showy Balearic Shearwaters on the ferry back, with a bonus Grey Phalarope, and a wonderful Bottle-nosed Dolphin that frolicked in the bow wave of the ferry, merely three metres away from its crowd of admirers.
As well as the scarcities, there was the daily visible migration, which consisted mainly of large flocks of Chaffinches, Siskins and Meadow Pipits, and, with the dawning of every morning, the realisation that the previous night had seen an arrival of some species or another. During the first two days of the week Chiffchaffs were all over the place, with probably well over a thousand present on the island, and Redwing, Fieldfare and Song Thrush all took their turn in being the most obvious thrush.
Of course, there's nothing major in that list, but imagine what might have happened had I arrived a week earlier, during the period when Pechora and Olive-backed Pipit, Siberian Stonechat, Red-flanked Bluetail and Spotless Starling turned up!
So, this autumn seems to have largely eluded Scilly, and the Breton isles make a good case for this to be down to observer coverage, and perhaps not to changing weather patterns. Not too far over the water, the Ile de Sein is fast making a name for itself as the place to be — a Foula to Ouessant's Fair Isle, perhaps — with absolute belters such as Chestnut Bunting, Northern Parula and Red-eyed Vireo all turning up this October, and from memory, Siberian Thrush and Lanceolated Warbler in recent years, among other things. Sein is a smaller island, with cover restricted to a few gardens, so the chances of finding things there must be really high (as long as observer numbers stay low...there were apparently about 15 birders working Sein this October).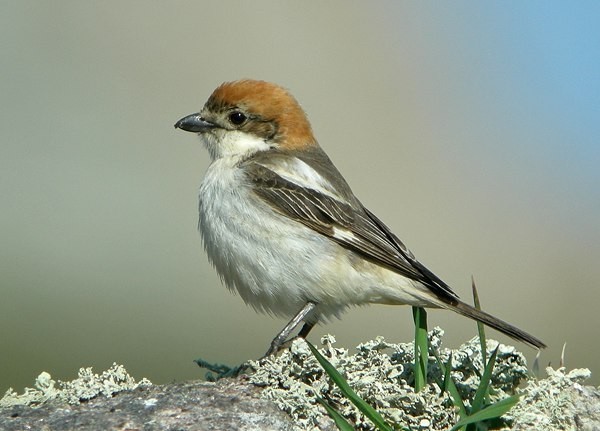 Woodchat Shrike, Ile d'Ouessant, France (Photo: Aurélien AUDEVARD)
Perhaps in time, Scilly will become the next place where you can get away from the crowds and find your own birds...but if you don't fancy the island-hopping, can live without the pasties, and can forget about your British list for a week, there's a wonderful (and cheaper?) alternative just over the Channel.
Actually...errr...come to think of it, you probably wouldn't like it there at all. Best leave it to me.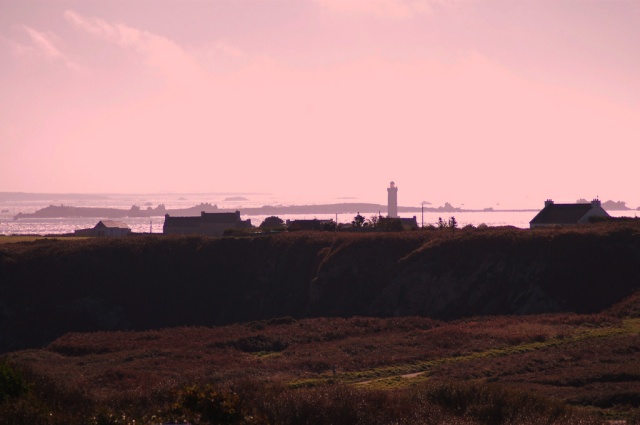 The view south from le Stiff — an excellent site for watching visible migration (Photo: Claire Bearn)