Sunday 21st January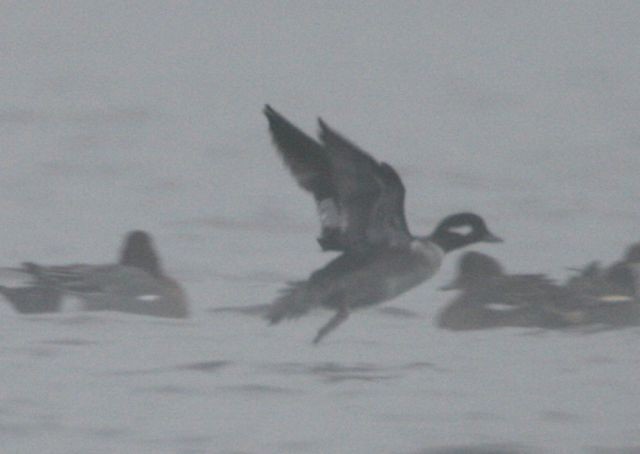 Bufflehead: Lough Atedaun, Co. Clare (photo: Sean Cronin).
Every now and then, in the midst of a mostly routine life in the city of Cork, comes a day that reminds me of all that is unique about birdwatching over here in Ireland.
For that, I mostly have Andre Robinson and his car to thank. With my friend's imminent departure, first for a holiday to Venezuela and then to a life in England with girlfriend Lorraine, this weekend's ride to County Clare was perhaps particularly poignant. Though both of us were laughing too much and gabbling on about South America* to notice it. The birds and the scenery kept things decidedly upbeat too.
Perhaps a little surprisingly, for neither of us had mentioned it much before, Andre rang me to ask whether I fancied going to see the Bufflehead, two hours' drive from Cork. Well, yes, certainly, why not? I'm not much of a fan of rare ducks, because usually I can't tolerate the 'is it wild or is it an escape?' issues, at least in my own mind. But this bird seemed to fit the generally acceptable pattern of Nearctic wildfowl vagrancy and there appeared to be little doubt about its provenance. So off we went.
Sunday morning in Ireland is always a great time to be out and about on the road, because the population is still relatively small and so many people enjoy a lie-in after the familiar routine of a late Saturday night. We made Clare in no time and soon stepped out in the car park at Lough Atedaun where the Bufflehead had been present for a couple of weeks. Conveniently for us there were three lads there from Dublin who'd struggled to find it at first (it was almost the only bird on a large, wind-blown, lake) but who had it in view when we arrived. As the first of the morning's wintry showers was just about to dump a ton of hailstones on our heads this was doubly welcome as we ticked it off immediately then jumped back in the car.
| | |
| --- | --- |
| | |
| Bufflehead: Lough Atedaun, Co. Clare (photo: Sean Cronin). | Bufflehead: Lough Atedaun, Co. Clare (photo: Sean Cronin). |
Fifteen minutes later the squall passed over and we indulged in a slightly longer look. I don't suppose anybody would get too rhapsodic about a duck and I'm not going to lie and claim we were overcome by bursts of ecstatic emotion. But it was nice, and that was that. Having had the good fortune to have lived in the United States for five winters we lived with a flock of 60 Buffleheads outside our front door, so forgive me if I seem a little glib in moving on so quickly...
Now we found ourselves twisting, turning and bouncing around the drystone-walled roads of The Burren National Park on our way further north. The Burren is a famous Irish tourist attraction, though not one, I suspect, that many British birders would have heard of. It is renowned for its historical Irish burial chambers, its underground caves and its flora. It holds little of ornithological interest except to say it is probably the Irish stronghold of the declining Cuckoo. I was here for a couple of days in June 2004 and I can certainly remember hearing two or three calling Cuckoos around the hostel where I was staying. Other than that my only memory of the visit is of seeing Wayne Rooney score two goals for England against the Swiss in the European Championships of that summer.
But on a Sunday morning, in high spirits, these two ex-pat British birders enjoyed our drive through the relatively birdless, stunted vegetation of the area, descending as we did towards the much birdier coastal shore.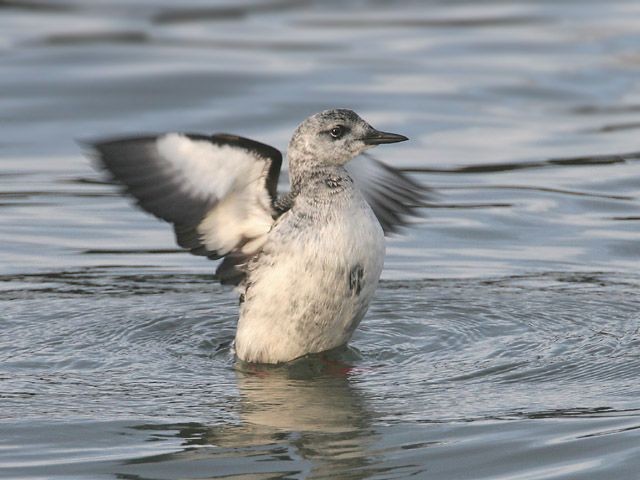 Black Guillemot (photo: Fraser Simpson).
The small town of Ballyvaughan on the North Clare coast has long been known in Irish birding as the only reliable place to see Black-throated Divers in winter. I'd never been here before today. The tide was well out and there was the typical estuarine mix of gulls, Oystercatchers, Redshanks and Grey Herons, but in among the small channels of water running back from the sea were a surprisingly high number of Black Guillemots, Shags and Great Northern Divers.
If you haven't been to Ireland in winter before, the west coast in particular is a great place for this last species. In northeast England where I birdwatched for ten years I was lucky if I saw more than one or two a year, but here every inlet and tidal channel seems to hold one or two, and certainly well into April it's possible to see double figures off many coastal headlands.
We picked up one distant Black-throated Diver and then drove round a mile or two to enjoy much better views. It occurred to me whilst we were watching it that it was the first one I'd seen in 17 years! Even as we watched it though, time condensed and I remembered how... what's the word here... charismatic (?) enigmatic (?) this species is. I suppose one of its most striking features is the fact that it is probably one of the most regularly 'strung' species in the birding world. I'm certainly speaking from my own experience here!
I can still hear the giggles of the Cley Bird Club when four of us, outsiders, claimed to have seen one flying past the Coastguards' one winter's day in 1986, a place where they are decidedly rare. Conversely, I think I may have started to become a little over-cautious in the mid-Eighties, and I couldn't tell you for sure whether the two birds that someone else pointed out to me flying past Whitburn in September 1988 were, or were not, Black-throated Divers. They are a bird that could be described as both much rarer, and much more regular, than most of us imagine, though I do hasten to add the emphasis should be on the former.

Black-throated Diver (photo: Ian Fulton).
Content continues after advertisements
But this was one! It had two Great Northern Divers and a Red-throated Diver for comparison and at one point in particular, when it captured an especially large fish, it sat up for ages and gave us a satisfying long look. That white flank patch feature that we talk about used to strike me as part of the elusive nature of the bird's identification, and I know I'm not the only one who thought it was overstated, or that Red-throats could often show a patch at least reasonably similar. But on this bird, at the initial quarter-mile range, the white stood out with a clarity that I can only metaphorically describe as 'a blinding flash of light!' Follow-up confirmed the sleek, serpentine neck, the dagger bill, and the clean-cut divide between the dark of the hindneck and the white of the foreneck. Alongside the kingly, slow-moving Great Northerns it looked sharp, 'athletic' and princely!
Moving along, we drove onwards through two more classic Irish tourist stop-off points.
The little village of Lisdoonvarna has been famous all over Europe and America (though probably not in Britain!) for many years as the home of a drunken, bawdy, music festival each summer and also the site of an international matchmaking festival where singletons from all over the Northern Hemisphere congregate annually to try and meet their soulmate. The spirit of the festivals is memorably captured in Irish music legend Christy Moore's jovial song, called, wouldn't you know... Lisdoonvarna. In an uninhibited piece of cultural 'cheese', Andre hooked up his iPod to the car stereo, and this former mohican-festooned punk rocker (Andre) and one-time English Mod (myself) joined forces with Christy, and belted out the chorus of the song of the same name as we passed through the village and on to more serious things... like birding...
First though we drove past the towering Ciffs of Moher, the highest cliffs in Ireland, and watched as a few dozen tourists descended their coaches and started up the steep, fenced-off trail for a stunning glimpse of the frothing Atlantic below. We pulled in round the corner at a small fishing village called Liscannor where up to four Grey Phalaropes had been reported during the week. This place was out of the direct firing line of the mighty Atlantic, but the long curling waves still rolled in impressively up to the shore, creating frothing torrents of foam where the phalaropes had apparently been feeding from time to time. We didn't see any, which was a disappointment, but we did see the first Long-tailed Ducks I've seen in five years in Ireland, two first-winter males in differing states of black, grey and white, and a second-winter Little Gull, the bird of the day.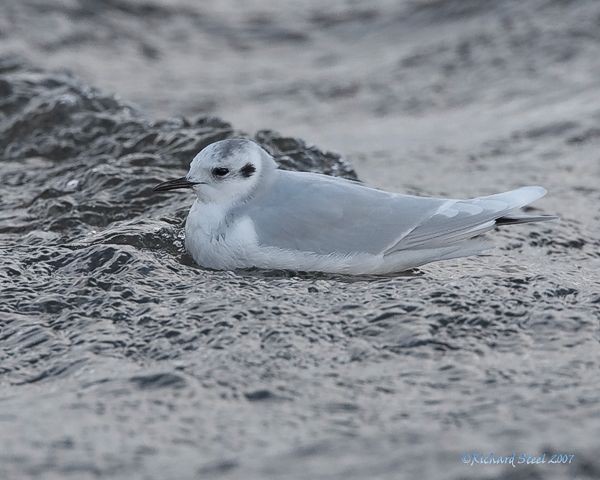 Little Gull (photo: Richard Steel).
Do we all get so hypnotized by Ross's Gulls that we forget sometimes that we have an equally beautiful gull on our doorsteps? Maybe not, it's probably just me. But this was the first Little Gull I'd seen for two years, and the closest and most obliging for a long time. On one of those leaden winter afternoons with a dark backdrop of sea that brings out the best in a gull's subtle shades of plumage, perhaps it's understandable why I was so smitten. Whilst all the hundreds of Black-headed Gulls drifted off to roost further out to sea, this Little Gull continued to float like a little paper boat right on the shoreline, occasionally fluttering up to hang in to the wind and to dip down and feed from the surface of the water.
Meanwhile we got news from a local birder that he'd just been watching six Iceland Gulls in a field a mile up the road. As the light slowly started to drift away, we drove up, parked next to the shell of a ruined castle and made our way around the back to a small estuary, dotted with brackish lagoons. It seemed strange there were no gulls flying in and out and I assumed the whole flock had flown off earlier with the tide. I didn't expect to come around the corner and find that the 'flock' instead consisted of just one Herring Gull, two Common Gulls and the aforementioned six Iceland Gulls. I've seen a lot of Iceland Gulls in my time, but I've never seen them like this before: six of them feeding together in a wet meadow, pecking at the earth, presumably for invertebrates. It was quite strange. Another (or one of the same?) Iceland Gull(s) appeared in the gathering gloom of dusk as we made one last unsuccessful check of the bay for phalaropes. Then it was time for fish and chips and the two-hour journey home.
A friend of mine I haven't seen in a few years recently e-mailed me and said that judging from my reports on BirdGuides it sounded like I was turning into something of an alcoholic! Seeing as up until a few years ago I was largely known as a non-drinker, I guess my new-found passion for the odd pint of Guinness must sound a bit peculiar to old friends, but no, I rarely get beyond two pints, three at the most. Somehow it seems so culturally intrinsic to the Irish birding experience that one should stop off and sample the local pub tradition after a day in the field? Being a Guinness drinker, I've found, entails a certain amount of gambling. My taste buds yearn for the smoothness of the perfect pint, but Guinness is notoriously variable in quality, and the resulting first few gulps can often be a disappointing experience. The number of outstanding pints I've had can probably be totted up on five fingers. Yet it's almost like looking for rare birds - all the trouble you go to seems worthwhile when you succeed.
The same can be said for what you might call the completely quintessential Irish pub experience: nice décor, good company and conversation, and especially, the sound of a little live music. Now as Andre and I agreed this evening, traditional Irish music is available to us seven nights a week in the city of Cork, but it's very rare we get to see any. If I am having a pint during the week I'm usually watching football. I like to leave the music for the spontaneous little sessions I occasionally encounter when off in the sticks, the number of which, again, can be counted on one hand (one of these, incidentally, being an evening when I saw the Chairman of the British Birds Rarities Committee, Colin Bradshaw, playing accompanying guitar at a trad session in Clonakilty).
But all the elements of the piece came together this evening. We walked into what looked for all the world like a typical corner shop in the small town of Buttevant on the way home, except that inside this one was a doorway that lead to a low-ceilinged backroom bar. Here, we sat down and ordered two Guinness from the cardiganed old-lady behind the bar, no doubt the live-in owner of the premises. As we sat there, supping the perfect creamy pint, from behind us came the sound of a band of half-cut local trad musicians making merry with their fiddles and guitars. One of them sang a tune about a Red Rose with a baritone voice as rich and as sweet as treacle pudding, while his friend accompanied him on an Irish drum, the bodhran. When another of them raised his voice and swore, the good Catholic lady behind the bar rapped out a warning with her knuckles and said: "We'll have no more language like that if you please, Paddy" and he meekly obeyed. If we hadn't been an hour's drive from Cork we might have ended up there all night and become new best friends with the musicians, chatting about politics and football and Christy Moore...
Another time maybe.
* A series of articles detailing Graham's travels through Ecuador last winter is currently in preparation for BirdGuides.
back