Jackie Moar: On opening our bedroom curtains on Tuesday 19 February, my husband Erik and I noticed a small owl sitting in the fir tree just outside the window. I didn't recognise it and posted a picture on Facebook. Soon after, Hugh Harrop and John Coutts contacted me to tell me it was a Tengmalm's Owl, a bird not seen in Shetland since 1912 …
John Coutts: It was another fairly windy day in Shetland and I had finished my breakfast and switched my phone on to see if there was any news of note. A few Facebook messages popped up and among them was a post of an owl in the garden outside Jackie Moar's window.
I looked at the photo and thought "Am I being stupid? That doesn't look like any owl I've seen!" It was far too white in the face and dark brown on the wing, with white spots. My first thoughts were of Northern Hawk-Owl, but it didn't seem quite right and it was not possible to judge scale. I was about to take a shower but thought I should send the photo to my father, Dennis Coutts, for a quick look. Two minutes later he called back in an agitation. "It's a Tengmalm's Owl! Where is it?"
"I don't actually know! I'll send Jackie a message on Facebook to ring me back," I replied.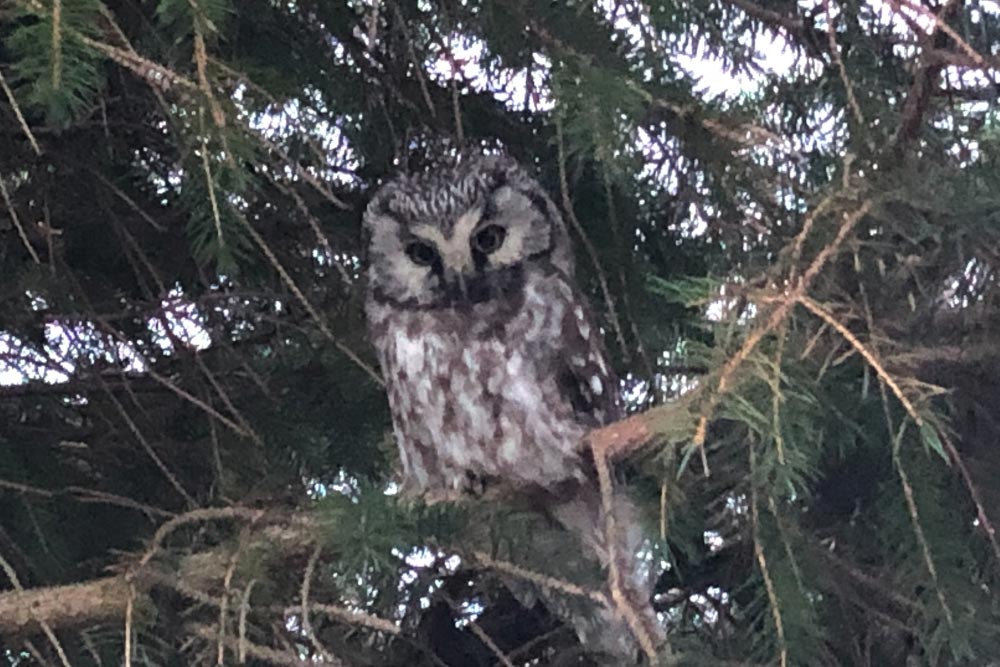 Jackie Moar's original photo of the owl which, when posted on Facebook, generated the initial 'twitch' from John and Dennis Coutts, as well as Hugh Harrop (Jackie Moar).
This was proving rather a problem for Dennis, who was in a state of turmoil, and I had an appointment in 30 minutes' time which I couldn't miss. By a stroke of good fortune, I remembered I had been sent a message by Jackie a few years back asking if I had ever photographed her house while flying my motorised paraglider. The photo of her house – the first on the road from Bixter to Tumblin – was still on my phone, so I knew where to go. Just at that moment Jackie called me back and said the owl was still sitting in a tree outside her window. However, there was no way we could put out word of the bird at this stage without confirming the sighting and checking what Jackie and her husband may have thought about the potential for an influx of birders.
By coincidence, Hugh Harrop had also been seen Jackie's Facebook post and was close by at the time, looking to do the same thing. Both he and Dennis had arrived almost together to be invited in to the house and have a look at the owl from the window. The bird was perched in a spruce tree about four metres from the side of the house and a mere two metres off the ground. It was really only viewable from the end of the house but it was not particularly troubled by human presence. Jackie had actually been outside earlier and taken some photos at close range. Her husband Erik had in fact thought the owl was perhaps a hen sitting in the tree due to its puffed-up appearance. I arrived soon after and was able to take a few record shot while crouched on the ground at a safe distance.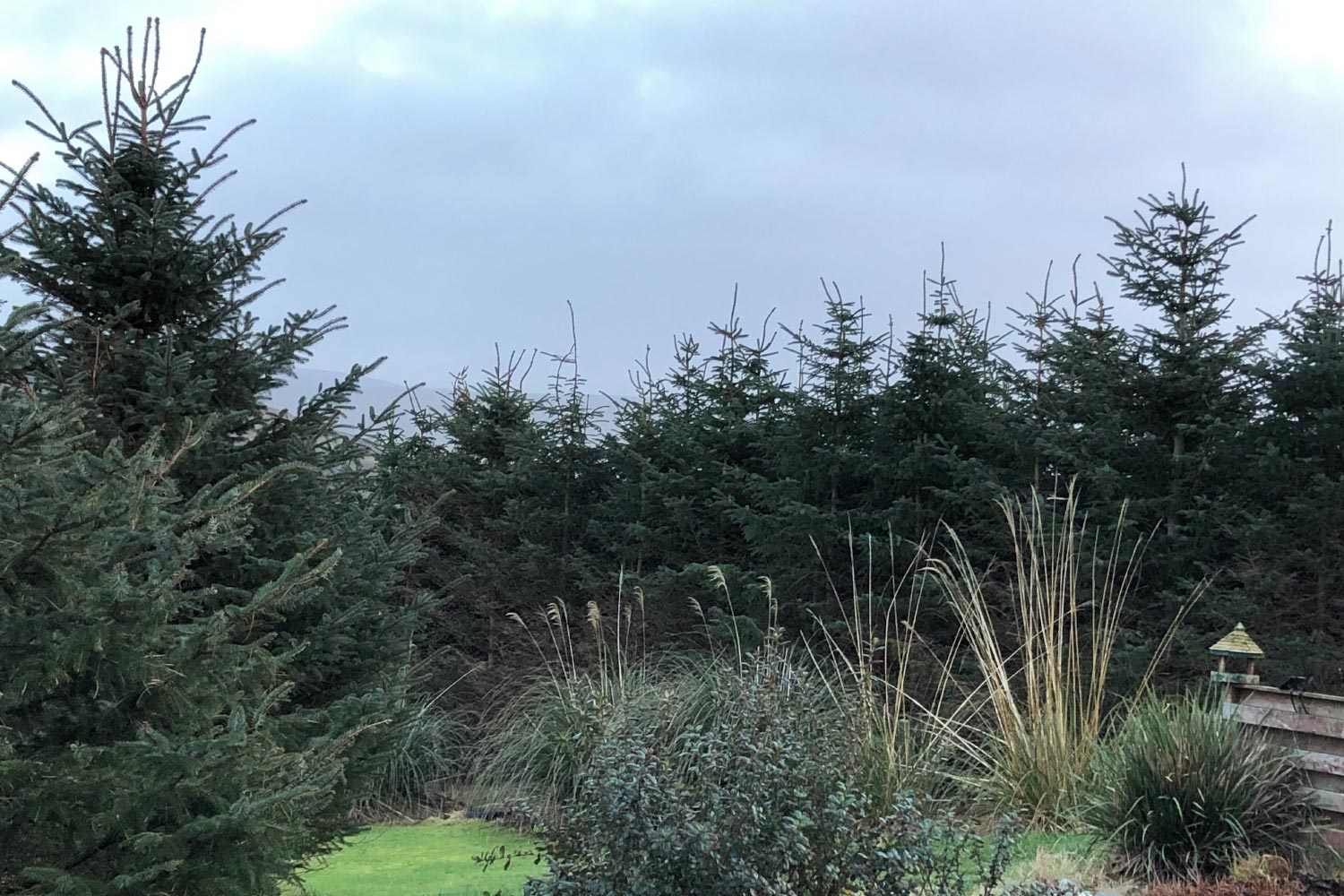 The extensive spruce plantation at the Moar's household was an initial favoured spot for the owl (Jackie Moar).
By then Hugh and Dennis had spoken again with Jackie, alerting her to the likely interest in the owl and she was happy for them to put out the news. A charity tin was placed in the drive way of the house and proceeds were to go to the Wastview Care Centre, where she works as a carer.
The owl was small but spectacular, with bright yellow eyes – when it opened them! It had a whiteish grey face and a dark chocolate cap with white spots and streaks on the crown. Its front was a diffuse grey and brown steaking with a more open pale area in the centre of the breast. I only saw the owl from the front. It never moved from its branch the entire day until around 5.30 pm, when it flew off, presumably to hunt. It did wake up when a cat passed by at one stage and it was also seen to stand on one leg, giving one photographer a high-five as it stretched its talons.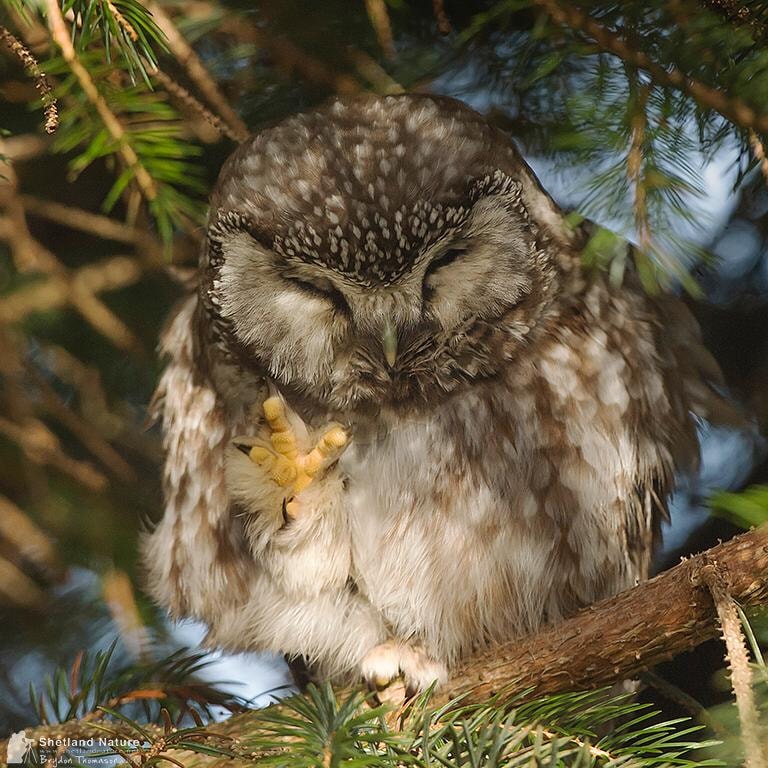 The Tengmalm's Owl stretches its talons on its first day in Jackie Moar's garden (Brydon Thomason).
Jackie Moar: We haven't been aware of any other unusual birds in our garden previous to this, but as the trees are quite dense it's difficult to tell. It was a busy and different week with all the birdwatchers around – it's normally very quiet here and I must admit it was nice to return from work on 25th [the day the owl moved to Tresta] and have no cars and folk around! That said, we have enjoyed meeting everyone and must thank the members of the Shetland Bird Club who have been here every day, especially Jim Nicolson, for organising everything. The collection, initiated by Jim along with Paul Harvey, has to date raised just over £1,500, which will go towards Wastview Day Centre Hansel fund.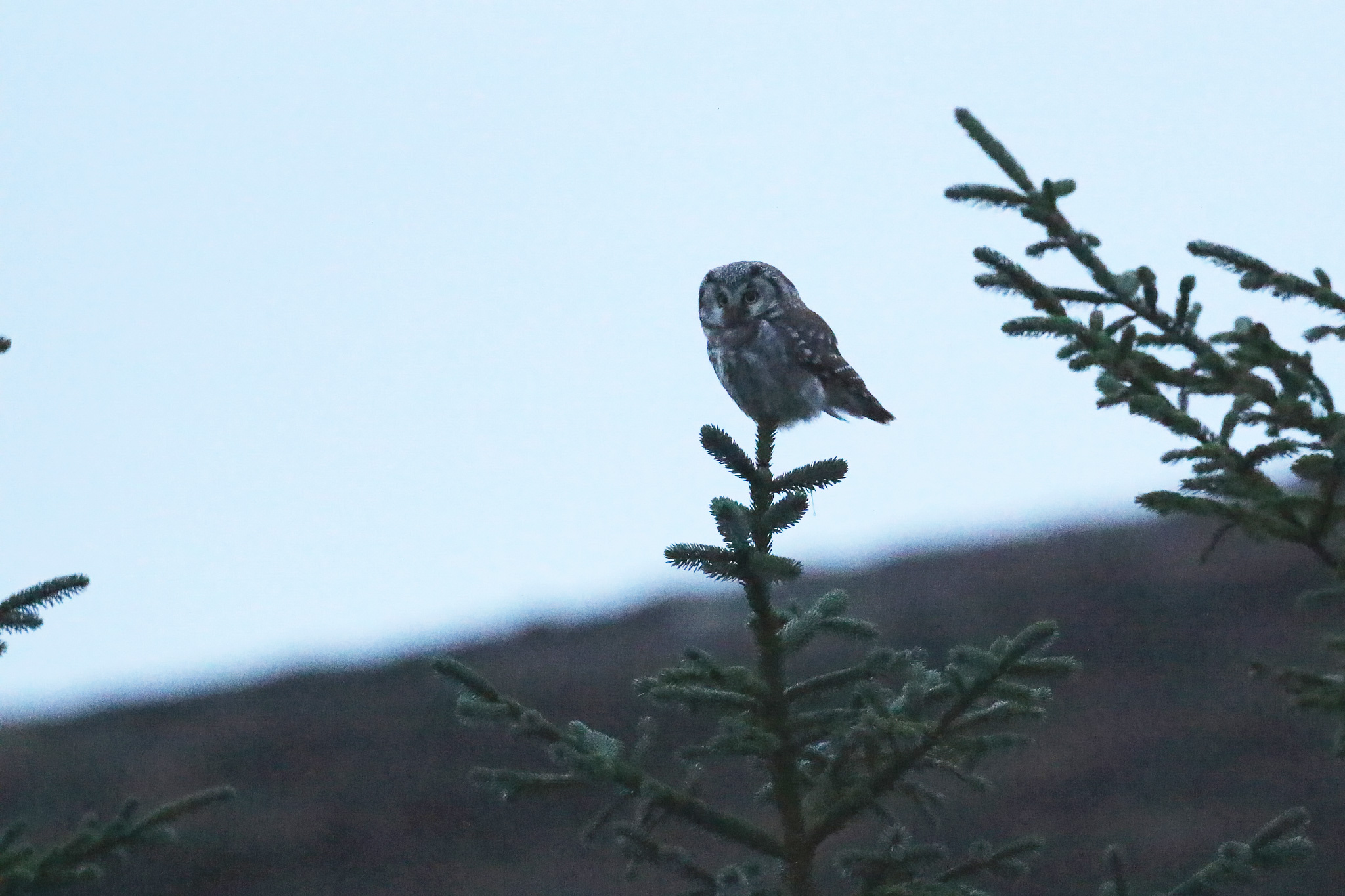 The owl performed extremely well at dusk on Thursday 21 February, sitting out in the open on tip of the spruce trees for almost half an hour (Simon Slade).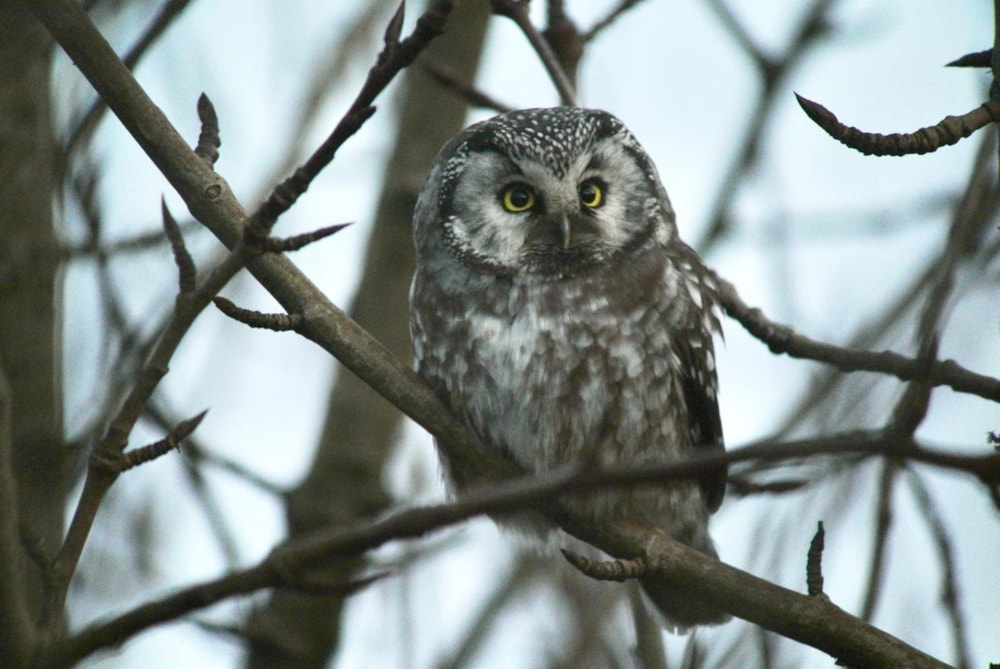 The owl has subsequently moved to nearby Tresta, where it has been showing well daily (Steve Nuttall).