January 4th was wet, windy and dark, and it came as a total shock to see a Lesser Whitethroat happily munching on the fatball feeders in my Tynemouth garden. It looked very brown, proportionately long-tailed and short-winged, and the mask was indistinct. I realised this was probably of eastern origin and, having been interested in this group since my days on the BBRC, I started gathering information but also put the news out so that others could get to see it and make up their own minds.
In better light the next day, I photographed it and noted several other features. There was — for a Lesser Whitethroat — a noticeable supercilium, a pale panel on the closed secondaries, and the brown of the mantle came right up onto the crown. Additionally the underparts were a pinky buff, contrasting with quite white cheeks and throat. In flight it showed a lot of white in the tail but I couldn't quite work out the precise extent, although from my photographs it seemed like the whole of the outer tail feather at least was white. But it wouldn't call ...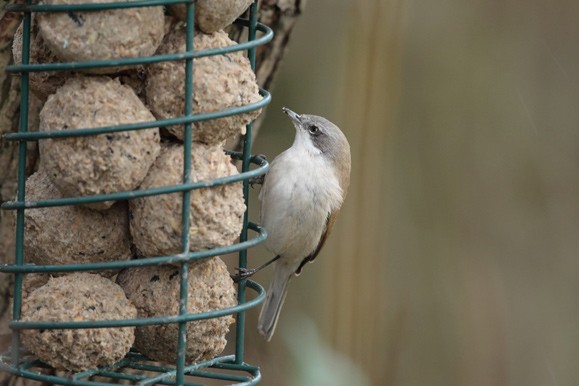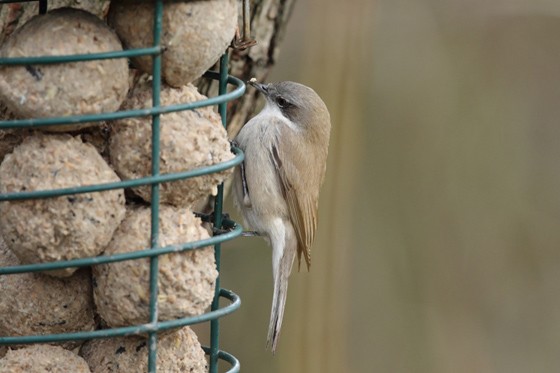 Photos 1 & 2: Siberian Lesser Whitethroat, Tynemouth (Northumberland), 6th January 2014 (Photos: Colin Bradshaw).
Over the following days it was watched and photographed well. Many people commented on its distinctive jizz — a small, active short-winged bird with a jerky manner, and with a long tail that it constantly dipped like a Chiffchaff. Colour tones varied greatly depending on the light but it was always a brown bird rather than grey.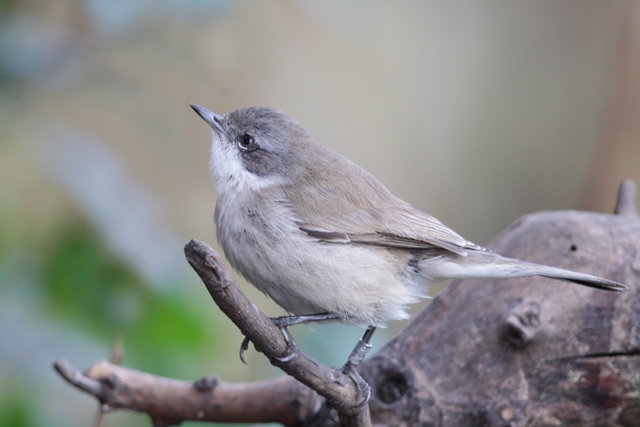 Photo 3: Siberian Lesser Whitethroat, Tynemouth (Northumberland), 27th January 2014 (Photo: Colin Bradshaw).
I'd already contacted Martin Collinson and decided that we needed it in-hand for biometrics and a full description so, allowing the weekend for birders to watch it undisturbed, and with permission from the BTO, we trapped it Monday 13th January. In the net two things happened: firstly, it gave a repeated scolding 'churr' similar to Crested Tit, and secondly it shed 3-4 small contour feathers which I wildly chased across the garden. Gary Woodburn and Mike Hodgson rapidly processed the bird — with all measurements double-checked — while the net was taken in, photographs were taken and the bird was released within 30 minutes of capture. Fairly soon it was back feeding on the suet.
In the hand, the key feature was the white on the outer tail (which can be seen in photo 5). It covered not only the entire distal half of the outer tail feather but also showed a distinct whitish notch at the tip of T5, characteristic of all the Central Asian races. This suggested what we had always thought — that this was a Central Asian Lesser Whitethroat somewhere on the blythi—halimodendri spectrum.
The bird continued to frequent the feeder intermittently till the end of February. Martin Collinson takes up the story:
"At the Institute of Medical Sciences, Aberdeen, we sequenced almost all of the cytochrome b (cytb) gene of the DNA from the feathers that Colin had chased around the garden. Genetically the bird falls into the blythi clade as defined in the recent paper by Olsson et al (2013). Its partial cytb sequence is identical to several sequences of birds assigned to blythi from Kazakhstan, and 0-7 bp different from other blythi from across SE Russia. The next closest match is althaea (Hume's Lesser Whitethroat — 18 bp different), while halimodendri ('Central Asian Lesser Whitethroat') is 20+ bp different. All nominate curruca in the DNA database were at least 64 bp different (7% difference) and this bird is clearly not one of them! One of the surprising results from the Olsson et al (2013) paper is that blythi is more closely related to althaea and halimodendri than it is to nominate curruca, with which it was synonymised by Shirihai et al (2001). Of course, there may well be introgression between halimodendri and blythi in Kazakhstan that would yield birds that are morphological halimodendri, but genetic blythi. What we would do with those birds isn't obvious but the genetics of this bird are clear enough. As an aside at Aberdeen, we have been sent several late autumn/winter Lesser Whitethroats for analysis, and only one of them turned out to be a nominate bird — the others being blythi and a couple of halimodendri (not yet formally accepted onto the British List). These will be written up separately, but clearly a lot of these unseasonal Lesser Whitethroats are coming from a long way east."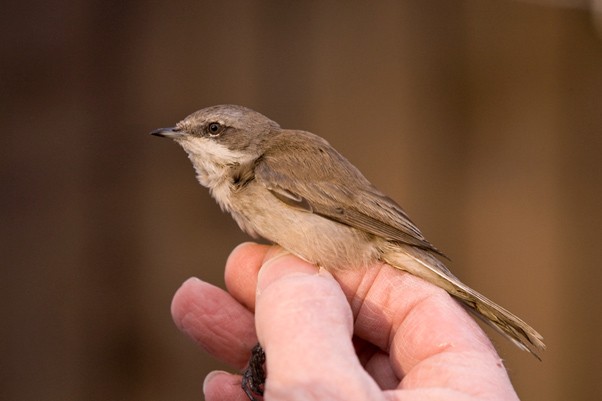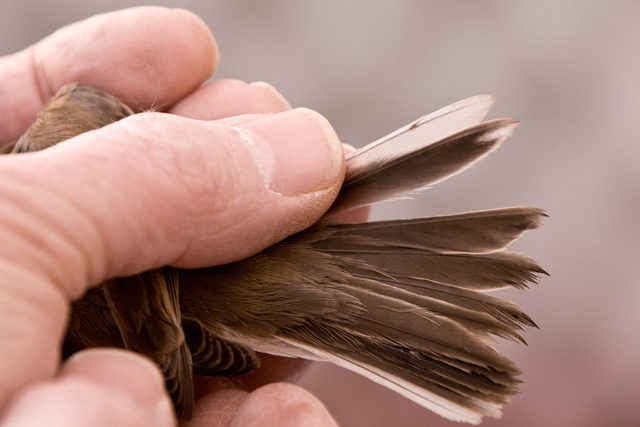 Photos 4 & 5: in-the-hand studies of the Tynemouth Siberian Lesser Whitethroat (Photos: Colin Bradshaw).
Where does this leave us?
Previously CB has been involved with both identifying and assessing potential Central Asian Lesser Whitethroats, and has changed his position on them at least three times — well, there is no point in being inflexible in the light of new evidence!
There was a putative halimodendri at St Mary's Island (Northumberland) in October 2009, which CB photographed. In many ways, it looked similar to the Tynemouth bird in size, shape, behaviour and colours but the general tone was paler and the call of the St Mary's bird was Blue Tit-like. The description reads "It sounded like an alarm-calling Blue Tit — a repeated 'dzee-dzee-dzee', usually between 3-6 syllables but occasionally lasting longer — and most frequently uttered when just landing from one of its short flights."
However, comparison of photographs (see photos 6 & 7) of the two birds suggests that they look similar. This winter there are several similar birds in Britain and Europe, with at least one other subjected to DNA analysis and another in Derby (photos 8 & 9) that appears to match closely the Tynemouth bird phenotypically.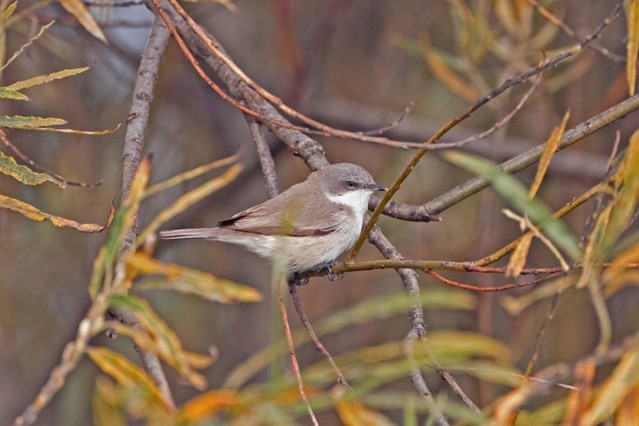 Photos 6 & 7: 'Central Asian'-type Lesser Whitethroat, St Mary's Island (Northumbs), October 2009 (Photos: Colin Bradshaw).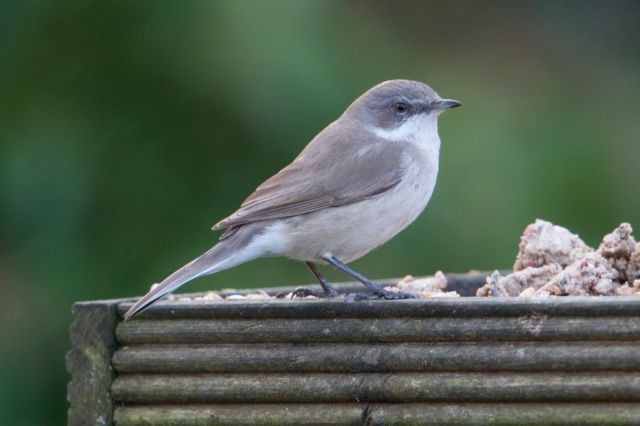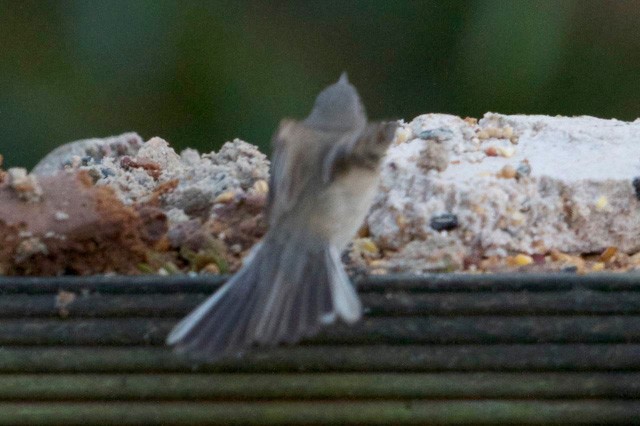 Photos 8 & 9: The Derby Lesser Whitethroat. Note the tail pattern in the lower image: entirely white outer tail feather, and distinct white notch at the tip of T5 (Photos: Peter Strain).
Understanding and dealing with records of vagrant Lesser Whitethroats
CB had always believed that blythi should be grouped morphologically in the nominate group, with halimodendri and minula in a Central Asian group. However, when last in Kazakhstan, he saw many birds on migration around Almaty that looked like darker halimodendri. Were they blythi or dark local birds? As part of BBRC/BOURC input into this conundrum, both of us have discussed this with Lars Svensson who, before publication, pointed us towards the genetic results in which he had been heavily involved.
These recent DNA studies (Olsson et al 2013) sequenced mitochondrial DNA and found very significant genetic divergence within the Lesser Whitethroat complex. Six major genetic groupings (clades) were identified that more or less corresponded to the ranges of previously defined taxa, including one group assigned to a Siberian 'blythi' clade. The major genetic division was between curruca and minula on one side and althaea, halimodendri, margelanica and blythi on the other. Currently no splits within the complex have been accepted by BOU, but it seems very likely that were splits to happen, blythi would represent an armchair tick as one of the eastern species.
Morphologically it is a mess, and these recent genetic studies don't really clarify the situation for the field birder. What is no longer in doubt is that we are receiving vagrant Lesser Whitethroats from Central Asia, although we can't be sure exactly which subspecies they are without DNA analysis. These taxa share wintering grounds from Iran and Afghanistan into India (curruca winters in north-east Africa), a large amount of white in the tail and a range of calls apparently not uttered by curruca.
Perhaps BBRC should take the same approach that was taken for 'Siberian' Stonechats and assess these records as Central Asian Lesser Whitethroats.
We would suggest the following fairly rigorous criteria:
We should *only* consider those that are trapped and those that have detailed photos that allow some assessment of wing formula and relative lengths of primary projection, bill etc.
We should accept only birds that fall within both the plumage and biometric range as 'Central Asian' Lesser Whitethroat.
Field-only claims, if ever acceptable, would require:

Observation for a protracted period of time with close views
Brown on nape
Lack of contrast between crown and mantle
White throat contrasting with peachy or buffy flanks and breast
Lack of clear dark mask
Lores paler than usual
Sandy or pale to mid-brown upperparts
Short-winged/long-tailed jizz
Tit-like call
If exact tail pattern not noted, then at least showing lots of white in outer tail and centre not contrasting with mantle
We would like to thank Martin's team at Aberdeen University; Mike Hodgson and Gary Woodburn for doing the technical stuff; Duncan Watson, Martin Kerby and Tim Cleeves for their contributions; and Rod Key for sharing photos of the Derby bird.
References
Olsson U., Leader P. J., Carey G. et al. 2013. New insights into the intricate taxonomy and phylogeny of the Sylvia curruca complex. Molecular Phylogenetics and Evolution, 72-85