Crossbills are surely one of the most charismatic family group of passerines. They have colourful plumage variations, are highly gregarious and out of context (as migrants), they are usually approachable and confiding. Out of the four recognised species to occur in Britain and Ireland, Two-barred Crossbill Loxia leucoptera is easily the most striking and, as a national rarity, a rewarding discovery for any patch birder.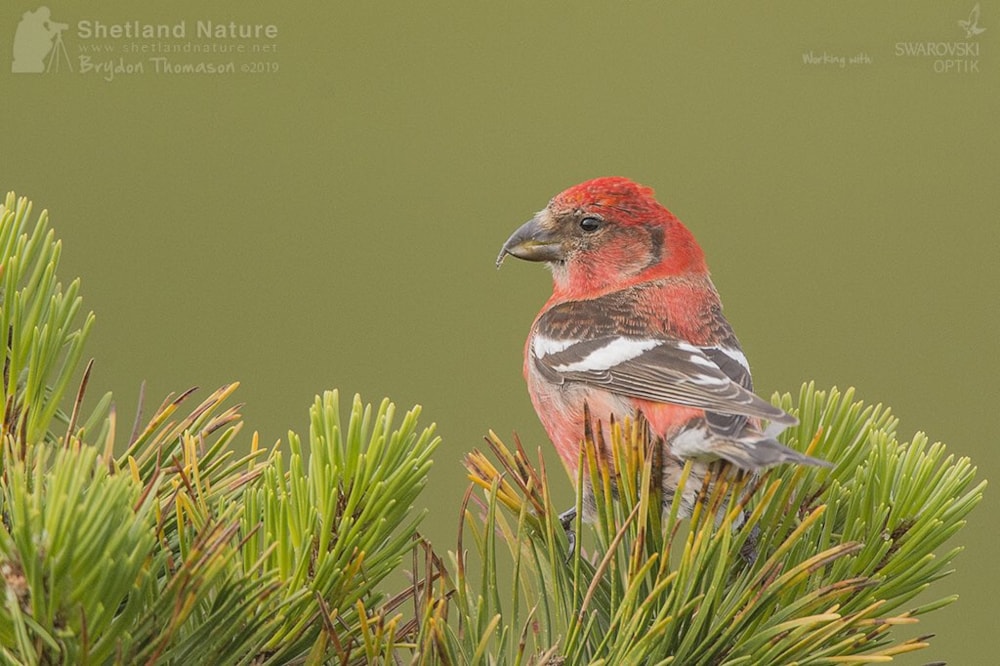 Adult male Two-barred Crossbill, Baltasound, Unst, July 2019 (B H Thomason / Shetland Nature).
Although only one form occurs in Britain and Ireland, the International Ornithological Congress (IOC) currently recognises Two-barred Crossbill as comprising two forms, being the North American 'White-winged Crossbill' L l leucoptera and the Eurasian L l bifasciata. It has been suggested that vocal and genetic differences might warrant these to be split into separate species. Details of the first Western Palearctic record of the smaller, finer-billed White-winged Crossbill, which was seen in south-west Iceland in November 2017, appear in this BirdGuides article.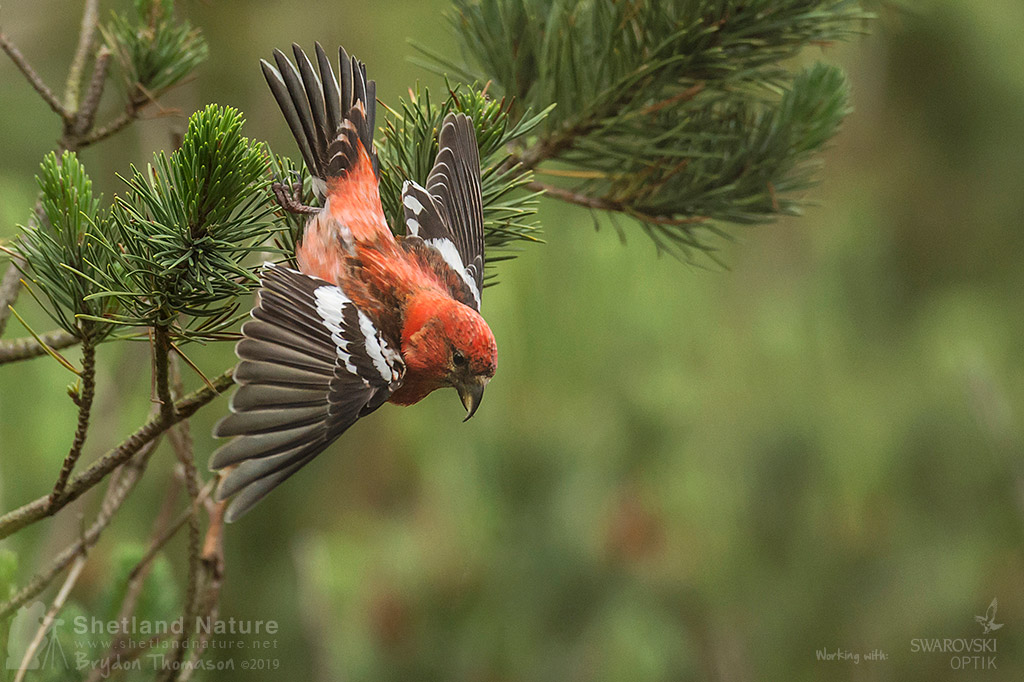 Adult male Two-barred Crossbill, Baltasound, Unst, July 2019 (B H Thomason / Shetland Nature).
The Eurasian range of Two-barred Crossbill extends from Scandinavia east across the boreal taiga zone of Siberia. As in all other species of crossbill, Two-barred is susceptible to irruptive movements, believed to be in response to the shortage of larch seeds, their principal food and habitat – this unlike other crossbills, which tend to favour pines or spruces.
During irruptive movements of Crossbill, stable isotope analysis has revealed a correlation between arrival dates and origins. As the current influx of Two-barred Crossbills is on the early side, it would seem they most likely originate from the westernmost area of their native range.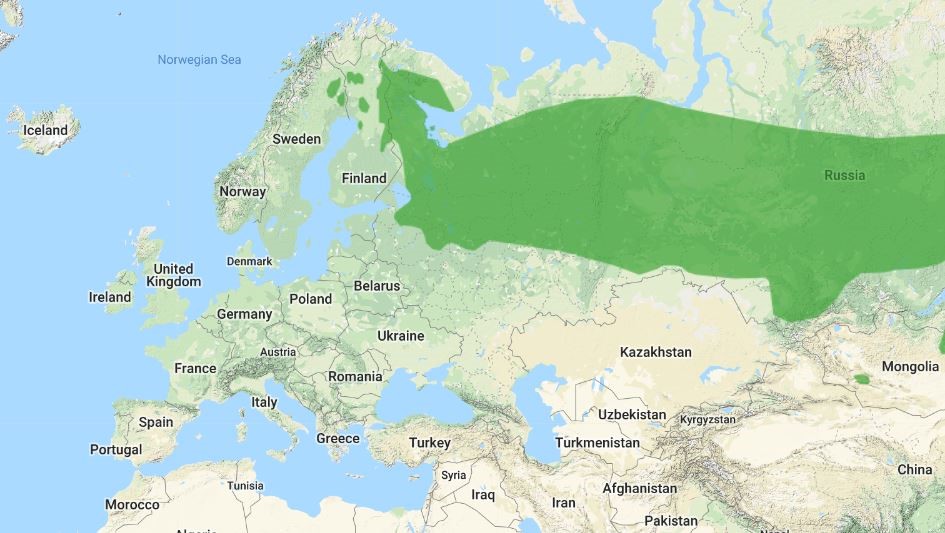 Native range of Two-barred Crossbill in the Western Palearctic.
Britain's first Two-barred Crossbill was the subject of a BOURC Review, the results of which were published in 2007. It was considered that the first acceptable British records were a series of occurrences in Cumbria and Yorkshire during an invasion of the species in 1845/46. However, the first for Ireland pre-dated this by several decades, being noted in Co Antrim in 1802.
The species was first recorded in Shetland when Henry Saxby shot a female and an immature at his house at Halligarth, Unst, on the 4 September 1859. Prior to 2019 there had been a total of 156 birds recorded in Shetland, 59 of which were on Fair Isle. In just four weeks, this year's influx more than doubled the total number of Two-barred Crossbills recorded in Shetland.
Up to the end of 1949, BBRC statistics show a total of 73 being seen, with another notable invasion of the species in 1889/90. Since 1950 there have been invasions (quantified as such by involving over 20 individuals) in 1987, 1990, 2008 and 2013, the latter being the first in which treble-figure numbers were recorded. With in excess of 175 Two-barred Crossbills already recorded since the start of July 2019, this year's is clearly a record-breaking influx.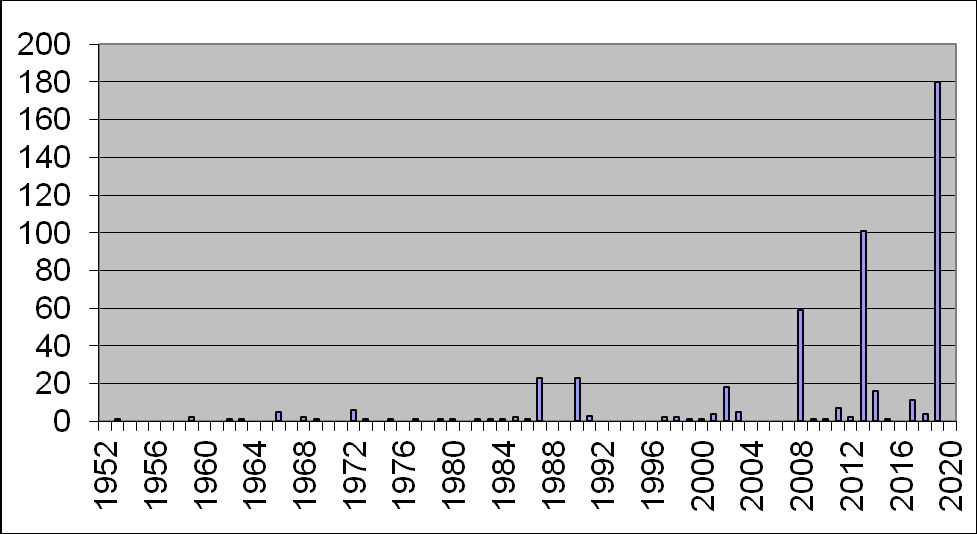 Annual totals for Two-barred Crossbill in Britain since 1950. This year's influx vastly outnumbers even the previous largest, in 2013.
Heralding this unprecedented arrival, a female was photographed on Out Skerries on 4 July. In comparison to recent Two-barred arrivals, this was quite an early date. It was followed by a male on Foula on 7th, but it was the arrival of a first-summer female off the sea at Norwick, the north-east tip of Unst, on 8th which gave added impetus for local observers to look for more.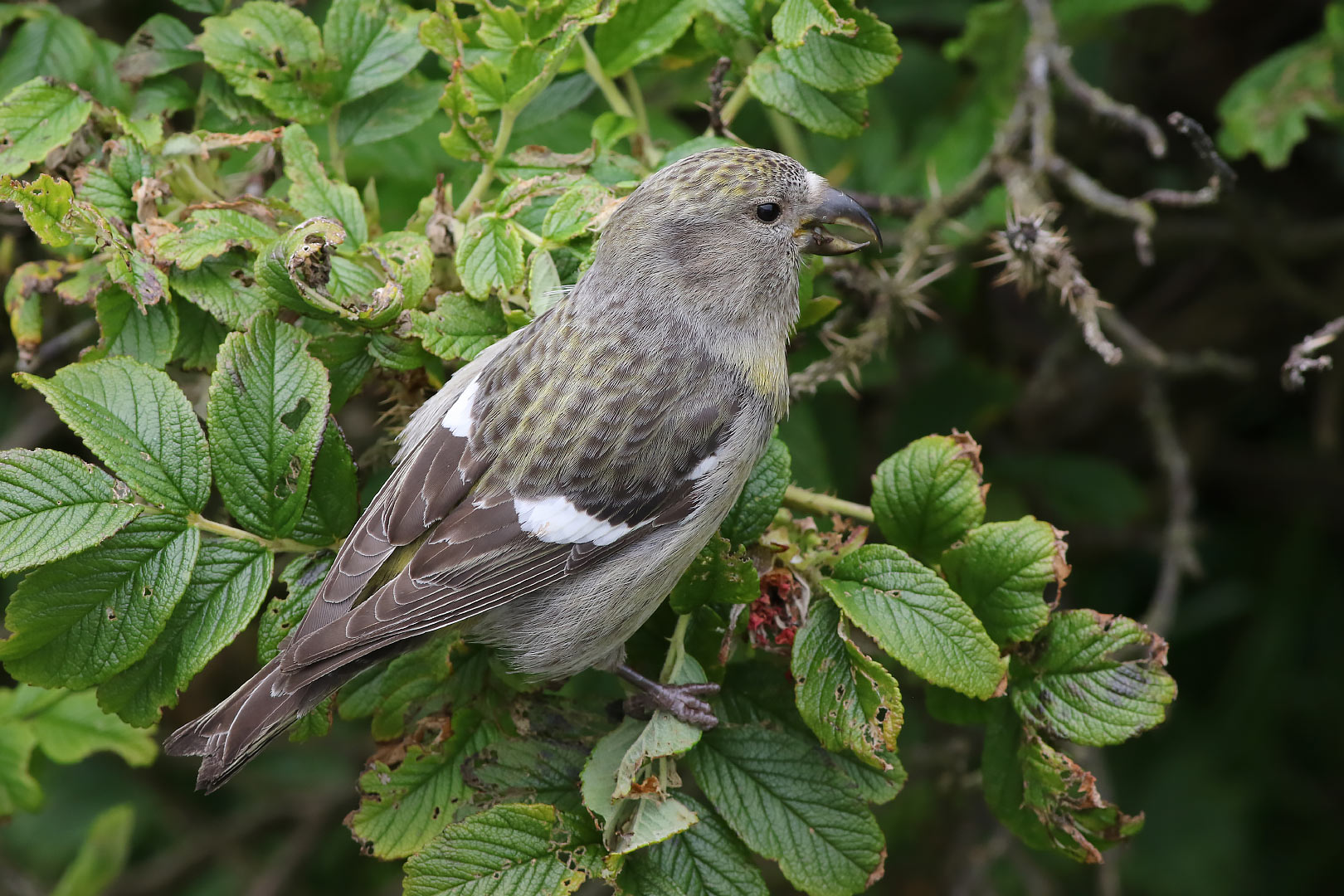 First-summer (second calendar year) female Two-barred Crossbill, Norwick, Unst (David Cooper)
Shirihai & Svensson (2018) consider first-summer inseparable from adults unless the more worn and pointed tips to retained juvenile tail feathers are seen, but also state many have narrower wing-bars and less white on the tertials, the latter usually being wholly or partly retained juvenile feathers on which all white tips can wear off.
By that afternoon, a stunning adult male had been unearthed at Baltasound School, and late in the evening, what was presumed to be the same male was seen alongside another three at nearby Setters Hill. As if these arrivals were not inspiring enough, off the west Norwegian coast there was news of a flock of 19 on the Lofoten Islands – excitement continued to rise as clearly they were on the move ...

Adult male Two-barred Crossbill, Baltasound School, Unst, 8 July 2019. The high proportion of males has been a feature of the 2019 influx – this pristine bird is easily aged courtesy of its immaculate colouration, broad white tertial tips and wing-bars lacking any moult limit in its greater coverts (David Cooper).
Favourable weather was a major influence in bringing Two-barred Crossbills to our shores. The surface pressure chart valid for midday on 8th reveals an easterly airflow across northern Scandinavia exiting the continent over the Lofoten Islands before swinging north-easterly and extending across the Norwegian Sea, allowing ideal conditions for birds to arrive in Shetland. These conditions lasted for a few days.

Synoptic chart showing the easterly and north-easterly airflow that brought the initial influx of Two-barred Crossbills to Shetland.
The pace of the influx quickened on 9th, and by early evening a minimum of 30 had been located across Shetland, including one hitching a ride on a boat off Lerwick, nine at Sumburgh Head, seven on Fair Isle and five on Fetlar. At least one reached mainland Scotland, being seen to leave a boat as it approached the harbour at Wick. Birds were also continuing westward across the Continent, with more records along the Norwegian coast including nine on Sklinna, Trøndelag, and two on Utsira, Rogaland.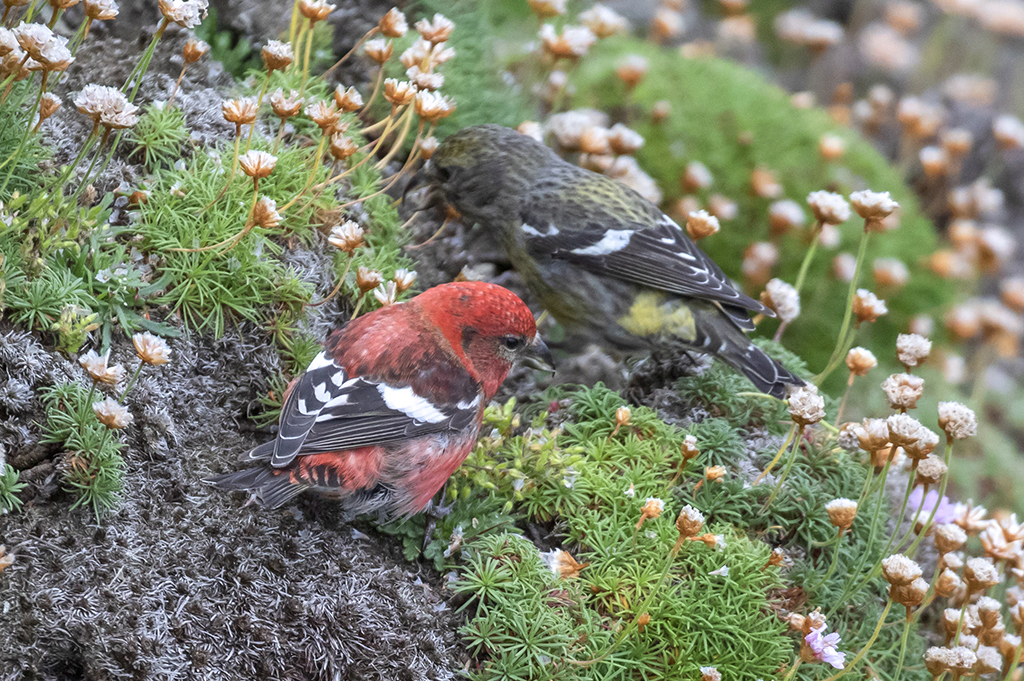 Adult male and female Two-barred Crossbills, Sumburgh Head, July 2019 (Roger Riddington)
Peak counts from Shetland over the following week consisted of 16 on Fair Isle on 11th, 20 at Voe on 12th and 18 at Stromfirth on 14-15th. A flock of eight at Noup Head on Westray, Orkney, on 13th was the first group to be found away from Shetland. News from the Continent on 18th suggested the invasion was continuing southwards as it now included birds reaching southernmost Sweden, Denmark and Germany.
The spectacle of 'flocks' of Two-barred Crossbill will easily go down as one of the birding highlights of the year, perhaps even of a lifetime, for those fortunate enough to have witnessed it. Like any other species of crossbill, their gregarious and sociable nature when in a flock was fascinating to watch. Many of us noticed and discussed their vocalisations especially. Anyone with experience of Two-barred will be familiar with their diagnostic 'trumpeting' and perhaps also their harsher, louder clip-clip calls, both of which would be loudly repeated at times, especially as birds joined up or were preparing to leave together, when they'd reach a crescendo before they took flight. On sunny days some males within flocks occasionally even burst into song. A sound recording of trumpeting calls from Unst can be heard below.
Content continues after advertisements
While birds clearly appeared to filter down through Shetland, finding suitable habitat, and each other, a change in the weather appeared to hold off new arrivals for a few days. However, favourable conditions aligning on 15-16th brought new birds to Unst, Whalsay and Noss. Interestingly, although these new arrivals hardly amounted to the hoped for 'second wave', there were noticeably more juveniles among them.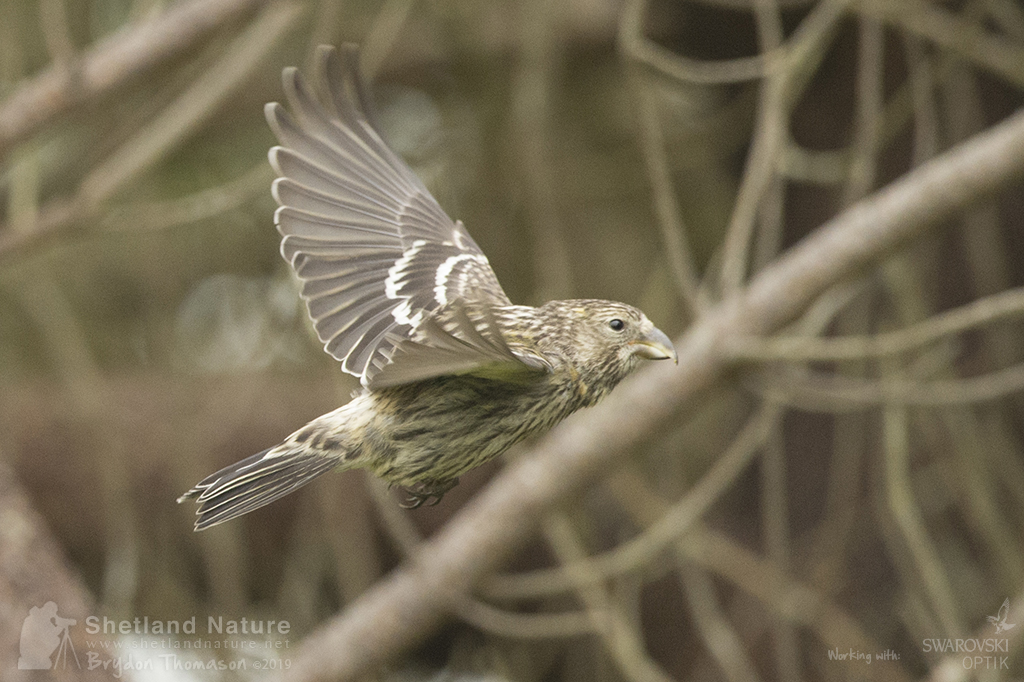 Juvenile Two-barred Crossbill, Baltasound, Unst. A streaky juvenile, readily aged as such with freshly fringed and pointed tail tips (B H Thomason / Shetland Nature).
In addition to the record numbers, what has also been intriguing was how unusually early the birds were. Most influx years involve peak arrival in mid to late July, even early August. Very few juveniles were recorded during the first arrival, although were slightly more proportionately represented when new birds arrived. With these disproportionately lower numbers of juveniles and an early arrival on Shetland, a poor breeding season could speculatively appear to have been an influence to the overall numbers and early dispersal.
Coinciding with recurring favourable weather conditions, new birds are still being discovered as we complete this article in the half of August. With easterly winds continuing and there still being good numbers along the western Norwegian coast, further arrivals in the coming weeks seem likely. That said, it seems quite clear that there will certainly have been duplication across Shetland, particularly throughout the Mainland, as birds filter southwards.
Taking a conservative approach in trying in trying to count total number of birds involved, and taking into account the likelihood of duplication as they congregated in suitable habitat, particularly in plantation, gives an approximate total number of 165 in Shetland by 5 August, with nine on Orkney, six in the Western Isles, two in Mainland Scotland and two in Norfolk. Of those sexed on Shetland, 48 per cent were males and 52 per cent were females. [Update: since these figures were produced, at least 15 further birds were found across Shetland on the weekend of 10-11 August].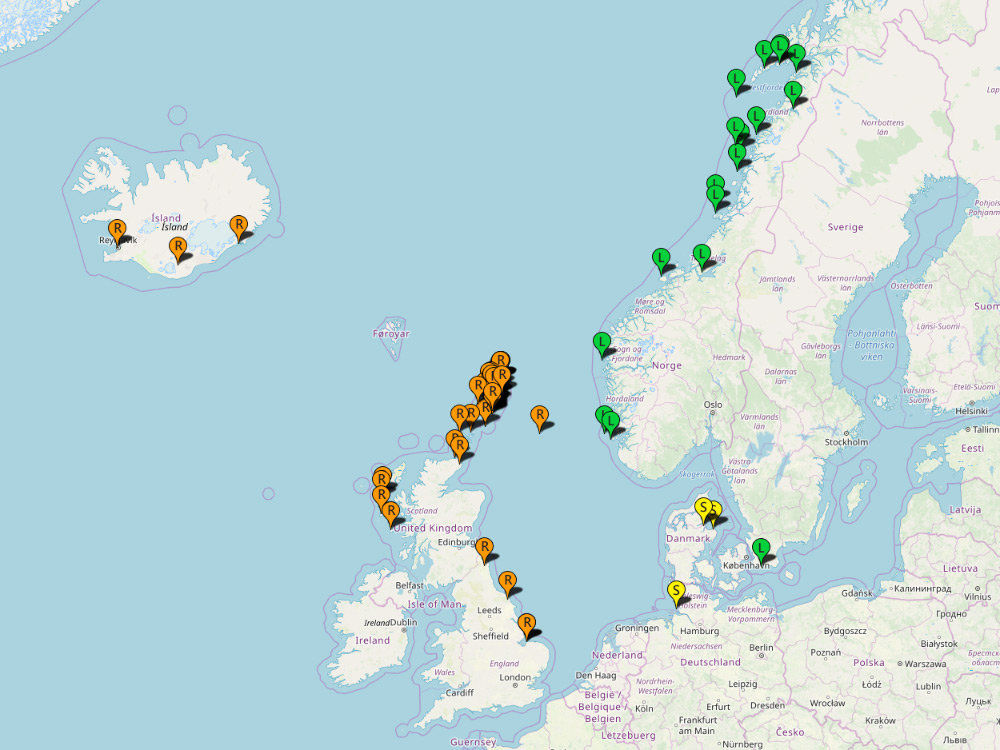 Distribution map of extralimital Two-barred Crossbills from 1 July-11 August 2019. Note that this is not an exhaustive list of non-UK records (BirdGuides.com data).
Ageing of individuals
Crossbill breeding is stimulated by abundance of conifer seeds (in pine, larch and spruce forests) rather than the changes in day length that induce breeding in most species of bird. Reproduction can take place from August to May in European spruce forests.
Such unusual and extended breeding results in similarly unusual moult and challenging ageing, particularly in immatures. For example, birds hatched between August and December will have begun – or perhaps even be well through – their post-juvenile moult by the time they arrive here in late summer and early autumn of the following year.
Plumage colouration can vary, too, and it is not quite as straightforward as sex or age. It is thought to be diet-related in some cases, but the overall complexity is not fully understood.
This influx offered Shetland birders an exciting opportunity to study a fascinating range of ages and plumages. Knowing how notoriously challenging ageing can be in Two-barred Crossbill, even for those with experience on their range, we were cautious when labelling individuals. To that end, we felt it safest to caption individuals as 'presumed' if not fully confident of age. Fresh juveniles in their first calendar year were easily aged by their extensive all-over streaking and lack of colour on the rump and breast, while only birds showing full greater covert wing-bars (lacking any moult limit) and tertial tips were aged as adults. In between these age classes, some birds were trickier.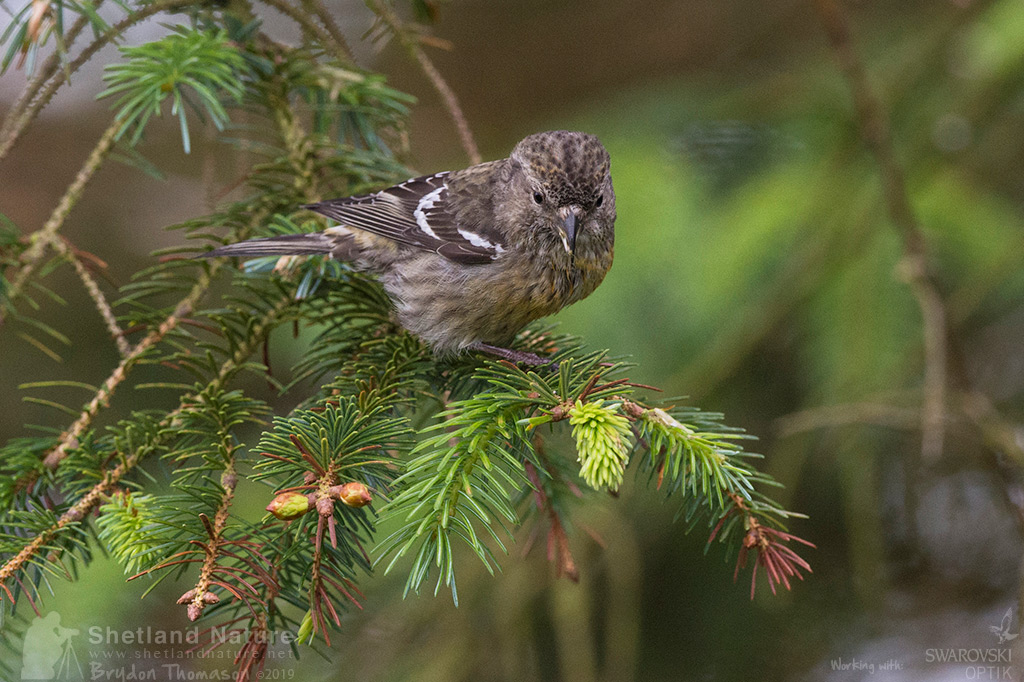 Presumed 'early hatch' juvenile (second calendar year) Two-barred Crossbill, Baltasound, Unst, July 2019 (B H Thomason / Shetland Nature).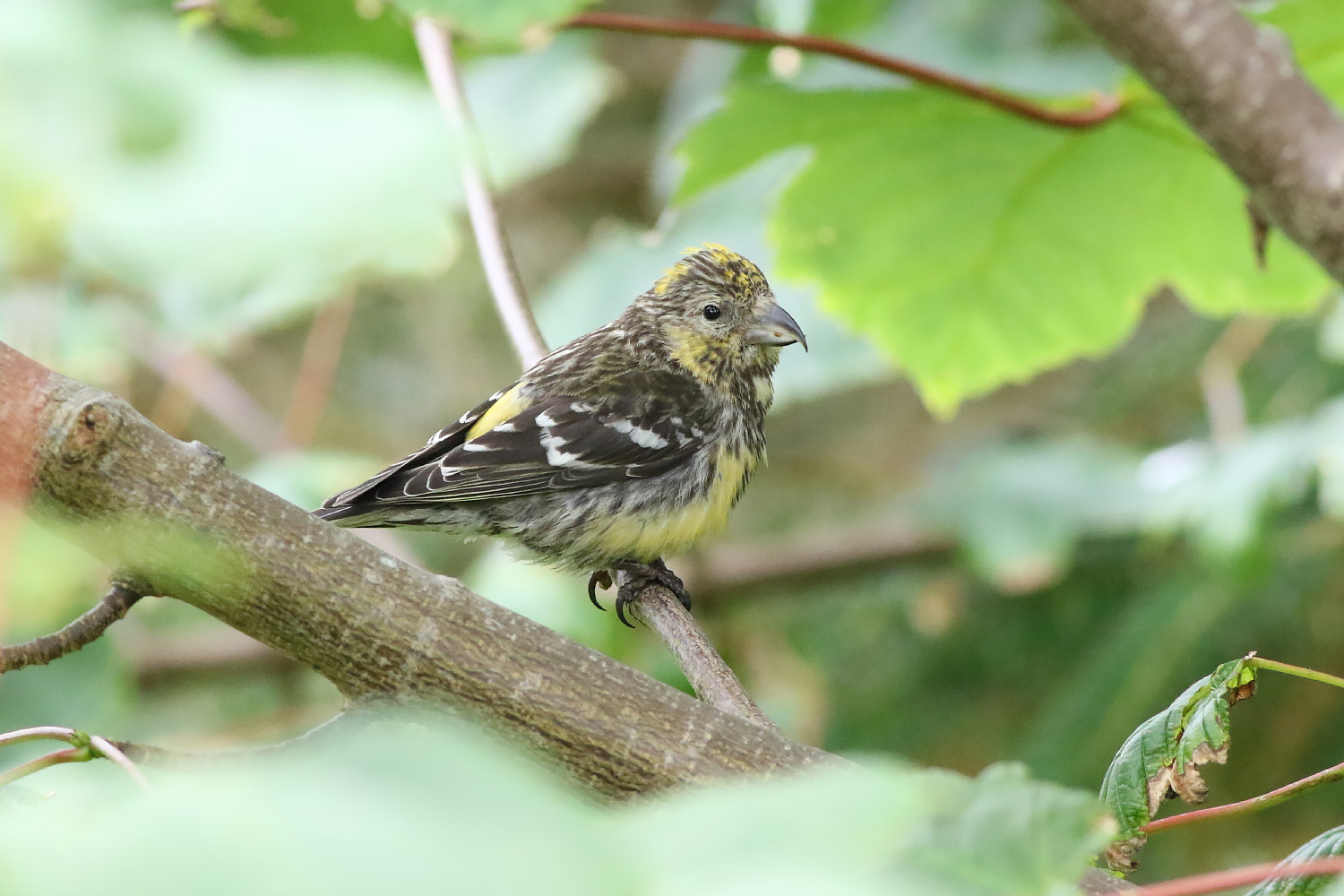 Presumed 'early hatch' juvenile (second calendar year) Two-barred Crossbill, Norwick, Unst, July 2019. This individual has already commenced its post-juvenile moult (David Cooper).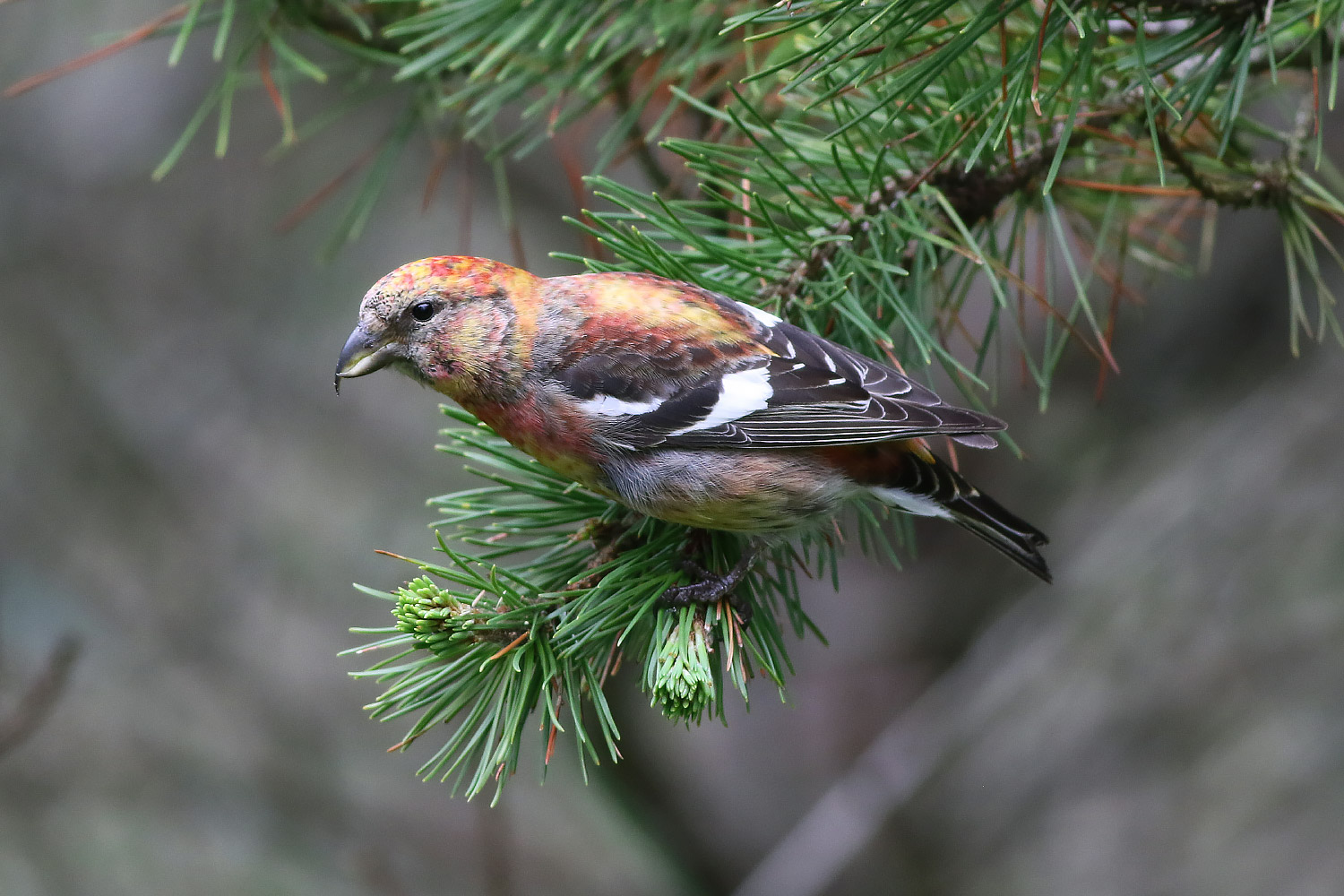 Presumed first-summer (second calendar year) male Two-barred Crossbill, Baltasound, Unst, July 2019 (David Cooper).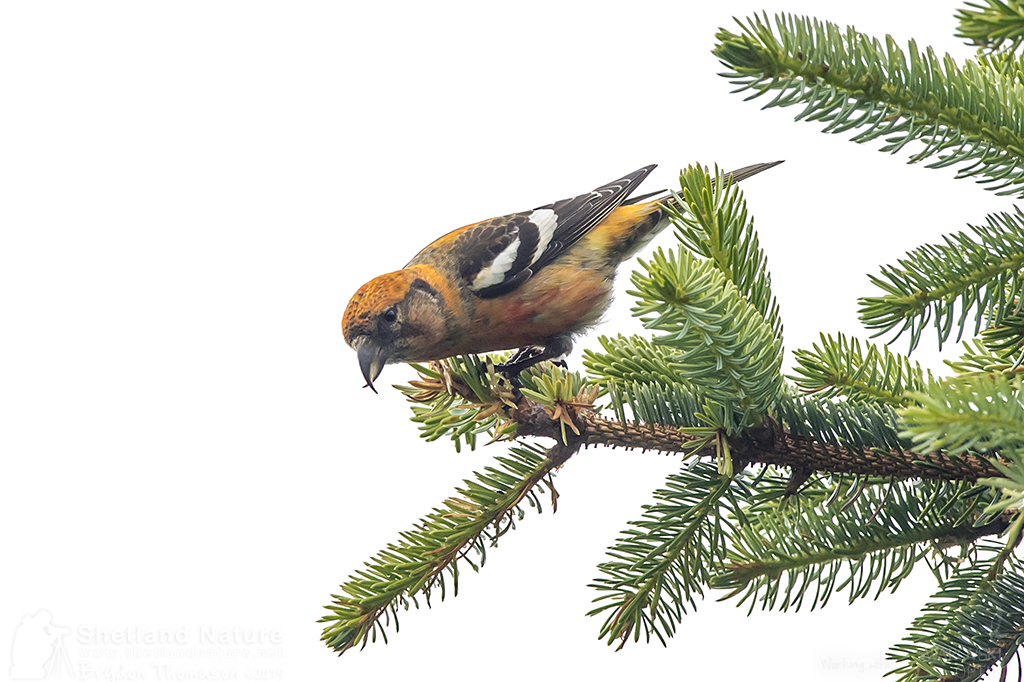 Adult male Two-barred Crossbill, Baltasound, Unst, July 2019. This 'orange' male lacks any moult contrast in greater coverts, while also showing full white tertial tips (B H Thomason / Shetland Nature).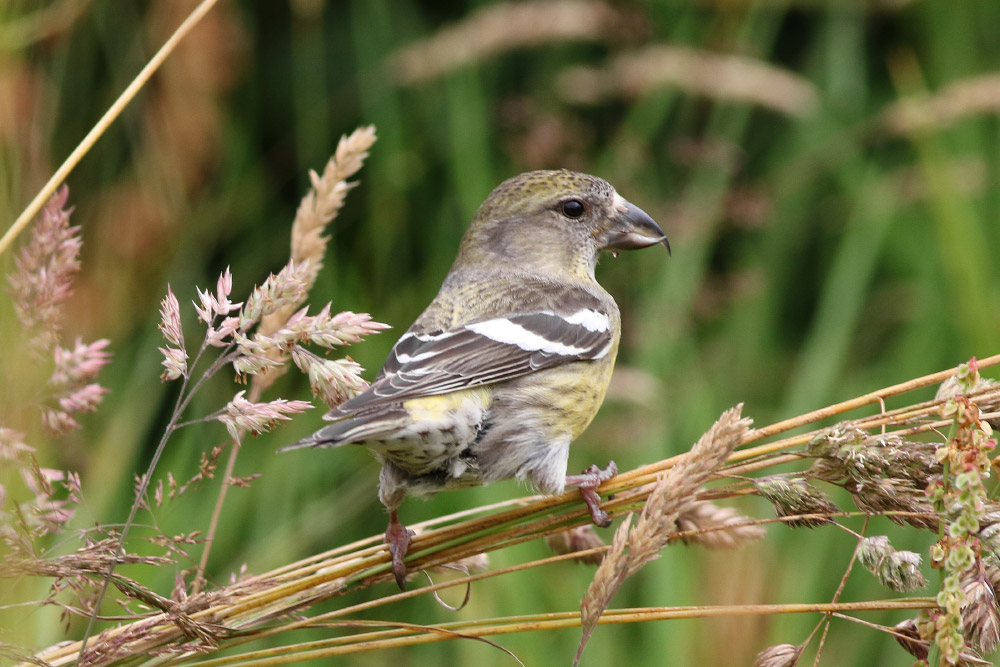 Adult female Two-barred Crossbill, Norwick, Unst, July 2019. Broad tertial tips and wing bars, and no apparent moult limit in greater covert bar all point towards an adult (David Cooper)
More so than in previous influx years, birds were found in a wide variety of habitats. Clearly, most birds preferred to find coniferous plantations, but Two-barreds are well known for being adaptable during times of food shortage, which was clearly demonstrated across Shetland in July. Among the various habitats, birds were seen feeding on pine cones, grass, docks and thrift seeds, gleaning caterpillars from Rosa regosa bushes and aphids from sycamores, as well as stripping pine tree buds.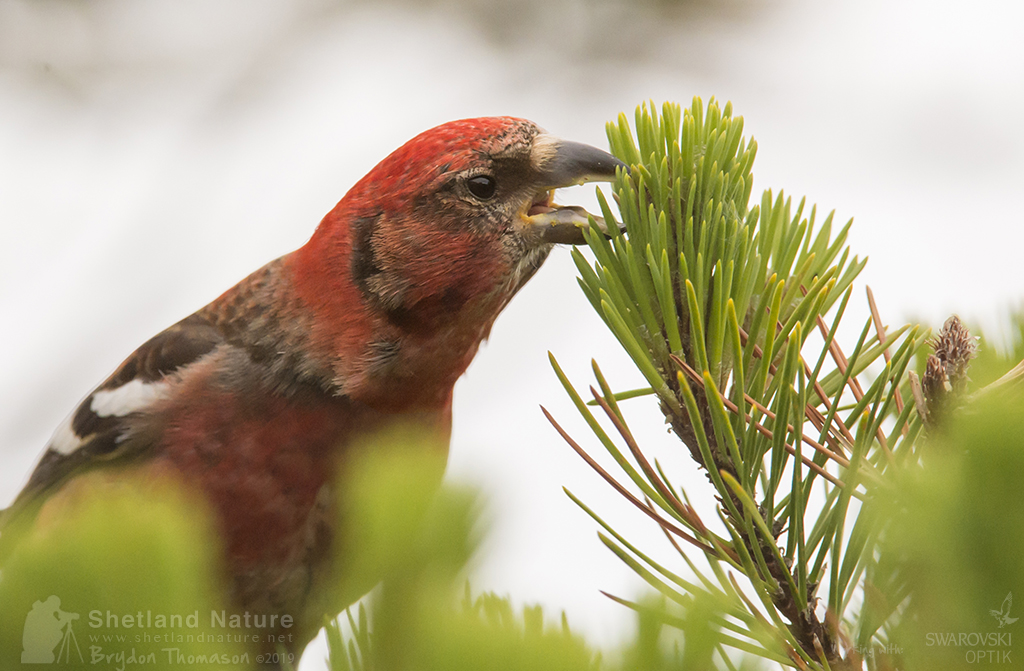 Adult male Two-barred Crossbill, Baltasound, Unst, July 2019 (B H Thomason / Shetland Nature).
During the 2008 influx only three birds were seen away from the Northern Isles, but they were much more widespread across Britain after the 2013 arrival. It will be interesting to see how the current influx progresses as we head into the autumn.

References
Harrop, A H J, Knox, A G, & McGowan, R Y. 2007. Britain's first Two-barred Crossbill. British Birds, 100: 650-657.
HBW Alive. 2019. Two-barred Crossbill. HBW Alive, viewed 12 August 2019. www.hbw.com/species/two-barred-crossbill-loxia-leucoptera.
Honold, J, & Martin, R. 2019. Crossbill call types in the Western Palearctic – a birder's perspective. AvesRares, viewed 12 August 2019. avesrares.wordpress.com/2019/03/29/call-types-of-crossbills-in-europe/.
Jenni, L, & Winkler, R. 2011. Moult and Ageing of European Passerines. Bloomsbury, London.
Marquiss, M, Newton, I, Hobson, K A, & Kolbeinsson, Y. 2012. Origins of irruptive migrations by Common Crossbills Loxia curvirostra into northwestern Europe revealed by stable isotope analysis. Ibis, DOI: https://doi.org/10.1111/j.1474-919X.2012.01221.x
Pennington, M, et al. 2004. The Birds of Shetland. Christopher Helm, London.
Shirihai, H, & Svensson, L. 2018. Handbook of Western Palearctic Birds: Passerines. Bloomsbury, London.