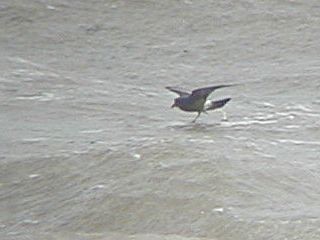 Photo: Russell Slack
In late January, after a few days of stiff south-west winds and heavy rain, the first Leach's Petrels of the year began to appear from our shores. On 28th January one was off St Mary's (Scilly), while another seen at Severn Beach (Gloucestershire) was the first of several at this site. From 2nd to 5th Feburary continuing south-west winds and heavy rain forced more birds onto the coast between West Sussex and Cumbria. About 20 were reported during this period, including one taken into care at West Wittering, West Sussex which sadly died the following day.
However, the real action started when the winds swung around to the north-west on 6th February. The first indication that something a bit special might be happening came when 42 were reported moving past Pendeen (Cornwall) in just one hour up to mid-morning. This site produced a total of 215 Leach's Petrels by midday, with just a single Storm Petrel to break the monotony. However, the biggest total of the day came from Wales, with an impressive 314 birds seen off Aberaeron. Elsewhere, small numbers were widely reported including at least 14 off Somerset, one of which was found dead and another that was eaten by a Peregrine. Inland, a probable was seen at Wolverhampton, while another picked up at Malton (North Yorkshire) later died. In total, about 565 birds were reported across Britain on 6th, and the movement again demonstrated how sea-watching is so closely linked to wind direction. Most birds obviously returned out to sea after this date as the only subsequent reports involved about eight widely scattered birds between 9th and 11th February.
Content continues after advertisements
In total, the influx produced about 600 birds between 28th January and 11th February. In addition to the Leach's Petrels, small numbers of unseasonal Balearic and Manx Shearwaters have also been noted, together with good numbers of Little Gulls and a few Great Skuas. Even more unseasonal have been the small numbers of Sooty Shearwaters seen recently from our shores, with about ten individuals reported in late January.
Unfortunately, the predicted change in the weather to brighter, colder, less windy conditions from the middle of this week will probably terminate the sea-watching action for most south and west coast observers. Saying that, I'm sure many will be happy with their lot at what is normally one of the quietest times of the year for sea-watching. Now we're just waiting for the first south-easterlies to get spring passage underway!