The Isle of Anglesey (Ynys Môn in Welsh) is situated off the north-west coast of Wales near the beautiful Snowdonia mountain range. It is separated from the mainland by the Menai Strait, which is spanned by two picturesque bridges, the Menai Bridge and the Britannia Bridge. It covers a large area and includes an amazing range of habitats, as well and some truly stunning scenery and views. The bird life is rich and varied, and the island is well worth a visit any time of year.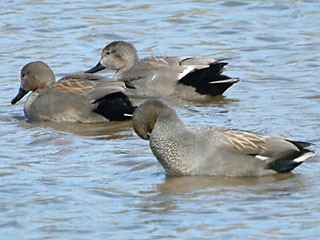 Gadwall: (Photo: Sue and Andy Tranter)
In winter, Newborough Warren SH405635, situated in the south of the island, with its mix of sand dunes, saltmarsh, estuary, mudflats and forest, is home to a wide variety of wildfowl and waders. Prominent species include Pintail, Wigeon, Goldeneye, Shoveler, Teal, Gadwall and Ruddy Duck, whilst Common Scoter and Eider can be particularly conspicuous at times. All three species of British diver regularly winter, as do Slavonian Grebes, Shag and Cormorant, whilst Long-tailed Duck, Velvet Scoter and Scaup are more infrequent visitors to the area. All three species of swan also occur regularly, with Whooper Swan being more likely than Bewick's Swan. Geese are fairly irregular, the most likely species to be encountered being Pink-footed Geese or White-fronted Geese.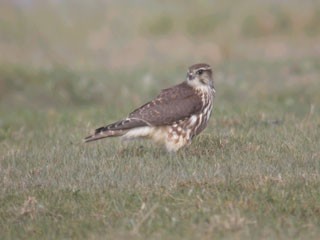 Merlin: (Photo: Marcus Ward)
Raptors are a feature of the area during the winter months, with Hen Harrier and Merlin regularly seen quartering the sand dunes, along with Peregrine Falcon, Barn Owl and Short-eared Owls. Marsh Harrier, Red Kite and Goshawk occasionally sighted in the general vicinity of the reserve.
Wader numbers, and variety, can vary greatly, but Knot, Curlew, Ringed Plover, Dunlin, Turnstone, Purple Sandpiper, Grey Plover, Redshank, Lapwing and Oystercatcher can be expected, with lesser numbers of Greenshank, Black-tailed Godwit and Spotted Redshank. During spring and autumn passage, Little Stint, Curlew Sandpiper, Sanderling, Whimbrel and Bar-tailed Godwit add interest.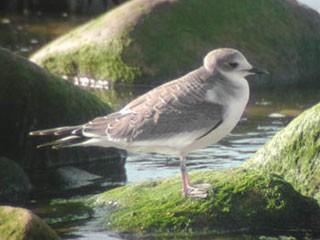 Sabine's Gull: (Photo: Mike Watson)
South Stack SH206823 and Point Lynas SH606819 are excellent spots to seawatch during passage periods. Flocks of terns, gulls and auks pass daily, frequently including scarcer species such as Sabine's Gull and Little Auk. Manx Shearwater is often present offshore, and regularly rarer species of shearwater such as Sooty Shearwater and Balearic Shearwater join them, and occasionally Cory's Shearwater and Great Shearwater.
Content continues after advertisements
All four Skua species can be encountered, Arctic Skua and Great Skua accounting for the majority, but Pomarine Skua are regular in Autumn. Other possibilities include Storm Petrel and Leach's Petrel, divers, grebes and seaduck.
On the land, harriers, Merlin, Hobby and occasional Dotterel can be found, along with Short-eared Owl and Whimbrel. Whinchat, Ring Ouzel, Yellow Wagtail, Black Redstart and numerous warbler species are all regular, and many rarities are recorded each year, South Stack recently being visited by a Black Lark.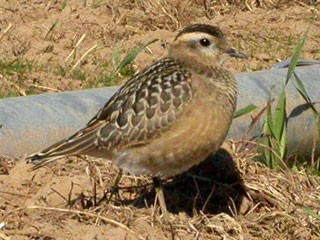 Dotterel: (Photo: Andy Kane)
The summer months on Anglesey provide and excellent opportunity to observe breeding seabirds as they hatch and rear their young on the cliff faces around the island. The RSPB reserve at South Stack in particular, allows visitors to get up close and personal with birds, thanks to a 'CCTV' set up that 'beams' back images of adult birds and their young. This video link is contained in Ellin's Tower (the RSPB information centre) and is open daily Easter-early September.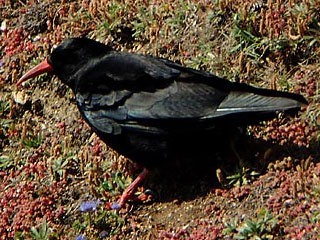 Chough: (Photo: John Malloy)
A total of nine different species of seabird breed on the reserve, the most numerous being Guillemot, with over three thousand pairs, accompanied by smaller numbers of breeding Razorbill, Puffin, Shag, Fulmar and Kittiwake. A speciality of South Stack is its breeding Chough, around 6-7 pairs nesting annually. The birds can be found all around the reserve, nesting on the cliffs and feeding on the adjacent farmland. Peregrine Falcon, Gannet and Manx Shearwater can all be seen in the summer months also.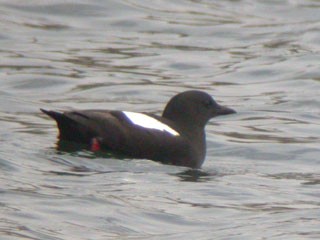 Black Guillemot: (Photo: Alan Gilbertson)
On the east side of the island at Fedw Fawr SH606819 you can find Wales's only breeding group of Black Guillemot. Around six to nine pairs are usually present in the boulder area at the foot of the cliffs below the car park, along with Chough, Raven, Peregrine, Razorbill and Guillemot.
The National-Trust-owned Cemlyn Lagoon SH328935 is noted for its breeding populations of terns, with good numbers of Sandwich Tern and Common Tern breeding, and smaller and more erratic numbers of Arctic Tern and Roseate Tern. Good views of the lagoon can be obtained from the shingle ridge that is reached by two car parks at either end. Other interesting species to look out for include Red-breasted Merganser and Yellow Wagtail.