As I lay down to sleep a little after midnight I could feel my heart still beating faster than usual; the adrenalin of the last two hours was still performing its task. In slightly chaotic scenes, no doubt mirrored in birders' homes across the country, I had witnessed another bizarre story of a potential first for Britain beginning to play out online.
Nearing 10 o'clock I was making one last sweep of threads on local birding forums to see if anything new had been posted from what had been a good October day in the Northeast. I came across an apparently humorous post from Mark Newsome, Durham county recorder, suggesting that a posted picture of Yellow-browed Warbler was actually an Eastern Crowned Warbler, a bird that had never been recorded on British shores. Attention caught, I decided to take a look at the image. As the attachment opened I was half expecting a photographic artefact creating an odd Yellow-browed image. Suddenly, before my eyes was, as Mark had succinctly put it, "Oh My God...an Eastern Crowned Warbler."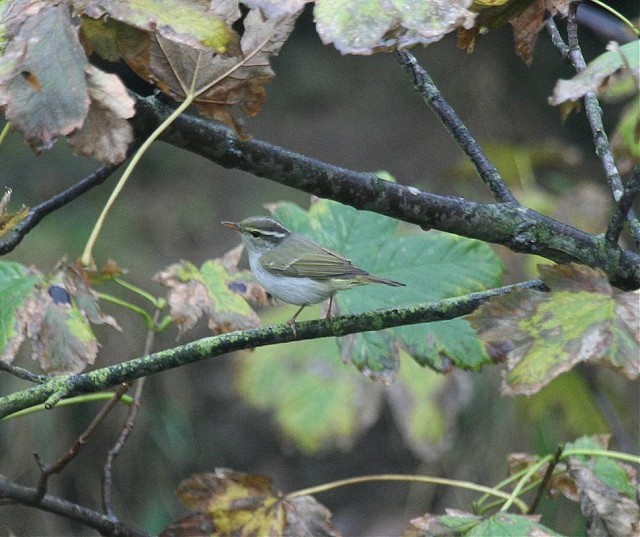 Eastern Crowned Warbler, The Leas, S.Shields, Durham (Photo: Dougie Holden)
Recorded four times before in Europe, Eastern Crowned Warbler was on the 'possible' list of potential vagrants of many birders, although most would have predicted Fair Isle or perhaps Norfolk for the arrival of such a rare bird.
Instead this newest applicant for the British List had apparently chosen a small quarry almost as far north on the South Tyneside coast as you can go before falling into the Tyne.
After taking a long second look to make sure that I was really seeing what was before my eyes, I rang Mark Newsome to congratulate him on his identification. Mark explained he had been checking through the pictures posted on local threads to see if there were any that might be useful for Durham Bird Club. On opening the Yellow-browed Warbler, he "felt the colour drain from my face" as he quickly realized what he was looking at.
At this point Mark had still been unable to contact the bird's co-finder and initial photographer, local South Shields stalwart Dougie Holden, who is a regular fixture of the South Tyneside coastal patches and had been birding the area with another local birder, Derek Bilton.
Content continues after advertisements
When finder Dougie Holden eventually became aware of his momentous find he said "I'm stunned. I had absolutely no idea of the importance of this bird and, if I'm totally honest, I've never heard of an Eastern Crowned Warbler — until now. I was actually over the moon to think Derek and I had found a Yellow-browed, let alone this fellah."
The following morning as the first brightness darted between clouds in the eastern sky, the semi-circular amphitheatre created by Trow Quarry filled with an expectant audience of initially between 150 and 200 birders. All had come for an audience with this crowned bird from the Far East. With hushed birders packing the stalls and occupying the boxes and ledges above, most with a twinkle in their eye, they weren't to be disappointed. Shakespeare couldn't have written a better script as, despite overnight clear skies, the boldly marked Phylloscopus performed turns and pirouettes high in the sycamores, dropping low for periods before reappearing with its supporting cast of Yellow-browed Warbler and Blackcap. A standing ovation would not have been out of the question.
Eastern Crowned Warbler has made a mere four previous appearances in the Western Palearctic, all the time nudging closer to our shores. After a single record in Heligoland, Germany on 4th October 1843 there was a short 159-year wait till the next one was found and identified on 30th September 2002 at Jaeren, Norway. Just two years later another was located at Kokkloa, Finland on 24th October 2004. The last of the recent records at Katwijk, Netherlands on 5th October 2007 was the closest so far to Britain. All of the previous four records have remained for a just one day, so not only is this bird a 'First' but is already the longest-staying Eastern Crowned Warbler in Europe to date.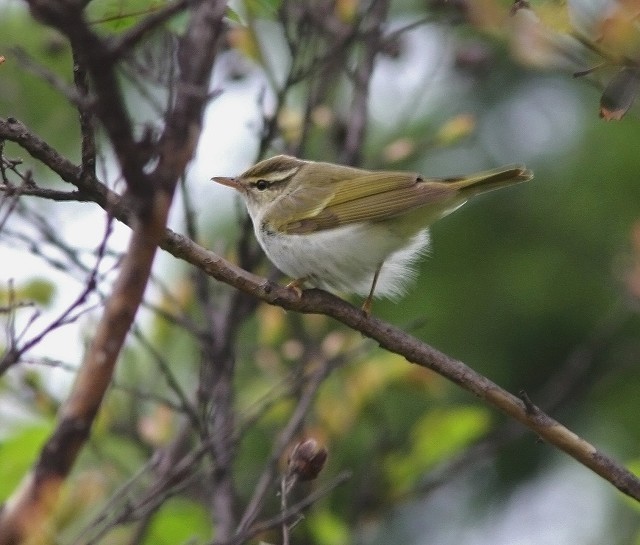 Eastern Crowned Warbler, China (Photo: Steve Wilce)
Eastern Crowned Warbler is a large Phylloscopus resembling Arctic Warbler Phylloscopus borealis, the key separation features being the dark rear crown with pale median crown-stripe, wider at the hind-crown, and the whiter underparts contrasting with pale yellowish undertail coverts. A distinct whitish greater covert bar is often joined in an autumn by a paler and less obvious median covert bar.
Whilst this species isn't completely out of the blue in the same vein as last month's Tufted Puffin, the very fact that it has stayed around long enough for more than a handful of birders to connect with it is sure to make it more popular. Now that the species has breached the North Sea, and with four western European records in seven years, it will be interesting and I suspect not that long before we see another on our shores. Perhaps this bird is destined to become one of autumn's 'crown jewels'.