Birding abroad is a massively rewarding experience, not only because of the opportunity to see species that will never occur in Britain, but also for gaining experience with species that can and do occasionally turn up in the motherland. That said, and at the risk of being a heathen, my travels are rarely bird-centric. I have been on purely birding trips, which are great in their own right — they're just not very 'me'. My approach is to enjoy the travelling and see what species I can pick up on the way, with the occasional birding detour for something special.
I like the spontaneous, unplanned nature of my travels as much as I enjoy spontaneous, unplanned birding — it's like becoming the 18th-century explorer I always dreamed of being. I don't know what I might stumble upon, but I also don't know what I might miss. This is probably most people's idea of a nightmare, and I have had sleepless nights ruing times that I'd been obliviously close to seeing Spoon-billed Sandpipers and the like. But there is something to be said for turning up somewhere with no birding sites nailed, no accommodation booked, no guides arranged and no transport, then seeing what you can find. Undoubtedly I've missed some good birds, but I've seen some cracking ones too, and they have been all the better for their unexpectedness.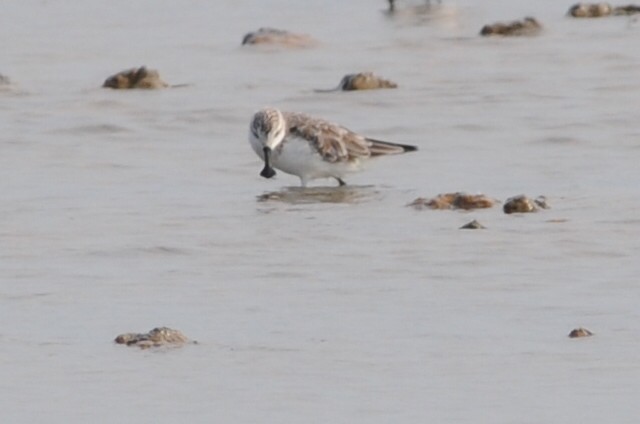 Spoon-billed Sandpiper, Thailand (Photo: Sean Johnston)
En route to Melbourne, Australia in January I found that the cheapest flights available were via Seoul in South Korea. I enquired about stop-overs, and for a negligible fee I found myself on my way to Korea for 10 days in mid-winter.
I arrived late evening on 12th January; it was dark by the time I found my way into the city and at –7°C, it was chilly. I stumbled around the streets until I found a cheap hostel where I warmed myself in the communal living room. I knew that Korea had a good reputation for winter birding, and I had my battered copy of MacKinnon & Phillipps Birds of China (which I assumed covered most species) but I had no idea where to go, and little idea of what to see. I did know that I wanted to see Red-crowned Cranes dancing in the snow, and decided these would be my 'unmissable' bird of the trip.

Red-crowned Crane, Japan (Photo: Stuart Elsom)
After a few days in and around Seoul, visiting ancient palaces, eating kimchi (Korean pickled vegetables) and exploring the metropolis, it was time to start looking for cranes. Several hours of internet research yielded little in the way of positive information. It appeared that it was not going to be possible to see the cranes without transport and, seeing as they are most reliably found around the DMZ (Demilitarized Zone) between North and South Korea, access was going to be tricky. I did, however, find an intriguing website which, in garbled English, seemed to offer trips into the DMZ between 1st December and 31st January each year, promising 'With family or friends, you can have resting feeling of being with nature when you look at cranes quietly playing in the sky'. I was dubious, but intrigued by the idea of seeing both cranes and the DMZ. The trips supposedly departed from a place called Goseokjeong, near the city of Cheorwon in Gangwon province.
I soon discovered that finding places in Korea is not as easy as searching Google maps. More often than not Korean place names have been anglicised in several ways, resulting in a proliferation of alternative spellings; and since a few have changed name following the Korean War, it is extremely difficult to deduce the whereabouts of many towns and even cities. I couldn't find Goseokjeong, or even Cheorwon, but knew they were northeast of Seoul.
The next day I was off early to a bus stop that supposedly served destinations north and east of the city; I hoped it would serve Cheorwon. When I found the station I hit my first difficulty: I couldn't pronounce "Che-or-won" well enough to be understood, and foolishly I hadn't thought to copy out the Korean characters. My scrap of paper with most-likely misspelt English scribble was little help. Fortunately, after some head scratching I found an English-speaking station manager who looked at my scrawled note in bemusement. After some time he told me that this town was now called 'Sincheorwon' and led me to the appropriate ticket window. I was unconvinced, but having nothing to lose I bought my ticket and jumped on the bus.
It was a three-hour drive north to Sincheorwon, and when I arrived I approached a taxi rank and got out my field guide. Showing the cranes plate, I then tried my luck at pronouncing 'Go-seok-jeong'. The amused taxi driver seemed to understand and we trundled off in what I hoped was the right direction. As we left town, the number of soldiers with guns slung over their shoulders began to increase, from the handful I'd seen nonchalantly smoking at the bus stop, to an army. The taxi rounded a corner and suddenly I found myself being driven through what appeared to be the frontline. On both sides of the road were dugouts with at least fifty tanks and long-range shell guns covered in camouflage netting. I had expected a military presence but this was unbelievable. My unblinking driver dropped me in a town, which I hoped was Goseokjeong. I was about a mile in front of the tanks, in what I assumed to be no-man's-land between the trenches. I was feeling rather uneasy, having so many guns trained in my direction, but everybody I saw seemed totally unfazed, so I guessed — at least hoped — that this was all normal.
It seemed ridiculous that there should be a tourist office in a place like this, but I found it without difficulty, and was greeted with a warming cup of tea, and some amusement as I began pointing to the crane plates in my MacKinnon & Phillipps. This was indeed the place advertised on the internet; a brochure plastered with crane photos reassured me that 'Watching birds flying in flock together over lake makes calm and peace in mind to everyone'.
After an hour of painstaking interpretation I discovered the following: the tour I was hoping to join to get into the DMZ and see the cranes only ran on Saturdays, Sundays and Mondays; typically, today was a Thursday. There was no way of getting into the DMZ without being on the tour, and being on foot was forbidden. My only option was to hire a taxi for the afternoon, which was unaffordable, and also — imagining the communication difficulties — unappealing. Not to be disheartened, I decided I would try my luck on foot by walking in the direction of the DMZ on the off-chance that I may find some cranes in the frozen rice paddies before being turned back at the checkpoint. If I failed I would have to return at the weekend...

Rustic Bunting, Finland (Photo: David H Hatton)
Content continues after advertisements
I set off along the road, and immediately stumbled upon a flock of 50 or so Rustic Buntings. Large flocks of White-fronted Geese were calling and feeding busily in the fields. Surely the cranes wouldn't be far. The landscape was flat as a pancake, so any distant flocks would be easy to pick up. Despite the cold, the sun was warm and caused a slight heat shimmer on the horizon. Cinereous Vultures circled ominously overhead.
After 4 km I began to feel the futility of my hunt. I came to a crossroads with a sign reading 0.5km to Jinktang Falls. I'd read about this place: the 'Niagara Falls of Korea'; I took the turning, flushing more flocks of Rustic Buntings as I went. A small canyon appeared, cutting through the rice fields with the frozen Hantangang River at the bottom. The falls in their frozen state were an impressive sight, although they appeared to be only about 10 feet high — not quite the Niagara I'd expected. The sound of water crashing behind the frozen facade was loud, and the early evening light cast a beautiful orange glow on dark, swirling patches of open water still running in the icy river.
I clambered along the edge of the water, another flock of buntings flitting in front of me — this time stunning Yellow-throated Buntings. There was something else with them...I approached slowly, partly to avoid slipping on the icy rocks. It was a Siberian Accentor 6 feet away from me on a boulder! It ducked back into cover and another one appeared, slightly further away. As I was watching I heard above the sound of the thundering water a call that was somehow familiar, a buzzing sound. Just as the penny dropped I turned and saw the pot-bellied shape and whirring wings of a Brown Dipper flying upriver; it disappeared over the top of the falls. I followed, scrambling over the ice. There were relatively few patches of unfrozen water and each one appeared Dipper-less. What I had failed to notice was that the level of the ice was actually several inches higher than the water level, providing a handy ledge for Dippers to feed from, completely obscured by the overhanging ice above. Oblivious to this I jumped as I flushed a pair of hiding Dippers from under my feet. They flew off calling loudly in alarm. I followed more cautiously and, now that I was aware of their hiding place, I had fantastic views of one swimming between ice floes and picking insect larvae from under the submerged pebbles.
The sun was by now very low and I'd been in the shade of the gorge for too long. My fingers were numb and my stomach was rumbling. I climbed back up to the fields and had some last hopeful scans for cranes without any luck. On the main road I thumbed a lift back to the bus stop in Sincheorwon. The driver had lived for some time in Swiss Cottage and spoke excellent English. As we approached the tank fields I did another double-take. I was almost more surprised than I had been the first time: there wasn't a single tank, shell-gun or even a soldier in sight. The dugouts were barely noticeable apart from the tank tracks in the frosty ground. I was amazed. "Where have all the soldiers gone?!" I asked my friend. "Ah," he replied, "today was training day for army, they gone home now". All day I had honestly thought I was putting my life on the line to find some cranes, but it had been a complete illusion. I felt slightly disappointed.
Two days later, and this time with no navigational difficulties, I was back at the tourist office in Goseokjeong. I paid 8,000 won (about £4) and joined a throng of Korean tourists armed with novelty binoculars and bobble hats. We boarded a large coach and drove up towards the border with North Korea. The coach 'oohed' in unison as we passed through the checkpoint into the Civilian Control Zone: it seemed this experience was a novelty to everyone.
Arriving at a small shack, we left the bus. Above us was a huge swirling cloud of Cinereous Vultures, and behind the shack was a pile of bloated and decidedly stiff pig carcasses. Beside the rather macabre pig field was a huge frozen reservoir, the banks of which were scattered with a party of very plump-looking vultures, just far enough away from the tourists to be able to digest their bellyful of pork contentedly. A couple staggered into laboured flight, probably with indigestion, and provided an eye-level fly-by to a chorus of more 'oohs'.

Red-crowned Crane, Japan (Photo: Stuart Elsom)
I climbed the bank of the reservoir, scanned the snowy vista, and there in the distance was a party of three Red-crowned Cranes. They were magnificent: a scene straight from the ancient silk paintings. Further away were two White-tailed Eagles perched on distant ice-crags. A flock of White-naped Cranes flew in and landed majestically in a nearby field.
Back on the coach we drove to a bizarre observatory with coin-operated telescopes overlooking North Korea. The distant watchtowers looked distinctly foreboding, but the land between the barbed wire is totally untouched; in fact, there has been talk of it one day becoming a national park. Such a large swathe of land totally out of bounds to people for 50 years is unheard-of in such a heavily populated part of the world. Returning to Goseokjeong the bus took a different route, through fields with both Red-crowned and White-naped Cranes feeding just metres away, unconcerned by the coachload of faces squashed up against the glass.

Red-crowned Crane, Japan (Photo: Stuart Elsom)
Despite being tied to public transport for the duration of my stay in South Korea, I had managed a semi-respectable total of 75 species: tiny Japanese Pygmy Woodpeckers, cryptically camouflaged Solitary Snipe, and a flock of beautiful Pallas's Reed Buntings added an unforgettable feel to the trip. Inevitably I'd missed a few as well: Hooded Crane, Steller's Sea Eagle, and somehow even Baikal Teal (I was expecting to see millions) — but such is the price of independent, solo birding. I had seen the cranes, the DMZ and had even eyeballed North Korea. I guess one of the beauties of birding is that, wherever you are, you always end up in places that you would not have visited otherwise. Be it your local sewage farm, or some obscure corner of Korea, you probably wouldn't have gone to either if you weren't birding.

Steller's Sea-Eagle, Japan (Photo: Stuart Elsom)