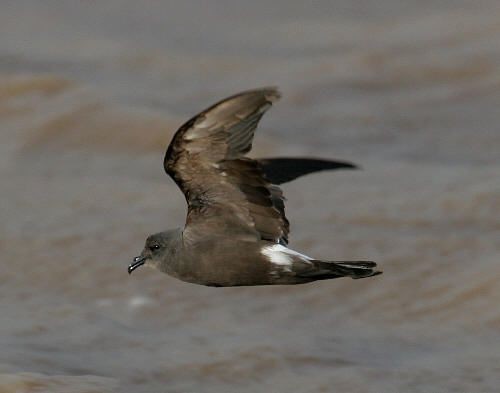 Leach's Storm-petrel: Severn Beach, Glos (photo: Paul Bowerman).
In general it has been a quiet start to the winter period, with above-average temperatures and relatively few rarities. However, one of the main talking points of early December has been the large numbers of 'wrecked' Leach's Storm-petrels along the west coast of England and Wales, together with many inland records. The displacement of these superb seabirds in our coastal waters is nothing unusual; indeed it is an almost annual event during the autumn period, with many reliable locations from which to observe their passage under suitable conditions in September and October (see How to see Leach's Storm-petrel off Britain and Ireland). Well-documented 'wrecks' at this season are recorded for 1952 between late October and early November involving 6,700 casualties and another less well-documented wreck in 1891. There have been some large numbers seen in recent years, with, for example, large numbers in 2001.
However, winter displacements on the scale witnessed in early December 2006 are rare. Brown and Grice (2005) refer to an influx into southern England and Wales in December 1989, when a peak count of 78 passed Burnham-on Sea (Somerset) on the 23rd. More recently there was a significant influx in early February 2002 which again produced some unprecedented mid-winter counts.
Presumably with global warming, midwinter storms with the ferocity and duration of those of the past few weeks are likely to be more frequent, so presumably we should expect more 'wrecks' of this nature.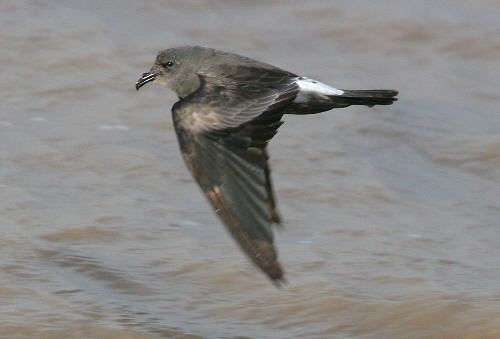 Leach's Storm-petrel: Severn Beach, Glos (photo: Paul Bowerman).
Why did we get so many birds?
Leach's is a rare breeding bird in Britain and Ireland, but in world terms it is the most widespread breeding Procellariiform in the Northern Hemisphere, with a population considered to be in excess of 10 million pairs. In addition there are large numbers of non-breeding birds that remain at sea.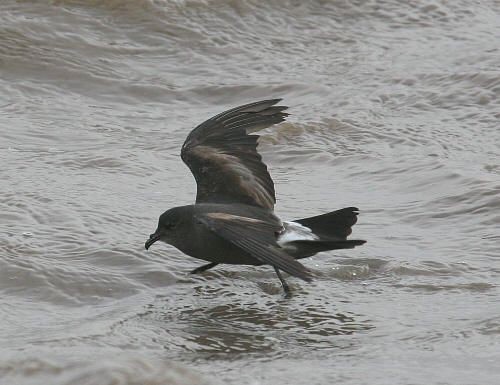 Leach's Storm-petrel: Severn Beach, Glos (photo: Paul Bowerman).
Most of the north Atlantic breeding population winter in the tropical Atlantic, especially in west African waters and in the Bay of Biscay which, according to Hémery and Jouanin (1988), hosts between 300,000 and 2 million wintering birds. A large proportion of these birds are likely to originate from the huge North American colonies, located primarily in Newfoundland, which has the world's largest known colony on Baccalieu Island, where there are over three million breeding pairs - more than a third of the world population.
Since the numbers in Biscay far exceed populations of the north-eastern Atlantic, this seems a likely source for these birds, a hypothesis further supported by ringing recoveries from Newfoundland and New Brunswick in Spain and France respectively. However, at present it is difficult to establish whether birds in the latest wreck are from North American colonies, the eastern Atlantic colonies or a combination of both.
So, why did we experience such large numbers recently? Like all storm-petrels, Leach's feeds on zooplankton and nekton at the surface of the sea; therefore prolonged periods of strong winds make feeding difficult and birds more susceptible to displacement. Two of the recent birds that died at Grafham Water (Cambs) weighed 34g and 38g respectively, compared to a weight range of 40-50 g in BWP, so clearly many of these birds were weakened, presumably due to being unable to feed.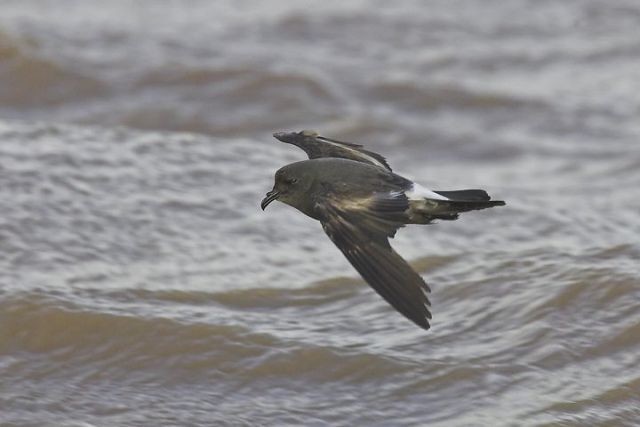 Leach's Storm-petrel: Severn Beach, Glos (photo: Oliver Smart).
From 1st December Britain and Ireland experienced a battering of southwesterly gales, especially from overnight on the 2nd/3rd December which brought winds up from the Bay of Biscay. This was followed by several more days with winds in a similar direction. Displacing birds from their wintering areas in Biscay, this battering effectively pinned birds against suitable 'bottlenecks' such as the Tremadog Bay in Gwynedd and the Bristol Channel and Severn Estuary in southern Wales and the southwest. Likewise, birds were also 'pushed' along the English Channel onto Chesil Cove in Dorset. Unable to reorientate out of these bottlenecks due to the windy conditions, they became prone to inland displacement, many presumably taking a route into the Severn estuary and into inland counties.
Later during the 'wreck', on the 8th and 9th, the winds swung around to a northwesterly direction, changing the geography of the wreck and forcing birds into the Dee and Mersey estuaries in the northwest and pushing birds onto the coastline of north Devon and Cornwall. Since the 9th only relatively small numbers have been observed, presumably due to the calmer conditions allowing birds to successfully head back out to sea. A few left-overs were still to be found and inland casualties are still coming to light.
The numbers involved
The first birds were seen on 1st December in Co. Galway and Devon. Three more followed on 2nd, and then the deluge began in earnest on 3rd. The number of birds involved is difficult to determine, as there will have been duplication between sites, and over days, as birds were unable to escape the clutches of the gale-force winds.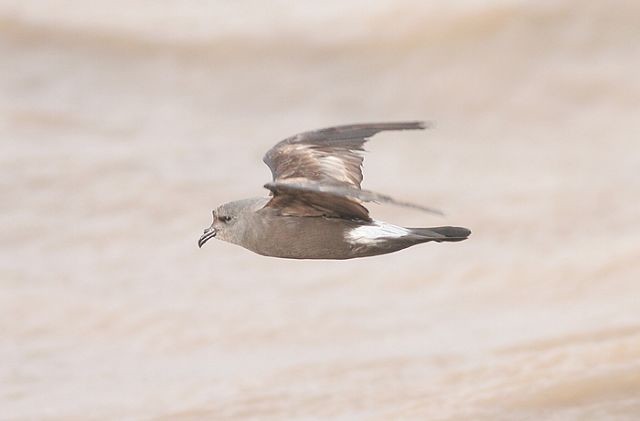 Leach's Storm-petrel: Severn Beach, Glos (photo: Gary Thoburn).
As would be expected, the majority of the 'action' took place in the expected 'bottleneck' areas. Away from these areas, records were few and far between. Scotland and the northeast of England produced only a handful of records, as did East Anglia. In the southeast there were several inland sightings, mainly at large waterbodies in the Home Counties. Along the English Channel singletons penetrated as far east as East and West Sussex, with small numbers passing Hampshire (maximum 10) and the Isle of Wight. The largest numbers along the English Channel were in Dorset. Inland records for the Midlands ran into the teens.
A summary of the peak counts day-by-day are provided below.
3rd December: 30 at Cork Harbour (Co. Cork).
4th December: 102 Inveran (Co. Galway), 93 Porthcawl (Glamorgan), 45+ Jenny Brown's Point (Lancs) and 36 at Sharpness (Glos).
5th December: 150 Chesil Cove (Dorset), 100 Black Rock Sands (Gwynedd), 93 Porthcawl (Glamorgan).
6th December: In Somerset 60 at Burnham-on-Sea, 45+ at Chittening Warth and 43 past Minehead.
7th December: 136+ Borth-y-Gest (Gwynedd), 130+ at Porthcawl (Glamorgan); also 80 on Kenfig Pool (Glamorgan).
8th December: 155 past Hartland Point (Devon).
9th December: 190 Crosby (Lancs), 74 Leasowe and 68 Hoylake (Cheshire) and 55 past St. Ives (Cornwall).
Associated species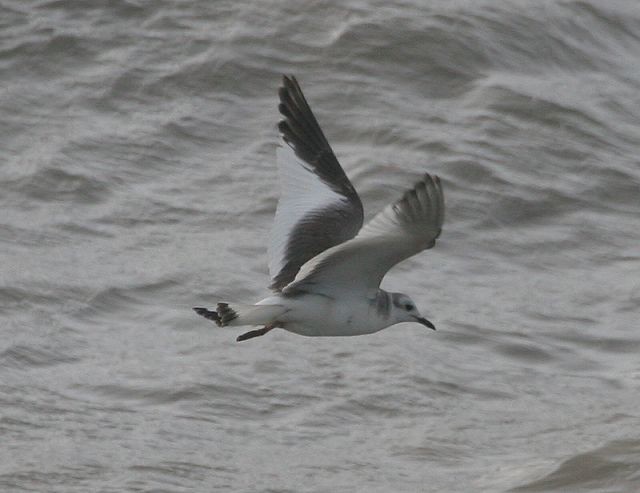 Sabine's Gull: Bridport, Dorset (photo: Tom Brereton).
Although Leach's Storm-petrels were the main species involved in the 'wreck', there were also further bonuses for seawatchers, though some might have been disappointed that the wreck did not include a seabird 'mega'! Associated highlights included good numbers of Balearic Shearwaters, with 67 passing St. Ives (Cornwall) on 5th and 63 there on 7th. There were also single-figure counts of Balearic Shearwaters off a number of watchpoints providing an unexpected December bonus for many. For example, at Portland (Dorset) four were seen, the first-ever December Balearics for the site.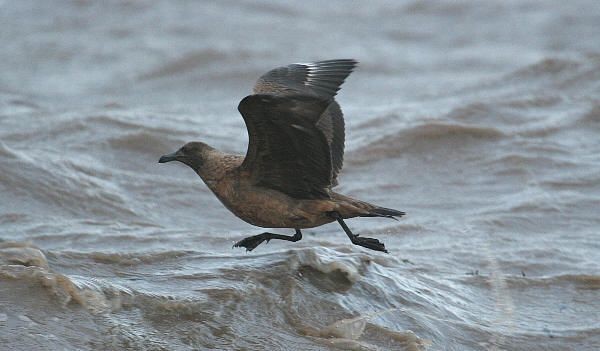 Great Skua: Severn Beach, Glos (photo: Paul Bowerman).
More keenly sought after were the small numbers of Sabine's Gulls, most of which occurred after the main Leach's movement; just one lingered, a 1st-winter at Bridport (Dorset) from 4th-6th. Reports of Sabine's Gulls came from several west-coast counties between Ayrshire and Devon. From Hartland Point (Devon) five were observed passing between 7th and 9th. Also reported were five Long-tailed Skuas, several Arctic Skuas (including two over Grafham Water (Cambs)), Pomarine Skuas and Great Skuas. An exceptionally late Roseate Tern was at Dun Laoghaire (Co. Dublin) from the 3rd onwards and small numbers of European Storm-petrels were noted. Grey Phalaropes, another species associated with such conditions; also featured, with around 20 detected in early December - including one retrieved from a telephone box on Jersey!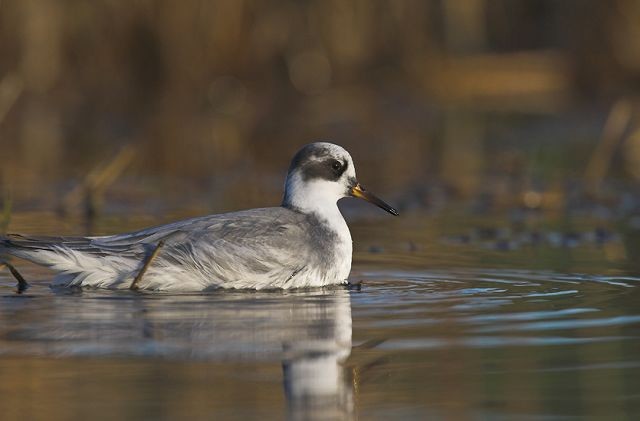 Grey Phalarope: West Bexington, Dorset (photo: Bob Hastie).
A number of dead birds were found during the influx; please send these to Dr Stephen Votier, Lecturer in Marine Ecology, Marine Biology and Ecology Research Centre, School of Biological Sciences, University of Plymouth, Drake Circus, Plymouth PL4 8AA, UK. Stephen is currently involved with a project investigating the movements and distribution of Leach's Storm-petrels from different populations in the North Atlantic.
Acknowledgements
Many thanks to Dr Stephen Votier for comments regarding the displacement.
References
Brown and Grice. 2005. Birds in England. Poyser, London.
Cramp and Simmons. 2004 Birds of the Western Palearctic interactive. Published by BirdGuides, Sheffield.
Hémery, G., C. Jouanin. 1988. 'Statut et origine géographique des populations de pétrel culblanc (Oceanodroma leucorhoa leucorhoa) pairésentes dans le Golfe de Gascogne.' Alauda 56: 238–245.
Huntington, C. E., R. G. Butler, and R. A. Mauck. 1996. Leach's Storm-Petrel (Oceanodroma leucorhoa). In The Birds of North America, No. 233 (A. Poole and F. Gill, eds.). The Academy of Natural Sciences, Philadelphia, PA, and The American Ornithologists' Union, Washington, DC.