It's not often that the highlight of a trip to one of Europe's most beautiful – and birdy – places involves standing on a scrubby strip of grass between a main road and cow field. But this was my first-ever encounter with one of the world's rarest birds.
Northern Bald Ibis looks like something from Jim Henson's workshop: the mask-like pinkish bald head and face and long curved bill framed by a punkish explosion of black feathering. Its black plumage has the same purple-green sheen of its much more familiar Glossy congener. It couldn't be described as a beautiful bird, but it's certainly striking.

While it has recently been downlisted to Endangered, Northern Bald Ibis remains a very threatened species; the birds in southern Spain derive from a reintroduction programme (Andres de la Cruz).
The population here in Tarifa, Cadiz province, derives from a reintroduction programme, one of several in Europe and North Africa. There are estimated to be fewer than 500 individuals left in the world. The first successful breeding from the Spanish project occurred in 2009; thought to be the first time the species had bred in the country for 500 years. Although some recent good news from BirdLife International was that conservation measures have been successful enough for the species to be downlisted from Critically Endangered to Endangered, this remains a species on the brink and my first encounter could well be my last.
Our small group of birders was in Spain's most southerly province for a few days in early October for seabirds and raptor migration. The best time to visit is actually a month before, in early September, but there was still plenty to see, as we were to find out.
Scanning for seabirds
The trip started with seawatching from Tarifa Island (also known as Isla de las Palomas). There's an immigration holding cell on the island so public access is restricted; luckily our guide Andrés has permission to visit. This is the most southerly tip of Europe and views across to Africa are stunning; the Strait of Gibraltar is at its narrowest here, just 9 miles across. Some 32 species of seabird have been recorded.
Grey Plover, Whimbrel and Ruddy Turnstone probed the rock pools and seaweed for food, while numbers of Swallow and mixed finch flocks comprising Goldfinch, Greenfinch, Common Linnet and Chaffinch passed overhead, flying out to sea on their way to African wintering grounds.
Over the water we saw migrating Scopoli's (Cory's, from which the former has now been split, also occurs here) and Balearic Shearwaters, Sandwich Tern, Audouin's Gull and Northern Gannet. Both shearwaters were new for me. Yellow-legged Gulls were everywhere. The species first bred here in 2005 and now thousands have colonised the island. Sadly, a planned boat trip had to be cancelled due to high winds; this could have added more seabirds as well as cetaceans.
Next stop was Algarrobo Observatory, a raptor migration watchpoint. As we headed to the 'obs', a flash of blue caught my eye but then completely disappeared. Sure I'd spotted a butterfly I searched the ground in front of me and found nothing until that blue appeared again. This time pointing it out to my companions, it was identified as a Blue-winged Grasshopper, another new species for me. At rest it was perfectly camouflaged against the terrain, but when it flew the bright blue of its hindwings was stunning.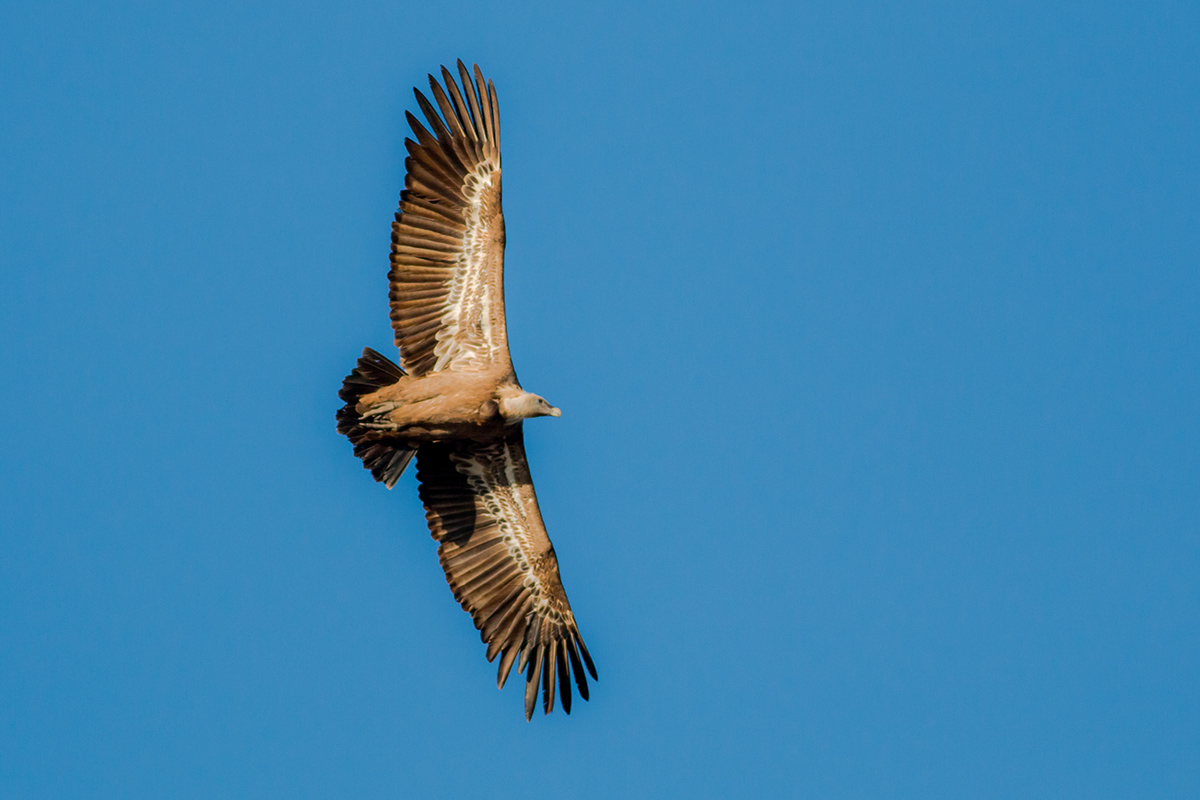 Juvenile Griffon Vultures disperse to Africa in autumn. They will remain there until old enough to breed (Andres de la Cruz).
Raptors following the coastline south to Africa are funnelled over the watchpoint. During peak migration many tens of thousands of birds can pass over in just a few days. We saw good numbers of Griffon Vultures, two Black Storks, Black Kite, several Booted and five Short-toed Snake Eagles, Eurasian Sparrowhawk and Common Kestrel, while a pair of Ravens flew past much lower.
Driving through this part of the Spanish countryside, it's hard to miss the wind turbines. There are more than 1,000 in the region, which has been a huge problem for large migrating birds. A law was recently passed requiring each wind farm to employ someone to watch for the approach of birds of prey, storks and so on; when they come within 500 m of the farm, the turbines are stopped. This has reduced mortality by 50 per cent.
Our final stop of the day was Sierra de la Plata. Some 45 pairs of Griffon Vulture breed here and the cliff face was alive with these magnificent birds. The adults are resident, while the juveniles will shortly be heading to Africa, where they'll remain until they are old enough to mate, at which time they'll return to their natal colony. An Egyptian Vulture has also made these cliffs its home, while a Blue Rock Thrush was a prize find and a Sardinian Warbler was heard only.
Birds and agriculture
Our first stop the next day was La Janda. This area is used for agriculture, mostly rice and cotton. It was drained in the mid-20th century. Conservationists are working to return it to public ownership and reflood the area. A public road offers lots of stopping places to view over the fields and remnant pools of water. A large heronry here is home to Grey Heron, Little, Great and Western Cattle Egrets and Glossy Ibis. The birds feed on the Red Swamp Crayfish in the rice paddies, while flocks of Calandra Larks and Common Linnets fly over.
We saw five Lesser Kestrels, and Western Osprey, Western Marsh Harrier, Red-rumped Swallow, Zitting Cisticola, Cetti's Warbler, Eurasian Penduline Tit and Tawny Pipit were all added to the trip list. At one point Short-toed Snake Eagle and Spanish Imperial Eagle shared a scope view, allowing comparison of their different sizes, while in the distance some 300 White Storks circled above Vejer de la Frontera, where we'd spent the previous night. But a search for Red-necked Nightjar sadly proved fruitless.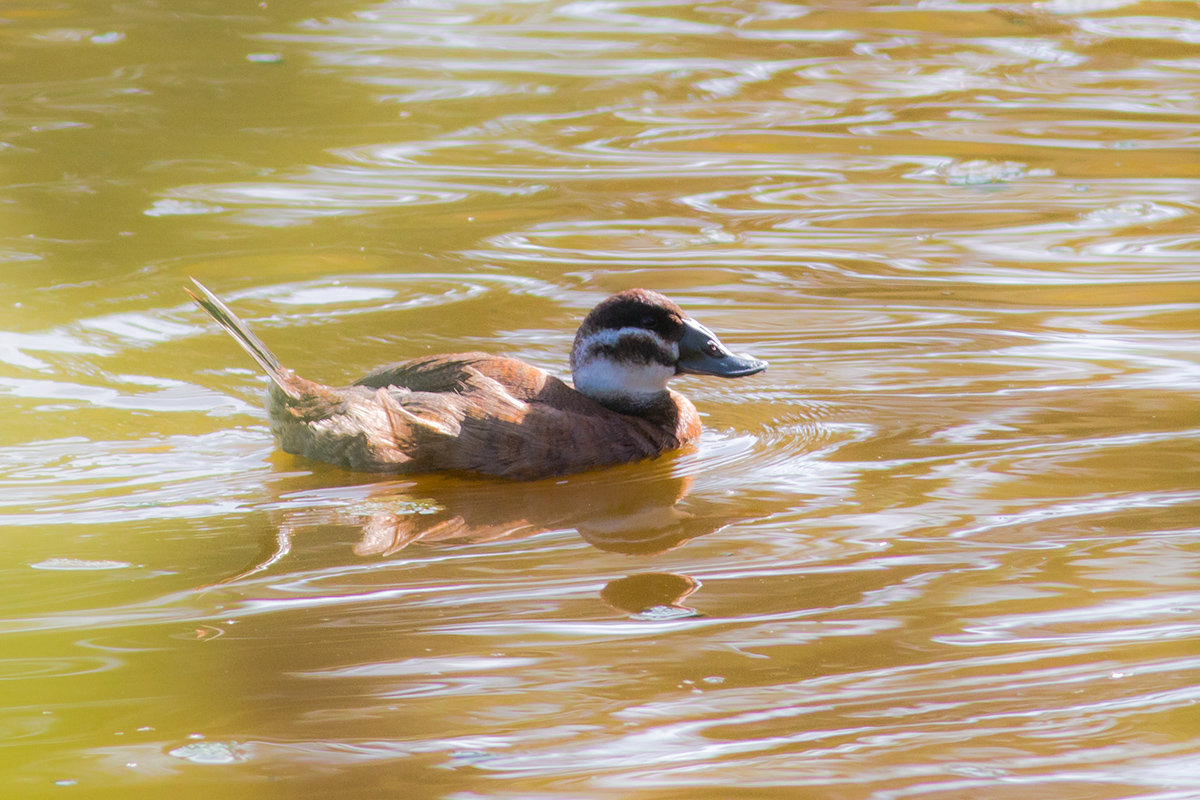 White-headed Duck is one of Europe's rarest wildfowl, but it can be seen with relative ease at Camino Colorado Ponds (Andres de la Cruz).
After lunch we headed to the Barbate Marshes. Close to the town of Barbate, this large wetland hosts a colony of Greater Flamingos. We also saw Eurasian Spoonbill, while Kentish Plover and Little Stint were among the more numerous Ringed Plover and Sanderling. Gulls included Black-headed, while new passerines were Crested Lark and European Stonechat.
It's while leaving the marshes that a sharp-eyed member of the group spotted an odd-looking bird, a bit like the Glossy Ibises seen earlier in the day. After a pretty impressive u-turn, Andrés safely parked the van at the side of the road and we all carefully made our way down a strip of grass towards – you guessed it – Northern Bald Ibis, easily the rarest bird I've ever seen. This was our last stop before heading north again to Sanlúcar de Barrameda for our final day of birding.
We started at Bonanza Saltpans. Black-winged Stilts elegantly picked their way through the water, while Slender-billed Gulls and Caspian Terns wheeled through the air above. A noisy flock of Lesser Short-toed Larks sped past – new for the list and another new species for me. A short stop at Tarelo Lagoon in the Algaida Pinewoods added Little and Black-necked Grebes; a Black-crowned Night Heron was located among the Grey Herons and egrets on the island heronry. The pine trees held Spotted and Pied Flycatchers and Common Redstart.
Duck down
Our last stop before lunch was Camino Colorado Ponds, described by our guide as a "stinky little pond". It wasn't the most prepossessing of locations – two waterbodies along either side of a busy road – but it holds a number of White-headed Ducks. This endangered species is one of Europe's rarest and the only 'stifftail' to occur naturally on the Continent. Marbled Duck and a pair of Red-crested Pochard swam out in the open and a Western Swamphen lurked in the reeds at the edge of the water, its bright pink legs and purple-sheened plumage obvious even amid the foliage.
Right at the back of the water I made out a heron-shaped lump which, when we trained the scope on it, turned out to be our first and only Squacco Heron. Not bad for a "stinky little pond"!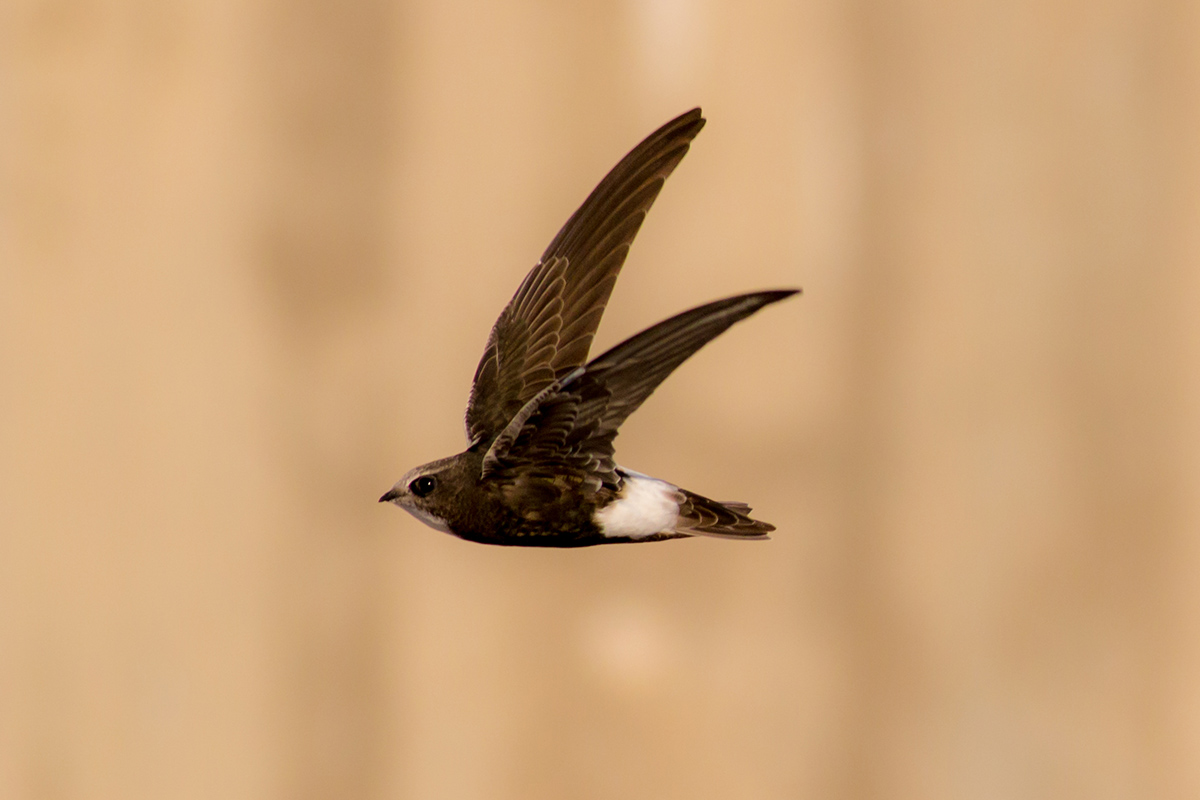 Europe's only established breeding colony of Little Swift makes its home in the eves of a fish-processing plant in Chipiona Harbour (Andres de la Cruz).
After lunch we headed to Chipiona Harbour for another rare – at least in Europe – species in the not most attractive of locations. The eves of a fish-processing plant here are home to Europe's only established breeding colony of Little Swifts. Some 52 nests have been counted and about 20 of these tiny aerial acrobats flitted through the sky above us as they came in to roost, their white rumps gleaming in the late afternoon sunshine.
All too soon it was time to return to the van and drive to Jerez, where our final night would be spent watching a flamenco show. It was a fitting end to our short but successful Spanish trip. Just a few days' birding had delivered a total list of 112 species, four of which were new to me, and some unforgettable experiences.
Tarifa
Visiting
Several airlines fly non-stop to Seville from UK airports or to Jerez via Madrid.
The Cadiz Tourist Board.
Further reading
Online resources
For Birding Cadiz, an online ornithological guide.
For a full list of all bird species recorded in Cadiz: bit.ly/2LLFz9H.


Barbate Marshes is home to a colony of Greater Flamingos (David Chandler).