Sora: Gibraltar Point, Lincs. There have been several obliging Soras recently, with popular birds in Devon in 2000, Nottinghamshire in 2004 and Scilly in 2005 (photo: Graham Catley).
Introduction
For many birders, the crakes represent a fascinating family. In Britain, with the exception of Water Rail, the other members of the family are rare and generally difficult to observe. The Nearctic Sora is the most abundant and widely distributed of the North American crakes and is a rare visitor to the Western Palearctic, with just 30 records. This migratory species breeds from central Canada south to California and Maryland and winters from the southern USA southwards to northern South America. It is thus a prime candidate for trans-Atlantic crossings.
On Sunday 5th March, one was found at Gibraltar Point in Lincolnshire, constituting the 15th British Sora. The east-coast setting was unprecedented, and it was only the second ever to have been found in the 'spring' period. The majority of records are of birds in the southwest, or west of Britain, a distribution consistent with recent arrivals across the Atlantic. Quite how this bird got to Lincolnshire will always be a matter of conjecture, but this east-coast county does boast an impressive list of Nearctic vagrants, the most recent of which were Buff-bellied Pipit and American Robin. One route by which the Sora could have arrived is by making landfall last autumn in Scandinavia, before crossing the North Sea early in the winter period, where it remained undetected until its discovery. Alternatively, March is a good month for overshooting rare crakes to be found in Britain, so it could possibly have made landfall further south in western Europe and be heading back north? Last autumn was a good one for Nearctic vagrants, so, for a secretive species such as the Sora, observers must only encounter the tip of the iceberg of the true numbers which cross the Atlantic. Surprisingly, there have been three summer Swedish records, and British birders might do well to acquaint themselves with the song of the species, just on the off-chance!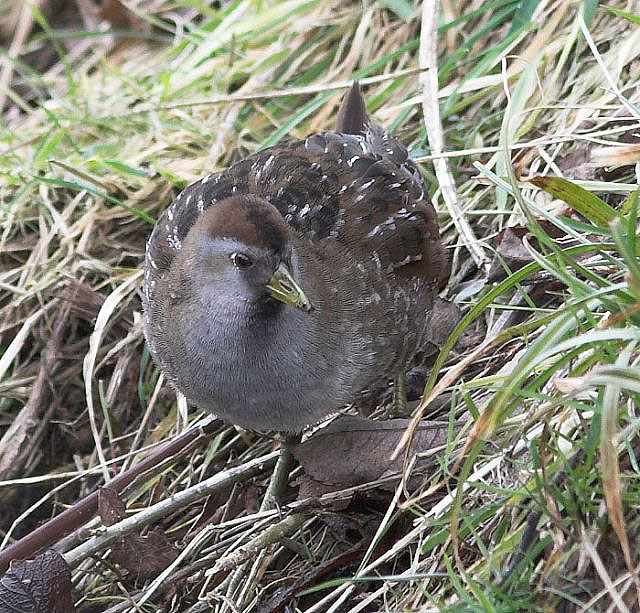 Sora: Gibraltar Point, Lincs. The only likely confusion species in the Western Palearctic is Spotted Crake. Confusion between the two has arisen in the past, but Sora can be easily separated from Spotted Crake in all plumages by its unstreaked dark median crown stripe, dark tertials with pale edges (lacking the transverse bars of Spotted Crake), and the absence of spots on the head, neck or breast (photo: Graham Catley).
Content continues after advertisements
Access details
Gibraltar Point NNR lies to the south of Skegness in Lincolnshire. Parking is available in the North car park (see site map). There is a nominal 50p charge for parking here. From the car park walk east for 400m towards Mill Hill until reaching signs to Fenland Lagoon East Hide. Watch from wooden bridge and the bird shows mostly to the north, though it can be very elusive.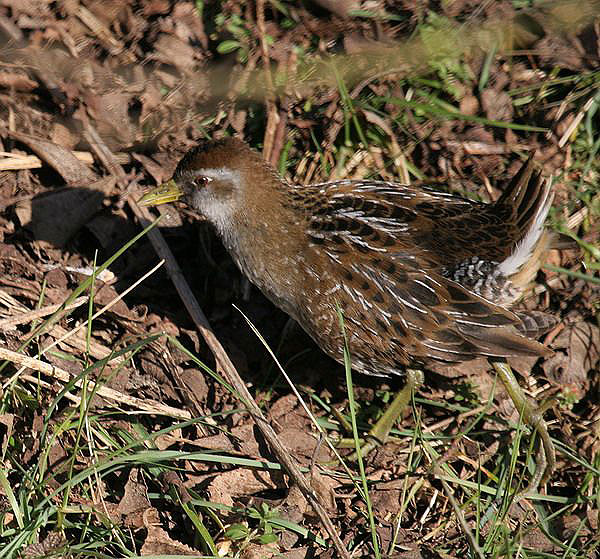 Sora: Gibraltar Point, Lincs. Of the 11 British and Irish records since 1973, six have been aged as 1st-winters, and four as adults; for one the age was not published. The Gibraltar Point bird is a 1st-winter and so conforms with the majority of records. It can be aged as such by the bare-part colouration with the greenish-yellow (as opposed to yellow) bill, which is brightest at base of the lower mandible, plus greenish-yellow feet. The moult of body feathers takes place in March, or earlier, after which the plumage resembles non-breeding adult, but with retained juvenile remiges and rectrices (photo: Dean Eades).
British, Irish and western Palearctic Status
The first for Britain was in Berkshire in 1864, but there have now been 15 records, including the well-watched bird on the Scillies last autumn, and the present Lincolnshire individual. Several of the recent appearances have enticed large numbers of observers through their showy performances. The first of the modern era to encounter mass appreciation was on St. Agnes (Scilly) from 26th September to 9th October 1973. An adult trapped on Bardsey (Gwynedd) in early August 1981 escaped the crowds, as did two in 1982 and one in 1983. A new generation of 'listers' were provided with a mainland opportunity in 1985 when an exceptionally obliging individual took up residence at Pagham Lagoon (West Sussex), from 26th October to 24th December, drawing in birders from far and wide. Since then, a quartet of obliging individuals have included: St Mary's (Scilly), from 15th October to 1st November 1991, though probably since 4th October; Stover Country Park, (Devon) from 18th January to 5th April 2000; Attenborough NR (Notts) from 12th December 2004–1st January 2005 and; St. Mary's (Scilly) from 23rd September–1st November 2005.
In Ireland there have been two records. There was one in the early part of the 20th Century, and another at Tacumshin (Co. Wexford) from 2nd to 4th August 2000. Additionally, an immature bird was captured at sea 160 km west of Ireland, c. 1920.
Elsewhere in the Western Palearctic there have been 12 additional records:
three from Spain (December 30th 1975, April 10th 1988 and April 25th 1990).
three from Sweden (June 1966, May 25th to June 25th 1987 and June 22nd to July 9th 1987).
one from Morocco (Oued Massa March 1989).
three from the Azores (2 adults and a 1st-winter on São Jorge from 14th–16th November 1998).
two from France (January 3rd 1963 and Ouessant from October to November 2005).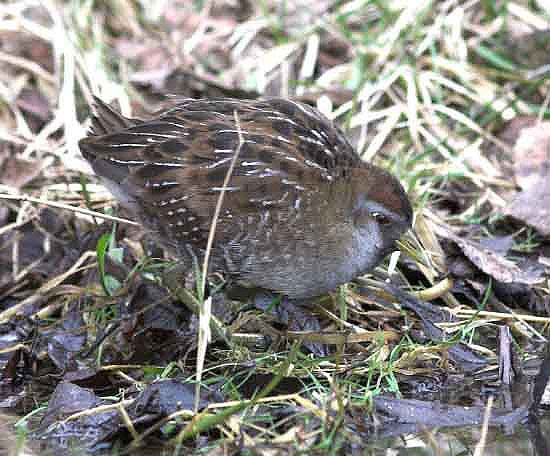 Sora: Gibraltar Point, Lincs. In North America the earliest spring migrants arrive in Ohio, British Columbia and Massachusetts in late March. So, could the Lincolnshire bird have crossed the Atlantic last autumn, making landfall in southwest Europe and be on its way back north, or did it make landfall in Scandinavia and cross the North Sea to remain undetected for much of the winter? One each of the British and Irish records have occurred in early August, which appears, on the face of it, to be exceptionally early for a Nearctic vagrant. However, Soras arrive on their wintering grounds in Bermuda from late July onwards, so early migrants could easily be caught up in conducive weather systems and deposited in western Europe or, alternatively, take advantage of ship-assistance! (photo: Graham Catley).