Seawatching is not for everyone. The views are often brief, with birds rarely in view for more than a couple of minutes, and passage, if and when it happens, is often difficult to predict. Add to this the long monotonous hours of boredom sat on a windswept headland, where both you and your optics are at the mercy of the elements, and it is perhaps easy to understand why this obsessive discipline is shunned by many birdwatchers in pursuit of more sane ways of spending their time! However, the rewards when they come are memorable and deserved. Most people associate seawatching with the autumn months between July and November, but some observers favour the spring months when the lure of adult Pomarine, Long-tailed and Arctic Skuas passing parts of our coastline heading back to their breeding grounds up on the open tundra can prove to be just too much.
The main Atlantic wintering grounds of Arctic Skuas are off Namibia and South Africa and off Patagonia in South America. Long-tailed Skuas winter in similar areas, though in greater numbers further to the south, whilst Pomarine Skuas tend to winter to the north of the equator, far to the north of the wintering range of the other two species. Arctic Skuas start heading back north in March, but their passage through British and Irish waters peaks through the second part of April and early May. For Pomarine Skuas the peak passage period tends to be between late April and May, whilst the main period for the biggest prize of the three, Long-tailed Skuas, tends to peak during the latter part of May, though both Pomarine and Long-tailed Skuas can still be encountered into early June off the northwest watchpoints.
Up until quite recently, the passage of Pomarine and Long-tailed Skuas was for the eyes of only the keenest of seawatchers, but during the last 30 years a number of intrepid observers have established that both species are passing our coastlines in good numbers. The level of passage encountered each year varies as most birds are passing quickly way out to sea, away from spray-lashed optics. In some years under ideal conditions exceptional numbers can be observed from several key sites. For the two rarer species, keen birders established the passage of up to several hundred birds in spring from a couple of sites since the late 1970s. Spring of 1991 upped expectations to a new high as no fewer than 1,340 Long-tailed Skuas and 622 Pomarine Skuas were watched in awe as they ghosted past the northwest tip of Scotland. The number of Long-tailed Skuas was unprecedented, although Pomarine Skuas had performed better in 1986 when 1,716 passed the northwest of Scotland. Even better was to come in 1993 when the British and Irish day record count was set with no fewer than 1,268 Long-tailed Skuas and 55 Pomarine Skuas were seen passing Aird an Runair. The record books had been rewritten and a new level of expectation was added to the birding scene. The exploratory coverage of some of our more remote coastlines had revealed that good numbers of the rarer skuas can be expected from several sites, under the right weather conditions. Sadly, such phenomenal numbers have not been witnessed in recent years, but we now know that these birds are out there - pelagic trip anyone?
In England the annual movement of Pomarine Skuas along the south coast has been documented for many years, but the lure of greater numbers from northwest Scotland and the possibility of Long-tailed Skuas provoked a switch in behaviour for the seawatchers as many ventured north in search of the most prized skua. We now have a better understanding of skua passage through our waters, but much remains unknown. The west of Ireland is ideally placed for exceptionally large numbers of skuas, but much is inaccessible and underwatched. So far, only one regular overland route has been firmly established, though there is the possibility that others are awaiting discovery.
Spring Skua Sites
A brief guide to some of the established sites for observing spring skuas. For success, perseverance, hardship and luck will play their part, but this will be more than compensated for by the sight of a flock of pristine adult Long-tailed Skuas drifting by low over the waves.
Content continues after advertisements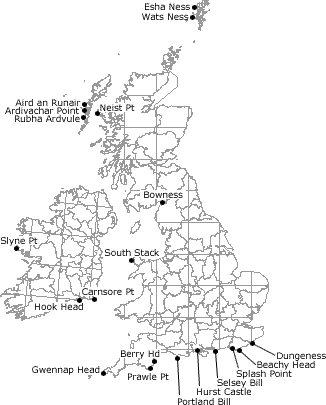 Seawatching sites for spring skuas
Western Isles
The best place to observe skua passage is from Aird an Runair NF686704 on North Uist. It can be a desolate, bleakly beautiful place, as you sit huddled at the end of the headland, but sometimes the exceptionally close views of skuas more than compensate.
Other sites include Ardivachar Point NF737456, and smaller numbers can be seen during suitable conditions from South Uist at Rubha Ardvule NF709300. Do not wait until you reach the islands to start seawatching, as the ferry crossing between Skye (Uig) and Lochmaddy (North Uist) can also take you through the thick of the passage as good numbers of birds also pass though the Minch, and this is not always a good time to be in the restaurant!
For those seeking a step into the relative unknown the lighthouse at Neist Point (Skye) NG126471 may also be useful place to observe passage through the Minch. Also, accessible points on the west coast of Lewis, should, in theory, be good observation points.
The presence, or absence, of skua passage on the Western Isles is determined by the weather conditions. Light easterlies and clear skies will invariably draw a blank, but a combination of brisk wet weather fronts accompanied by southwesterly winds veering through to northwesterlies offer the greatest chance of success. Passage can often become apparent immediately after the front has passed, though as is often the case with birding the excitement can be delayed several hours - or there may be no excitement at all! Whatever, your chances of success are increased by keeping a keen eye on the latest weather forecasts to hopefully time your seawatch to perfection.
Shetland
Wats Ness HU1751, the west-facing headland close to the village of Watsness, together with the lighthouse car park at Calder' s Geo at Esha Ness, have proven to be reliable sites over the last decade, with skua movement evident under similar conditions to those for the Western Isles.
Ireland
Ireland is still a bit of an unknown quantity of the spring passage front. Slyne Head in County Galway has attracted good numbers in the past and is geographically well placed to encounter movements under the same conditions that produce birds off Western Scotland. Large numbers of Long-tailed Skuas and Pomarine Skuas no doubt pass the west coast, but finding a vantage point from which to observe them is not so easy. A spring pelagic trip would be an enterprising venture, but one that might provide an exceptional passage of skuas if timed to perfection.
The southern coast attracts birds, more so at the eastern end in County Wexford, where sites such as Hook Head and Carnsore Point are good vantage points for the observation of Pomarine Skuas and Arctic Skuas entering the Irish Sea under favourable conditions with winds between southwesterly and southeasterly.
Cumbria
A number of birds enter the Irish Sea and then continue northwards. In some years small numbers are seen passing South Stack (Anglesey). However, a relatively recent discovery was the passage of birds heading inland over the viaduct at Bowness-on-Solway. From the village head east, park by the road and walk onto the disused viaduct NY213628.
The passage of Pomarine Skuas here is even less predictable than elsewhere, but an early high tide coupled with overcast skies and winds from a southwesterly origin present the best opportunities for watching birds pass closely between late April and early June, with occasional Long-tailed Skuas plus Arctic and Great Skuas seen.
English Channel
Skua passage along the Channel has been better documented than elsewhere, with the main target species being the annual passage of Pomarine Skuas. Arctic Skua movement is noticeable too, but Long-tailed Skuas are something of a rarity with usually single figures noted each spring.
During the 'right' conditions skua passage can be observed from promontories between Cornwall and Kent. As the Channel becomes narrower the density of passage becomes greater and as a consequence sites in East Sussex and Kent always produce larger numbers of birds than more westerly points along the Channel.
In the Southwest, sites such as Gwennap Head SW367215 in Cornwall, and Prawle Point SX772351, Berry Head SX946565 and Hopes Nose SX947635 in Devon all attract small numbers of birds. However, it usually at Portland Bill SY677682 in Dorset that larger numbers are noted. Passage is also evident off St. Catherines Point on the Isle of Wight and smaller numbers penetrate into The Solent where Hurst Castle SZ318897 is a favoured site amongst local seawatchers.
Further east, the counties of Sussex and Kent produce larger numbers of birds. Selsey Bill SZ856921, Birling Gap (Beachy Head) TV554959 and Splash Point, Seaford TV487981 in East Sussex are favoured locations, as is the seawatching hut at Dungeness TR089166 in Kent.
At the Channel watchpoints, the best conditions are sometimes associated with southwesterly through southeasterly winds, with offshore mist. Further east along the Channel at sites such as Dungeness the passage can also be evident on clear days as the birds are more visible as they move through the Channel at the narrowest part. The largest numbers tend to occur in the first few hours of daylight and in the evenings, so be sure to get up early to ensure that you have not missed the best of the passage.
As a word of caution, different species respond differently to different weather systems. Arctic Skuas are normally associated with southeasterly to southwesterly winds and rain or drizzle, and often coincide with major tern passage. In these conditions they will move through all day, although in better weather the passage is concentrated in the early morning and evening. Arctics tend to occur in runs of a few days, usually associated with the west-to-east passage of one or more low pressure systems across England. In contrast, the biggest days of Pomarine Skua passage are normally in settled, hazy, anticyclonic conditions with light to moderate southeasterly winds. Most birds are seen from late morning onwards, right up to dusk. Big Pomarine Skua days are sometimes unusual in that they occur when not much else is moving. One Hampshire observer famously commented after seeing 100+ Pomarine Skuas from Hurst that 'it actually wasn't a very good seawatch'! Such movements are often famous for being one-offs, with the days either side drawing blanks. Sometimes there appearance is linked with very subtle changes in the weather, which can make them unpredictable.
Examples of 'Skua Days' with Weather Charts
Two recent skua movements can be explained with the use of weather charts. One example deals with the movement of Pomarine Skua and Long-tailed Skuas off the Western Isles and the second with Pomarine Skuas along the Channel.
Example 1
The first movement involved both species and took place over several days. The location was Aird an Runair on the Western Isles and the movement stretched from 21st-24th May 1999.
On 20th May, the low pressure system and fronts are located west of Iceland with a big high pressure system off northwest Europe, through which the birds are presumably heading north unhindered. Things have changed by the 21st as the front has moved south of Iceland and strong westerly and southwesterly winds with fronts are hitting the Western Isles, deflecting the migrating flocks with 168 Pomarine Skuas and 113 Long-tailed Skuas seen. The low moves further east over the next few days bringing in northwesterlies and 90 Long-tailed Skuas are seen on the 22nd. By the 24th a further 148 Pomarine Skuas have been noted.
Example 2
The second movement involves a movement of birds in the English Channel last year, and involves Pomarine Skuas. The weather map for 12th May reveals a low way out to the west of the Bay of Biscay which pulls in southeasterlies on the 13th and as a result small numbers of Pomarine Skuas are pushed closer to land, as evidenced by counts of 13 off Marazion, 23 off Ferrybridge, 35 past Selsey Bill and a near record tally of 146 past Dungeness at the eastern end of the Channel. There were just 15 seen on the 12th and none on the 14th May, illustrating how quickly you have to be able to react to potentially favourable conditions and just how unpredictable this species is. Little else was associated with this movement.
The key to success is to keep a beady eye on the weather charts, and more importantly to be able to drop everything at the last minute...oh yes, and perseverance and luck!!