'Pitihi' is the local name for Ultramarine Lorikeet – a real jewel of nature, daintily sporting a dazzling array of feathers in varying shades of blue. Like many other species native to oceanic islands, the wild population of this exquisite lorikeet has diminished to the edge of extinction. It is endemic to the Marquesas Islands in French Polynesia, where it used to occur on at least six islands, but it is now almost certain to remain on just one – Ua Huka.
The progressive reduction in Pacific island lorikeet populations and current patterns of distribution are closely related to the presence or absence of Black Rats, as these invasive, non-native agile climbers predate the eggs and chicks. Additionally, all islands have been seriously impacted by high levels of fire and grazing by goats and horses, while much of the original dry forest has been reduced to grassland. Even upland forests have sustained extensive damage. Other invasive species established on Ua Huka that could pose a threat include exotic birds that may transmit diseases, and an increasing number of feral cats, Yellow Crazy Ants and Singapore Ants. Some areas of habitat are also still cleared to plant crops and to produce wood carvings for tourism. As a result, Ultramarine Lorikeet appears in the IUCN Red List of Threatened Species as Critically Endangered.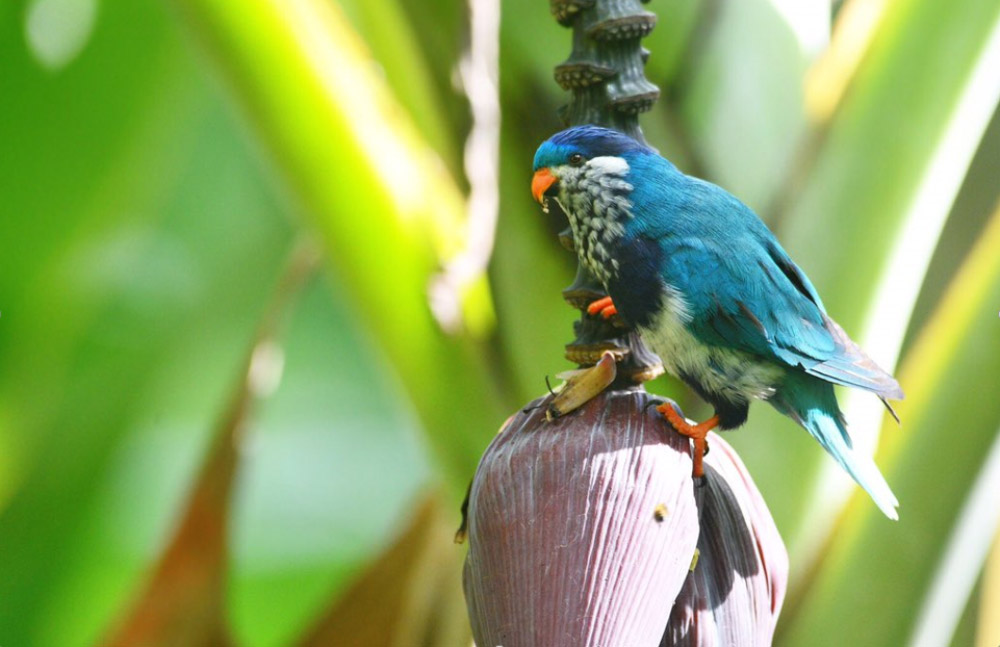 Ultramarine Lorikeet is a beautiful yet heavily threatened species (J-P Mutz).
In 2006, the Loro Parque Fundación helped to finance a research expedition by Dr Marc Ziembicki of the Australian National University and Dr Philippe Raust of the Polynesian Ornithological Society (Société d'Ornithologie de Polynésie – SOP/MANU) to collate information regarding the status and conservation requirements of both Blue and Ultramarine Lorikeet populations. This included documenting the distribution and degree of threat posed by Black Rats, incorporating measures to minimise the establishment of the species on Ua Huka. On the island of Ua Pou there were 250-300 pairs of Ultramarine Lorikeets in 1975. Black Rats arrived there in around 1980, and by 1998, no lorikeets could be found. The Ziembicki and Raust expedition also trapped rats at higher altitudes on Ua Pou, again finding not a single Pitihi. Another fruitless visit in 2012 by SOP/MANU was effectively confirmation of the lorikeet's extirpation from Ua Pou. A depressingly similar demise occurred on all other islands except Ua Huka, where Ziembicki and Raust estimated between 1,763 and 2,987 individuals in 2004 – another estimate of 2,094 individuals was made in 2009.
These findings suggest that Ultramarine Lorikeet will probably decline almost to extinction within 20 years if Black Rats colonise Ua Huka. To help minimise the chances of this, Loro Parque Fundación is again supporting SOP/MANU in 2019, whose landbird biologist Dr Caroline Blainville is leading the conservation effort. To secure the long-term survival of the lorikeet, its prospects on Ua Huka must be strengthened with improved social and environmental support, and an additional viable population needs to be established away from there.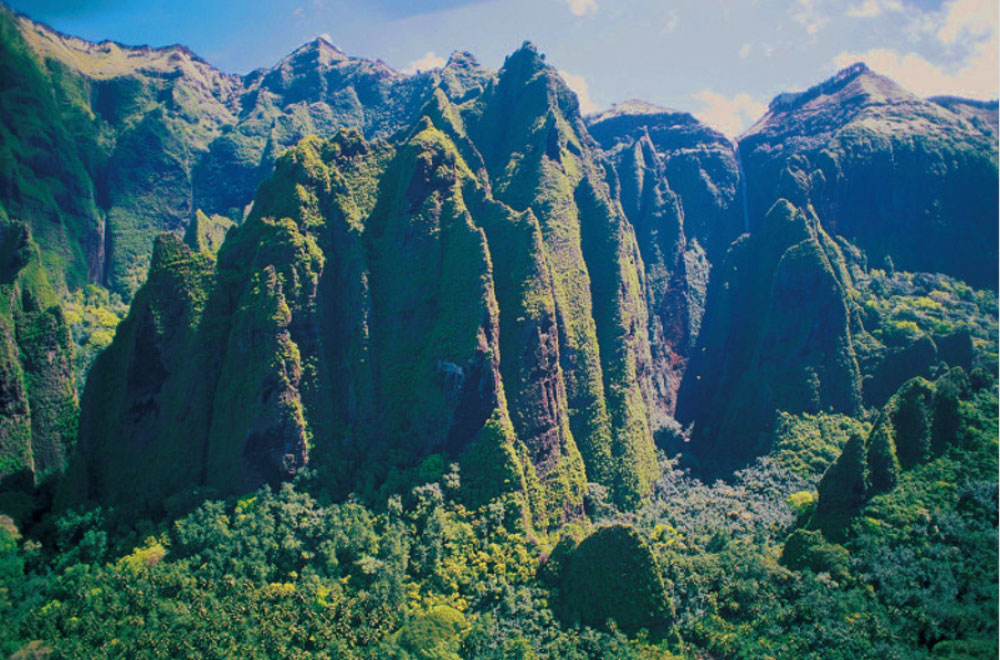 Typical scenery on Ua Huka.
One project is for the first time to check for diseases in birds introduced to Ua Huka, to establish if they represent an additional threat. To help this assessment, the behaviour of several diseases present on Tahiti Island (for example, avian malaria and avian pox) will be monitored simultaneously. It has previously been shown that despite numerous breeding events, Blue Lorikeet proved very difficult to keep in captivity because Sarcosystis, Salmonellosis and other bacterial infections severely reduced its survival rate.
Content continues after advertisements
Longer-term support is intended to assist the local nature conservation association, Vaiku'a i te manu o Ua Huka, in getting more support from local inhabitants for its biosecurity programme against Black Rats. In 2015, Vaiku'a and SOP/MANU established a strong biosecurity protocol with rat-detector dogs inspecting merchandise. In 2016 one detected and killed a rat, but over the last three years no Black Rat has been trapped, despite a monthly campaign with 30 trapping stations on the wharves and five stations at the airport. The shipping companies, airport authorities, autonomous wharves of Papeete (Tahiti) and copra-oil industry are all collaborating, but support from local islanders is still insufficient. This is because Ultramarine Lorikeet is incorrectly considered to be an introduced bird in Ua Huka, despite bones having been found there by archaeologists.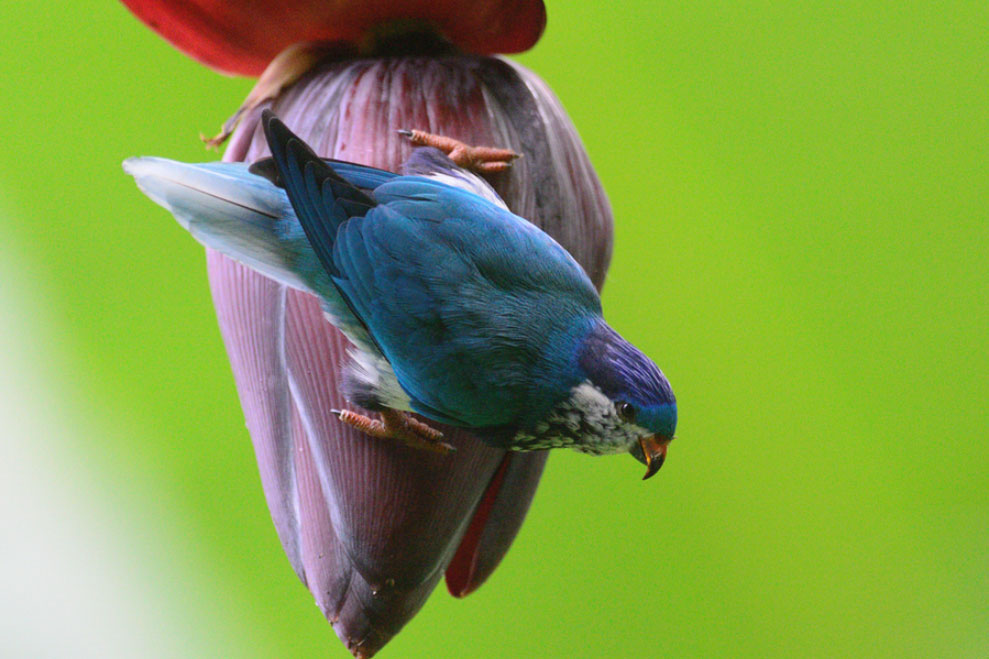 Ultramarine Lorikeet (J-P Mutz).
The reintroduction of Ultramarine Lorikeets to Ua Huka in the 1940s being misconstrued as an introduction is an important challenge. The project intends to rehabilitate the species by using traditional dance as a way to re-establish the patrimonial importance of this bird to the Marquesan population. The Ua Huka dancing troupe will be supported in its use of blue feathers (symbolic of Ultramarine Lorikeets) for the traditional 'bird dance', especially at the bi-annual meeting of Marquesas dance (December 2019) which includes the participation of the six inhabited islands.
The good news is that a communication campaign is already working. Ua Huka islanders have come to understand the benefits of being a rat-free island. They see that Black Rats are strong carriers of Leptospirosis, a zoonotic disease that can be fatal. They also recognise that the rats can destroy 25-95 per cent of copra production in the island, and that Ua Huka is a proven champion in copra production within the Marquesas archipelago thanks to its rat-free status. The arrival of rats would cost many times more in lost production annually than the cost of effective island biosecurity measures. There are the beginnings of an understanding that the stunning Ultramarine Lorikeet can be a patrimonial and tourism treasure. The project intends to reinforce all these elements by keeping local schools involved, and even to highlight the effect of overgrazing on forest regeneration by establishing fenced areas to recuperate several patches of Ua Huka native forest.
After all, the last population of the Pitihi deserves a future as brilliant as the bird itself.