Sadly, due to the recent world economic crisis I have now returned to the UK, leaving my Spanish birdwatching paradise behind. Before I returned to Blighty, I tried to get as much background information on what was going on in the British ornithological scene as possible. Having spoken on the telephone to various birdwatching buddies who had visited me in my Spanish paradise, the general consensus of opinion was that it was going to be hard work finding quality wildlife to photograph. Unlike in Spain, where birds of prey soar above you most days, Little and Cattle Egret follow you along river beds and Spotted Flycatchers are ubiquitous.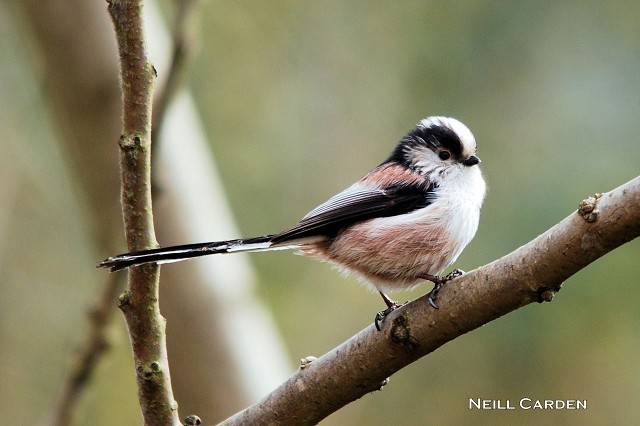 Long-tailed Tit, Risley Moss NP, Cheshire (Photo: Neill Carden)
Well I am glad to say they were wrong. I have managed to track down and photograph some amazing birds in some equally amazing places. I am going to tell all: what, where and when through this series of BirdGuides articles. Not only am I going to reveal some fantastic places within the UK, but also sites in Spain, France and other European countries. I will also be reviewing birdwatching products that I've found along the way.
Now the introductions are out of the way...on with the birding. We have moved to my wife's home town of Warrington, Cheshire. Not knowing the area, finding good nature reserves in the northwest of England was going to be down to good old-fashioned legwork — and the internet! The first place that I am going to tell you about was shown to me by my wife and is less than 5 minutes from our home. What a fantastic little gem of a place it turned out to be! Risley Moss nature reserve is in the Birchwood area of Warrington and less than 5 minutes from Junction 11 of the M62.
This place is absolutely steeped in history. During the Second World War, a massive munitions factory was created on the edge of the bog, the mist from the bogs creating the perfect cover from enemy bombers. 30,000 workers (mainly women) worked day and night producing 500,000 high-explosive shells and a massive 1 million mines. Changing from a place manufacturing mass destruction it has been transformed into an area of nature creation. You can read more about the site's history here.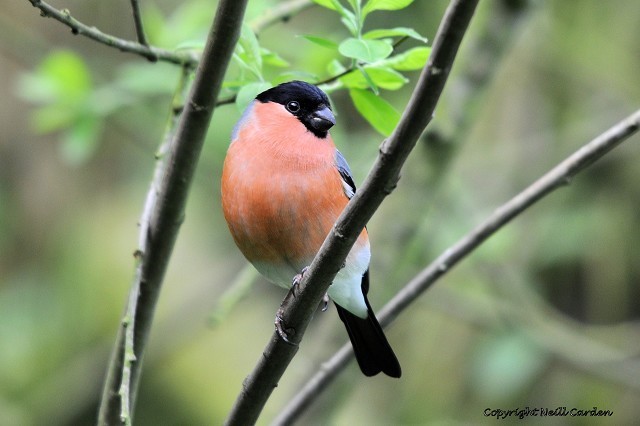 Bullfinch, Risley Moss NP, Cheshire (Photo: Neill Carden)
The well-run rangers' office also plays host to a fantastic educational centre for schoolchildren and people with learning disabilities. Outside the rangers' office is an up-to-date blackboard where the Risley Moss regulars post their sightings daily. If you visit I recommend this as your first port of call. There are three main hides: Woodland, Tower and Moss. All are accessible by good paths that are wheelchair-friendly. Woodland Hide in winter is spectacular and a real must for finch-lovers, with up to 10 pairs of Bullfinches visiting the feeding station at any one time. These alone makes it a special place, but add to that the woodpeckers, Long-tailed Tits, Wrens, Jays, Dunnocks and Reed Buntings that also grace the feeders, and this hide is a hive of activity all day long.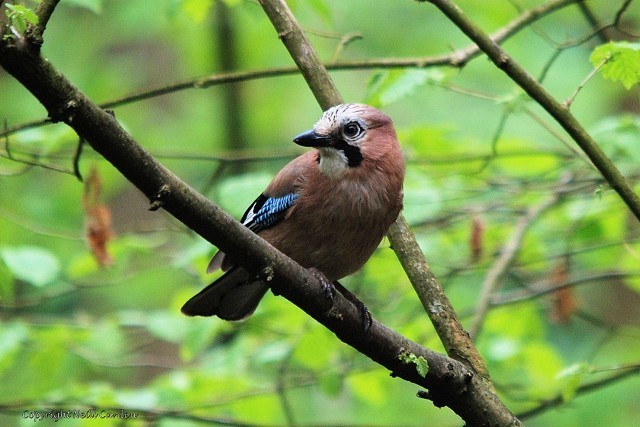 Jay, Risley Moss NP, Cheshire (Photo: Neill Carden)
Tower Hide looks out over the moss and two wet areas. This year a Cuckoo could be heard in the woodland to the left of the hide and Marsh Harrier and Buzzard could also be seen. I've not spent a lot of time at Moss Hide; however, a short visit produced a Water Rail and some ducklings. That's not to say it's no good, just that the Woodland Hide and the Tower Hide have so much going on that you won't want to leave!
Opening times:
Winter 1st October-31st March
Daily 9am-5pm; closed all day Friday
Summer 1st April-31st September
Daily 9am-5pm; closed all day Friday
Weekends 10am-6pm
Content continues after advertisements
Address:
Risley Moss Local Nature Reserve
Ordnance Avenue, Birchwood, Warrington, WA3 6QS
Grid Reference: SJ664920
From junction 11 of the M62 turn onto the A574 (Birchwood Way). Turn left onto Moss Gate and straight on at the next two roundabouts. Risley Moss is immediately after the second roundabout.
Useful web links
BirdGuides site page (Bird News Extra subscribers only)
Risley Moss Action Group
Warrington Council site page