The festive Robin — well known for its solitary, territorial behaviour — has become much more friendly during the prolonged freezing weather. Since the start of November, the average number of Robins per garden has increased by nearly 60%, the BTO's Garden BirdWatch reveals.
There are many collective nouns for birds: a charm of Goldfinches, a bellowing of Bullfinches, a dole of doves. But none exist for Robins. Charismatic, colourful and confiding to humans, Robins are less than friendly to their own kind, remaining territorial throughout the year.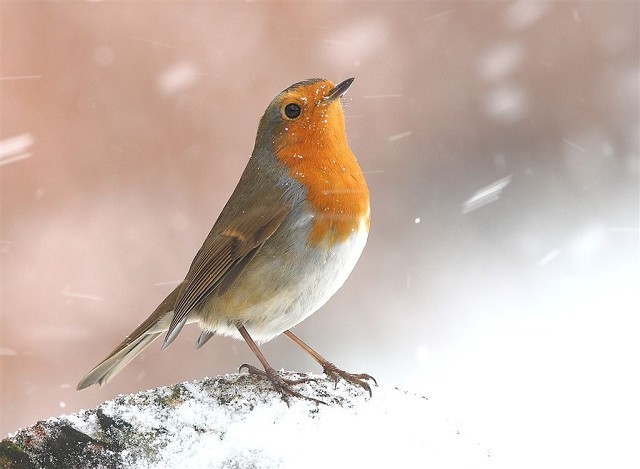 Robin, East Linton, Lothian (Photo: James Wood)
During harsh winter weather, however, these boundaries can break down with groups of Robins feeding together on bird tables and feeders. Householders participating in the year-round Garden BirdWatch have charted their numbers and those of other species across the UK during the current freezing conditions. Since the start of November 2010, the percentage of gardens occupied by a Robin has increased from 88% to 96%, but the average number of Robins per garden increased by 59%.
This increase in abundance was perfectly captured by Garden BirdWatcher Clwyd Roberts in Duddon (Cheshire) who photographed the unusual sight of six Robins together on his bird table. The Garden BirdWatch Team would like to hear from anyone who has had unusually large numbers of Robins, or other unusual species, in their garden this winter and would welcome more photos via email.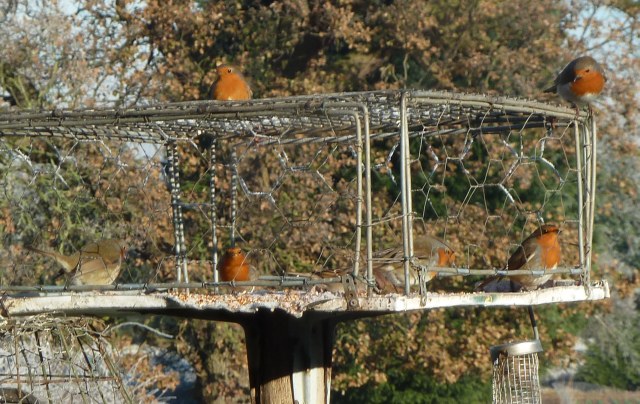 An unusual gathering of six Robins in one Cheshire garden (photo: Clwyd Roberts).
Dr Tim Harrison, from the Garden BirdWatch Team, commented: "These results are hot off the press and show how Robins have piled into gardens during the extreme weather. Robins are such familiar garden birds but when you see a small group of them together it is so unusual that it really catches you by surprise. Along with the snowy weather, the rush of Robins into gardens has made for an idyllic festive scene."
He added: "Many people have been stuck indoors because of the icy conditions, but Garden BirdWatchers have put this time to good use with some quality armchair birdwatching. Robins are among a suite of species, including favourites such as Blue Tit, Redwing and Fieldfare, that have swept into gardens in greater numbers during recent weeks."
Interestingly, there have also been good numbers of foreign-ringed Robins found in the country this autumn. So far the BTO have received reports of four birds from Belgium, three from Norway, two from Sweden and single birds from Germany, Denmark and The Netherlands. Anyone finding a dead Robin, or other garden bird, this winter should check it carefully for a ring, and if ringed report it via www.ring.ac.
The BTO Garden BirdWatch is the only nationwide survey of garden birds to run weekly throughout the year, providing important information on how birds use gardens, and how this use changes over time. Currently, some 15,000 people take part in the project. The project is funded by participants' contributions and is the largest year-round survey of garden birds in the world.