The week at a glance
The generally cool, breezy and occasionally wet summer days of a disappointing (weatherwise) July so far continued for much of this week, but there were still plenty of interesting bits and pieces to be found, and enjoyed, whatever the conditions.

Stilt Sandpiper, Loch of Strathbeg RSPB, Aberdeenshire (Photo: Willie McBay)

Stilt Sandpiper, Loch of Strathbeg RSPB, Aberdeenshire (Photo: Willie McBay)
Arguably the best bird of the week was the immaculate adult Stilt Sandpiper that dropped in to the RSPB's Loch of Strathbeg reserve in Aberdeenshire on the evening of 9th. The first for the county, and only the fifth for Scotland (the others were in Highland in 1970, Shetland in 1976 and 2002 and last year on the Outer Hebrides), this stunning individual lingered until 11th. For a bird that is still really pretty rare, Stilt Sandpipers have become almost expected nowadays. There have been just three blank years this decade, compared to just three years in the 1990s when the species was recorded. 2008 saw Stilt Sandpipers appear four times (adults in Leicestershire and Gloucestershire and juveniles on South Uist and Cumbria — between two and four individuals involved) and this is the second record for 2009 after an adult (the same adult?) was seen in County Wexford. Of the birds recorded in the 2000s, four have been juveniles, so perhaps it is no surprise that the number of adults being seen now has increased too, birds "stuck" on this side of the Atlantic growing up and continuing their south–north–south annual migration in Europe, rather than the US.
Staying in Scotland, the singing male River Warbler continued to draw people to Applecross (Highland) until 14th at least, often showing well around the village cemetery. Meanwhile, in Norfolk, a Lesser Crested Tern was reported flying past the beach at Cley on 12th, close inshore and heading west. These days, with the plethora of potential "orange-billed" tern headaches on offer (there's a Royal Tern still out there somewhere, those "Elegant-type" terns are overdue another appearance and there's a host of hybrids in Europe too), it is a fairly brave soul who will claim a fly-by. However, the relevant Lesser Crested Tern features were noted, so it is now down to the BBRC to see if this will become the first accepted bengalensis since July 2005, when an adult graced several places around the Norfolk coast (Cley included) before dropping down in to Suffolk. On Guernsey, the two Zitting Cisticolas remained at Port Soif to 12th at least.

Zitting Cisticola, Port Soif, Guernsey (Photo: Chris Bale)
A Cory's Shearwater flew north past Newbiggin-by-the-sea and the Farne Islands (Northumberland) on 11th and one was seen from the more traditional spot of Porthgwarra (Cornwall) on 14th. Another was reported from Mevagissey, also in Cornwall, on the same date. Around 90 Balearic Shearwaters were seen during the week, including 19 from Porthgwarra on 15th (a dozen had been counted there the previous day) and 15 from Berry Head (Devon) on 13th. Seawatchers at the famous west-Cornwall lookout also recorded an adult Long-tailed Skua on 13th, with further single adults seen heading north at St. Combs (Aberdeenshire) and Flamborough Head (East Yorkshire), both on 11th. Fewer than half a dozen Pomarine Skuas were seen this week, in East Yorkshire, County Durham and Norfolk. Off Scilly, at least two Sabine's Gulls were seen on an evening pelagic trip on 13th.
The week's only Cattle Egret was reported at Middleton Hall (Warwickshire) on 11th while Great White Egrets lingered in Suffolk (at Hen Reedbeds) and on Orkney (at Graemeshall Loch, Mainland), with further singles reported at Pegwell Bay (Kent) on 10th, Leigh-on-Sea (Essex) and Gunthorpe (Notts) on 13th, and Shapwick and Walton Heath (Somerset) on 14th. The latter site is still playing host to the male Little Bittern, present to the end of the week. This week also saw belated news of another male Little Bittern, at Brading Marshes (Isle of Wight) on 28th–29th June. At least nine Spoonbills were still being seen around Cley Marshes (Norfolk) this week, with three more at Minsmere (Suffolk) and notable singles in West Sussex, Lancashire, Staffordshire and Angus. In Norfolk a lone Common Crane was roaming around the Cley and Langham area on 14th and a flock of five flew over Eaton, on the edge of Norwich the same day.

Spoonbill, Cley Marshes NWT, Norfolk (Photo: Adi Sheppard)
The only wildfowl species of any note this week were the drake Ferruginous Duck that was seen again at Chew Valley Lake (Somerset) to 11th and the drake Surf Scoter still off Blackdog (Aberdeenshire) to 13th.
Raptors were also in short supply. A female Red-footed Falcon flew over Loompit Lake (Suffolk) on 11th while Black Kites were seen at Finedon (Northamptonshire) on 12th and Hen Reedbeds (Suffolk) on 14th. A White-tailed Eagle known to be from a reintroduction scheme was seen at Loch of Strathbeg during the week, while one seen near Ardrossan (Ayrshire) between 10th and 14th was an "ouo" bird (of unknown origin).
The third Terek Sandpiper of the year made a double hit (on two countries) this week. First it appeared for just the evening of 9th on the Rogerstown Estuary (Co. Dublin). A huge rarity for the Republic, there are just two others in the IRBC record books: one in County Wexford in 1996, the other in County Kerry in 2004 (the latter individual lingered at Blennerville for almost a month). Then, on the evening of 14th, the bird popped up across the Irish Sea, on the Dee Estuary (Wirral). Little more was heard of the bird on the day of rediscovery, but it was still present (albeit intermittently) on 15th. This particular Irish-Sea-hopping double occurrence mirrors that of the adult Great Knot in July 2004. That bird was first seen on the Swords Estuary in County Dublin on 25th, before it too reappeared in the northwest of England, at Skippool Creek on the River Wyre on 31st.

Terek Sandpiper, Swords Estuary, Dublin (Photo: Gerry O Neill)
In Kent, last week's probable American Golden Plover at Cliffe Pools became a probable Pacific Golden Plover. Sadly it was only present for 20 minutes then and, despite appearing again briefly on 11th, the identity remained unproven (most folk commenting on the photos went down the fulva rather than dominica route). An undisputed summer adult Pacific Golden Plover was found at East Chevington (Northumberland) on 12th and a summer-plumaged American Golden Plover was found at Roonagh Lough (Co Mayo) on 10th.

Pacific Golden Plover, East Chevington NWT, Northumberland (Photo: Stew)
In Norfolk, the Buff-breasted Sandpiper was at Cley Marshes until 13th (with a Temminck's Stint reported briefly there on 10th and another seen at Pulborough Brooks in West Sussex on 9th). Six Pectoral Sandpipers were seen during the week: at Alkborough Flats (Lincolnshire) and Minsmere (Suffolk) on 9th, Lady's Island Lake (Co. Wexford) on 11th, at the impressive Loch of Strathbeg from 9th–12th, Greatham Creek (Cleveland) on 14th–15th and Bishop Middleton (Co. Durham) on 15th. One of the biggest shorebird surprises of the week was the report of a summer adult Grey Phalarope, late in the day of 12th on the Humber Estuary at Spurn (East Yorkshire). Full-summer adults in Britain are as rare as hen's teeth and, aside from a twitchable bird in Yorkshire over a decade ago, very few people can lay claim to having seen a Grey Phalarope in all its summer glory.

Pectoral Sandpiper, Loch of Strathbeg RSPB, Aberdeenshire (Photo: Willie McBay)
The amazing little run of rarities on Graemeshall Loch, Orkney continued apace this week: a second-summer Franklin's Gull appeared there on 12th to follow on from Green-winged Teal, American Wigeon and, of course, the Great White Egret. The bird then settled around the Holm area, still present there on 13th–15th, and is surely the bird seen earlier this summer on Shetland. A second-summer Ring-billed Gull was at Nimmo's Pier (Co. Galway) on 10th with a Glaucous Gull (one of four seen this week) also on site. Another Ring-billed Gull, a first-summer, was seen at Sandymount Strand (Co. Dublin) on 13th. Iceland Gulls managed to score three birds, all of them in Scotland. South of the border, a near-adult Caspian Gull was again at King George VI Reservoir (Surrey) on 9th and a second-summer was at Blackborough End tip (Norfolk) on 13th. The adult White-winged Black Tern seen last week at Cley resurfaced this week, on 10th, at Fen Drayton (Cambridgeshire) where it remained until 13th.
There were very slim pickings this week in terms of scarce or rare passerines. No doubting the biggest surprise: the fifth Great Reed Warbler of 2009 was discovered on Fair Isle (Shetland) on 15th. This was the second for the island this year (and third for Shetland as a whole). Plenty of Great Reeds have arrived in May or June and lingered to July, but July new arrivals are rather more unusual. The most recent record of a new arrival in July was of a bird trapped in East Sussex in 1995 (and that was only just in, caught on 1st). Before that comes Essex and 28th July 1984.
Three male Golden Orioles continued to sing away at Lakenheath Fen to 11th at least, with occasional sightings of the newly fledged juveniles throughout the week too. A male Red-backed Shrike surfaced at Cissbury Ring (West Sussex) on 14th and was still present on 15th. A Serin flew east over Durlston CP (Dorset) on 10th and the singing male Common Rosefinch at St. Ouen's Pond (Jersey) remained until 11th at least.
Photo of the Week

Manx Shearwater, at sea, Pembrokeshire (Photo: Richard Crossen)
This time last year, we had a Photo of the Week showing a Manx Shearwater gliding over a menacing sea. The bird was small in the frame, emphasising its place within its natural environment, and tension was created by composing the shot with the bird flying out of the frame. Since then, such 'birdscape' images have become more mainstream as photographers have embraced the opportunity to capture an evocative scene, rather than just an isolated bird. This week, Richard Crossen has uploaded an ostensibly similar Manx Shearwater image taken in the Irish Sea off the Pembrokeshire coast. In this image, though, the sea is uncharacteristically calm, with 'glassy' reflections of the sky and the bird. The Shearwater is shown flying into the frame, centimetres above the water, with delicate trails behind it where its wing-tips have stroked the surface. The image evokes a sense of serenity and tranquillity. In many branches of photography, 'mood' is a key quality of an image. Although less prominent in bird photography, it's instructive to see how two images created from the same ingredients can create such different moods.

Herring Gull, Bempton Cliffs RSPB, East Yorkshire (Photo: Richard Pittam)

Oystercatcher, Basta Voe, Yell, Shetland (Photo: Dean Eades)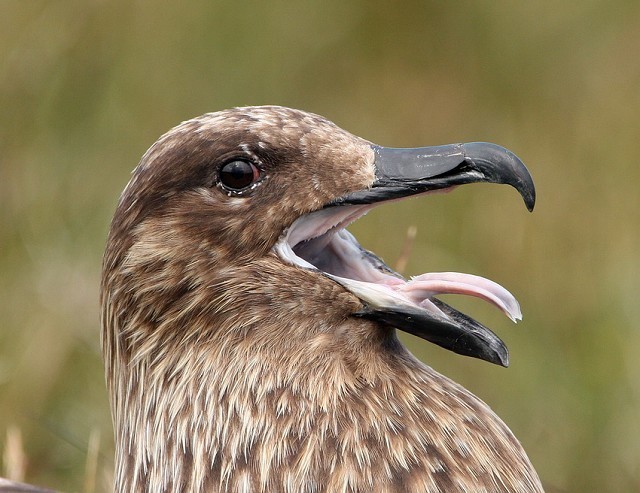 Great Skua, Mousa, Shetland (Photo: Dean Eades)

Little Egret, Venus Pool NR, Shropshire (Photo: Jim Almond)

Osprey, Aviemore, Highland (Photo: Mark Caunt)

Common Swift, Woolmer Pond, Hampshire (Photo: Richard Ford)

Little Owl, Bruntingthorpe, Leicestershire and Rutland (Photo: Paul Riddle)

Common Redstart, undisclosed site, Clwyd (Photo: Steve Round)

Sand Martin, Cley Marshes NWT, Norfolk (Photo: Adi Sheppard)

Zitting Cisticola, Port Soif, Guernsey (Photo: Chris Bale)

Gannet, Baltray, Louth (Photo: Craig Nash)