The week at a glance
The unseasonably stormy conditions felt by Britain and Ireland this week could be interpreted as a grand finale to a dismal spring of weather. More damaging than grand, there were widespread incidences of flooding across the British Isles, while strong winds battered southern and western areas in particular. It is at times like these that one has to spare a thought for our breeding birds; preliminary surveys already suggest that it has been a pitiful breeding season — particularly for our already-struggling waders — and it seems likely that further study will make for grim reading.
That aside, the encroaching summer doldrums were again delayed by further high-quality arrivals. Pride of place must go to Britain's 21st Greater Sand Plover, found during the morning of 8th at Stinky Bay on Benbecula (Outer Hebrides). Not quite the delight that graced Dornoch last June, it was nevertheless a first for the Outer Hebrides, and thus was duly appreciated by those fortunate enough to be enjoying early summer out on these wonderful islands, although it had gone again by 10th.

Greater Sand Plover, Stinky Bay, Benbecula, Outer Hebrides (Photo: Steve Duffield)
As the low-pressure system tracked westwards across the nation, strong onshore winds whipped a couple of Little Shearwaters into British waters. The first — off Berry Head (Devon) during the early morning of 7th — was even seen to land and feed offshore for several minutes before moving off south with its Manx Shearwater cohort. In contrast, one past Pendeen (Cornwall) the following morning was typically more fleeting.

North Atlantic Little Shearwater field notes, Berry Head, Devon (Photo: Mike Langman — Devon Bird News)
The arrival of a River Warbler in Shetland on 11th occurred in the most predictable of places: Fair Isle. There are 13 accepted records from the island to date, with a fourteenth still in circulation! It was perhaps not out of choice that it lingered until 13th: sporting a rather battered and bruised look, it looks as if a local cat has given it grief at some point. Fortunately, a two-day Paddyfield Warbler on North Ronaldsay (Orkney) from 9th seemed in better condition, while a singing male Blyth's Reed Warbler at Warham Greens (Norfolk) on 9th was a rare spring treat for those who could make it down that day, for it was gone by the following morning. Interestingly, Warham was also the site of the county's first Blyth's Reed back in September 1996.
Up in East Yorkshire, the male Roller continued its stay in fields north of Aldbrough throughout the week, although it seemed to become progressively more bedraggled as the miserable conditions took a toll on this gorgeous bird's appearance. Hopefully, both weather and bird will perk up soon.

European Roller, Aldbrough, East Yorkshire (Photo: Rob Smith)
One might say the week has produced nice weather for ducks — Ring-necked Ducks, more specifically. Four were located this week: in addition to remaining drakes at Frodsham Marsh (Cheshire) and Blanket Nook (Donegal), birds were found at Holme Pierrepont (Notts) on 9th–10th and Loch Finlaggan, Islay (Argyll) on 12th. While the latter could easily have been dumped off one of the many fronts to pass through this week, it seems reasonable to assume that the former may be the elusive Lincolnshire bird, last noted on 11th May. Drakes of both King Eider and Surf Scoter remained off Blackdog (Aberdeenshire), and a female Surfie was off the Burray (Orkney) coastline from 9th. Over in Donegal, the drake American Eider was relocated off Malin Head on 13th, while Fetlar (Shetland) scored a first-summer White-billed Diver off Brough Lodge on 10th–11th.
In addition to the aforementioned Little Shearwaters, it proved an excellent week for unseasonable seabirds, particularly European Storm-petrels. Peak counts included 117+ past Pendeen (Cornwall) on 8th, with Dawlish Warren (Devon) notching up an incredible 267+ throughout the following day. A significant displacement also occurred up the Bristol Channel as far as Sharpness (Glos) on those two days, while impressive inland records involved up to three at Chew Valley Lake (Somerset) on 9th, with two at nearby Blagdon Lake the same day. One poor critter even made it as far east as Fen Drayton Lakes (Cambs) on 9th. Associated with the movement were plenty of Manx Shearwaters, all four species of skua, and three Sabine's Gulls: two off Cork, and an adult lingering off Severn Beach (Glos) for much of 9th. Off Scilly, the first Wilson's Storm-petrel of the season was noted on 13th.

Wilson's Storm-petrel, Scilly pelagic, Isles of Scilly (Photo: Joe Pender)

European Storm-petrel, Severn Beach, Gloucestershire (Photo: Rich Andrews)
News of a female Little Bittern photographed along the River Colne at Stocker's Lake (Herts) on 10th only filtered out on 12th, although the feeling of frustration among local birders was appeased as the bird was relocated on 13th. A Squacco Heron reported in private gardens on The Lizard (Cornwall) on 9th had apparently been present for almost a week. Also down on the south coast, the Night Heron reappeared in Lower Pennington (Hants) from 12th, while the Purple Heron remained at Dungeness throughout the week.

Little Bittern, Stocker's Lake, Hertfordshire (Photo: Lucy Flower)
Quite how many Great White Egrets are present on the Somerset Levels remains unclear, although photos taken on 10th appear to suggest that three youngsters have fledged at Shapwick Heath. Others were still at Brading Marshes (IoW) and Parkgate Marsh (Cheshire), while another popped up at Pulborough Brooks (W Sussex) on 12th. A Cattle Egret was reported flying over Gillingham (Kent) on 12th.

Great White Egret, Shapwick Heath NNR, Somerset & Bristol (Photo: James Gibbs)
The four White Storks remained at Dingestow (Gwent) until early morning on 9th. Fortunately for one stork twitcher, the birds then put in an appearance over the M4/M5 junction at Patchway (Glos) later that morning, saving him the extortionate fee to cross over the Severn Bridge into Wales! The quartet was next noted over the Little Orme and Colwyn Bay (Conwy) the following evening, mirroring a movement observed back on 23rd April. Unpredictable as ever, they were back in the southwest by 13th — this time in flooded fields at West Moor (Somerset). Glossy Ibises were reduced to just six birds: two remained at Minsmere (Suffolk), while a singleton remained at Farlington Marshes (Hants). The trio at Marloes Mere (Pembrokeshire) reduced to a lone immature by 9th, with the two adults relocating to Steart (Somerset).

White Stork, Dingestow, Gwent (Photo: Jeff Slocombe)

White Stork, Dingestow, Gwent (Photo: Jeff Slocombe)
Content continues after advertisements
A Black Kite lingered just long enough at West Newton (E Yorks) to give fast-moving Roller twitchers an excellent bonus on 7th, before being seen over Atwick a little later in the morning. Another was reported over Ower (Hants) on 8th. The first-summer female harrier, reported last week as a Pallid, remained at Bonby Carrs (Lincs) to 10th, although some observers feel that the possibility of Montagu's is far from eliminated. The popular Red-footed Falcon at Willington (Derbys) was sadly found dead on 11th, highlighting just how difficult the week's weather has been, even for non-breeding birds. The first-summer male remained at Tealham Moor (Somerset) to 11th, although birds at Midgham (Berks) and Kimpurney Hill (Angus & Dundee) were brief. On North Uist, the male Snowy Owl remained at Solas.

Red-footed Falcon, Willington GPs, Derbyshire (Photo: Neil Loverock)
An American Golden Plover touched down briefly at Landguard (Suffolk) on 11th, but was not seen again. Cleveland's Long-billed Dowitcher reappeared on Greenabella Marsh on 13th, while a displaying Buff-breasted Sandpiper spent at day on the saltmarsh at Howden's Pullover (Lincs) on 12th. Just one Pectoral Sandpiper was seen: at Kiloughter (Wicklow) on 11th.

Long-billed Dowitcher, Greenabella Marsh, Cleveland (Photo: Andrew Kinghorn)
In Gloucestershire, the female Red-necked Phalarope continued to frequent Slimbridge until 11th, while two new birds turned up on 9th: at Hornsea Mere (E Yorks) and Brockholes Wetlands (Lancs). The pair of Black-winged Stilts were last seen at Pennington Marshes (Hants) on 9th, dashing any outside hopes of breeding. A female at Cley Marshes (Norfolk) on 6th–10th was, quite remarkably, a first for the reserve. It reappeared at Welney (Norfolk) on 13th; where it had been in the meantime is anyone's guess.

Black-winged Stilt, Pennington Marshes, Hampshire (Photo: Mike Trew)
The only larid of note this week was the second-summer Ring-billed Gull seen again in the harbour at Groomsport (Down) on 9th. The Forster's Tern was again at Tacumshin (Wexford) on 10th, while a Whiskered Tern was found feeding off Saltwick Nab (N Yorks) with Kittiwakes the same day.
Eight records of Bee-eaters this week included two at Filsham Reedbed (E Sussex) on 9th. Most others were flyovers and included one over Nosterfield Nature Reserve (N Yorks) twice during the late morning and early afternoon of 9th. Although news was belated, a fantastic record for Staffordshire concerned a Short-toed Lark that spent four days to 7th on private farmland in the north of the county. Two Grey-headed Wagtail records came from Fair Isle and Scatness (Shetland).
Singing male Iberian Chiffchaffs remained at Kenidjack Valley (Cornwall) and Porlock (Somerset) throughout the week and, while the latter seemed to be doing enough 'chiffing' and 'chaffing' to cause concern, the down-slurred 'sweeoo' call appears diagnostic. Bardsey Island (Gwynedd) has enjoyed an excellent spring for rare and scarce visitors, and was able to add a singing Greenish Warbler to the ever-more impressive list on 8th. At least one also lingered on the Isle of May (Fife) to 9th — a site that has rivalled Bardsey for both diversity and quality over the past six weeks.

Iberian Chiffchaff, Porlock, Somerset & Bristol (Photo: John Hansford)

Greenish Warbler, Bardsey Island, Gwynedd (Photo: Steve Stansfield)
About fifteen Marsh Warblers were reported, most of which were singing. Last week's birds remained at Rainham Marshes (London) to 8th, Ibsley (Hants) to 9th, Cleethorpes (Lincs) to 10th and at Hadston Carrs (Northumberland) throughout, while a couple of new birds were found in Aberdeenshire on 9th. Most others were on the Northern Isles, and included twos on both Fair Isle and North Ronaldsay. In addition, there were also a dozen Icterine Warblers (three on North Ronaldsay on 8th) and a couple of Scottish Melodious Warblers: the first was on the Isle of May (of course!) on 7th, while a second pitched up on Coll (Argyll) the following day.

Marsh Warbler, Hadston Carrs, Northumberland (Photo: Ron Hindhaugh)
Three Woodchat Shrikes arrived during the week: one-dayers were at Walberswick (Suffolk) and the Great Orme (Conwy) on 10th, with a third at Skirza (Highland) on 13th. Further birds lingered on Sherkin Island (Cork) to 9th and Winterton Dunes (Norfolk) throughout. Around ten Red-backed Shrikes were mostly in the far north, although a showy male at Landguard (Suffolk) on 10th (moving north to Felixstowe the following day) proved popular.

Woodchat Shrike, Walberswick, Suffolk (Photo: Ian Clarke)

Woodchat Shrike, Great Orme, Conwy (Photo: Dave Kelsall)
Although not quite on the scale of the famous influx a decade ago, a modest arrival of around ten Rose-coloured Starlings between Devon and Highland might be a sign of things to come. Typically, many were either belatedly reported from private gardens — such as those in Golspie (Highland) on 7th and Edwinstowe (Notts) on 10th — or simply brief. However, some lingered long enough to be twitched, with birds at Filsham Reedbed (E Sussex) on 9th–10th and at Severn Beach (Glos) on 10th–11th. The sole Irish report involved one at Spanish Point (Clare) late on 13th — remarkably, this is the third record from this site!

Rose-coloured Starling, Edwinstowe, Nottinghamshire (Photo: Christine Booth)

Rose-coloured Starling, Severn Beach, Gloucestershire (Photo: Brian Lancastle)
For the first time since early May, Landguard's long-staying Serin was not reported, with the only record concerning one seen in Stodmarsh village (Kent) on 9th. Common Rosefinch numbers dropped off: one was at Collieston (Aberdeenshire) on 9th, with males at Spurn (E Yorks) and Carmel Head (Anglesey) on 10th.
Photo of the Week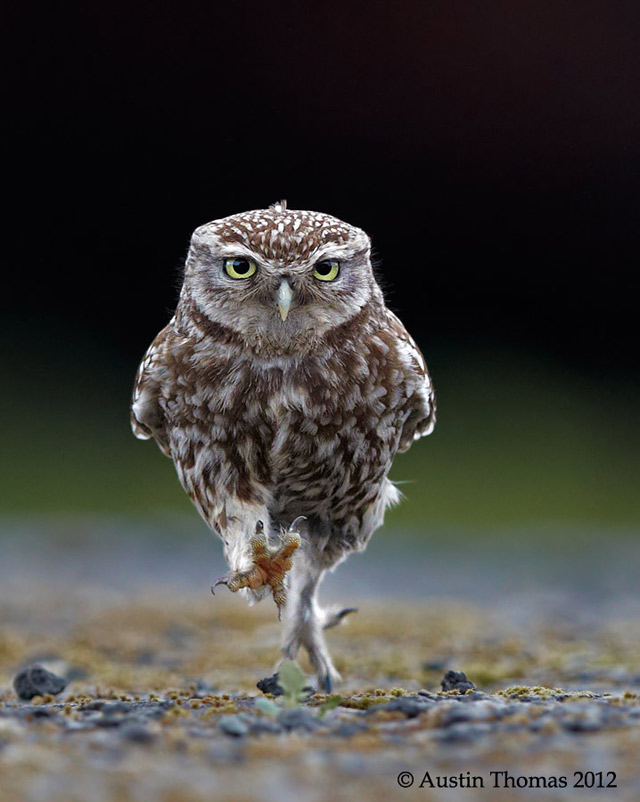 Little Owl, undisclosed site, Lancashire (Photo: Austin Thomas)
Our regular website visitors will be familiar with Austin Thomas' ongoing project to photograph Little Owls. Painstaking preparation has allowed Austin to create some of the most striking images of this species we've ever seen, including his famous 'strutting owl' image from this time last year. This week, Austin has once again delivered the goods with an incredible shot of an owl bounding head-on towards the camera, its feet perfectly positioned to sum up the action. With such a great image, we'll even forgive his reference to the 'Owlympics'!
Other notable photos

Gannet, Bempton Cliffs RSPB, East Yorkshire (Photo: Pixellence)

Common Tern, Minsmere RSPB, Suffolk (Photo: Bryan Wright)

Puffin, Farne Islands, Northumberland (Photo: Mick Southcott)

House Martin, Fleetwood, Lancashire (Photo: Jackie Moreton)

European Bee-eater, Spain (Photo: Tony Hovell)

Black Tern, Poland (Photo: Marek Szczepanek)

Common Redstart, undisclosed site, Worcestershire (Photo: Carl Day)

Cuckoo, undisclosed site, Devon (Photo: Charlie Fleming)

Black-winged Stilt, Spain (Photo: Adrian Gidney)

Pied Flycatcher, Dolton, Devon (Photo: Rob Cross)

Common Buzzard, Spital, Cheshire (Photo: Steve Round)

Red-backed Shrike, Bulgaria (Photo: Darran Rickards)

Northern Wheatear, undisclosed site, Shropshire (Photo: Dave Barnes)

Marsh Warbler, Hadston Carrs, Northumberland (Photo: Frank Golding)