The week at a glance
In a week that has seen a dramatic drop-off in late spring migrants, it's unsurprising that we turn to a south-coast tern colony this week, where a French-ringed adult male Elegant Tern has been present in the Church Norton Sandwich Tern colony since 10th. It was first seen on nearby Chichester Harbour, Hampshire, on 7th and 9th, and a detailed history of this DNA-identified individual — along with other European records — can be found here. The findings show that three pure Elegant Terns have been seen in Europe in every year from 2002–15, and suggest that any orange-billed tern resembling Elegant Tern in Western Europe is most likely to be just that, rather than another hybrid or backcross option. The West Sussex bird, which has been seen displaying and cavorting with a local Sandwich Tern, is 'Bird C' of the three DNA-tested Elegants, and has been present in Europe since at least 2003. It bred with a Sandwich Tern for several years in the Banc d'Arguin colony, Gironde, France, and remarkably has also been seen once in winter — close to Cape Town, South Africa, on 1 January 2007. With a dead cert for acceptance onto the British list now on offer, it is likely only a matter of time until the three former British records currently in circulation are assessed one way or another.

Elegant Tern, Pagham Harbour LNR, West Sussex (Photo: Baz Scampion)

Adult male Elegant Tern (bird C) with hybrid chick, Banc d'Arguin, Gironde, France, 19 June 2010 (Photo: Julien Gernigon)

Elegant Tern, Pagham Harbour LNR, West Sussex (Video: Mike Alibone)
Lots of south-coast sites continued to note small numbers of European Storm Petrels reorienting back out the North Sea from last week's rough weather, tailing off by 8th. As with last week, small numbers of Sooty and Balearic Shearwaters were also noted, along with the occasional Pomarine and Long-tailed Skua. An adult Sabine's Gull flew west past Lamorna Cove, Cornwall, on 10th. A Great Shearwater flew past Galley Head, Co. Cork, on 11th, with a Leach's Storm Petrel south past Liscannor, Clare, on 8th. A very early Wilson's Storm Petrel was seen on a Scilly pelagic on 12th, perhaps foretelling a good early autumn showing from the species.
An immature Ring-billed Gull remained at Lurgan Green, Louth, on 11th. Several unseasonable Glaucous and Iceland Gulls remained — with a juvenile at Hornsea Mere, East Yorkshire, especially popular. An adult summer White-winged Black Tern was in Norfolk at Winterton Dunes in the Little Tern colony from 8–10th. In Dorset, a possible Eastern Common Tern (form longipennis) at Abbotsbury on 13th would be the first record of this striking subspecies since 2014.

White-winged Black Tern, Winterton Dunes NNR, Norfolk (Photo: Jake Gearty)
In what's been a good spring for the species, the first-summer male Red-footed Falcon at Minsmere, Suffolk, was still being seen sporadically on 13th, with it or another at North Warren, Suffolk from 7–12th. The first-summer male was still at Predannack Airfield, Cornwall to 13th. A new female was found at Llyn Berwyn, Ceredigion, on 12th and remained on 13th, and a popular first-summer male at Frensham Common, Surrey, was found on 10th and visited by many on the way back from the Elegant Tern. The female Montagu's Harrier returned to Blacktoft Sands, East Yorkshire, on 11th, while a ringtail harrier species was reported at Pilning, Gloucestershire, on 7th.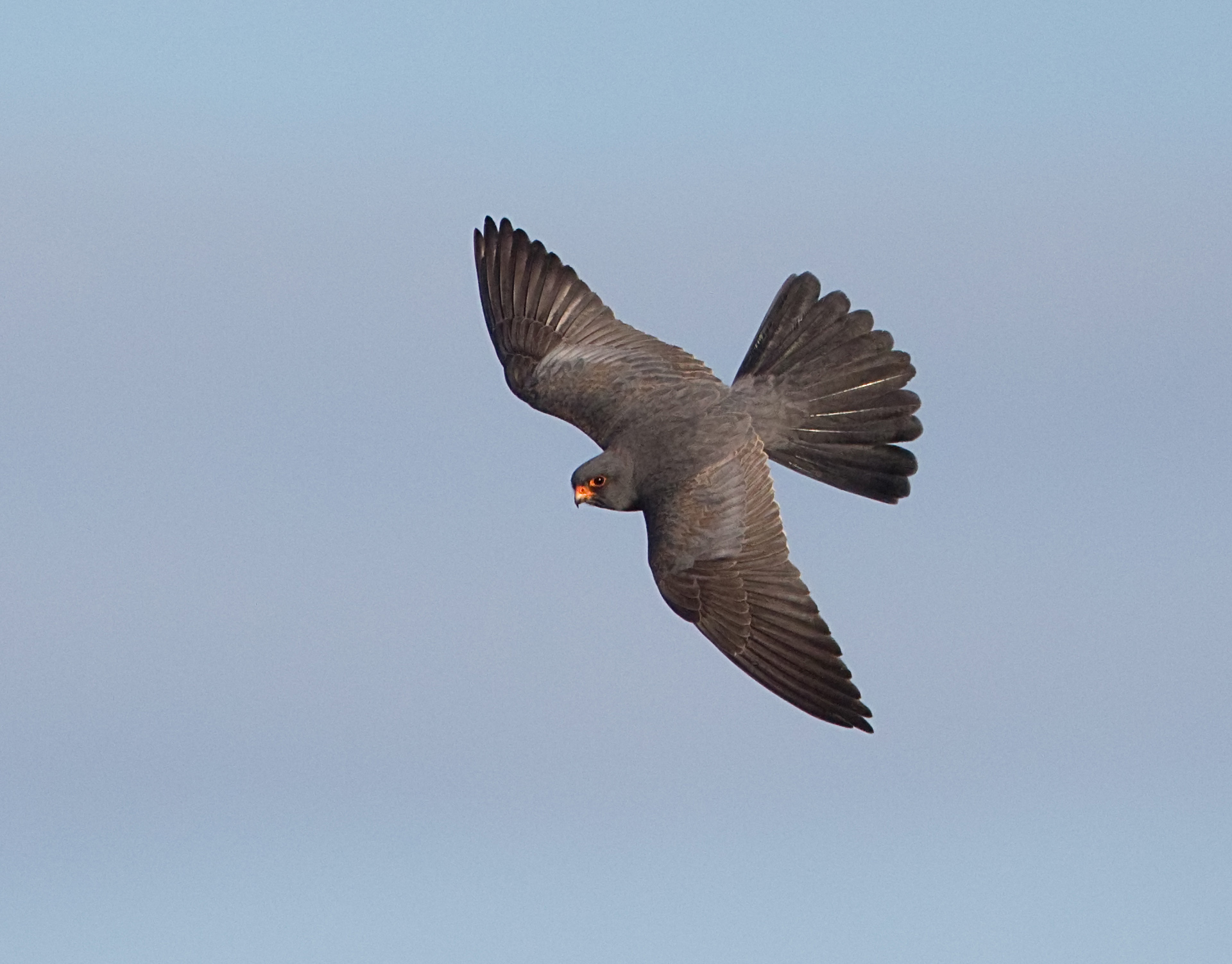 Red-footed Falcon, North Warren RSPB, Suffolk (Photo: Nick Brown)

Red-footed Falcon, Frensham Common, Surrey (Photo: Jaz)
Unsurprisingly, the American Black Duck was still present at Strontian, Highland, to 11th at least, with the drake King Eider still on the Ythan Estuary throughout, despite a brief foray to Newburgh on 12th. More remarkably, the northeast Ferruginous Duck reappeared at Washington WWT, Durham, on 11th, and was still in the White-headed Duck pen on 12th, alongside the freshly returned captive collection of Ferruginous Ducks which had been at Martin Mere for the spring. It could be quite interesting if one of the local females takes his fancy. Scottish islands account for the week's other lingering scarce wildfowl: the drake Ring-necked Duck still on Loch Finlaggen, Islay, on 12th, and the female Surf Scoter still at Echna Loch, Burray, Orkney, until 9th at least.

Black Duck, Strontian, Highland (Photo: Stewart Woolley)
A summering adult Slavonian Grebe was still present at Cockwood, Devon, on 13th. The male Pied-billed Grebe was still at Loch Feorlin, Argyll, and was seen to have a chick with a Little Grebe on 13th — potentially only the fourth documented hybrid pairing in Europe!
A smart adult Squacco Heron was discovered at Dungeness, Kent, on 11th and was still present on 13th. At least one Glossy Ibis remained on the Somerset Levels, frequenting Ham Wall, Shapwick Heath and Meare Heath, till 11th. Gloucestershire's female Little Bittern remained at Cotswold Water Park on 8th, and a male was still at Ham Wall, Somerset, on 11th. Two Night Herons remained: the first-summer still flying to and from the heronry at Potter Heigham, Norfolk, to 12th, and the popular long-stayer at Shrewsbury — possibly of the American form hoactli — was still present on 13th. Whether this means that the bird has come from America or somewhere closer to home seems open to debate. A couple of mobile Purple Herons graced Mawgan Porth, Cornwall, on 13th, and Edderthorpe Flash, South Yorkshire, on 9th, with the first-summer still at Minsmere on 8th. Around 50 Spoonbills remained this week, 15 at Potter Heigham on 10–11th being the highest count. A wandering Common Crane presumably accounted for several sightings on the Lincolnshire and East Yorkshire coasts on 9th, with it or another settling in the area around Flamborough Head until the end of the week. Cattle Egrets remained popular, at least 24 individuals still being present after the unprecedented spring irruption. Six birds still at Ynyslas, Ceredigion, until 11th, was the largest count. At least one chick was still being attended to at Burton Mere, Cheshire, until the end of the week.

Squacco Heron, Dungeness RSPB, Kent (Photo: Moi Hicks)

Little Bittern, Ham Wall RSPB, Somerset & Bristol (Photo: Alan Forder)

Night Heron, Shrewsbury, Shropshire (Photo: Tony Hovell)
Further breeding Black-winged Stilts came to light this week, with pairs at Potter Heigham, Norfolk, and the Ouse Washes, Cambridgeshire, having four and two chicks respectively. A third adult was present at Potter Heigham throughout. The Cumbrian Spotted Sandpiper continued to display to the locals to 11th at least in the serene surroundings of Buttermere. A Baird's Sandpiper reported at Frampton Marsh on 12th was unfortunately reidentified as a Dunlin the following day. Large numbers of Red-necked Phalaropes appeared this week, including two on Fair Isle and singles at Galley Head, Co. Cork; Beacon Ponds, East Yorkshire; Welney, Norfolk; Middleton Lakes, Staffordshire; Nosterfield Quarry, North Yorkshire and Slimbridge, Gloucestershire.

Red-necked Phalarope, Middleton Lakes RSPB, Staffordshire (Photo: Alan Shaw)
A rather late Blyth's Reed Warbler was seen briefly on Fair Isle on 9th, and a female subalpine warbler sp. was near Pool of Virkie, Shetland, on 11th. Savi's Warblers were still singing at Minsmere RSPB, Suffolk, on 13th and Hickling Broad, Norfolk, on 12th, with the Iberian Chiffchaff still in situ near Kelsall, Cheshire, on 12th. A late Greenish Warbler was at Isbister, Whalsay, Shetland, on 7th along with an Icterine Warbler. Other Ickys include one on Foula on 12th, two on Fair Isle throughout and the singing male still at Nigg Bay, Highland, to 12th. Several of last week's Marsh Warblers were still present, with the popular male at Bowesfield Marsh, Cleveland, present throughout. New birds were seen on North Ronaldsay, Orkney, on 10–11th, and at Titchfield Haven, Hampshire, on 12th.
The year's first Black-headed Bunting was found in Devon last week, a male in a Wembury garden on 4th. June is the best month of the year for the species, as exemplified by another on Foula on 11th. Two Common Rosefinches were seen this week: at Quendale, Shetland, on 7th and North Ronaldsay, Orkney, on 8th, where a male Ortolan Bunting was also present, and stayed till 10th. Serin passed Culverwell on Portland, Dorset, on 10th, and a male Blue-headed Wagtail was at Druridge Pools, Northumberland, on 9th.
The singing Hoopoe in Gloucestershire at Cranham Wood was still present until 11th, and additional birds were noted at Kessingland, Suffolk, on 9th, Brandesburton, East Yorkshire, on 11th, and Ballyferriter, Co. Kerry, on 13th. Eight Bee-eaters toured Devon on 11th, seen at Galmpton in the morning, and these or others were also heard over Holsworthy and Chudleigh. Others were briefly at Lydd, Kent, on 9th and three at Blyford, Suffolk, on 10th. A Waxwing in Aberdeenshire at Fraserburgh on 10th seems very out of keeping with a June round-up...
In Cleveland, an adult Rose-coloured Starling at Billingham proved very popular from 11–13th, with others at Dunoon, Argyll, on 7th and Gowerton, Glamorgan, on 8–11th. A female/first-summer male surfaced late on 13th, having been present since 11th. A female Woodchat Shrike was a surprise inland find at Corrievorrie, Highland, on 4th, and remained to 9th. Several Red-backed Shrikes were present on the Northern Isles, and the male on the Isle of May, Fife, was also still present on 7th.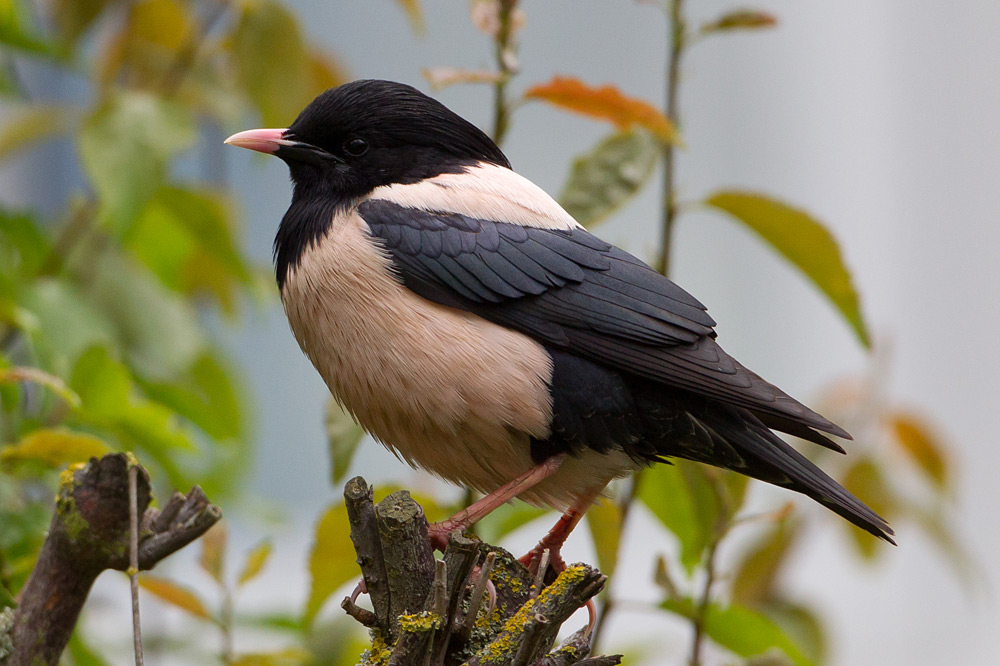 Rose-coloured Starling, Billingham, Cleveland (Photo: Martyn Sidwell)

Woodchat Shrike, Corrievorrie, Highland (Photo: Ian Bollen)

Red-backed Shrike, Isle of May, Fife (Photo: John Nadin)
Western Palearctic News
The most surprising Western Palearctic discovery of the week was of at least two Black-headed Penduline Tits in north-west Kazakhstan, in the Ural Delta near Atyrau just a few hundred metres east of the WP border. The species — recently split from Penduline Tit by the IOC — has been recorded as a very rare vagrant in western Russia before but this provides the first real opportunity for WP listers to have a shot at seeing one. A belated report of a Zenaida Dove at Ponta Delgada, São Miguel, Azores, on 11th April would be a WP first, though it seems highly that this Caribbean species was ship-assisted.
The Netherlands' first Pacific Swift seen at Westkapelle on 12th will surely leave British birders who missed the two-day bird at Trimley Marshes, Suffolk, salivating over the prospect of an appearance, and Spurn regulars something extra to watch for in their late summer swift passage. Also in the Netherlands, a Forster's Tern was seen on Texel later that day. A male Sora was heard singing at Råde, Østfold, Norway, on 13th.
The Channel Islands' first-summer American Royal Tern was discovered in France at Langueux at Greves des Courses in Saint-Brieuc, Brittany, from 11–13th. Its continued presence in the English Channel leaves lingering hope of a British appearance. A Swinhoe's Storm Petrel was trapped and ringed at Ponta da Almadena, Portugal, on 9th, and a Yellow-billed Stork was photographed at Silves on 8th. An Eleonora's Falcon in Austria on the same date was the country's first.