The week at a glance
At times this week it felt more like early May than early March as glorious sunshine and mild (even warm) temperatures bathed large swathes of Britain and Ireland. As predicted last week, a more widespread arrival of summer migrants was inevitable and so it proved, with good numbers of Wheatears, Sand Martins and White Wagtails, in addition to reports of Little Ringed Plovers, Swallows and Garganey, as well as a couple of Yellow Wagtails and even an early Grasshopper Warbler, reeling at Spurn (E Yorks) on 9th.

Wheatear, Bardsey Island, Gwynedd (Photo: Ben Porter)
With them came the first rarity overshoot of the year: a fine Great Spotted Cuckoo found at Giltar Point, just south of Penally (Pembrokeshire), during the afternoon of 11th. Still present early this morning, the bird will no doubt prove popular should it stay — this is the first British record since a long-staying and well-twitched bird in Norfolk in summer 2009; Pembrokeshire's last record came almost five years ago to the day (10th March 2009) at Trefeiddan Moor.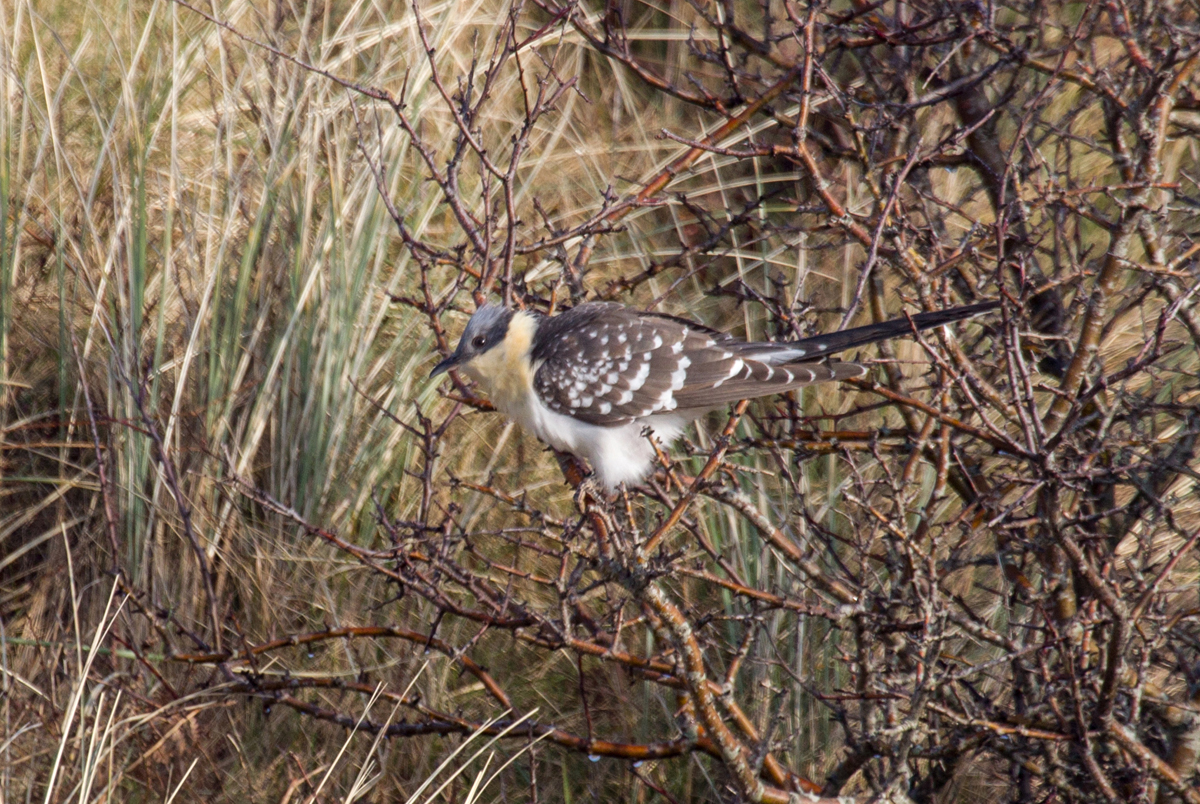 Great Spotted Cuckoo, Giltar Point, Pembrokeshire (Photo: Richard Crossen)
While the cuckoo is one of those species you half expect to pop up right at the very beginning of spring, Wrynecks tend to be a little late — at the very end of March or in early April at the earliest — but Pembrokeshire also claimed one of those this week, at St Brides on 9th and again on 11th. A little more expected was a crop of Hoopoes: at least five arrived from Monday 10th, with birds at Ballycotton (Cork), Lundy (Devon) and Porthgwarra (Cornwall) that day, and then on St Mary's (Scilly) and at Polgigga (Cornwall) on 11th. The Kent bird was seen again at Snodland on 10th, after first being reported there in January.
Coinciding with the arrival of northbound migrants and the increasing temperatures, there were also some high-profile departures over the weekend, the most significant of which was Gloucestershire's Red-flanked Bluetail, last seen at Marshfield (on the Wiltshire border) on 9th. Similarly, Kent's Chinese Pond Heron, seen a handful of times on Saturday 8th, was not noted again on the Sunday, nor into the working week — if it really has gone (and we all appreciate how elusive it can be!), its departure seems just about spot on for a wild bird. However, the ongoing debate over its provenance will no doubt persist ...

Red-flanked Bluetail, Marshfield, Gloucestershire (Photo: Katie Horrocks)

Chinese Pond Heron, Hythe, Kent (Photo: Paul Rowe)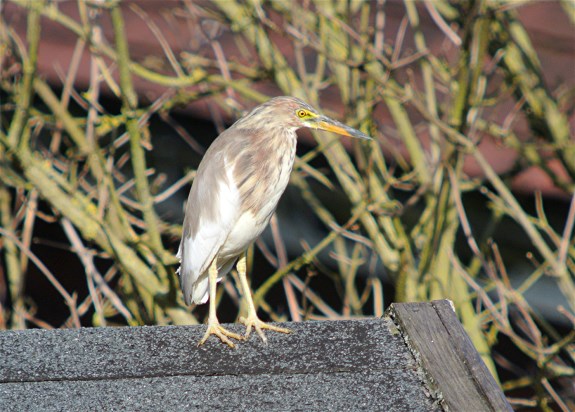 Chinese Pond Heron, Hythe, Kent (Photo: Steve Nuttall)
Stubbornly hanging on was Highland's American Coot, still at Loch Flemington on Tuesday 11th. The same could be said for North Uist's Pied-billed Grebe, while a couple of White-billed Divers remained at Belmont, Unst (Shetland) and Cara, South Ronaldsay (Orkney). A flotilla of female King Eiders remained around British and Irish shores, with birds still at Ruddon's Point (Fife), Fidra (Lothian), Blacksod (Mayo) and Cahermore (Cork). Six Surf Scoters, including five drakes, continued their vigil off Pensarn (Conwy) while a drake off Gleninagh Quay (Clare) from 7th was new. Others remained in Cornwall, Dorset, Lothian, Fife and County Cork.

American Coot, Loch Flemington, Highland (Photo: Gordon Wright)
A white-morph Snow Goose was near Muthill (Perth/Kinross) on 5th and two were together on Muck (Highland) on 10th; twos were also still at Tayinloan (Argyll) and Rattray Head (Aberdeenshire). The Todd's Canada Goose remained near Campbeltown (Argyll), while at least one Richardson's Cackling Goose was still on Islay and Sligo's bird was again near Ballyconnell on 9th. An unringed Red-breasted Goose was at Southerness Point/Loaningfoot (Dumfries & Galloway) on 11th, while Jersey's bird remained another week alongside two Black Brants — other Brants were in Cumbria, East Yorkshire, Hampshire, Devon and County Kerry.

Snow Goose, Tayinloan, Argyll (Photo: Mark Wilkinson)
Strontian's Black Duck continued to be seen intermittently on a tiny garden pond at Anaheilt to at least 10th; American Wigeon remained in situ at Reedy Flats, Lough Neagh (Armagh), Udale Bay (Highland) and Bornish, South Uist (Outer Hebrides). Green-winged Teal again reached double figures, with four drakes new this week: at Jarrow (Durham) from 5th, Potter Brompton (N Yorks) on 6th–9th, Holy Island (Northumberland) on 8th and at Dungeness (Kent) on 11th. Drake Lesser Scaup remained at Tittesworth Reservoir (Staffs) and Dozmary Pool (Cornwall), while drake Ring-necked Ducks were at Inch Island Lake (Donegal) on 6th, Tullyratty Dam (Down) on 9th and Lough Leane (Kerry) on 11th, with the female still at Balranald, North Uist. The drake Ferruginous Duck was still at Blashford Lakes (Hants) on 5th.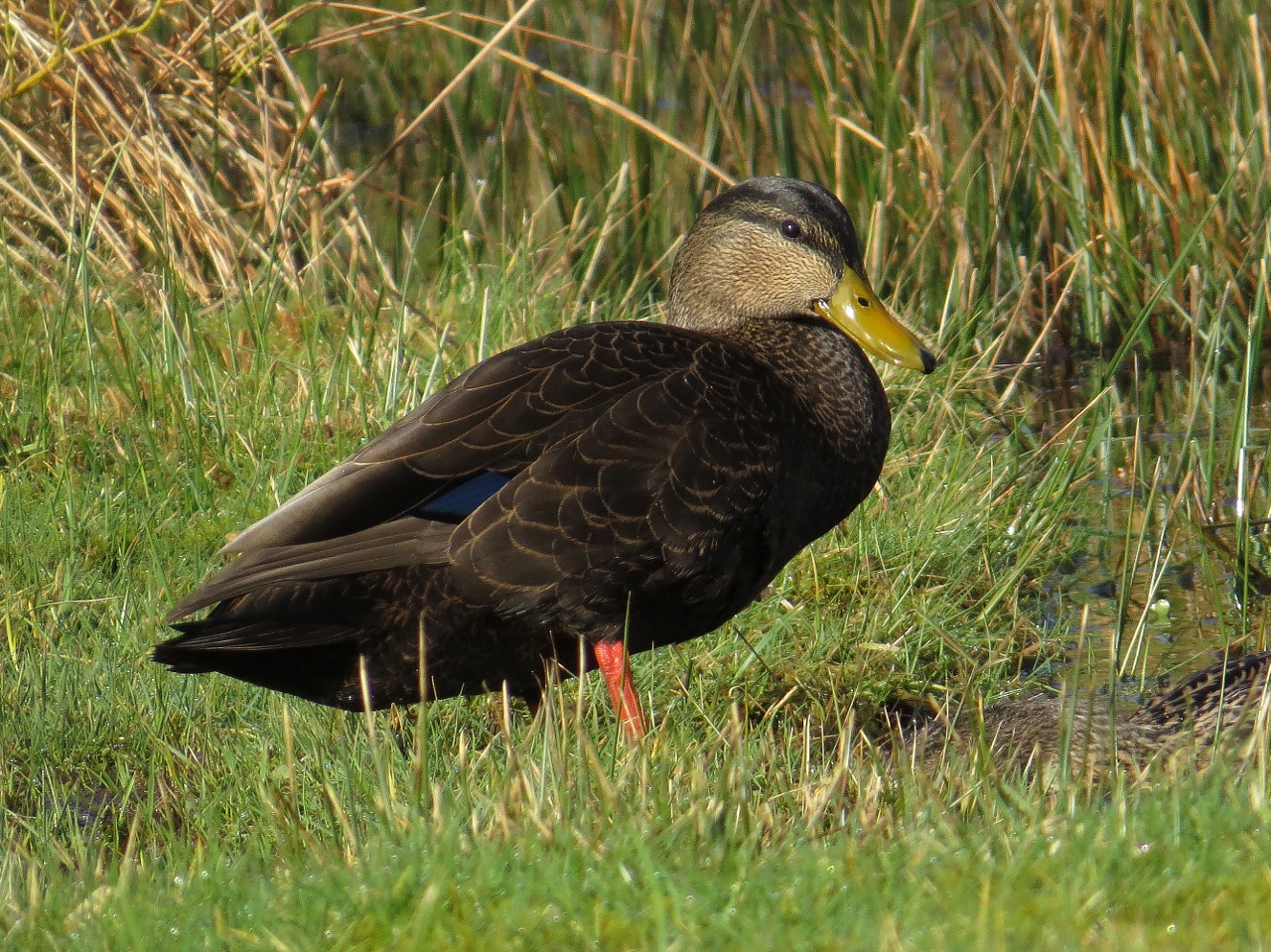 Black Duck, Strontian, Highland (Photo: Kris Gibb)
Content continues after advertisements

Green-winged Teal, Jarrow, Durham (Photo: Mark Fullerton)
Norfolk Rough-legged Buzzards continued at Haddiscoe Marshes (two) and Admiralty Point, near King's Lynn, but it was an interesting large falcon in north Lincolnshire that proved the week's raptor highlight. Seemingly a decent fit for a grey-morph Gyr Falcon, the bird was seen intermittently at Read's Island (Lincs) from 9th. However, some believe the bird to show characteristics of Saker, suggesting it might be an escapee despite the lack of obvious leg 'bling'. Internet searches for images generally produce photos of falconers' birds in captivity as opposed to the real deal, making extensive references difficult to find.

Putative Gyrfalcon, Read's Island, Lincolnshire (Photo: Graham Catley)

Putative Gyrfalcon, Read's Island, Lincolnshire (Photo: Graham Catley)
What was potentially the year's first Kentish Plover was reported from Rye Harbour (E Sussex) on 5th, but not seen again. Just along the coast in Hampshire, the Lesser Yellowlegs and Long-billed Dowitcher continued to show at Lepe and Pennington Marshes respectively, while, at the opposite end of the country, the Marsh Sandpiper was still in the Balranald area of North Uist to at least 10th.
The adult Bonaparte's Gull reappeared in Highland at Scrabster on 11th, while another adult was still at Ormsary (Argyll) and the returning Cardiff (Glamorgan) bird was again in the bay on 9th. Last week's probable juvenile Thayer's Gull was still at Bruichladdich (Islay) on 11th, while the American Herring Gull continued to be seen around Campbeltown all week (the Barnatra bird was also seen on 5th). Canna's Franklin's Gull was still there on 10th (it has apparently been 'ever present'), while the Ross's Gull reappeared at Kinsale (Cork) on 9th. Fourteen Ring-billed Gulls were logged around Ireland (three at Nimmo's Pier and two in Tralee being the peak counts), while at least two (probably three) adult Ring-billed Gulls were seen in Glamorgan: two adults were at Black Pill on 8th and another was at Loughor on 11th. Newburgh (Fife) retained its adult for another week, as did Gosport (Hants). There were also still plenty of Glaucous, Iceland and Kumlien's Gulls knocking about.

Probable Thayer's Gull, Islay, Argyll (Photo: Mark Wilkinson)

American Herring Gull, Campbeltown Loch, Argyll (Photo: Eddie Maguire)

Ring-billed Gull, Newburgh, Fife (Photo: Harry Bell)
Wintering warblers included the Siberian Lesser Whitethroat still in Tynemouth (Northumberland) on 8th, with other candidates still at Hallcroft (Notts) and Egginton (Derbys). Belated news concerned the Dusky Warbler again seen in a private garden in Great Barr (W Mids) on 4th; Hume's Leaf Warblers were still at Ramsgate cemetery (Kent) to 9th, Hams Hall (Warks) to 10th and Dungeness (Kent) all week. Yellow-browed Warblers remained in Worcestershire, Somerset, Devon and Cornwall (3).

Possible Siberian Lesser Whitethroat, Hallcroft GPs, Nottinghamshire (Photo: Lynne Demaine)

Hume's Leaf Warbler, Hams Hall, Warwickshire (Photo: Vern Wright)
The Richard's Pipit was still at Wall Common (Somerset) on 5th, and another was reported once from Keyhaven Marshes (Hants) on 9th. A single Penduline Tit was again at Dungeness on 9th, and the Little Bunting was still at Lea Marsh (Lincs) that day. Two-barred Crossbills included a new bird at Farnham Heath (Surrey) on 10th–11th, nine still in the Forest of Dean (Glos), six still at Broomhead Reservoir (S Yorks) and males still at Broughton (Lincs) and Hemsted Forest (Kent). No fewer than 28 possible Parrot Crossbills overflew Cromer (Norfolk) on 8th, but the only other report of the week concerned up to eight still around Holt Country Park and Edgefield Woods.

Penduline Tit, Dungeness RSPB, Kent (Photo: Ian Griffin)

Two-barred Crossbill, Broughton, Lincolnshire (Photo: Dave Roberts)
Photo of the Week

Red Grouse, Bransdale, North Yorkshire (Photo: Steve Race)
With the right technique, in the right location, Red Grouse can be approached closely, as evidenced by the fact that we have many head-and-shoulder close-ups of this species in our photo galleries. In these images, the amazingly detailed plumage of this species is visible, but is easily overlooked as the eye is drawn to the distinctive facial features. This week though, bird photographer Steve Race posted an image that removes the risk of distraction in a creative and brave way. Having apparently 'filled his boots' with the usual shot types for this species during a visit to Bransdale in North Yorkshire, Steve snapped a puffed up male bird that he then cropped to include nothing but wing and back feathers. This type of image is much harder to pull off than it seems, but Steve's captivating collection of colours, textures, markings, lines, shapes and patterns makes this an unusually successful example of the genre.
Other notable images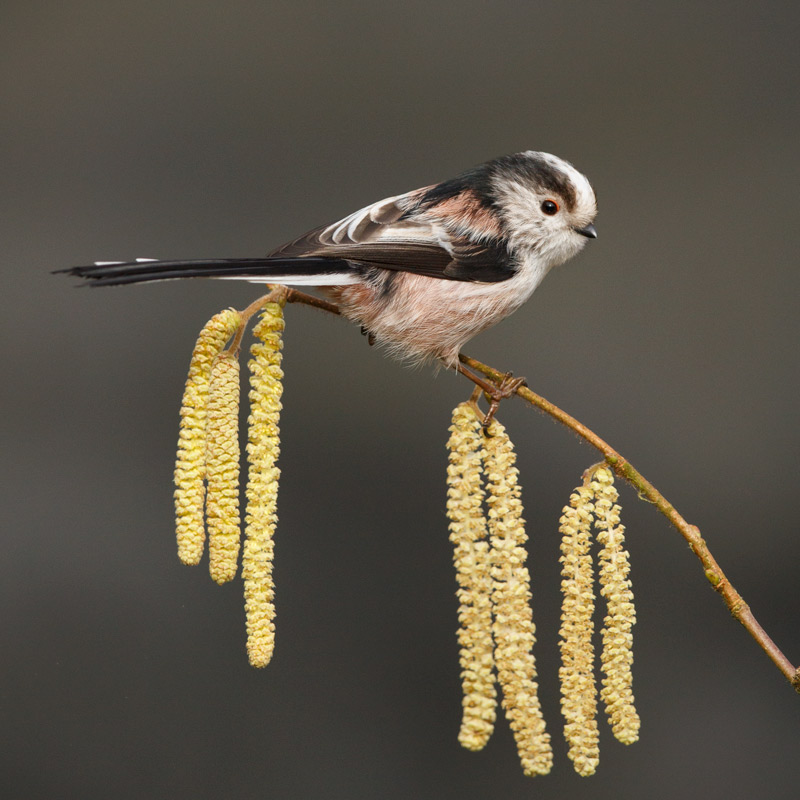 Long-tailed Tit, Wayoh Reservoir, Lancashire (Photo: John Barlow)

Skylark, undisclosed site, Cheshire (Photo: David Cookson)

Magpie, Bardsey Island, Gwynedd (Photo: Ben Porter)

Tawny Owl, Willoughby Waterleys, Leicestershire and Rutland (Photo: Paul Riddle)

Jackdaw, Dunham Massey Park, Greater Manchester (Photo: Ivan Ellison)

Great Crested Grebe, Cardiff, Glamorgan (Photo: Peter Howlett)

Grey Heron, Conwy RSPB, Conwy (Photo: Dave Williams)

Short-eared Owl, Shingle Street, Suffolk (Photo: John Richardson)