The week at a glance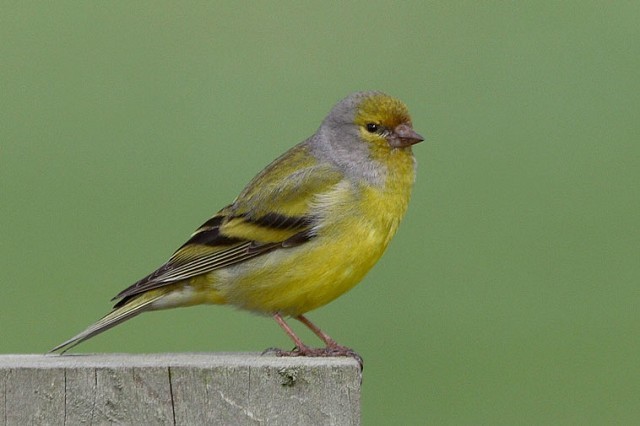 Citril Finch, Fair Isle, Shetland (Photo: Mark Breaks)

Trumpeter Finch, Telscombe Cliffs, East Sussex (Photo: Ads Bowley)
To paraphrase a 31-year-old album title, "Never Mind The Introduction, Here's The Citril Finch". There's little point in hanging around when there's a first for Britain to discuss, and the appearance of an adult male Citril Finch on Fair Isle (Shetland) on 6th prompted mass excitement, much discussion, no little head-scratching and, despite the location, an awful lot of panic for those with the time, inclination and deep enough pockets to head north to pay homage to another amazing first on this most amazing of islands. Fair Isle, having already enjoyed Calandra Lark and Caspian Plover this spring, has the uncanny knack of providing the unexpected these days...the astonishing double-whammy of Chestnut-eared Bunting and Rufous-tailed Robin will always take some beating, and its exactly those sort of wacky waifs that are predicted nowadays as the next "first for Britain". Species like Citril Finch seemed to have completely fallen off the radar for many in terms of potential vagrancy but, as any rarity-hunter worth his or her salt will know, the end of the first week in June is prime time for the biggest birds of the spring. As they say in cricket, never take your eye off the ball—and this week has proved that fact beyond doubt, as this funky little green-and-yellow finch arrived, like a Murali 'doosra' or a Shane Warne 'flipper', to bowl over the birding world, and remained on the island to 11th. As predicted last week, the late-evening East Sussex Trumpeter Finch on Telscombe Cliffs near Newhaven on 4th didn't disappear at all—the first-summer male was still in place to 6th (and was reported to have been found on 2nd) and proved as popular as these ever-rare birds always do. Hot on the heels of the Beachy Head one-day bird of last week came a three-day River Warbler this week—another singing male, this one found at Evie, on Mainland Orkney, on 9th–11th. This was only the second record of the species for the island group; the other was trapped on North Ronaldsay in September 1995. Out in the Atlantic, some 100 nautical miles west of Kilkee (Co. Clare), a sub-adult Black-browed Albatross was seen (and photographed) in flight and on the water amongst a feeding flock of Gannets by a birding trawlerman on 4th–5th. Which rocky outcrop might that bird find itself on in the years to come?
Perhaps unsurprisingly, it was a rather quiet week for seabirds this week. The first Cory's Shearwater of the summer was seen from Bridges of Ross (Co. Clare) on 8th. Some eight Balearic Shearwaters were seen this week, including three birds off Portland Bill (Dorset) on 5th and three from Orcombe Point (Devon) on 10th. The only Pomarine Skua this week was seen at Eshaness (Shetland) on 1oth.

Great White Egret, Rainham Marshes RSPB, London, Greater (Photo: Samuel West)

Spoonbill, Salthouse, Norfolk (Photo: Steve Valentine)

White Stork, Shibden Park, West Yorkshire (Photo: Sean Gray)
This week saw four Cattle Egrets reported: one was still at Slimbridge (Gloucestershire) on 7th–8th and three birds flew over the M5 motorway south of Bridgwater (Somerset) on 11th. Late news from last week was of a Great White Egret at Potteric Carr (South Yorkshire) briefly on 4th. This was followed by at least eight birds this week, including two birds at Rainham Marshes (London) on 8th (with one bird present there from 5th). On 6th, singles were seen at Stodmarsh (Kent) and at Slimbridge, with another Kent bird appearing at Dungeness on 10th. Also on 10th, a Great White Egret was seen in the Cotswold Water Park (Gloucestershire). On 11th, what could even have been last week's Potteric Carr bird appeared at Hatfield Moors (South Yorkshire) and in Ireland, one was on the Swords Estuary (Co. Dublin) on the same date. In Suffolk, the Great White Egret remained at North Warren from 5th–8th at least and the same site was graced by a fly-over Black Stork on 8th, with others noted this week at East Grinstead (West Sussex) on 5th, over Northwich (Cheshire) on 8th and at Nether Winchendon (Buckinghamshire) on 9th. Up to 26 Spoonbills were noted this week, with an adult and six immatures the largest group noted, at Middlebere (Dorset) on 8th. Groups of three birds were seen at Cley, Breydon Water (Norfolk) and Gibraltar Point (Lincolnshire) this week—the latter flew over Spurn (East Yorkshire) prior to their Lincolnshire touchdown—and two birds were seen at Balcary Point (Dumfries & Galloway) on 8th. In Lancashire, the Glossy Ibis remained at Marshside RSPB (Lancashire) to 9th at least, while the two Common Cranes at Crudgington (Shropshire) remained to 10th. A single Crane remained around Stornoway Airport (Outer Hebrides) to 11th, with the bird at Loch of Strathbeg (Aberdeenshire) remaining to 7th, while other lone birds were seen near Langton Herring (Dorset) on 5th and near Uyeasound, Unst (Shetland) on 6th–7th. Three Common Cranes were seen over Goldhanger (Essex) on 6th. Up to half a dozen White Storks were seen this week, but there is every chance of some duplication with some of the birds noted. In Nottinghamshire, one was seen at Hodsock on 5th, and had been present for some three days or so, but its origins were unknown. In Kent this week, singles were seen at Stodmarsh, Ash Level, Seaton Gravel Pits and finally Dungeness. A White Stork was at Long Nanny (Northumberland) on 6th and then over Middlesbrough (Cleveland) on 8th, while on 9th one was at Drumburgh Moss (Cumbria) and also New Galloway (Dumfries & Galloway). A metal-ringed bird was seen at Shibden Park (West Yorkshire) on 10th–11th. In Norfolk, a Night Heron flew over Wells-next-the-Sea on 5th. Late news from Somerset was received this week: a Squacco Heron was seen near Chilton Trinity on 1st June. Another reedbed dweller, a Spotted Crake, was heard singing near Eastbridge (Suffolk) on 10th.
A Ring-necked Duck was seen on at Blanket Nook, Lough Swilly (Co. Donegal) on 7th. There were three Surf Scoters to report this week: the adult drake remained in Spey Bay (Moray) to 8th, and the drake was again off Blackdog (Aberdeenshire) on 7th and 10th. On Shetland, the first-summer drake at Catfirth, Mainland, was present to 10th. Finally, in a poor week for the ducks, comes Hooded Merganser. A first-summer drake was at Portland (Dorset) on 5th–7th which, although approachable, was fully winged and unringed. The dates marry up nicely to a female-type Hooded Merganser at Holme (Norfolk) in June 1990, but known escapes are, of course, relatively frequent. However (just like Baikal Teal, White-headed Duck, Marbled Duck and Falcated Duck) some of them must surely be genuine vagrants? As has been mentioned here previously, this is surely a species destined for Category A of the British List and, who knows, maybe there is an outside chance that this individual will get an "A" grade too.

Honey Buzzard, Goonhilly Downs, Cornwall (Photo: Brian Mellow)
A White-tailed Eagle was seen at Woodwick Valley near Evie (Orkney) on 6th, but one reported in Lancashire this week turned out to be an escaped Bald Eagle. There were four confirmed Black Kites this week: one was seen over Woolhampton GPs (Bedfordshire) on 5th, one was over Collard's Lake and Westbere Lake (Kent) on 7th and one over Brentford (London) on 9th was mobbed by Ring-necked Parakeets as it went! On 10th, a Black Kite flew over Wykeham Forest (North Yorkshire).
Red-footed Falcons continue to be seen around the country this week, but very few new arrivals were noted, and even those birds that did appear at new sites may well have been elsewhere in the country beforehand. A first-summer male at Cotswold Water Park (Gloucestershire) on 5th was presumably the bird seen at Kempsford the previous week, and a male was seen over the Lampen Wall, Stodmarsh (Kent), but this may have been the bird from nearby Collard's Lake (and was noted again on 10th). On 6th "new" males were noted at Paxton Pits (Cambridgeshire) and Corfe Castle (Dorset) and on 7th, first-summer males were at Paddock Wood (Kent) and Godmanchester (Cambridgeshire). On 8th, "new" females were at Dungeness (Kent) and Upton Broad (Norfolk), with an adult female at Grove Ferry (Kent) on the same date, but this could have been the bird from Collard's Lake. Lingering birds this week remained at Woolhampton GPs (Berkshire), a first-summer male, to 5th, with a female seen there again on 7th. The two first-summer males at Stewartby (Bedfordshire) lingered to 5th (with one present to 8th) while the first-summer female at Almondell & Calderwood CP (Lothian) was present until 6th. The adult female and first-summer male at Collard's Lake (Kent) were in place to 9th at least and the female at Lakenheath Fen RSPB (Suffolk) was reported "recently".
The family group of two adult and one young Black-winged Stilts continued to do well at Neumann's Flash (Cheshire) to 11th. Two Buff-breasted Sandpipers were seen this week: one at Maxey GPs (Cambridgeshire) on 7th–9th, with the other found on the shingle flats near Stiffkey Greens (Norfolk) on 8th (not far from where one was seen in August 2006). A Pectoral Sandpiper was at Belvide Reservoir (Staffordshire) on 6th–8th and three summer-plumaged American Golden Plovers were seen on 5th, with the birds on Annagh Head, The Mullet (Co. Mayo) and Pegwell Bay (Kent) remaining in place from last week, while the bird seen at Bride (Isle of Man) must surely have been the bird moving on from Cemlyn Bay on Anglesey (last seen there on 3rd). In Ireland, the Lesser Yellowlegs at Lough Beg (Co. Derry) remained to 8th, while two of the week's Red-necked Phalaropes were also in Ireland—at Lough Swilly (Co. Donegal) on 5th and still at Boora Parklands (Co. Offaly) to 7th. A Kentish Plover spent 20 early-morning minutes at Pegwell Bay on 7th, while just one Temminck's Stint was reported, at Druridge Bay (Northumberland) on 5th. Rounding off the week's shorebirds was the Terek Sandpiper, which reappeared near Camber (East Sussex) on 8th.

American Herring Gull, Chew Valley Lake, Somerset & Bristol (Photo: Paul Bowerman)

Whiskered Tern, Loch of Strathbeg RSPB, Aberdeenshire (Photo: Chris Jones)
In Somerset, an adult American Herring Gull was at Chew Valley Lake on 5th–11th. The bird has been present, sporadically, since early May, but has proved tricky to pin down. Many of the features shown by this individual do seem to fit the strict identification criteria for the species at this age, though the primary pattern is suggested as being slightly at odds with what is viewed as diagnostic for smithsonianus in one recent paper. The first-summer Bonaparte's Gull remained at Loch Ruthven (Highland) to 9th, while first-summer Caspian Gulls were seen at Minsmere (Suffolk) on 8th and at Ditchford GPs (Northamptonshire) on 9th. A Glaucous Gull was at Mallaig (Highland) this week, along with at least one Iceland Gull. Other single Iceland Gulls this week were still to be found on Scilly, Orkney, the Outer Hebrides and County Clare, while a second-summer was at Portrush (Co. Antrim) on 5th. In Gloucestershire, the first-summer Ring-billed Gull was again at Slimbridge (Gloucestershire) on 9th. The summer-plumaged Forster's Tern was still being seen at Tacumshin (Co. Wexford) to 11th, while some late Irish news from last week concerned a White-winged Black Tern at Bray (Co. Wicklow) on 4th. In Kent, the Whiskered Tern at Collard's Lake, Stodmarsh (Kent) remained until early on 5th, and the same date saw a Whiskered Tern arrive at Loch of Strathbeg (Aberdeenshire), this bird remaining to 8th. On 7th, one of these lovely marsh terns spent a short time at Barton-on-Humber (Lincolnshire) and on 8th one was seen in Cambridgeshire, at Sutton Gault, before stopping at Fen Drayton GPs later the same afternoon.

Hoopoe, Stiffkey, Norfolk (Photo: Steve Valentine)

European Bee-eater, Northrepps, Norfolk (Photo: Peter Simpson)
The only Red-rumped Swallows of the week were confined to the Northern and Western Isles: one was seen at Whalsay (Shetland) on 5th and was followed by one on North Uist (Outer Hebrides) on 6th. There was just one Hoopoe noted over the past week, the bird at Stiffkey (Norfolk) still present to 5th. Six Bee-eaters included two flyover singles in Suffolk, at Landguard on 5th and Dunwich Heath on 8th. On 5th, one was seen briefly at Selsey Bill (West Sussex), one was noted at Dungeness Bird Observatory (Kent) on 6th and on 10th another was seen at Long Lawford (Warwickshire). "Best" Bee-eater of the week though was the bird that spent most of 7th, and a little of 8th, at Northrepps (Norfolk). On North Uist (Outer Hebrides) the male Snowy Owl was seen again "recently" near Griminish Harbour.

Citrine Wagtail, Brecon, Powys (Photo: Paul_leafe)
A Bluethroat was seen at Skaw, Unst (Shetland) on 5th, with another, a male, on Fair Isle on 7th. A singing male Thrush Nightingale spent 5th–8th in cover on Dunwich Heath (Suffolk), showing itself from time to time. A luminous first-summer Citrine Wagtail was a terrific find at Brecon (Powys) on 5th.

Icterine Warbler, Wilstone Reservoir, Hertfordshire (Photo: Andrew Moon)

Icterine Warbler, Wilstone Reservoir, Hertfordshire (Photo: Ashley Stow)

Marsh Warbler, Coatham Marsh TVWT, Cleveland (Photo: anon)
A singing male Great Reed Warbler was found at Lakenheath Fen (Suffolk) on 8th–9th, and is the second record of the species at the site this spring (following one on 11th May). A few singing male Icterine Warblers made themselves known away from migration hotspots this week. One was at Crowle Moor (Lincolnshire) on 5th, with further singing birds at Witchford (Cambridgeshire) on 7th–8th and at Wilstone Reservoir (Hertfordshire—a county first) on 8th–9th. Single birds were on Shetland and North Ronaldsay this week, while at least two were on Fair Isle between 5th and 8th. Marsh Warblers this week included at least 11 around Shetland on 7th: five on Fair Isle, four on Foula and two at Sumburgh, Mainland. One or two birds were seen at Spurn (East Yorkshire) on 9th, and singles were in Sunderland (Co. Durham) to 7th, at Landguard (Suffolk) on 8th, at Quendale, Mainland (Shetland) on 9th and Sea Palling (Norfolk) on 10th–11th. The Red-breasted Flycatcher at South Glendale, South Uist (Outer Hebrides) was still present to 7th.

Red-backed Shrike, Burton Mill Pond, West Sussex (Photo: Richard Ford)

Woodchat Shrike, Martin's Haven, Pembrokeshire (Photo: David Astins)

Lesser Grey Shrike, Long Nanny, Northumberland (Photo: Frank Golding)

Rose-coloured Starling, Long Nanny, Northumberland (Photo: Dr. Kevin P. Elsby)
Migrant Golden Orioles this week were seen at Spurn (East Yorkshire) and on St. Martin's (Scilly) on 5th, North Foreland (Kent) on 6th, Tresco (Scilly) and Spurn again on 7th and Dungeness (Kent) on 8th. A singing male Golden Oriole was at Busta, Mainland (Shetland) on 5th–11th. As with other late-spring drifters, numbers of Red-backed Shrikes fell away this week, with two counts of three on 5th, from Fair Isle and North Ronaldsay, being the highest tallies of the week. The male near Shopham Bridge (West Sussex) remained present to 11th, while other males were noted in Norfolk, at Cley (on 6th), Potter Heigham and Hickling (both on 9th), with further singles (both on 5th) at Donna Nook (Lincolnshire) and Benacre (Suffolk), while a female was at Climping (West Sussex) on 7th. A Woodchat Shrike spent the 8th at Martin's Haven (Pembrokeshire) while the male Lesser Grey Shrike at Long Nanny (Northumberland) remained to 7th. The following day, the same site hosted an adult Rose-coloured Starling, one of seven birds seen over the course of the week. Others included two in Somerset, at Wellington on 5th and Porlock on 7th, with further birds noted on North Uist (Outer Hebrides), at Loch Portain on 9th, on Bardsey Island (Gwynedd) and at Stoke Fleming (Devon) on 10th and at Inskip near Preston (Lancashire) on 11th.
A Serin was at Dungeness Bird Observatory (Kent) on 10th, and two Serins were seen at Hengistbury Head (Dorset) on 11th, while seven Common Rosefinches were seen over the past seven days. On 5th, singles were on Great Saltee (Co. Wexford) and in a private garden in Cromer (Norfolk), the bird on the Saltees remaining to 8th. On 7th, one was trapped at Spurn and a female was seen at Dungeness. A male Rosefinch was noted at Southwold (Suffolk) on 8th and was followed on 9th by a young male on Lundy (Devon) and on 10th by a first-summer male at Selkirk (Borders). A male Rustic Bunting spent a few minutes at Spurn on 8th, but all too soon was gone, never to be seen again. The male Black-headed Bunting on Fetlar (Shetland) remained present to 7th, with possibly two birds on the island on 6th. On 9th, a male Red-headed Bunting spent twenty minutes at Climping (West Sussex) and, once again, invited the question that arises on the rather infrequent occasions that a June male (almost always short-staying) appears: why can you tick a male Black-headed Bunting and not a Red-headed? There have been just three other recent Red-headed Buntings, all males, all in spring (dating back to 2001)—on the Isle of Man (in June 2001), in Suffolk (late May 2002) and, most recently, in Dumfries & Galloway on 8th–9th June 2004. Compare this to at least 14 spring records of Black-headed Bunting in the same period, and it is easy to see why the former is now almost afforded "mega" status. Red-headed Bunting is certainly not as common as it used to be, but the pattern of occurrence still sings out—as it has done for decades. Will the BOURC finally give some records the thumbs-up and has the oft-quoted drop in numbers of imported cage birds had an effect on the number of arrivals here? Is it "A", "D" or limbo for this most striking of buntings? And is it more or less likely as a vagrant species than Citril Finch?
Content continues after advertisements
Photo of the Week

Spoonbill, Hungary (Photo: Andrew Moon)
UK-based bird photographer Andrew Moon has previously uploaded photos from trips to a range of exotic locations. This week, he has submitted a series of photos from Hungary, the pick of which is a great overhead flight shot of a Spoonbill. From an ornithological viewpoint, as well as highlighting this species' distinctive bill-shape, this image perfectly illustrates the flight configuraton and wing structure, including the outline of the primaries, secondaries and coverts. You can even imagine what the bird would look like without these feather groups (although it probably wouldn't be passing overhead in that case!). From a photographic viewpoint, the bold, geometrical composition not often found in bird images creates great impact. The pure blue sky, strong backlighting and 'high key' tones round off an excellent image.
Other notable photos

Slavonian Grebe, undisclosed site, Highland (Photo: Steve Round)

Great Skua, undisclosed site, Highland (Photo: Dean Eades)

Turtle Dove, High Vinnalls, Herefordshire (Photo: George Ewart)

Mute Swan, Salthouse, Norfolk (Photo: Nigel Pye)

Puffin, Farne Islands, Northumberland (Photo: Richard Steel)

Common Sandpiper, Boat of Garten, Highland (Photo: Dean Eades)

Black Kite, China (Photo: Nigel Forrow)

Yellow Wagtail, Draycote Water, Warwickshire (Photo: Dave Hutton)

House Martin, Draycote Water, Warwickshire (Photo: Dave Hutton)

Lesser Grey Shrike, Long Nanny, Northumberland (Photo: Richard Steel)

Red-footed Falcon, Almondell & Calderwood CP, Lothian (Photo: Ian Andrews)

Reed Bunting, Summer Leys LNR, Northamptonshire (Photo: Richard Bedford)

Wren, Skomer, Pembrokeshire (Photo: Tom Melton)

Little Owl, Lea End, Worcestershire (Photo: Peter Walkden)

Dipper, undisclosed site, Manchester, Greater (Photo: Sue Tranter)

Green Bee-eater, India (Photo: Stephen Berry)

Gannet, Bass Rock, Lothian (Photo: Dave Winnard)

Eider, North Berwick, Lothian (Photo: Mike Thrower)

Willow Warbler, Pensychnant, Conwy (Photo: Matt Latham)

Oystercatcher, Minsmere RSPB, Suffolk (Photo: Mike Parker)