The week at a glance
The explosive start to 2014 gained yet more momentum this week, despite a continuing succession of storms bringing yet more wind and rain to vast swathes of the country. With the media dubbing this the 'wettest winter in 250 years', we'd first and foremost like to extend our thoughts to anyone who has been affected by the extreme weather in recent days, weeks and months. Exceptional conditions so often lead to exceptional birding, however, and for those who have been able to get out and about this week, there was again no shortage of fantastic birds on offer.
Just over three years since the famous Rainham bird, Slaty-backed Gull repeated this week. An excellent series of photographs taken in Galway City early afternoon on Saturday 8th (and posted on the internet late on Sunday evening) showed what is undoubtedly a classic near-adult Slaty-backed. With identification quickly realised, a respectable Irish contingent made their way over to Galway for Monday morning but, despite searching likely areas both in the city environs and as far west of Rossaveal, this far eastern Larus could not be relocated. Will it prove as hard to catch up with as the ever-elusive London/Essex bird was? Well, gulls in Galway often tend to stick around and show well, and it'd take a brave man to bet against this one turning back up in Galway City (or indeed at Rossaveal; gulls routinely commute between the two sites) before the winter is out. For now, though, we'll leave the photos to do the talking …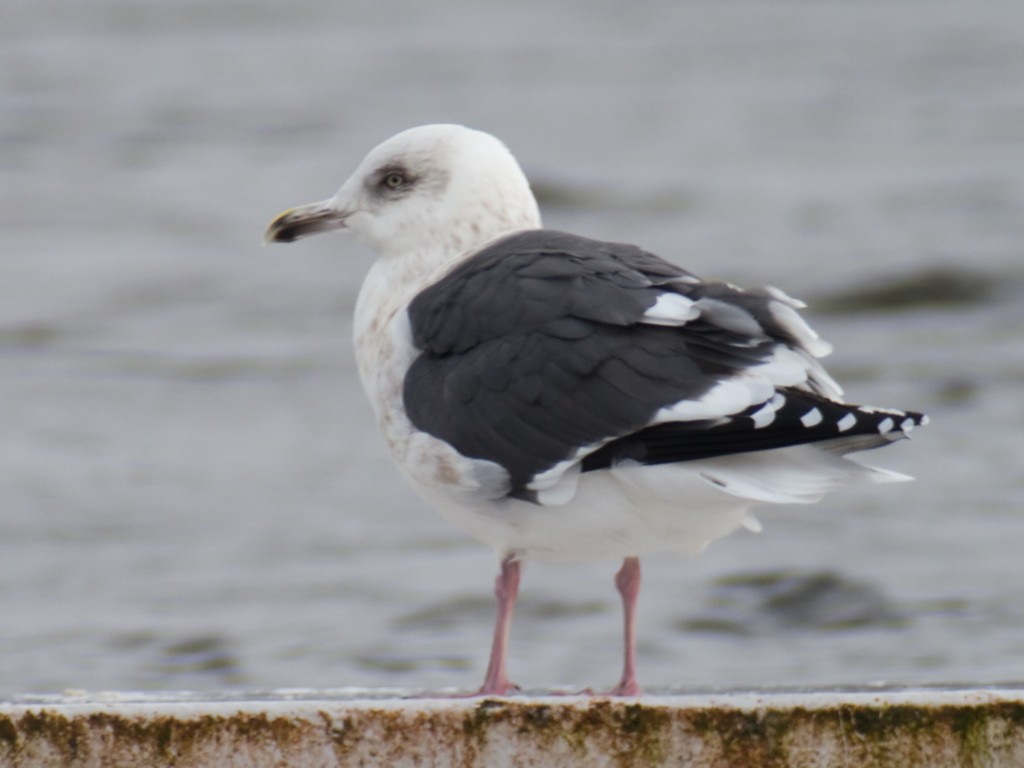 Slaty-backed Gull, Galway, Galway (Photo: Tom Cuffe)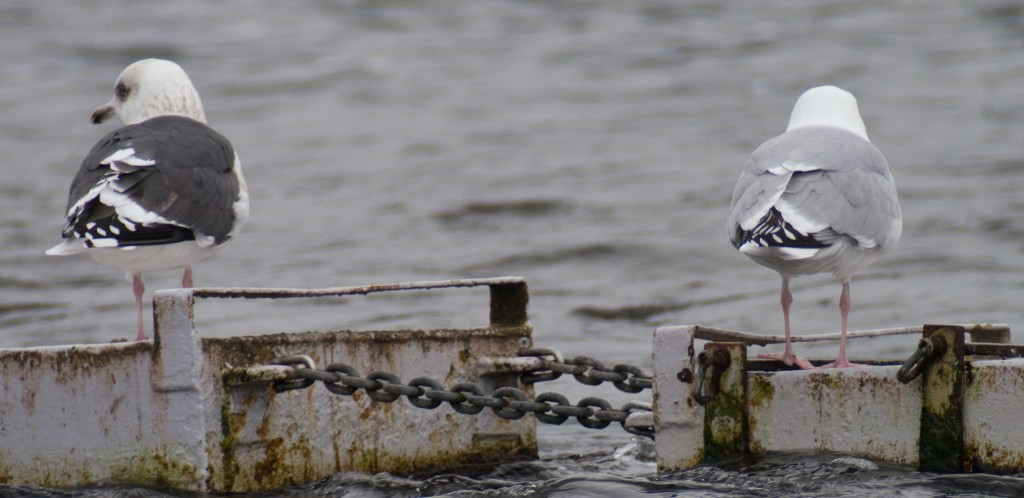 Slaty-backed Gull, Galway, Galway (Photo: Tom Cuffe)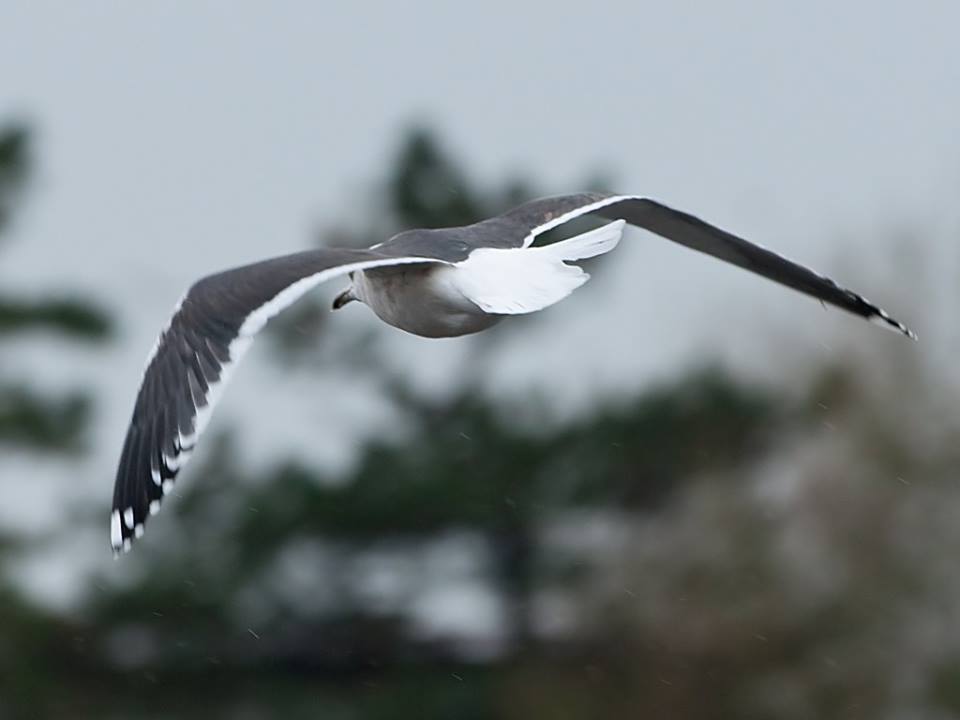 Slaty-backed Gull, Galway, Galway (Photo: Tom Cuffe)
But the week's most popular bird concerned a much-anticipated wintering Nearctic passerine. Given the mild winter, many had been predicting a Stateside representative to be discovered lurking in a garden on an unsuspecting housing estate this winter, and that's exactly what came to light this week. The species? A Yellow-rumped Warbler, found during a routine count by a fortunate resident and her children at High Shincliffe (Durham) during the RSPB's annual Big Garden Birdwatch on 27th January. With the bird still present on 8th, access was carefully arranged and managed by a combination of local birders and the extremely patient folk at the RSPB, who were instrumental in getting the news out in the first place. With generous donations already given by visiting birders, this is rapidly becoming another fine example of how well large twitches can be overseen. Top marks to all involved — the bird, only the 19th ever to be seen in Britain (including the Isle of Man), was still present to the week's end.

Yellow-rumped Warbler, High Shincliffe, Durham (Photo: Andy Hood)

Yellow-rumped Warbler, High Shincliffe, Durham (Photo: Stef McElwee)

Yellow-rumped Warbler, High Shincliffe, Durham (Photo: Martyn Sidwell)
An impressive showing of storm-related goodies included no fewer than four Ross's Gulls. In addition to the (relatively) long-staying bird still in Dublin (which was still showing well at Poolbeg on 10th), new adults were found at Leighton Moss (Lancs) and Kinsale (Cork) on 9th; the Lancashire bird proved a one-day wonder but the Kinsale bird spent a second day touring the harbour there. First-winters tend to be altogether scarcer in a British and Irish context, so the discovery of a young bird at Aberavon (Glamorgan) on 8th was a significant find — it was still there to 11th.

Ross's Gull, Kinsale Harbour, Cork (Photo: Ronan McLaughlin)

Ross's Gull, Leighton Moss RSPB, Lancashire (Photo: Jon Worthington)

Ross's Gull (left), Aberavon, Glamorgan (Photo: Mark Hipkin)
In addition to this, news of a Franklin's Gull on Canna (Highland) filtered out this week — it was still present on 11th, but has been in residence there for a few weeks. Also in Scotland, a first-winter American Herring Gull was discovered at Kilmichael (Argyll) on 6th, being seen again there the following morning, while back in Ireland, the Laughing Gull was still around Ballycotton (Cork) to at least 9th and the Forster's Tern was in Elly Bay (Mayo) to 10th; Devon's long-staying Bonaparte's Gull completed the rare gulls by lingering around Dawlish all week. White-winged gulls also featured ever-more heavily, with impressive counts including 23 Glaucous Gulls spread around the Mullet peninsula (Mayo) on 10th, with Killybegs (Donegal) boasting a remarkable 10 Kumlien's Gulls on 9th — in addition to 13 Iceland and nine Glaucous Gulls. Ring-billed Gull numbers pushed towards 30, with several new first-winters found: at Clonakilty (Cork), on Swords Estuary and at Poolbeg (Dublin), Sennen (Cornwall) on 9th and Padstow (Cornwall) on 11th. Peak counts were of four around Galway City on 10th, and three still in Tralee (Kerry).

American Herring Gull (at back), Campbeltown, Argyll (Photo: Jim Dickson)

Kumlien's Gull, Penzance, Cornwall (Photo: Brian Mellow)

Kumlien's Gull, Littlehampton, West Sussex (Photo: Leigh Prevost)

Glaucous Gull, Glenbarr, Argyll (Photo: Jim Dickson)

Ring-billed Gull, Carrickfergus, Antrim (Photo: Ian Dickey)
Content continues after advertisements
No doubt also victims of the storm were a good flush of White-billed Divers, with one flying east over Ferrybridge (Dorset) on 6th followed by a showy bird in the harbour at Sandside (Highland) from 7th, which was unfortunately found dead late afternoon on 11th. Shetland claimed three birds —  two off Unst and another off Fetlar, while yet another was off Tiumpan Head, Lewis (Outer Hebrides) on 7th. A Fea's-type Petrel loitering off Spurn (E Yorks) on 10th may well have been the bird seen at the end of December.

White-billed Diver, Sandside Bay, Highland (Photo: Peter Stronach)

White-billed Diver, Sandside Bay, Highland (Photo: Chris Griffin)
Waterbirds included the American Coot notching up another full week at Loch Flemington (Highland), and the Pied-billed Grebe was seen again around Balranald, North Uist. Black Ducks remained at Strontian (Highland) and Termoncarragh Lough (Mayo) throughout, while American Wigeon remained in Gwent, Highland, Orkney and County Leitrim, with a new bird at Bornish, South Uist on 9th. Nine Green-winged Teal included new birds at Big Waters (Northumbs) on 5th-8th, Peterstone Gout (Gwent) from 7th, Willington Gravel Pits (Derbys) on 8th-9th and at Loch Mor, Benbecula on 9th.

American Coot, Loch Flemington, Highland (Photo: Chris Orders)

Black Duck, Strontian, Highland (Photo: Peter Stronach)

Green-winged Teal, Caerlaverock WWT, Dumfries & Galloway (Photo: Anthony Griffiths)
Five Lesser Scaup were all familiar birds: drakes in Cornwall, Glamorgan, Staffordshire and Highland, and the female still on South Uist. Six Ring-necked Ducks included just one new drake — at Lough Arrow (Sligo) on 6th. An impressive six Surf Scoters (including five drakes) had congregated off Pensarn (Conwy) by 10th, with a first-winter drake new in Mount's Bay (Cornwall) from 9th in addition to a drake in Dundrum Bay (Down) on 7th and lingering birds in Lothian and the Outer Hebrides. Two King Eiders were in Bluemull Sound (Shetland) on 10th, with two females still off the Lothian coast and another 'Queen' remaining off Blacksod (Mayo).
A pretty unremarkable showing of geese included two Richardson's Canada Geese seen on Islay (Argyll) over the weekend, with another seen at Ballyconnell (Sligo) on 7th. The Red-breasted Goose was still on Jersey (and the escapee was still in Dumfries & Galloway), while a handful of Black Brants were in Devon, Suffolk, Norfolk, East Yorkshire and Cumbria. Two white-morph Snow Geese were still around Rattray Head (Aberdeens), with twos still on South Uist and in Argyll and Clyde. The white morph was also still at Carrahane Strand (Kerry) on 7th.
Another white Gyr sighting came from Wick (Highland) on 5th; Rough-legged Buzzards continued in Suffolk and Norfolk (3). Cattle Egrets were still at Calvert Lakes (Bucks) and Hillsborough Lake (Down) to at least 8th, while continuing Glossy Ibis and Great White Egrets remained widespread.

Glossy Ibis, Oxford Island NNR, Armagh (Photo: Noel Austin)
A possible Spotted Sandpiper proved tricky to pin down in the Port of Felixstowe (Suffolk), being viewable only at great distance from Landguard. Less problematic were the continuing Long-billed Dowitcher and Lesser Yellowlegs in Hampshire, and the Grey Phalarope off Stag Rocks, Bamburgh (Northumbs) all week.

Grey Phalarope, Bamburgh, Northumberland (Photo: Frank Golding)
Meanwhile, down in Gloucestershire, the Red-flanked Bluetail was still showing well in the Shire Valley, north of Marshfield, throughout the week — no doubt it will have no intentions of going anywhere, now that it's being fed a ready supply of mealworms! Cheshire's Buff-bellied Pipit was again seen daily at Burton Marsh from 10th, while Norfolk's long-staying Richard's Pipit was still near Gramborough Hill to 10th and others were on St Mary's (Scilly) on 5th and on private land at East Portlemouth (Devon) on 7th.

Red-flanked Bluetail, Marshfield, Gloucestershire (Photo: Jason Ward)

Red-flanked Bluetail, Marshfield, Gloucestershire (Photo: Chris Cook)
All three Hume's Leaf Warblers remained present and correct: at Hams Hall (Warks), and in Kent at both Ramsgate and Dungeness. Also in Kent, the Pallas's Warbler was seen at Folkestone to 9th while, down on Scilly, both the Serin and Rose-coloured Starling remained on St Mary's. The Swallow continued at Newick (E Sussex) throughout the week while another was seen at Fishbourne (W Sussex). Flocks of 14 Parrot Crossbills lingered on at both Budby Common (Notts) and Holt Country Park (Norfolk), while a new male Two-barred Crossbill was at Broughton (Lincs) from 9th. Other Two-barreds included 12 on Serridge Ridge in the Forest of Dean (Glos) on 11th, six at Broomhead Reservoir (S Yorks), two in Wyre Forest (Shrops) and the rather odd looking bird at Hoveton Hall (Norfolk).

Two-barred Crossbill, Broughton, Lincolnshire (Photo: Dave Goddard)

Parrot Crossbill, Budby Common, Nottinghamshire (Photo: anon)

Two-barred Crossbill, Broomhead Reservoir, South Yorkshire (Photo: Joe Seymour)
Photo of the Week

Snowy Owl, Canada (Photo: John Sheppard)
Owls in general make popular photographic subjects and many people are particularly fond of Snowy Owls. For most of our photo contributors, though, this species is relatively inaccessible due to its geographic distribution. Some UK bird photographers have managed to catch up with Snowy Owls in Scotland or Ireland but, even then, getting close enough for anything other than a record shot is difficult. For those prepared to travel further afield, Canada seems to be the best option and was the one that enabled John Sheppard to capture the superb flight shot he submitted this week. This image has all the ingredients of a classic bird photo: a good-looking individual of a charismatic species, great lighting and shooting angle, a complimentary setting with nice background isolation and, more than anything, an interesting and appealing pose. In this case, the banking pose with wings forward gives a dynamic feel and the head-turn towards the camera/viewer, allowing the sun to pick out the yellow eyes, is the icing on the cake.
Other notable images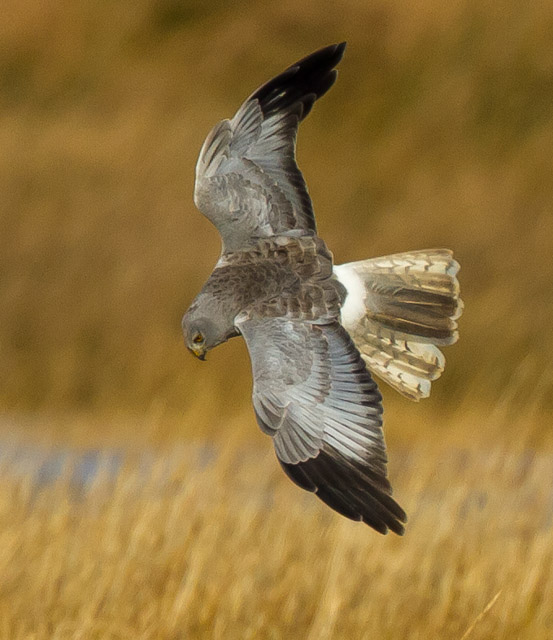 Hen Harrier, Poole Harbour, Dorset (Photo: Jon Worthington)

Crossbill, West Stow CP, Suffolk (Photo: Graham Munton)

Long-tailed Duck, Burghead, Moray & Nairn (Photo: Ian Curran)

Jay, North Wirral, Cheshire (Photo: Richard Steel)

Sardinian Warbler, Malta (Photo: Natalino Fenech)

Red-flanked Bluetail, Marshfield, Gloucestershire (Photo: Dave Perrett)

Moorhen, Ipswich, Suffolk (Photo: Carl Wright)

Crested Tit, undisclosed site, Highland (Photo: James Wood)

Lapland Bunting, Bardsey Island, Gwynedd (Photo: Ben Porter)

Great Northern Diver, Scarborough, North Yorkshire (Photo: Mandy West)