The recent warm spell fuelled the mildest New Year on record and on the back of soaring temperatures, Ireland's first Allen's Gallinule – an adult – was found dead on Inishmore, Co Galway, on 4th.
A resident of sub-Saharan Africa, this Afrotropical species is prone to long-distance irruptions coinciding with the dry season, with the main movement between October and February. Recent conditions undoubtedly assisted the pioneering rallid on its journey – as well as a major Glossy Ibis influx – with temperatures driven by a flow of warm, moist air pushing up from the Canary Islands, North Africa and further south into the Atlantic.
On the face of it, the species may appear an unlikely vagrant to north-west Europe, but has been recorded in Britain on three previous occasions, as well as in Denmark, Finland, France and Germany. This latest occurrence coincides with a notable arrival into the Canary Islands, with three recorded across the archipelago.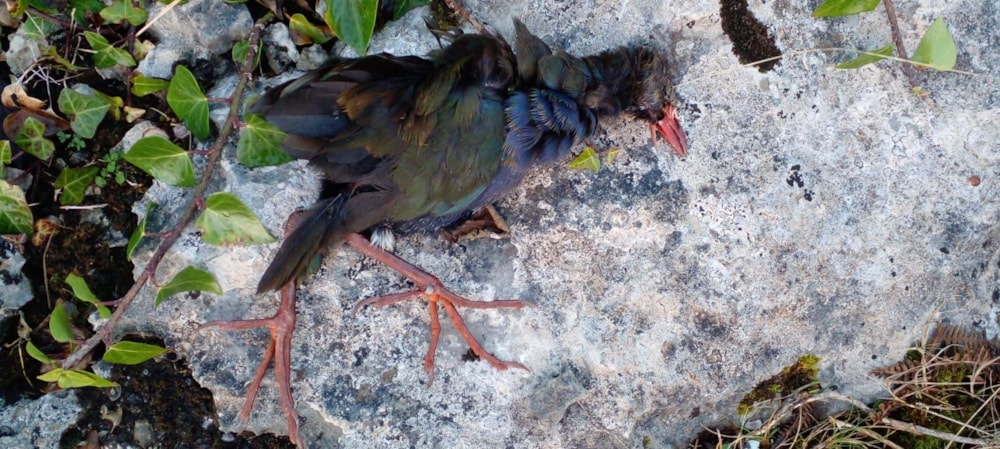 Allen's Gallinule, Inishmore, Galway (Lucia Bližniaková).
With just seven accepted British records to date, two Baikal Teal were somewhat of a surprise. First was the continuing adult drake at Greylake RSPB, Somerset & Bristol. Another – seemingly a first-winter drake – appeared at Hornsea Mere, East Yorkshire, on 9th. Interestingly, the latter site hosted a drake in May-June 2019, with that record subsequently written off as an escape and placed in Category E of the British list.
Baikal Teal, Hornsea Mere, East Yorkshire (James Spencer).
Lancashire's Belted Kingfisher was last noted near Roach Bridge on 6th. Recent heavy rain has meant river water levels have been rather high recently – plenty will be hoping for a repeat appearance once levels subside.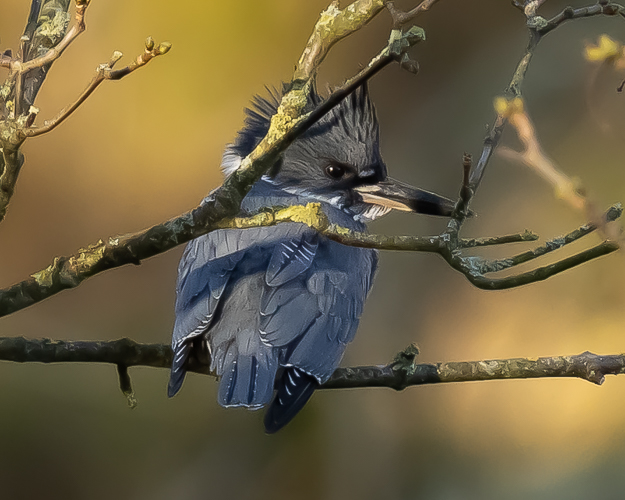 Belted Kingfisher, Samlesbury, Lancashire (David Carr).
Southern England's rare passerines remained: an American Buff-bellied Pipit at East Prawle, Devon, three Eurasian Penduline Tits at Weston Airfield, Somerset & Bristol, and a Hume's Leaf Warbler at St Margaret's at Cliffe, Kent. The juvenile Northern Harrier lasted at Lough Boora Parklands, Co Offaly, for another week too.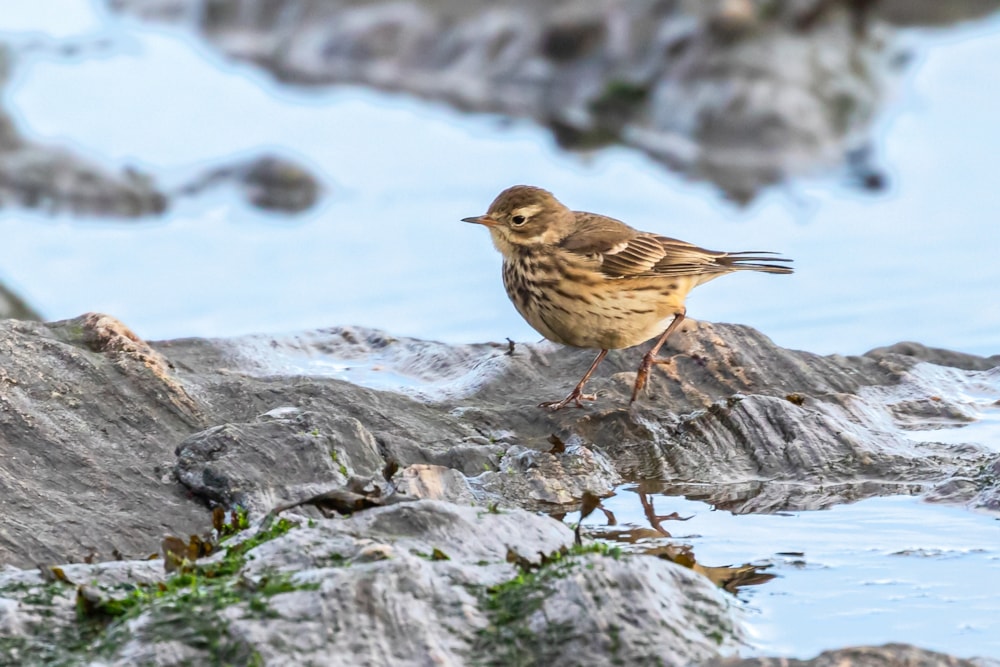 American Buff-bellied Pipit, East Prawle, Devon (Chris Lake).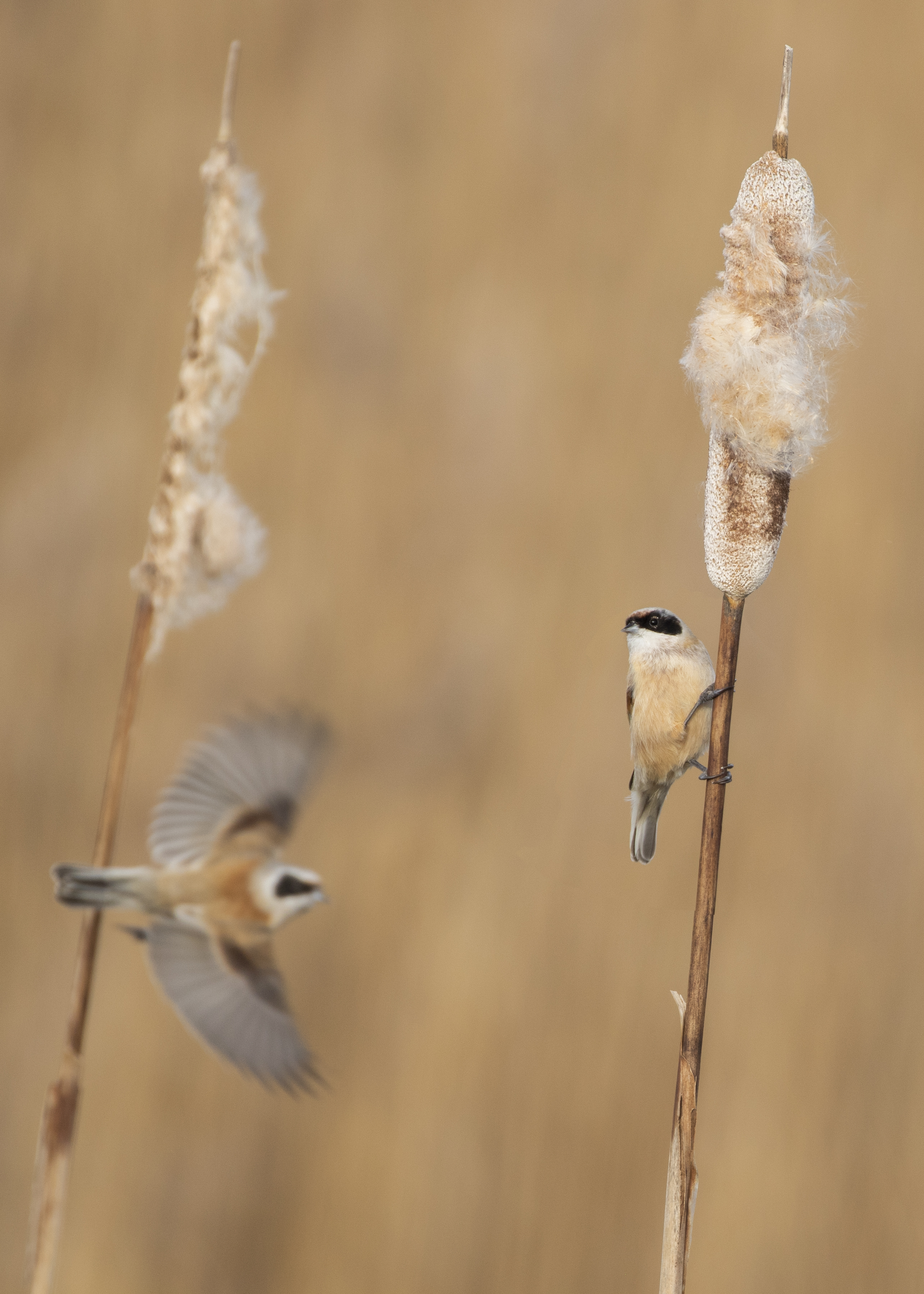 Eurasian Penduline Tit, Weston-super-Mare, Somerset & Bristol (Nathaniel Dargue).
A first-winter Black-throated Thrush was unfortunately found dead in Lincoln, Lincolnshire, on 4th. It is just the second for the county after a twitchable bird in Grimsby in early 2020.
Lincs 2nd Black-throated Thrush (photos received by email). Picked up dead in Bailgate, Lincoln this morning 04.01.2022 (unverified)? pic.twitter.com/4mx4uHICIE

— Lincsbirding (@Lincsbirding) January 4, 2022
A Red-flanked Bluetail at Middleton-in-Teesdale, Durham, cut a popular figure throughout. Another rare winter fixture, Pallas's Warbler, delighted at Abingdon sewage works, Oxfordshire, from 5th.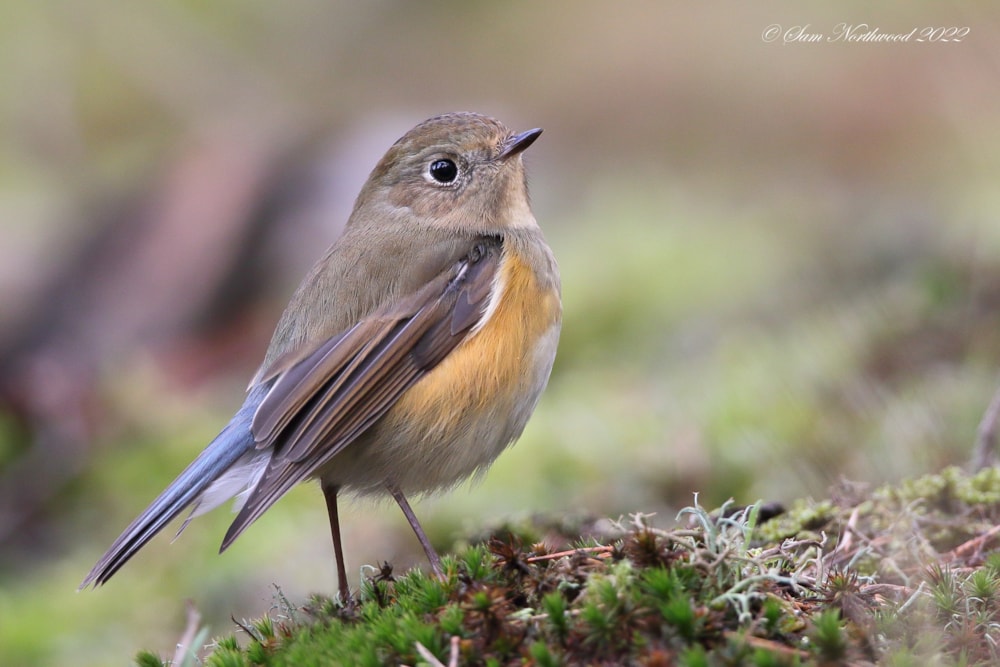 Red-flanked Bluetail, Middleton-in-Teesdale, Durham (Sam Northwood).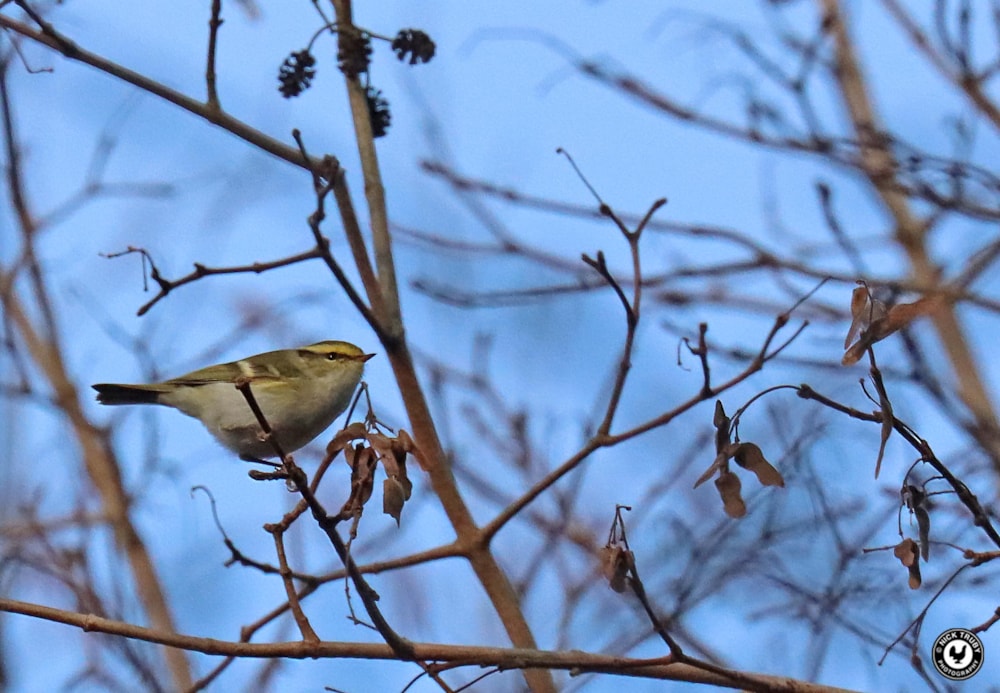 Pallas's Warbler, Abingdon, Oxfordshire (Nick Truby).
Likely Siberian Lesser Whitethroats visited gardens at Kilbaha, Co Clare, and West Cross, Glamorgan, and a Rosy Starling was at Pendeen, Cornwall. Dusky Warblers, meanwhile, remained at Wheldrake Ings YWT, North Yorkshire, Fordwich, Kent, and Walthamstow Marsh, London.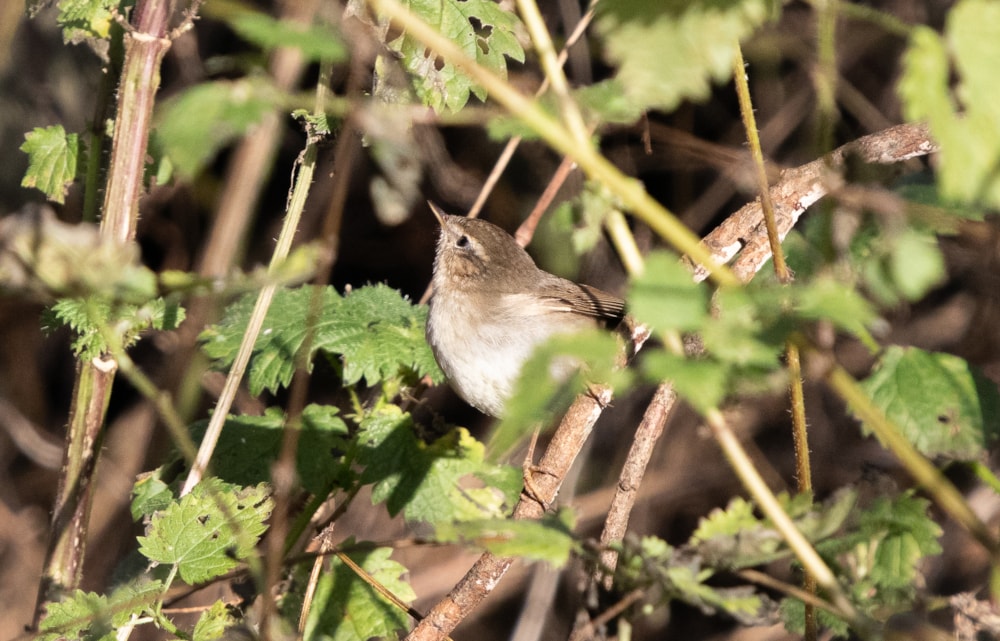 Dusky Warbler, Walthamstow Marsh NR, London (Eugene Dillon-Hooper).
Shore Larks have been thin on the ground this winter, a trend that continued this week. Birds were at Holy Island, Northumberland (two), Holkham Gap, Norfolk (five), Kessingland, Suffolk, and Sheppey, Kent (seven). A Great Grey Shrike was a surprise find in a garden at Kingston, Isle of Wight, with others still at Llyn Brenig, Conwy, Bratley Inclosure, Hampshire, and Wistow, North Yorkshire.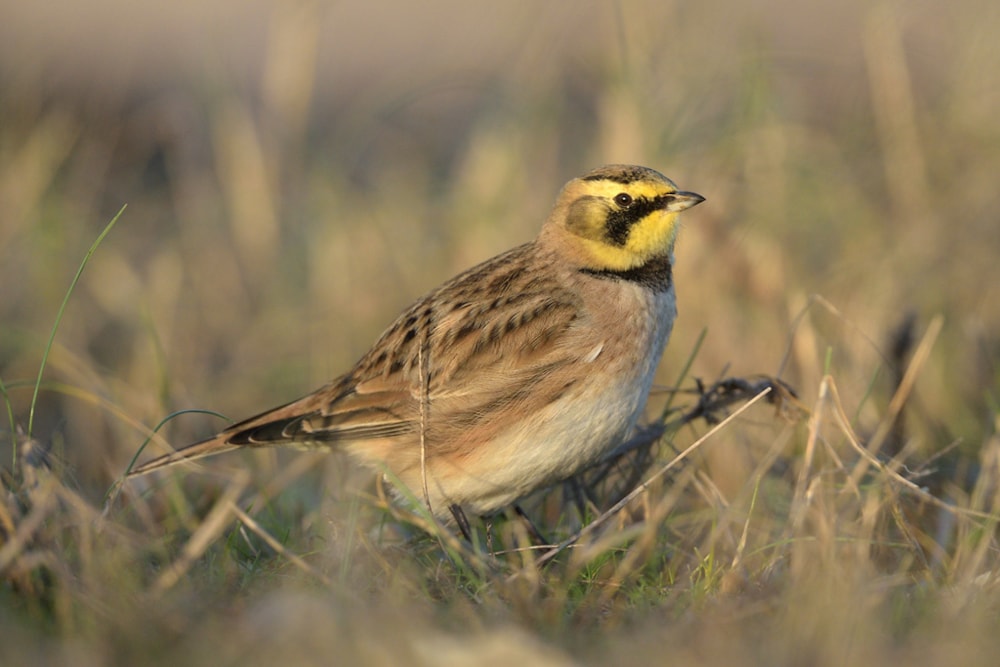 Shore Lark, Leysdown-on-Sea, Sheppey, Kent (Ian Curran).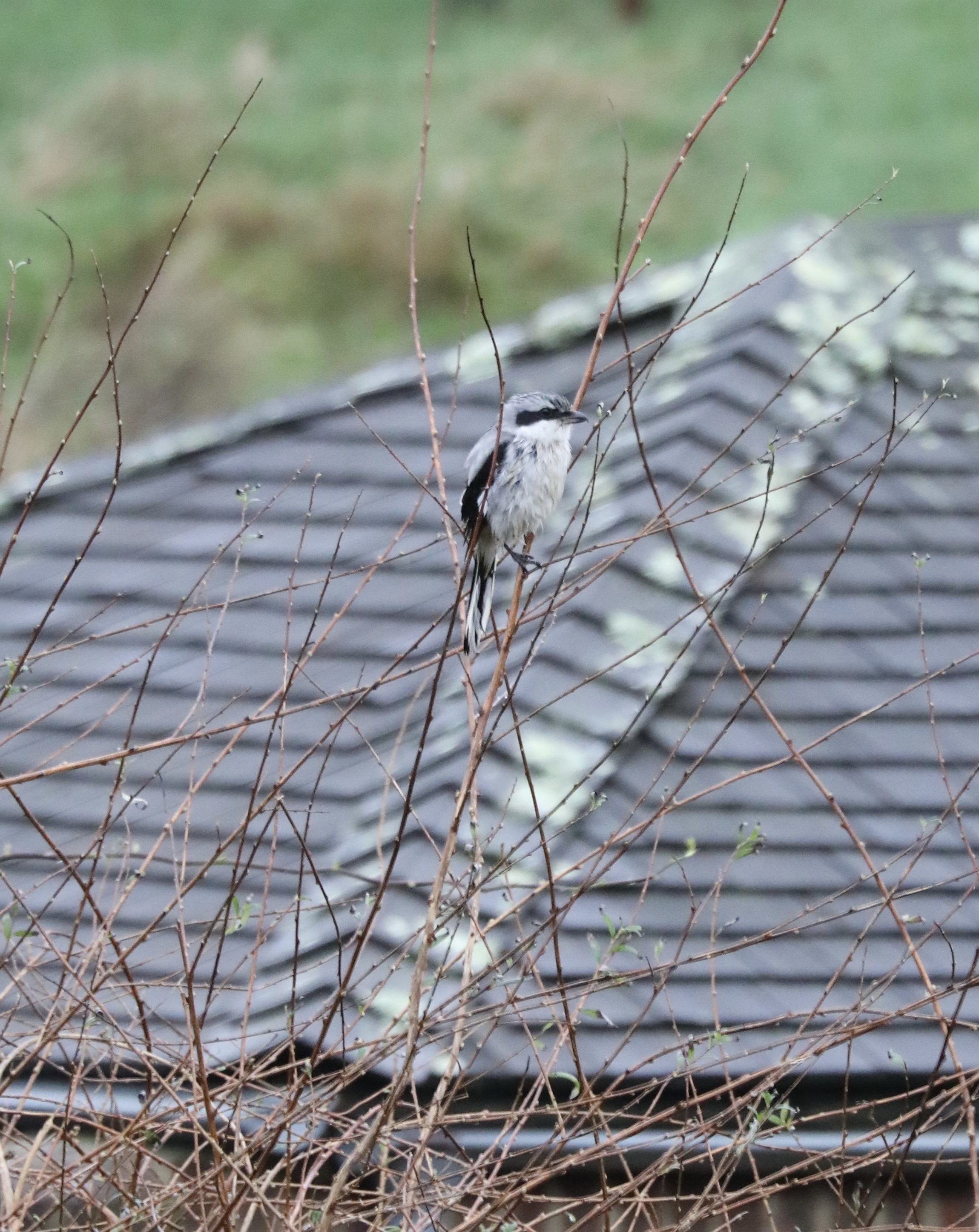 Great Grey Shrike, Roslin, Isle of Wight (Louise Ness).
Little Buntings held out at Iping Common, West Sussex, and Bexley, London. Just a single Richard's Pipit was recorded – at Filey, North Yorkshire.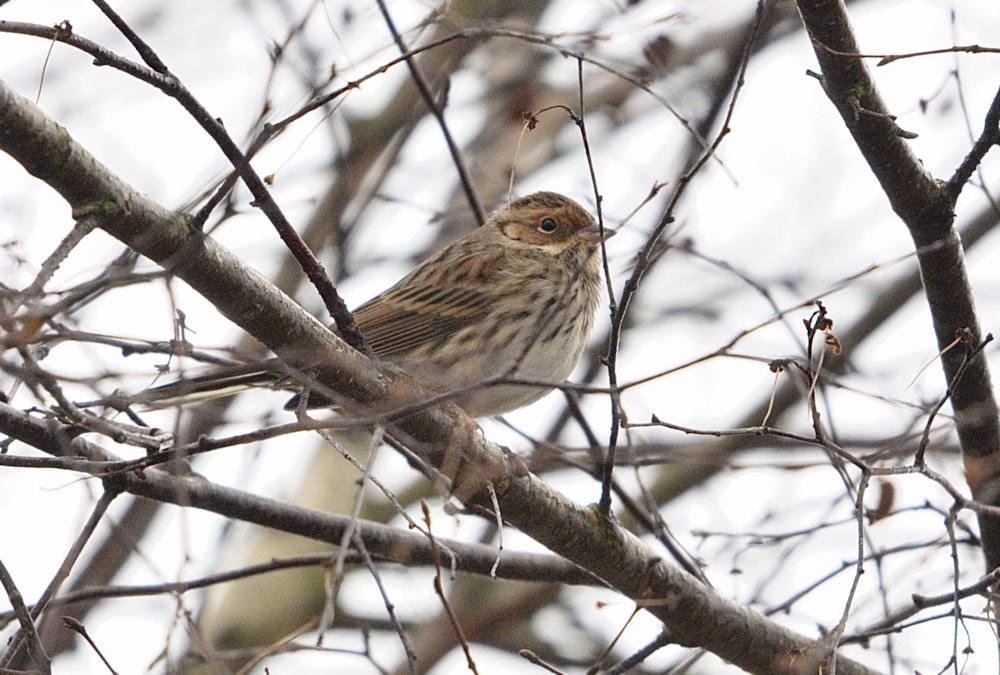 Little Bunting, Iping Common, West Sussex (Matt Phelps).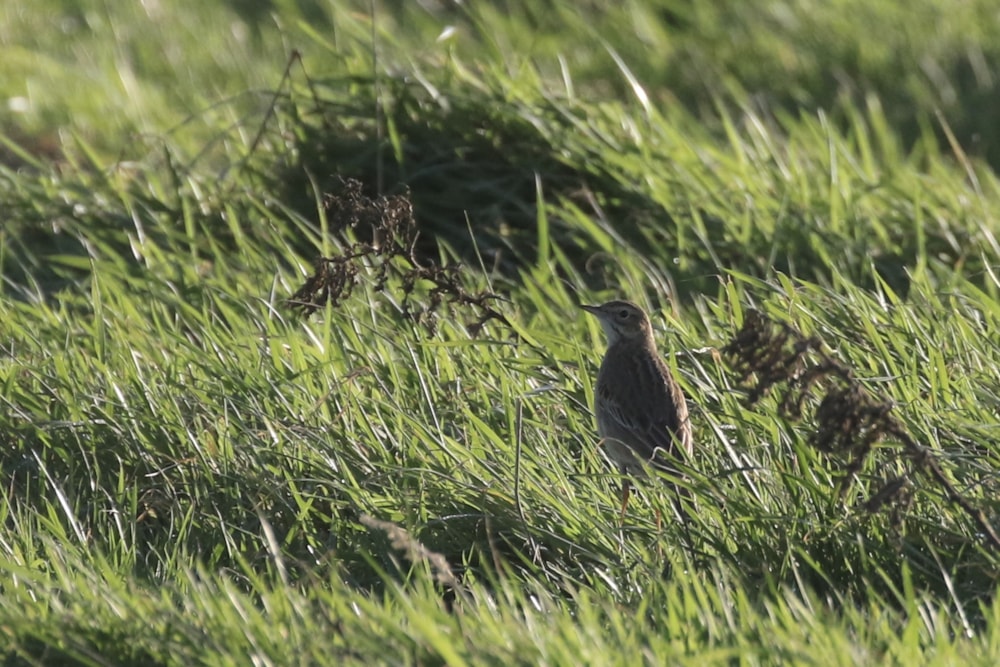 Richard's Pipit, Filey, North Yorkshire (Will Scott).
On 9th, a Red-breasted Goose graced Freiston Shore RSPB, Lincolnshire, in the company of Dark-bellied Brent Geese. Perhaps this is the bird noted not too far away at Wrangle back in the autumn. In Essex, one of the Holliwell Point birds made a brief appearance at Wallasea Island RSPB on 8th.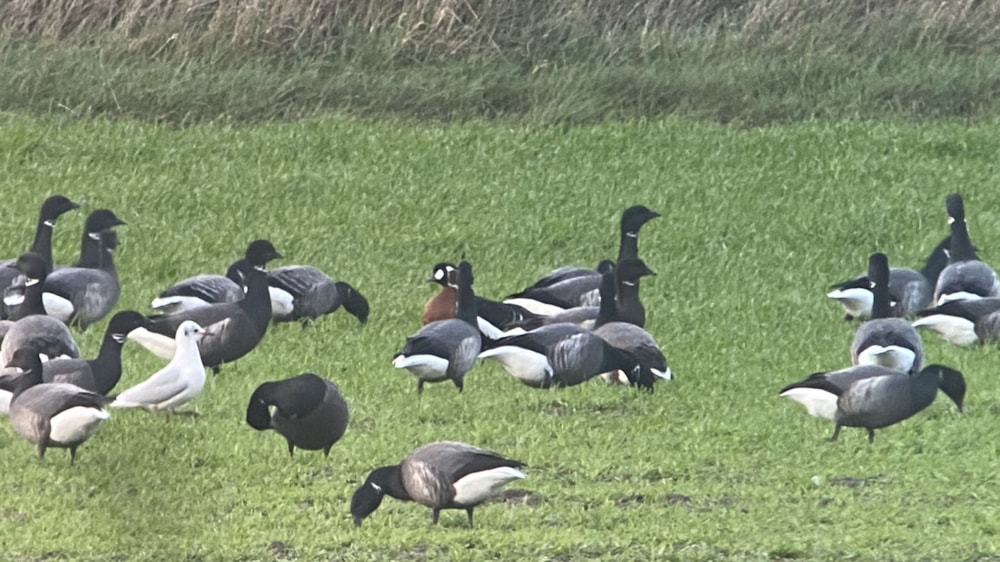 Red-breasted Goose (centre), Freiston Shore RSPB, Lincolnshire (Josh Fusiara).
A number of Richardson's Cackling Geese were recorded: at Ballygilgan and Ballintemple, Co Sligo, Banks Marsh, Lancashire (on 5th) and Balranald RSPB, North Uist, Outer Hebrides (three). Meanwhile, the Lesser White-fronted Goose lasted with Pink-feet at Terrington St Clement, Norfolk, until 4th.
Two Lesser Canada Geese remained at Doonbeg, Co Clare, with Todd's Canada Geese spread between Termoncarragh Lough, Co Mayo, Banks Marsh, Lancashire, Rockcliffe Marsh, Cumbria (two), and Stanhoe, Norfolk. Snow Geese were well distributed across Scotland – at Lossiemouth, Moray (three), The Loons RSPB, Mainland Orkney, Greinetobht, North Uist, Outer Hebrides – with another again in Lancashire at Marshside RSPB. Six Black Brant were noted, including two in Essex.
Todd's Canada Goose, Crossens Outer Marsh, Lancashire (Ron Jackson).
One of the Slapton Ley Lesser Scaup moved to Abbotsbury Swannery, Dorset, with the other individual still present in Devon. Others remained at Auchincross Loch, Ayrshire, Islay, Argyll (three), Tresco, Scilly, and Ballinascarty, Co Cork. Both wintering Ferruginous Duck remained – at Blashford Lakes, Hampshire, and Aqualate Park, Staffordshire.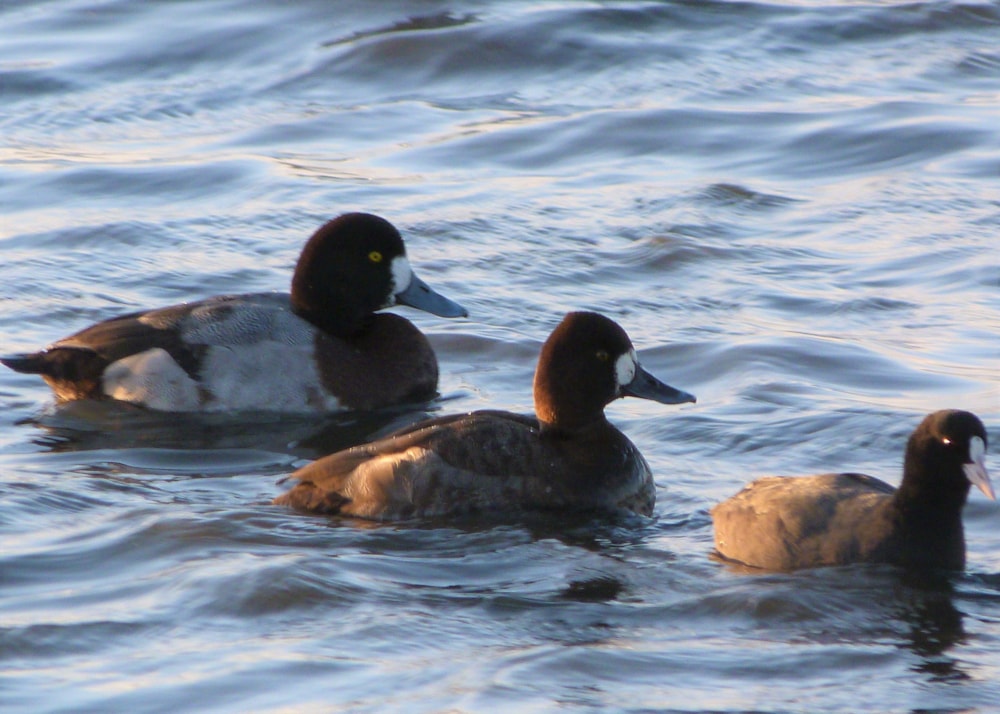 Lesser Scaup (centre) and Greater Scaup (left), Abbotsbury Swannery, Dorset (Steve Groves).
It was another impressive showing of Ring-necked Duck, with sightings split between 15 British and eight Irish counties. Seven new sites jammed in on the incursion: Lough Neagh, Co Armagh, Celbridge, Co Kildare, Lough Colga, Co Sligo, Ardcloony, Co Clare, Siblyback Reservoir, Cornwall, Wintersett Reservoir, West Yorkshire, and Bolton-on-Swale Lake, North Yorkshire. Green-winged Teal were well-represented too, with nine reported during the week – comprising three in Co Cork, two at Tain, Highland, and a new drake at Lady's Island, Co Wexford.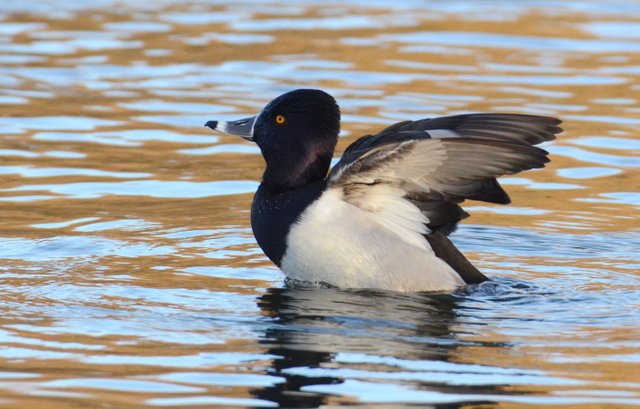 Ring-necked Duck, Glasgow, Clyde (Joe Graham).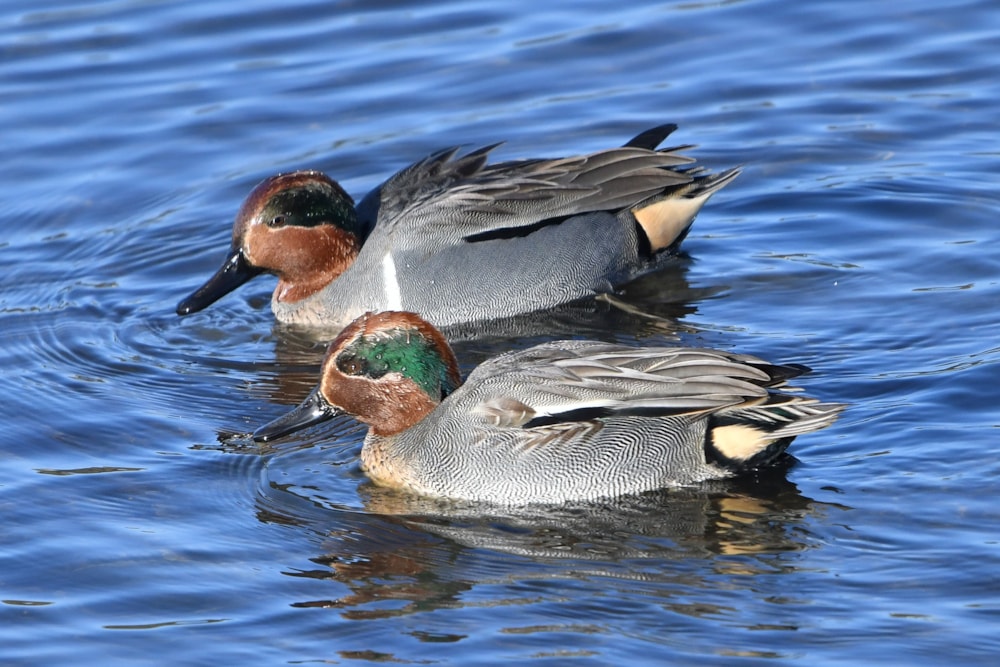 Green-winged Teal (rear), Kinsale Marsh, Cork (Richard Mills).
Black Scoter lingered off Lossiemouth, Moray & Nairn, and Stag Rocks, Northumberland, throughout, the latter accompanied by a dapper White-billed Diver on 9th (another was off Yell, Shetland). Lothian's White-winged Scoter was still off Musselburgh on 5th; Surf Scoter were split between Musselburgh and Gullane Point, Lothian, Barra, Outer Hebrides, Tresco, Scilly, and Broad Haven, Pembrokeshire.
Unconfirmed Pacific Diver reports came from St Austell Bay, Cornwall, while the juvenile at Eglwys Nunydd Reservoir, Glamorgan, continued to offer excellent views to allcomers. One of the drake King Eider at Bluemull Sound, Shetland, was reported sporadically.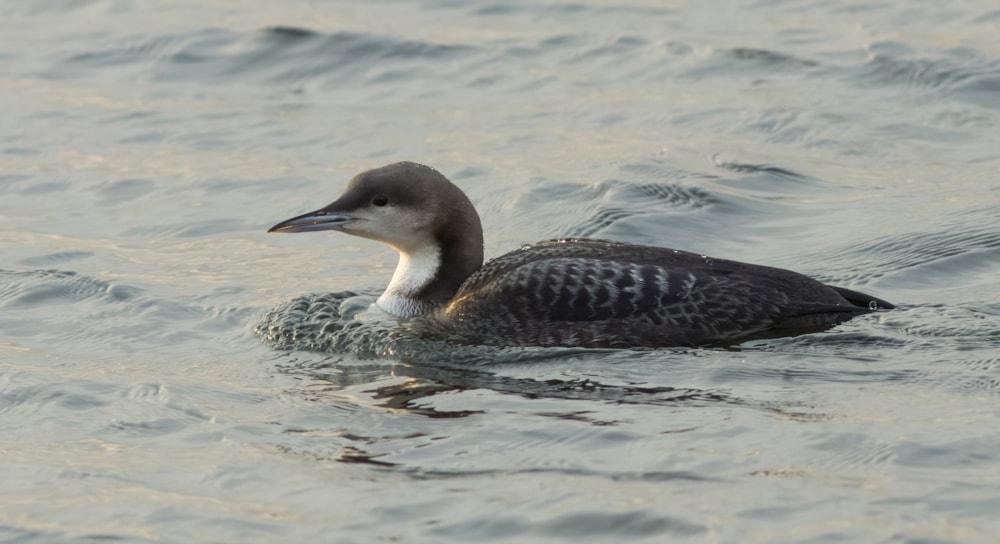 Pacific Diver, Eglwys Nunydd Reservoir (no general access), Glamorgan (Bethan Clyne).
A first-winter Long-billed Dowitcher proved a smart find at Fluke Hall, Lancashire, from 9th. Elsewhere, the Lincolnshire White-tailed Lapwing, Scilly Spotted Sandpiper and Co Wexford Lesser Yellowlegs all continued. The unseasonal Wood Sandpiper lasted another week at Pitsford Reservoir, Northamptonshire, as did the White Stork at Worth Marsh, Kent. A Grey Phalarope at Ireland, Mainland, throughout was Shetland's most popular bird, with others at Dunnet Bay, Caithness (two), Filey, North Yorkshire, Cley Marshes, Norfolk, and Marazion Marsh RSPB and Pendeen, Cornwall.

White-tailed Lapwing, East Halton Skitter, Lincolnshire (Graham Catley).
Glossy Ibis continued to saturate inland into Ireland and southern portions of England and Wales, with no fewer than 45 sites notching sightings. Notable counts included 21 at Nohoval, Co Cork, 18 at Walmsley Sanctuary, Cornwall, 12 at Brading Marshes RSPB, Isle of Wight, and five east over Pwll, Carmarthen.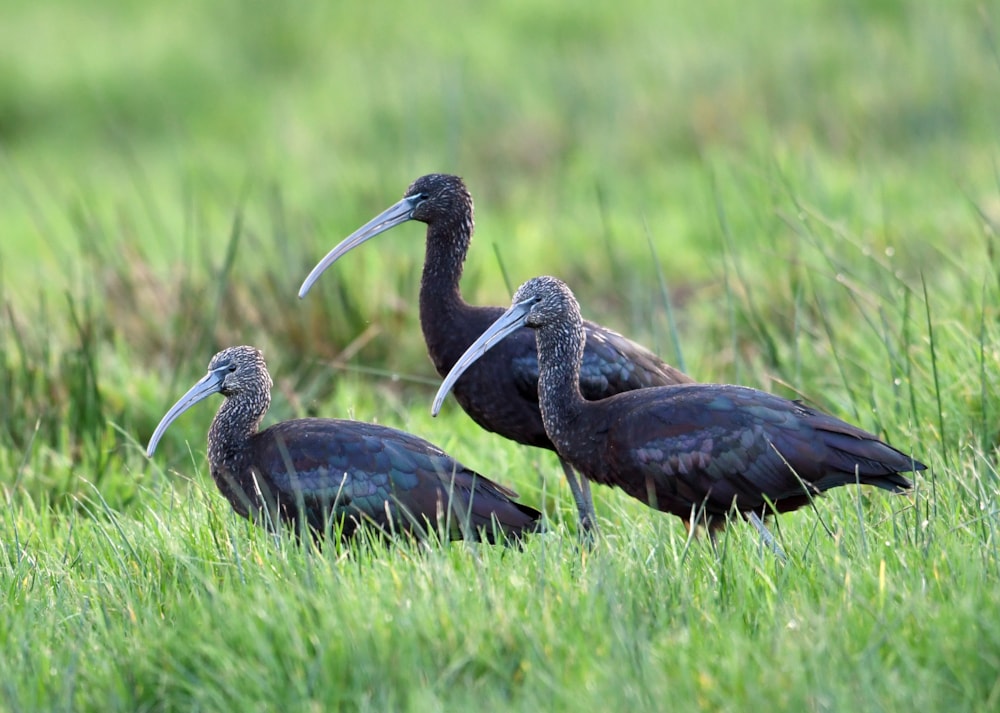 Glossy Ibis, Enniskeane, Cork (Richard Mills).
A possible Azores Gull roosted at Kildavin, Co Carlow, on 9th, with the adult Bonaparte's Gull still at Drains Bay, Co Antrim, on 4th. Eight Ring-billed Gulls – all adults – were again recorded, with the majority in Ireland (at Blackrock, Co Louth, Tralee, Co Kerry, Ballyallia Lake, Co Clare, and Timoleague and Clonakilty, Co Cork). Others were at Strathclyde Loch, Clyde, Musselburgh, Lothian, and Hayle Estuary, Cornwall. At least five Kumlien's Gulls were also noted and a rare Hampshire Leach's Storm Petrel lingered off Weston Shore on 4th.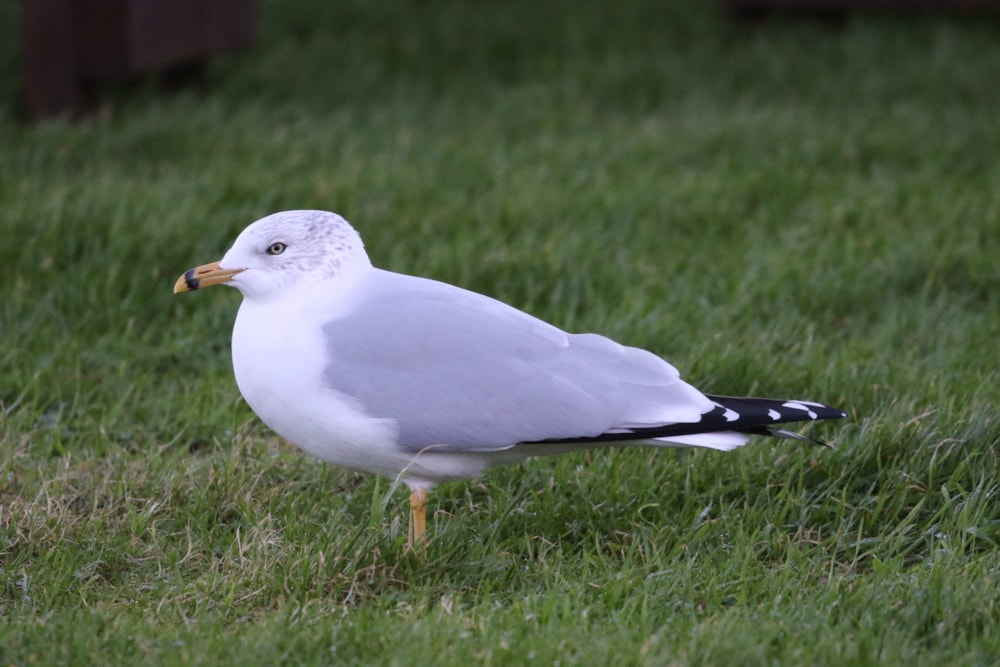 Ring-billed Gull, Tralee, Kerry (John Lynch).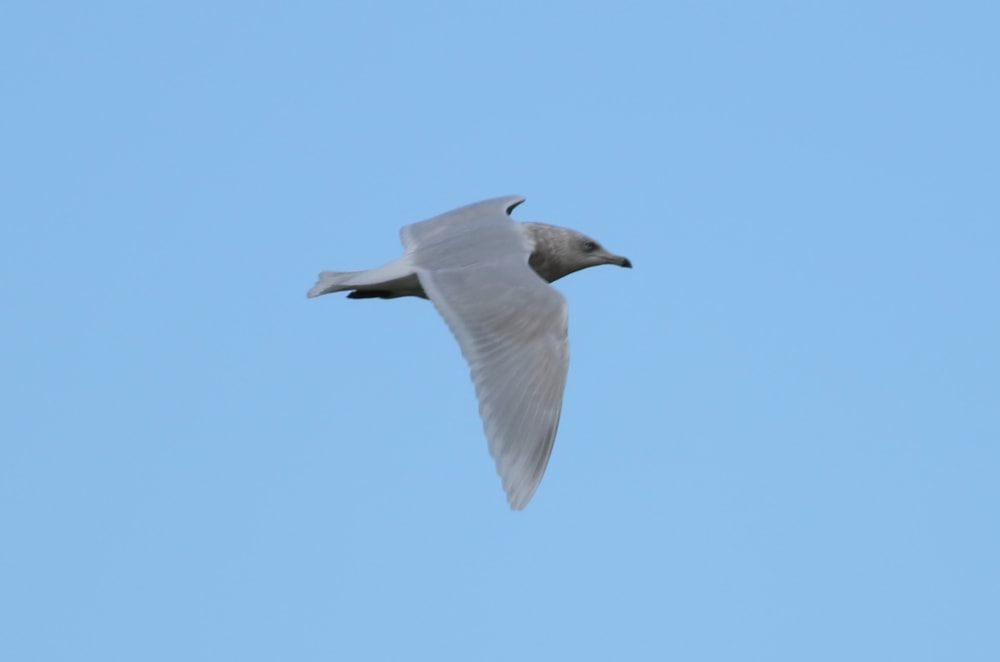 Kumlien's Gull, Heydon, Cambridgeshire (Jim P).
On 7th, the immature female Walrus cropped up at Heylor, Mainland Shetland.
FREYA | Continuing her European tour, Freya the young Arctic Circle walrus made a surprise appearance at our Slocka farm in Shetland earlier, grabbing a rest on a walkway before resuming her travels. Pics c/o of our somewhat astounded husbandry colleague Jack Uren #freyathewalrus pic.twitter.com/DDidwkc4kj

— Scottish Sea Farms (@scotseafarms) January 7, 2022
Western Palearctic
A major rallid influx into the Canary Islands saw no less than two African Crakes (on Lanzarote and Fuerteventura) and three Allen's Gallinules (on Lanzarote, Fuerteventura and Tenerife) make landfall. Unfortunately, a juvenile Allen's at Costa Teguise, Lanzarote, from 6th would be the only example to survive the week. Tenerife hosted a Common Crane and Semipalmated Plover too.
30.12.2021 Crecopsis egregia 1 ind Lanzarote, Canary Islands. It died the same night (Communicated by CR-SEO/BirdLife) pic.twitter.com/vqOomxz6lr

— Rare Birds in Spain (@rarebirdspain) January 7, 2022
In Spain, no fewer than seven Lesser Flamingos visited Veta La Palma, Coto Doñana, and the American Herring Gull held out at Muxía. In the Azores, meanwhile, a Snowy Egret, two American Great Egrets and a Bonaparte's Gull were at Cabo da Praia, Terceira, with the Belted Kingfisher and Lesser Scaup at nearby Praia da Vitória.
Stejneger's Scoter remained off Båstad, Sweden, and Høve, Denmark, with Denmark's Black Scoter still off Tisvilde Hegn. In Sweden, the Siberian Rubythroat held on at Vargön. An Oriental Turtle Dove was again at Sulgen, Switzerland, on 2nd, while a Grey Wagtail at Osovtsy is just the fifth for Belarus.
A Pygmy Cormorant was again at Lavours, France and 13 Glossy Ibis were on Jersey, Channel Islands – an island record flock. The Western Swamphen continued at Alblasserdam, The Netherlands and Belgium's first-winter Ross's Gull was still at Nieuwpoort too.
Israel's third Balearic Shearwater flew past Haifa on 1st and the Three-banded Plover lingered at Avney Eitan.