The week at a glance
Given the speed and volume of northward migration last week, it was always going to be difficult to maintain such a frenetic pace. Sure enough, numbers of common species fell away this week, although the Bank Holiday weekend's tradition for producing records of outstanding rarities wasn't entirely broken, despite the continuing miserable weather.
At the heart of such tradition is Dungeness (Kent): the long and decorated history of Bank Holiday rarities to have graced the peninsula includes a lingering Black-browed Albatross in 2001 and an Audouin's Gull in 2003. Continuing the trend, a Crested Lark was found in the power station compound during the afternoon of 7th, being seen briefly a few times over the following few hours before disappearing in the shingle expanse. Had this been 2008 rather than 2012, mass panic would have ensued but, thanks to a co-operative six-day stayer at the very same site in April–May 2009, most birders could rest easy following a review of the mega-alert. Let that take nothing away from the find, though, for it was of the highest order. Given the extent of the area, it seems reasonable to think it is still lurking out there, somewhere, for those who were not at Dunge three years ago.
Coming a close second was another Kent lark — this time a Calandra — at Sandwich Bay during the afternoon of 5th. Unfortunately, it proved even briefer than the Crested, being seen in flight only as it undulated north towards the golf course. Needless to say, it could not be relocated and, with a brief bird in Lincolnshire last year still fresh in the memory, those who did not get out to the Isle of May in 2006 will be hoping for another to stay more than a matter of minutes.
The other highlight of the week was another genuinely rare species 'devalued' by a recent, long-staying example available to the masses. However, it probably didn't help that the Black-winged Pratincole at Burton Mere Wetlands (Cheshire) failed to linger longer than the evening of 3rd and a few hours early the next morning before disappearing. Pratincoles have a habit of being relocated, so perhaps there is hope of another appearance yet.
Remaining in residence was the mystifying black-and-white flycatcher at Flamborough Head (E Yorks), which lingered all week. Sense would suggest that this is a Ficedula hybrid rather than an Atlas Flycatcher, although stranger things have happened. This individual has stayed rather longer than most Scandinavian migrants on the east coast in spring; optimists have suggested that this favours a genuinely lost bird rather than a routine migrant. Of course, all is speculation until the DNA results arrive; hopefully by this time next week we will know for sure.

Putative Atlas Flycatcher or hybrid, Flamborough Head, East Yorkshire (Photo: Alan Elkin)
In Norfolk, an isolated Black Brant record was received from Warham Greens (Norfolk) on 5th. The drake Blue-winged Teal that reappeared at Bridgend Farm Pool (Clyde) from 6th was associating rather intimately with a female Shoveler. Five Green-winged Teal included four new birds, at Kilvington (Notts) on 3rd–4th, Marshside (Lancs) on 3rd–5th, Maer Lake (Cornwall) on 7th and the Ythan Estuary (Aberdeenshire) on 8th, while the drake remained on Fair Isle. The only remaining Ring-necked Duck was that at West Ashby (Lincs). A Surf Scoter off Ferny Ness then Port Seton (Lothian) from 8th was likely a returning bird; also familiar was the King Eider still on the Ythan Estuary.

Blue-winged Teal, Bridgend Farm Pool, Clyde (Photo: Keith Hoey)
White-billed Diver records are slowly beginning to fizzle out, but up to two were still off Hopeman and Burghead (Moray/Nairn) and remaining Orkney individuals were off North Ronaldsay to 6th and Herston, South Ronaldsay to 9th.
After restlessly charging around for the latter part of last week, the Squacco Heron at Chew Valley Lake (Somerset) eventually calmed down, showing more regularly to 5th before relocating to nearby Blagdon Lake for the rest of the period. Purple Herons have been thin on the ground so far this year, so lingering birds at Tacumshin (Wexford) and Holkham Freshmarsh (Norfolk) on 4th–5th were welcome; the latter was seen over nearby Burnham Overy on 6th. A new Cattle Egret toured Christchurch Harbour (Dorset) on 5th–6th, and others remained in Northamptonshire and Gloucestershire. There were around ten Great White Egrets as far north as Lancashire; the only new bird was in Essex.

Squacco Heron, Blagdon Lake, Somerset & Bristol (Photo: Sue Mackie)
The five White Storks continued to tour the south coast for the first half of the week. Still in West Sussex on 3rd, they were then seen over Havant (Hants) on 4th. The following day, they were tracked over Weymouth then Portland (Dorset), presumably toying with the idea of leaving Britain altogether. However, their reappearance at Morden Bog on 6th suggested they had bottled the opportunity, and have presumably vanished into the interior of southern England once more — where next?! In a similar vein, the two previously seen in Lincolnshire and Norfolk were found at Scotney Gravel Pits (Kent) then Rye Harbour (E Sussex) on 4th, before taking a similar westward routine into Hampshire, where they were seen on 8th. A further bird was in Somerset on 3rd–5th, and a presumed escape was at Tebay (Cumbria) on 4th.

White Stork, Fontwell, West Sussex (Photo: Dorian Mason)
A fresh wave of Glossy Ibis records involved a total of more than twenty birds. Four were at Marloes Mere (Pembrokeshire) on and off throughout the week, and four arrived at Tacumshin (Wexford) on 6th. One remained there for the rest of the week, but the other three seemingly relocated to Cork, where they joined the long-stayer in the Timoleague area from 7th. The Aberdeenshire trio were again seen flying over Newburgh and Drums on 5th, while the first record for Ayrshire since 1907 was at Dundonald Camp on 5th.

Glossy Ibis, Bogside Flats & Racecourse, Ayrshire (Photo: Chas Moonie)
A series of records of ringtail Pallid Harriers along the east coast refer to at least two wandering individuals. A first-summer male was tracked along the Norfolk coast between Cley and Wells on 5th, before being noted again at Blakeney on 7th. Another was at Sammy's Point (E Yorks) on 5th then flew south along the Spurn peninsula the following day. Records from Gibraltar Point and Theddlethorpe St. Helen (Lincs) on 8th perhaps relate to the Spurn bird, while there was a further report of a possible at Waxham (Norfolk) on 9th. Black Kites were reported in Kent, Hampshire, Hertfordshire and Somerset.
The excellent spring for Black-winged Stilt continues. Four at Elmley Marshes (Kent) on 5th–6th split in half on 7th; two remained there to 9th while the others relocated to Minsmere (Suffolk). Two were at Frampton Marsh (Lincs) on 5th, with a single bird there again on 7th. Possibly one of those birds was at Paxton Pits (Cambs) on and off from 3rd–7th, while others remained on the Isle of May (Fife) and Walmsley Sanctuary (Cornwall) to 4th.
Content continues after advertisements

Black-winged Stilt, Isle of May, Fife (Photo: Liam Reid)
In Gloucestershire, a Red-necked Phalarope was a morning visitor to Slimbridge on 3rd. An excellent arrival of five female Kentish Plovers was typically confined to southern counties. Birds were seen in Cornwall, Dorset, Kent, Norfolk and East Sussex, with only the latter lingering (for four days) at Rye Harbour. A first-summer American Golden Plover was at Tacumshin (Wexford) on 6th–7th.

Kentish Plover, Ferrybridge, Dorset (Photo: Joe Stockwell)
Right on cue, the first Temminck's Stints arrived: perhaps as many as 15 included four at Old Hall Marshes (Essex) on 3rd. A couple of one-day Pectoral Sandpipers were on North Ronaldsay (Orkney) and Exminster Marshes (Devon), while four Long-billed Dowitchers included three new birds: at Lough Beg (L'derry) on 3rd, Livermere Lake (Suffolk) on 4th–6th and Hodbarrow (Cumbria) on 9th, while the fourth remained at Bannow Bay (Wexford). The Somerset duo appear to have finally moved on, and the movement of the Greater Yellowlegs from Loch of Strathbeg to the Ythan Estuary (Aberdeenshire) on 5th suggests that it might also be thinking about pastures new.

Long-billed Dowitcher, Livermere Lake (Ampton Water), Suffolk (Photo: Chris Mayne)

Long-billed Dowitcher, Lough Beg, Londonderry (Photo: Derek Charles)
Apart from plenty of lingering Iceland Gulls, a second-summer Ring-billed Gull at Timoleague (Cork) on 8th was just about the only 'exciting' larid noted.
Another good week for Wryneck records saw almost thirty birds recorded, primarily along the east coast between Kent and Shetland. This included an impressive five on North Ronaldsay (Orkney) on 8th, with mainland individuals including three or more in the Spurn area and a popular individual at Minsmere (Suffolk). Away from the east coast, a bird at Maw Green Landfill Site (Cheshire) proved popular on 5th–6th, with others on the Isle of Wight and Scilly. A dozen or so Hoopoes included a notable record from Pollardstown Fen (Kildare), while plenty of migrant Golden Orioles saw Scilly scoring a bucketload: five were on St. Martin's alone on 3rd. A vocal Bee-eater flew over the Great Orme (Conwy) on 4th, and the Short-toed Lark remained on Anglesey to 3rd (another was on Scilly to 4th). Red-spotted Bluethroats were on Blakeney Point (Norfolk), the Isle of May (Fife) and Fair Isle.

Wryneck, Minsmere RSPB, Suffolk (Photo: Ian Clarke)
Fourteen Red-rumped Swallows was a conservative total for the week's records. Inland birds included showy individuals at Farmoor Reservoir (Oxon) on 5th–6th and Grafham Water (Cambs) on 7th–9th, where there was an belated and unconfirmed report of a brief Little Swift from 7th. Other 'rumpers' included twitchable birds in Gwent and Kent, while a two-dayer on Cape Clear (Cork) was the sole Irish record. At least two birds seemed to be touring Scilly throughout.

Red-rumped Swallow, Greatstone-on-Sea, Kent (Photo: Mick Southcott)
A pristine male Citrine Wagtail was on the golf course at Holme (Norfolk) briefly on 4th, and an equally short-staying female was at Ballycotton (Cork) the following day. Several Grey-headed Wagtails were reported. In Cornwall, a Red-throated Pipit at Lizard Point on 8th was not available to the masses (nor was the Richard's still on Lundy), although a Tawny Pipit at Landguard (Suffolk) on 6th proved more accommodating. Confusing reports of Richard's, Tawny and 'large pipit sp.' from St. Mary's (Scilly) on 6th were never really cleared up.

Citrine Wagtail, Holme next the Sea, Norfolk (Photo: David Evans)

Tawny Pipit, Landguard NR, Suffolk (Photo: Chris Mayne)
A singing male Savi's Warbler was an excellent find at Rutland Water on 4th, although it often proved difficult to hear (let alone see) despite lingering to 8th at least. The first Icterine Warbler of 2012 reached Holy Island (Northumberland) on 8th, while a Melodious Warbler was belatedly identified from photographs taken in a Bearwood (Dorset) garden on 1st. A first-summer Western Subalpine Warbler arrived at Portland Bill (Dorset) on 9th, where it was trapped and ringed. Rather less seasonable were Yellow-browed Warblers at Spurn on 3rd–4th and Wells Woods (Norfolk) on 8th.
Easterly winds delivered a couple of Red-backed Shrikes to Orkney and Shetland while, in contrast, the only two Woodchats of the week were in the extreme southwest: last week's bird remained at Cape Cornwall on 3rd, and another graced St. Mary's (Scilly) on 8th–9th. The Great Grey Shrike remained at Whiston (S Yorks) to 5th, and another was at Marske-by-the-Sea (Cleveland) the same day.

Great Grey Shrike, undisclosed site, South Yorkshire (Photo: John Gray)
After a series of lean summers, birders will be hoping that the Rose-coloured Starling at Selsey Bill (W Sussex) on 6th might signal the arrival of further birds in the coming weeks. Two Serins flew over St. Mary's (Scilly) on 9th, with others in Felixstowe (Suffolk) on 4th and on Great Saltee Island (Wexford) on 5th. Although upstaged by one of the week's highlights, the re-trapping of the Little Bunting at Sandwich Bay on 4th allowed many birders to catch up with it over the following two days. Finally, a couple of smart Ortolans were seen on Whalsay and Fair Isle (both Shetland) on 9th.
Photo of the Week

Common Redstart, Long Mynd, Shropshire (Photo: John Fielding)
Hot on the heels of his first Photo of the Week, John Fielding has hit the mark again with another gorgeous portrait of a colourful small passerine — this time a Redstart. John has photographed this species locally for the last few years, and has refined his ability to capture close-range shots in a natural setting. His latest image is pin sharp and perfectly exposed, retaining detail in both the highlights and shadows of the head feathers. Lighting is diffuse and even and the use of colour is spot on, a rich green background providing colour contrast with the orange plumage areas. All of the above, though, are technical aspects of photography and can only guarantee that the finished image is 'competent', not that it is appealing. In this case, John has added appeal through the inclusion of an aesthetic perch angled to create depth, plus a strong compositional framing. These factors add artistic appeal, but still leave out one of the most important elements of a great bird image: exactly what the bird is doing. It's easy to imagine this bird hopping about on the perch, striking a whole range of poses at a variety of angles relative to the camera. With the set-up in place and the bird in frame, the best bird photographers then apply intense concentration to the bird's pose, waiting for the perfect moment. With luck, the bird will momentarily strike a great pose, but luck plays no other part in a superb portrait shot like this one.
Other notable photos

Puffin, Sumburgh, Mainland, Shetland (Photo: James Wood)

Hobby, North Warren RSPB, Suffolk (Photo: Tony Belsham)

Common Swift, Farmoor Reservoir, Oxfordshire (Photo: Dave Hutton)

Pied Flycatcher, undisclosed site, Powys (Photo: Stuart Wright)

Cuckoo, undisclosed site, Shropshire (Photo: Paul Burgess)

Grasshopper Warbler, undisclosed site, Cheshire (Photo: Richard Steel)

Wryneck, Minsmere RSPB, Suffolk (Photo: Jon Evans)

European Bee-eater, Italy (Photo: Paolo Caretta)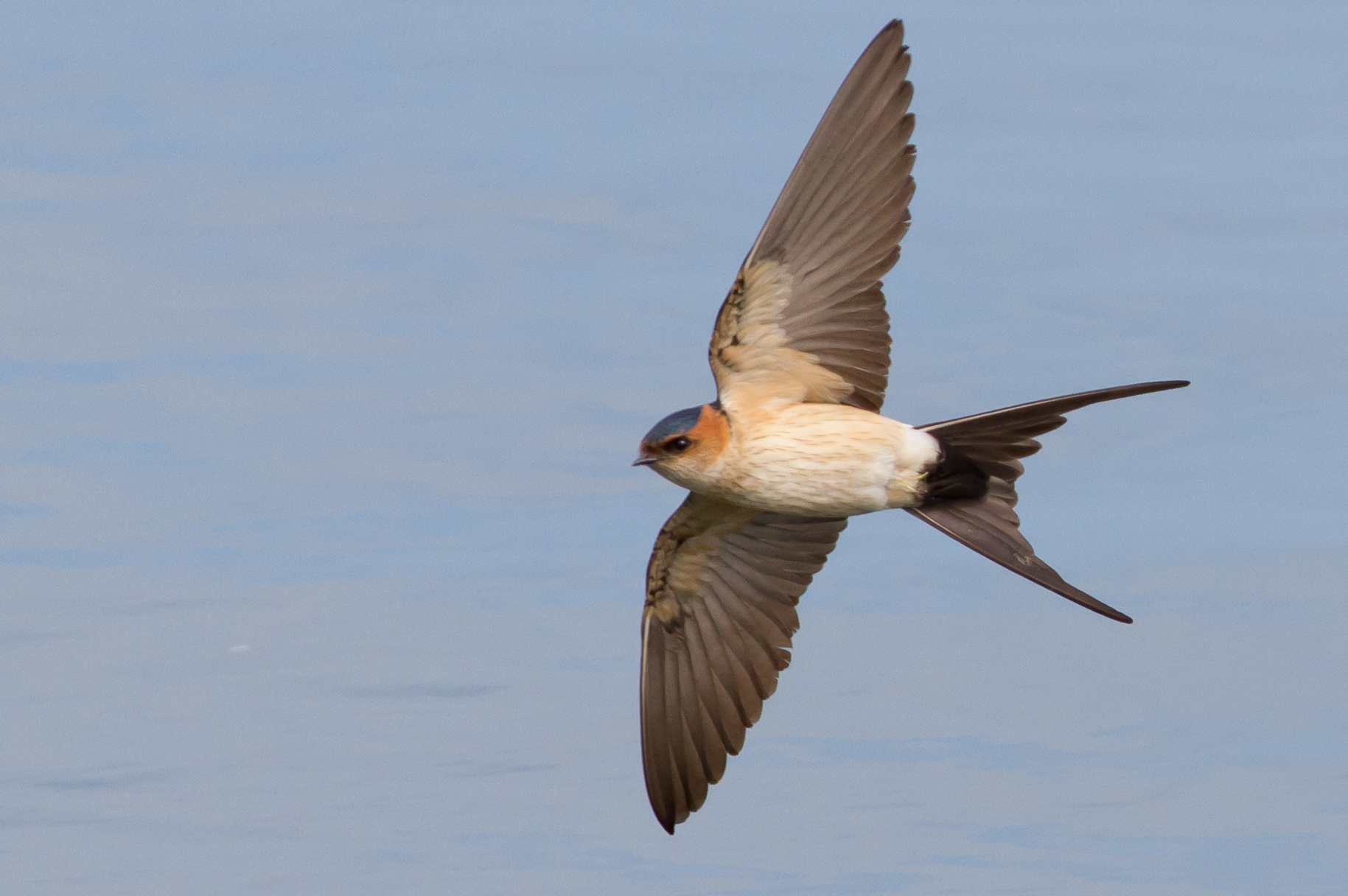 Red-rumped Swallow, Farmoor Reservoir, Oxfordshire (Photo: Roger Wyatt)

Whinchat, Foston, Leicestershire and Rutland (Photo: Paul Riddle)

Yellow Wagtail, Hungary (Photo: Eduardo Balogh)

Lesser Redpoll, Wayoh Reservoir, Lancashire (Photo: John Barlow)

Goldfinch, undisclosed site, Highland (Photo: Marcus Conway — ebirder)

Shelduck, Balcomie, Fife (Photo: John Anderson)

Great Spotted Woodpecker, undisclosed site, Staffordshire (Photo: Robert Hart)

Squacco Heron, Blagdon Lake, Somerset & Bristol (Photo: Dave Perrett)

Black-headed Bunting, Greece (Photo: Rob Smith)

Common Whitethroat, Marshes Hill NR, Staffordshire (Photo: Steve Seal)