The week at a glance

White-crowned Sparrow, Cley next the Sea, Norfolk (Photo: Bob Hazell)

Pacific Diver, Llys-y-Fran Reservoir, Pembrokeshire (Photo: Richard Stonier)
For some, January's departure was marked by gales and stormy seas. For others, snow and ice was a brief problem, while many enjoyed some glorious wintry sunshine. Birdwise, conditions were decidedly settled once again. At Cley, in Norfolk, the record-breaking adult White-crowned Sparrow continued to thrill all comers, as it entered its second month of residence. The bird has left the once-familiar surrounds of its gravel driveway behind almost completely now, happily venturing around the brambles and brush-like scrub nearby. Arguably Britain's most twitched bird, this crowd-pleaser has certainly accounted for Britain's most successful twitch, in almost all respects. And for those keeping an eye on the still-rising donations total, the local church is now some £4,444 to the good. Across the country in Pembrokeshire, the often-obliging second-winter Pacific Diver was still showing well at Llys-y-Fran Reservoir to 6th, and was still often in the company of a juvenile Black-throated Diver. A probable adult was seen again off Porthpean (Cornwall) on 4th.
On Shetland, the White-billed Diver was again off Fetlar on 5th. A Leach's Storm-petrel flew north past Spurn (East Yorkshire) on 3rd and one was seen inland, at Pitsford Reservoir (Northamptonshire) on 4th. Along the English Channel, a number of Balearic Shearwaters remained off the coasts of Devon and Dorset through the week, with four from Berry Head (Devon) and six from Portland Bill (Dorset) on 3rd. The same date saw one fly north past Landguard Point NR (Suffolk). A Sooty Shearwater was seen passing Beesands (Devon) on 5th. At least 20 Pomarine Skuas appeared during the course of the week, including eight seen off Dungeness (Kent) on 1st, with others in Dorset, the Isle of Wight, Suffolk, Norfolk and East Yorkshire. Little Auks were seen from Flamborough Head (East Yorkshire), two on 2nd, off Turnberry Point (Ayrshire) on 2nd-3rd and still off Grutness (Shetland) on 3rd-5th.

Cattle Egret, Louth, Lincolnshire (Photo: Russell Hayes)

Cattle Egret, Ballincollig, Cork (Photo: Richard Mills)
Cattle Egrets were still very much to the fore this week, with several groups still to be found across the southwest of England and in Ireland too. At least 18 birds remained around Treganhoe Farm, Sancreed (Cornwall) into February. Also in the county, four birds were still to be seen at Helston to 31st, with other birds noted at Widegates (four birds at the start of the new month), five at Crantock on 2nd-6th, and three birds at Stithians Reservoir on 2nd. Devon saw two birds still at Exminster Marshes RSPB to 6th, with three, then four, birds at Northam Burrows CP on 31st-1st. Up to five birds remained on the Kingsbridge Estuary to at least 3rd and newcomers were near Warleigh Point on 4th-5th and two were at Saltram NT, near Plymouth, on 6th. A rash of new sightings in Somerset this week: one was near Westhay on 2nd-4th, followed by three near Stretcholt and two near Huntspill Somerset on 5th. Also in the county long-staying birds were still near Old Cleeve to 2nd and Stoke St. Michael to 5th. A single bird was at Radipole Lake RSPB on 6th, while in Hampshire, the single bird at Harbridge was still present to 3rd, and two were found near Bucklers Hard on 6th. A single bird remained near Chichester GP (West Sussex) to 6th, while in next-door East Sussex, one was still at Piddinghoe until 4th. The long-staying bird at Fretherne (Gloucestershire) was still to be seen to at least 2nd and the bird at Britford (Wiltshire) was seen again on 6th (being last reported on New Year's Day). In Wales, singles were discovered at Malltraeth Marsh RSPB (Anglesey) on 1st, and at Llandre (Ceredigion) on 2nd, remaining to 6th. Across to the east coast and the bird at Saltfleet (Lincolnshire) was still present to 31st, when it flew off northwest, presumably accounting for the bird discovered near Louth on 3rd-6th. In Ireland, six were reported near Dungarvan (Co. Waterford) on 1st, with two near Lismore (Co. Waterford) on the same date. In County Kerry, two birds were still near Ardfert on 2nd, with the same date seeing singles at Waterville Spunkane and Ballydavid. Another Kerry Cattle Egret was seen at Akeragh Lough on 4th. Singles in Cork were at Ballincollig on 2nd-3rd. and Curraheen on 3rd, while the bird at Oilgate (Co. Wexford) was still present to 3rd.

Great White Egret, Thorpeness, Suffolk (Photo: Sean Nixon)

Glossy Ibis, Donna Nook, Lincolnshire (Photo: Russell Hayes)

Common Crane, Loch Spynie, Moray & Nairn (Photo: James Deans)
Great White Egrets showed little change from the numbers and locations noted last week. The bird at Cotswold Water Park (Wiltshire) was seen on 31st January and 2nd February. In Cheshire, one was seen around Parkgate Marsh and Neston Marsh to 2nd, while in Somerset, one was seen near Nailsea on 2nd and at Greylake RSPB on 5th. The same date also saw a Great White Egret reported leaving the communal roost at Holkham (Norfolk), with the same bird reported over nearby Wells on 6th. On the Outer Hebrides, one was again on South Uist to 2nd at least, while the bird around Thorpeness and North Warren RSPB (Suffolk) was seen to 3rd, and the bird at Pymore (Cambridgeshire) was present to 6th. Some 20 Spoonbills were noted, with nine at Arne RSPB (Dorset) on 2nd, and seven remaining at Isley Marsh RSPB (Devon) the largest groups of the week. Following a report of a "probable" over Donna Nook and at Huttoft Bank (Lincolnshire) on 30th, the 31st saw the confirmation of a Glossy Ibis at large in the county. Over the course of the next three days the bird moved between the two previously mentioned sites, and was seen heading north over Donna Nook on 2nd. It then reappeared on 4th back at Saltfleet and stayed to 5th. The first in the county since 1976, the bird, bearing a white colour ring on its left leg and a metal ring on its right leg, is thought to be of Spanish origin (a project operated by the Estación Biológica de Doñana). The regular second-winter Glossy Ibis remained at Warton Marsh (Lancashire) to 4th at least. The 11 Common Cranes were still to be found near Elgin (Moray) to 6th, while in Norfolk, 12 birds headed in to roost at Stubb Mill, Hickling NWT on 3rd and a single bird was at Southery on 5th.

Lesser Scaup, Draycote Water, Warwickshire (Photo: Jon Hall)

Ferruginous Duck, Loscoe Dam, Derbyshire (Photo: Ray Purser)

Ring-necked Duck, Avonmouth, Somerset & Bristol (Photo: Paul Bowerman)
With some excellent "flying weather" in north and northwest Norfolk and numerous reports of Pink-footed Geese flying across the country during the week, it was perhaps not much of a surprise to see a shuffle in the pack this week for Ross's Goose. One appeared in Lancashire on 2nd, around the Preesall/Stalmine area, and was still present to 6th. In Norfolk, two adult Ross's Geese were discovered amongst several thousand Pink-footed Geese on Halvergate Marshes, near Acle on 3rd, along with the adult Ross's Goose x Pink-footed Goose hybrid (so often a feature of the goose-watching scene in the north of the county). Three Snow Geese were present in Scotland this week; the first-winter again near Rennibister, Mainland (Orkney) on 31st-5th, on Argyll, at Craobh Haven to 31st, and a blue adult, again near Elie (Fife), on 1st. A "Richardson's" Canada Goose was again at Lissadell (Co. Sligo) on 1st, while in Dumfries and Galloway, the adult Red-breasted Goose reappeared at Caerlaverock WWT on 6th. The adult Red-breasted Goose continued to be seen at West Wittering (West Sussex) to 6th (visiting Black Point in Hampshire on 2nd and 6th). At least half a dozen Black Brants were seen in Norfolk (including a report of three at Cley NWT on 3rd). One was seen at Grain (Kent) on 31st, with others seen on the Kingsbridge Estuary (Devon), at Butterstreet Cove (Dorset) on 2nd and Gibraltar Point NNR (Lincolnshire) to 4th, with one at Trimley Marshes SWT (Suffolk); also on 3rd. The Black Brant remained alongside the Red-breasted Goose in West Sussex through the week. A drake American Wigeon was found at Tophill Low NR (East Yorkshire) on 31st, while the drake remained at Angle Bay (Pembrokeshire) to 4th. On Shetland, a drake was at Loch of Spiggie, on Mainland, on 5th. Rather surprisingly, just two Green-winged Teals were seen this week: at Stocks Reservoir (Lancashire), present to at least 2nd, and at Loch of Tingwall, Mainland (Shetland) on 4th. A hybrid drake Green-winged Teal x Eurasian Teal was seen at Salthouse (Norfolk) early in February - perhaps it was the bird seen recently in Suffolk? A drake Garganey was seen at Carrickgrennan Point (Co. Cork) on 3rd. Last week's four Lesser Scaup became this week's six Lesser Scaup - the birds at Appleford GPs (Oxfordshire), Draycote Water (Warwickshire), Coot Loch, Benbecula (Outer Hebrides) and Lough Arrow (Co. Sligo) were all present again, while a new drake arrived at Loch Leven (Perth & Kinross) on 5th-6th and a female was on Kirk Loch, Yell (Shetland) also on 5th. Adult drake Ring-necked Ducks were still to be found in Somerset, Buckinghamshire and Counties Louth and Sligo, while the female at Stithians Reservoir (Cornwall) was present from 31st-6th. A new female was found at Dunfanaghy New Lake (Co. Donegal) on 2nd. The drake Ferruginous Duck remained in Derbyshire from 31st-6th, while another drake was seen at Craigavon North Lake (Co. Armagh) on 4th. The first-winter King Eider was still to be seen off Girdle Ness (Aberdeenshire) to 6th, while first-winter females Surf Scoters remained off Silver Strand (Co. Galway), Dawlish Warren/Exmouth (Devon) and off Tiree (Argyll) into February. A drake Surfie was again in Lower Largo bay (Fife) on 4th and 6th. Finally, three drake Falcated Ducks were on offer this week: the long-staying bird in Staffordshire, at Cop Mere, one in Kent, at Southfleet (present since mid-January) and another at Countess Wear (Devon), present from 30th January, and still attracting some interest to 6th at least. What odds on one of them being the genuine article?
One or two Rough-legged Buzzards remained around the Isle of Sheppey (Kent) to 6th, with the bird at Sleddale (Cleveland) still in place to 4th. In Norfolk, one flew along the north coast, from Stiffkey to Wells, on 2nd.

Spotted Sandpiper, Lisvane Reservoir, Glamorgan (Photo: Richard Smith)
The moulting first-winter Spotted Sandpiper remained at Lisvane Reservoir (Glamorgan) to 5th and the bird at Kinneil Lagoon (Forth) was seen again on 5th-6th. A new first-winter Long-billed Dowitcher was found this week, at Langton Herring (Dorset) from 1st-6th, while the first-winter at Bowling Green Marsh RSPB (Devon) was seen again on 3rd and in Ireland, one was again at Lough Beg (Co. Derry) on 5th. The Lesser Yellowlegs at Montrose Basin (Angus) was seen from 31st-6th, while in Suffolk, the bird seen recently at Southwold reappeared at nearby Walberswick NNR on 2nd and was back at Southwold on 6th. At Slimbridge WWT (Gloucestershire), the adult Temminck's Stint was seen on 1st-2nd and again on 6th.

American Herring Gull, Galway, Galway (Photo: Tom Cuffe)

American Herring Gull, Galway, Galway (Photo: Tom Cuffe)

Franklin's Gull, Chew Valley Lake, Somerset & Bristol (Photo: Simon Mackie)

Kumlien's Gull, Greencastle, Donegal (Photo: Derek Charles)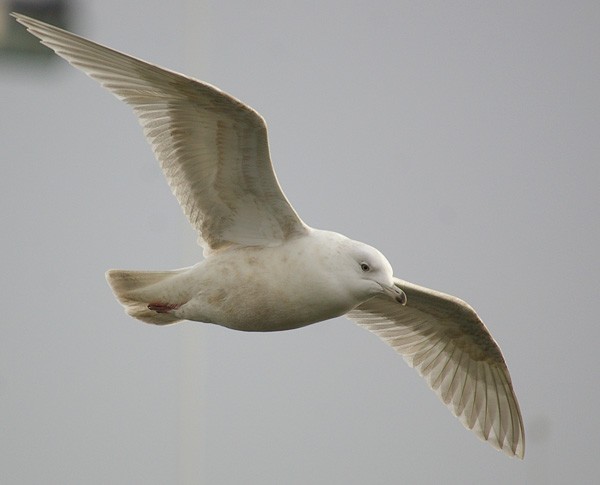 Kumlien's Gull, Greencastle, Donegal (Photo: Derek Charles)

Ring-billed Gull, Westcliff-on-Sea, Essex (Photo: Steve Arlow)
An adult Bonaparte's Gull was again seen at Peterhead (Aberdeenshire) on 3rd. In Somerset, the second-winter Franklin's Gull roosted at Chew Valley Lake to 31st. Glaucous Gull numbers this week reached some 70-75 birds and birds were, once again, widely scattered. Three juveniles were seen on Fair Isle (Shetland) on 3rd, with five juveniles present around Dingle (Co. Kerry) on 2nd. Iceland Gulls again reached three figures this week, with at least 125 birds reported (the vast majority in Britain but with at least 45 in Ireland). Several birds were seen around west Cornwall, on the Outer Hebrides and Shetland (including four there on 3rd). Five birds were seen at Strathclyde Loch (Clyde) on 2nd (an adult, a second-winter and three juveniles) and nine were at Mallaig (Highland) on 4th. The majority of high counts this week though came from Ireland. Four birds were seen at Bantry (Co. Cork), five were at Dingle (Co. Kerry), six were at Rossaveal (Co. Galway), seven were at Greencastle (Co. Donegal) and 10 birds were at Nimmo's Pier (Co. Galway) on 3rd. The birds at Nimmo's comprised two adults, a second-winter and seven juveniles. Interestingly there's been no news from Killybegs this week, so who knows how high the tally could have been! Confirmed Kumlien's Gulls this week included four birds in Ireland: one still at Nimmo's Pier (Co. Galway) on 1st, a new second-winter at Greencastle (Co. Donegal) on 2nd, a near-adult again at Reenard Point (Co. Kerry) on the same date, and another second-winter at Rossaveal (Co. Galway) on 3rd. The juvenile at Mallaig (Highland) was still present into the new month, and a juvenile was at Bru, Lewis (Outer Hebrides) on 2nd-3rd. English Kumlien's were a third-winter at Broomhead (South Yorkshire) on 3rd and presumably the same third-winter was at Langsett on 6th. Juveniles were noted at Throckmorton and Westwood Pool (Worcestershire) on 3rd-6th and at Draycote Water (Warwickshire) also on 6th. Caspian Gulls could only manage some 20 or so birds this week and included three birds at Draycote Water (Warwickshire) on 6th, and two birds (both second-winters, one a long-staying individual) were at Stubber's Green (West Midlands) on 3rd. Along with the familiar adult Ring-billed Gulls still present and correct in Hampshire, Essex, Argyll, Galway (two at Nimmo's Pier) and Antrim this week, new adults were seen at Newnham (Gloucestershire), reported belatedly for 29th, at Slapton Ley (Devon) on 3rd and 6th, at Llys-y-Fran Reservoir (Pembrokeshire) and in Dublin, both on 6th. Meanwhile, an adult was again in London, around Hackney Marsh, on 2nd. A first-winter American Herring Gull was seen at Richmond Bank (Cheshire) on 2nd, before flying north. Two American Herring Gulls (a juvenile and an adult) remained at Nimmo's Pier (Co. Galway) until 2nd, with the youngster still present to 4th at least. On St. Mary's (Scilly) a probable (a first-winter) was seen flying over the dump near Hugh Town on 1st.
Two Richard's Pipits were still to be found this week, at Auchmithie (Angus) on 2nd and again on 6th, and Howden's Pullover (Lincolnshire) on 2nd-4th. Despite the cold blast of air in northern parts of the country, only 70 or so Waxwings could be found, and included the flock of around 50 birds still at Westhill (Aberdeenshire) on 31st. Thirteen birds were still around Longforgan (Perth & Kinross) in the week and two were seen near Market Rasen (Lincolnshire) on 2nd-3rd. A Dark-breasted Barn Owl was at Long Stratton (Norfolk) throughout the week, and is thought to have been present in the area of Wacton Common for upwards of two months.

Yellow-browed Warbler, Jarrow, Durham (Photo: David Brown)

Yellow-browed Warbler, Chew Valley Lake, Somerset & Bristol (Photo: Simon Mackie)
The two Cornish Hume's Yellow-browed Warblers remained into February, at Cot Valley to 2nd and Tehidy CP, near Camborne, to 6th. Up to four Yellow-browed Warblers were noted too, at Jarrow (Co. Durham) from 31st-3rd, Chew Valley Lake (Somerset) to 4th, and in Cornwall, at Gunwalloe (Cornwall) on 3rd and Truro on 5th.

Great Grey Shrike, Padiham, Lancashire (Photo: Craig)
Two Penduline Tits popped up in the giant reedbeds of Minsmere RSPB (Suffolk) on 3rd, but failed to be seen again. Numbers of Great Grey Shrikes dropped from around 16 to nine this week, though three birds were still in Hampshire. The bird at Amberley Wild Brooks RSPB (West Sussex) remained until 3rd at least with others noted in Devon, Dorset, Gloucestershire, Buckinghamshire and Lancashire.
Photo of the Week

Barn Owl, undisclosed site, Lancashire (Photo: Tom Charles)
Making beautiful bird images has much in common with making beautiful images of people: a well-tried recipe is to take a photogenic, enigmatic subject, bathe in soft, warm light and capture a moment of appealing pose and expression. Tom's flight shot of a Barn Owl at sunset incorporates all of these ingredients. As icing on the cake, he has added a catch-light in the eye and highlighting of facial feather details against a dark background.
Other notable photos

Grey Plover, undisclosed site, Lancashire (Photo: Sue Tranter)

Barn Owl, Downholland Moss, Lancashire (Photo: Steve Fletcher)

Nuthatch, Hampton, Worcestershire (Photo: Mark Hancox)

Short-eared Owl, Belgium (Photo: Michael Van Bosch)

Coot, Regent's Park, London, Greater (Photo: Fraser Simpson)

Tree Sparrow, private site, Cheshire (Photo: Mike Atkinson)

Goldcrest, Forest of Dean, Gloucestershire (Photo: Lewis Thomson)

Common Buzzard, Wishaw, Warwickshire (Photo: Steve Seal)

Greenfinch, undisclosed site, Lancashire (Photo: Tom Charles)

Grey Heron, Regent's Park, London, Greater (Photo: Fraser Simpson)

Black-throated Diver, Hartlepool, Cleveland (Photo: Ian Forrest)